Sprint Touch Pro 2 propaganda emerges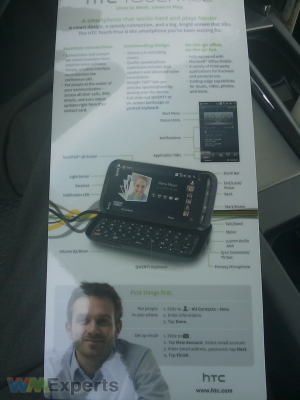 Behold, the Touch Pro 2 signage you'll be able to see inside Sprint stores everywhere, starting on or about Sept. 8, we gather. (And one more pic after the break.) Hang on, people. Just a few more days ...
Thanks, Jeremy!
Phil is the father of two beautiful girls and is the Dad behind Modern Dad. Before that he spent seven years at the helm of Android Central. Before that he spent a decade in a newsroom of a two-time Pulitzer Prize-finalist newspaper. Before that — well, we don't talk much about those days. Subscribe to the Modern Dad newsletter!
...still going to wait for ships-with-WM6.5

VZW...what are you waiting for?

I think VZW is still waiting for stock. It shows in their inventory system, but still no quantity available. Hopefully should launch within the next two weeks. 6.5 will be availabie as an upgrade for both VZW and Sprint at a later date.

I agree on waiting until this phone ships native with 6.5. Being the first version of the TP2 to contain both CDMA and GSM radios, there could be some teething issues. I also want to see how HTC and Sprint reconcile WM 6.5 with TouchFLO ...there seems to be a lot of redundancy between these two interfaces.

I've already got my new TP2 car mount, spare battery and belt clip case, now I just need to (impatiently) await the 8th to order this puppy!

I'd rather have the Pre then the TP2. One main reason to stay away is WM. WM is imho overhyped.

So would the average teenager girl and person new to smartphones.

This is a really nice phone but it cannot be justified that someone has to dish out $450 for this phone and wait for a $100 mail in rebate which will take 3 months. Especially when this phone's internals are identical to the Touch pro 1 (which by the way can be purchased for $150 on craigslist). Both have Qualcomm 528MHz Processors, both have the same amount of ram/rom. HTC should have put in an 800MHz processor like Samsung did with the Omnia 2. Sure, you get a bigger screen than the TP1 and you do get a 3.5mm headphone jack, but you lose the LED flash which I always use. One might say "well, when the TP1 was first released, it was only $50 Less" but, it was a huge step forward from the HTC Mogul. The touch pro 2 is NOT a huge jump from the touch pro. This is just my opinion. I think I'll wait for the Sprint HTC Hero.

The touch pro 2 is $50 more than the touch pro. That's $2.10 more per month over a two year use. WELL worth it. For that you get:
- GSM sim slot making it a true world phone
-A much bigger screen
- A much higher resolutions screen
- 3.5 headhopne jack which is extremely important (It is to me and most here) and in such demand tha tHTC revised and regnieered the TP2 to include it.
- WM 6.5 which is a considerable advance over 6.1
- Hugely improved battery life which I have sen myself in comparing GSM TP2 vs TP
- much nicer keyboard and implementation of slide out angle The screen itself is a huge step, just look at the web browsers side by side -- it is double the information on screen. And more and more of us use our smartphones for web browsing. Not to mention astounding difference in video playback. As far as Craigslist for $150, that is the used price for dinged up ones whcih cant be warranted for repair. New TP1 on ebay completed sales run $230 to $270 even today.

It looks like Sprint's going with a darker trim than the faux chrome we've seen in previous pictures. As someone who believes that all phones should be black, I find this encouraging. Unfortunately the newer pics we've seen in the last couple of days only show the device's front. I'm still holding out hope that Sprint has abandoned the perforated back.

I can confirm this information. I have seen the signage above with my own two eyes. The boxes were marked do not open or display before 9/5/09. I am trying to get a few pics of the phone itself, but it may NOT be possible.

lol. Well, if you do snag pics, you know where to send them, right? :)

It says WM 6.1 professional on the second document image. Upgrade to 6.5?? Not sure if I'm ready to give up ready access to my keyboard for a slider...seems to limit ease of one-handed quick responses, but no phone is perfect. Wonder how the battery will hold up on TouchPro2? dtreo

I'm not into one-handed messaging, so a slide-open KB is fine for me -- but I DO want to be able to do things like open apps, scroll and read emails, and change music selections one-handed i.e. while driving. Not sure how well that's going to work on the TP2 since the 5-way control is gone. This is my only major concern about this device.

LOTS more screen room to put your own buttons with either tF or SPB
Windows Central Newsletter
Get the best of Windows Central in in your inbox, every day!
Thank you for signing up to Windows Central. You will receive a verification email shortly.
There was a problem. Please refresh the page and try again.