Sprint officially announces Touch Pro 2; On sale Sept. 8 for $349.99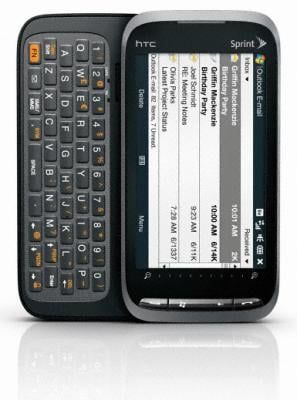 Not that it was a big secret that the HTC Touch Pro 2 would be coming to Sprint, but we now have a date and a price to go along with it.
On Sept. 8 (just as we thought), the TP2 will be available for $349.99 after $100 rebate and two-year contract. As we noted last week, it'll have Windows Mobile 6.1 on board. And, yeah, that's a whole lotta jing. But remember that the T-Mobile Touch Pro 2 was priced the same at launch just a few weeks ago, and we already can get it for just $149.99 from a couple of sources (WMDeals and Amazon).
Sprint's presser (read the whole thing and see one more official pic after the break) says it'll be available via telesales (800-SPRINT1) and sales representatives, so in-store is looking likely, too.
HTC Touch Pro2 from Sprint Pairs a Dynamic Must-Have Business Device with the Best Value in Wireless
Award-Winning TouchFLO™ 3D User Interface with Sliding QWERTY Keyboard Makes It Easy to Juggle Work and Personal Needs on America's Most Dependable 3G Network; Available Sept. 8
OVERLAND PARK, Kan.
& BELLEVUE, Wash.--(BUSINESS WIRE)--Aug. 31, 2009-- Sprint (NYSE:S) and HTC Corporation are answering the call for a no-compromise converged device on a blazingly fast network with HTC Touch Pro2. The attractive new phone combines the productivity of Windows Mobile® 6.1, the vibrant TouchFLO user interface and a variety of fun-to-use entertainment applications, including Sprint TV with live and on-demand programming, and Sprint's exclusive sports applications NFL Mobile Live and NASCAR Sprint Cup Mobile.
Beginning Sept. 8, customers will be able to purchase HTC Touch Pro2 through the Web (www.sprint.com), Telesales (1-800-SPRINT1) and sales representatives for
[[ money ]] $349.99 with a two-year service agreement and after
[[ money ]] $100 mail-in rebate.
The latest in a series of best-in-class Windows Mobile devices, HTC Touch Pro2 features a large 3.6-inch WVGA variable-angle tilting touch screen and an ultra-wide, slide-out keyboard that is larger than its predecessor. Touch Pro2's high-speed connectivity over Sprint's 3G network (EVDO Rev. A) with Wi-Fi and world phone capability ensures that customers stay connected on the go.
The Sprint Mobile Broadband Network (inclusive of data roaming) reaches more than 271 million people, 18,652 cities and 1,838 airports. The Sprint Networks (inclusive of data roaming) have three times the coverage of AT&T's current 3G network and more than 20 times the coverage of T-Mobile's current 3G network, both based on square miles.
"More than ever, today's wireless customers expect to stay productive whether they are on the road or in the office," said
[[ person ]] Kevin Packingham, senior vice president - Product Development for Sprint. "HTC Touch Pro2 on America's most dependable 3G network1 makes that a reality. And with Sprint's Simply Everything plans, which include voice minutes, messaging and data for one low price, we let customers focus on all their phone can deliver."
Sprint's Simply EverythingSM plan is another excellent choice that provides unlimited nationwide calling, texting, e-mail, social networking, Web browsing, GPS navigation, Sprint TV, streaming music, NFL Mobile Live, NASCAR Sprint Cup Mobile and much more for only
[[ money ]] $99.99 per month. That's a savings of
[[ money ]] $1,200 over two years vs. a comparable AT&T iPhone® plan2. Sprint Everything Data plans with unlimited messaging and data start at just
[[ money ]] $69.99 for 450 minutes with unlimited mobile-to-mobile calling and unlimited nights and weekends starting at 7 p.m.
Equipped with the latest version of HTC's hallmark TouchFLO 3D user interface, HTC Touch Pro2 offers a user experience that makes keeping in contact with colleagues and customers easy and intuitive. Easily switch from e-mail to a call with one touch by simply selecting a friend or colleague's picture right in your e-mail. Customers can create an instant office with Straight Talk's dual microphones and speakers to filter out noise.
"Unlike devices that focus solely on specifications, HTC Touch Pro2 was designed with the philosophy that people should be at the center of the communications experience," said
[[ person ]] Jason Mackenzie, vice president of HTC America. "So, instead of having to search through multiple applications to find a specific message, HTC Touch Pro2 intuitively organizes all communications, whether voice, text or e-mail, under a single contact card."
Additional business features available on HTC Touch Pro2 include International Quad-Band capability (CDMA, GSM); Straight Talk™ Technology with dual speakers; dual microphones and a mute button to provide a professional speakerphone experience; full HTML browser from Opera; stereo Bluetooth wireless technology; WorldCard Mobile Business Card Scanner; Facebook integration; and Linked inboxes, which easily link personal and work contacts.
The extra-large tilting display makes the HTC Touch Pro2 an outstanding device for enjoying video content, while the built-in 3.5 mm audio jack makes it easy to listen to music with virtually any headphones. A microSD card slot makes it simple to expand storage with an optional memory card for large libraries of multimedia content or for saving images captured with HTC Touch Pro2's auto-focus 3.2 megapixel camera/camcorder.
About HTC
HTC Corporation (HTC) is one of the fastest growing companies in the mobile phone industry and continues to pioneer industry-leading mobile experiences through design, usability and innovation that is sparked by how the mobile phone can improve how people live and communicate. The company is listed on the Taiwan Stock Exchange under ticker 2498. For more information about HTC, please visit www.htc.com.
About Sprint Nextel
Sprint Nextel offers a comprehensive range of wireless and wireline communications services bringing the freedom of mobility to consumers, businesses and government users. Sprint Nextel is widely recognized for developing, engineering and deploying innovative technologies, including two wireless networks serving almost 49 million customers at the end of the second quarter of 2009; industry-leading mobile data services; instant national and international push-to-talk capabilities; and a global Tier 1 Internet backbone. The company's customer-focused strategy has led to improved first call resolution and customer care satisfaction scores. For more information, visit www.sprint.com.
1 "Dependable" based on independent, third-party drive tests for 3G data connection success, session reliability and signal strength for the top 50 most populous markets from January 2008 to May 2009. Not all services available on 3G and coverage may default to separate network when 3G unavailable. Coverage may not be available everywhere. Customers should refer to sprint.com/coverage for details.
2 Savings based on publicly available information comparing AT&T Nation Unlimited plus required iPhone data plan and optional unlimited text messaging totaling
[[ money ]] $149.99/month for AT&T as of publication date, excluding taxes, surcharges and fees. iPhone is a registered trademark of Apple, Inc.
Windows Central Newsletter
Get the best of Windows Central in in your inbox, every day!
Phil is the father of two beautiful girls and is the Dad behind Modern Dad. Before that he spent seven years at the helm of Android Central. Before that he spent a decade in a newsroom of a two-time Pulitzer Prize-finalist newspaper. Before that — well, we don't talk much about those days. Subscribe to the Modern Dad newsletter!
I should have waited 5 months to get this one instead of the touch pro!...I will surely be picking one up in 7 months when i'm able to upgrade with sprint. Unless of course the LEO its on its way.

there will be handsets that make this look like a dog in 7 months

well we have seen the $150 price tag on amazon or whatever with a new contract... I wonder if you can get this discounted price on an existing contract and then just add the line. When I bought my current pro I didnt qualify for the discount so I simply added a line to my contract and was able to get the discount on the Pro. Note that I simply gave my extra line to a friend paid for the 5 months I had left on the contract then simply cancelled his line... anyway, you think you can simply add the line or does it have to be a brand new contract?

Oscar,
first the bad news: NO. That was t-mobile and only for new lines.
There are handsets discounted $400 and even $500 dollars and those make sense for sign up and cancellation but this phone on Sprint will only have a total discount of $250. cancellation fees are now $200 and it isn't worth it to add a line or account and cancel. Now the good news. Overpriced Sprint business oriented handsets can be had for considerably equal and often less than the consumer discounted price. My Sprint business rep will have these in a month for $200. They had the touch pro in mid summer for $125 with new lines. That is why new in box warranted by Sprint Touch Pro were $250 late last spring (now $200). Find a business rep or look on ebay in two months. My guess is it will be on eBay by October, new sealed box, clean ESN, no contract for $250.

Hmm i wonder why they took the ctrl key off of this one when the tmobile one has it... oh well atleat when i pick this up there may be a mod to change the keys.

XDA has a keyboard modification mod already out ( http://forum.xda-developers.com/showthread.php?t=554240 ) I've used it to remap the keys on my phone (TP2 Telus), including the home and back keys. FN+SMS opens Windows Live Messenger on my phone, and FN+POWER will soft reset it :)

As I am with VZW now, and like the fact that I can talk to family in a part of the country where VZW is the only service available, I hope they get thier version of this device to market soon. All indications are that this is an awsome phone. Can't wait to get one.

Hmmm, I just don't know if the 3.5mm plug is worth the 200 extra dollars since Sprint and Tmo are the same monthly price with my discounts.

You realize that T-Mobile corporate sales it for the same price and you're comparing a Sprint corporate pricing to a 3rd party pricing...here's a brilliant thought, how about waiting until the device is released, seeing how 3rd parties handle the pricing, then come back and make dumbass comments.

corp sales of this on sprint will probably be $200 in a few months and that price will leak out onto ebay.

Where did your photos come from? The color scheme doesn't match what's been shown in the past.

Those are the "official" press shots. I'm more concerned about misleading people about the thickness of the phone. That one shot has it looking more like the Toshiba TG01.

I'm wondering if that's a picture of the upcomming Whitestone/TD2 for Sprint.

I agree. I think those press shots are totally inaccurate.

Booooooo!!! This better drop in price. I'm on ATT and can't wait to leave them, I don't like VZW, and T-Mo coverage sux in my area.

It's a nice phone, but I thought the era of the $350 subsidized phone was supposed to be over.

I called it for $399 so $350 is a discount! People, this is a world-phone with (non-US) GSM radio, a larger screen with higher resolution than the iPn, a far more capable OS, AND an awesome slide out keyboard with tilting display! And if you're an upgrade eligible Sprint customer you'll get another $150 off. And that's not a mail-in rebate, it's immediate, if you purchase at (Radio) Shack. So that brings it to $200 for alot of people interested in this phone. Having said all that, my advice again is to wait a few months till it ships natively with WM6.5 and has had an engineering update or two applied because it's bound to have technical problems right out the gate on 9/8. Heck, they might even knock another $50 off for the holidays.

You are math challenged. $600 - $100 mail in rebate - $150 instant is $250. Did you actually believe the idiot at radio shack? BTW they are not knocking anything off for the holidays. Sprint has NEVER and if they did it would be for pre, instinct or if android is going to have a plan requirement, Android, not this. You will only see lower prices from corporate sales earmarked HTC TP2 leaking onto ebay (and they will)

Here is a problem I see with it at $350 Samsung Rogue On Verizon The September 8th release date and price has been confirmed by EngadgetMobile. Pricing will be $99.99 after $100 rebate with 2-year contract, $169.99 after $100 rebate with 1-year contract, and $419.99 full retail. So I can pay $70 more, get this phone, and have NO contract. Or I can get it for 2yrs, pay $99, and save $150 over the TP2 My only problem is that i'm on a SERO plan. Now with that said, if I can keep it, and get the TP2, it would pay for the difference instead of switching to someone's everything plan for $69.99. I may be able to pull a % off and get it down, but man what a crappy price on that phone. :(

The pricing is really, really disappointing. I'm trying hard to stick with WM, but it sure seems to get harder and harder. Feels a lot like sticking with Palm did a few years ago. Once I made the jump to WM, I never looked back. Makes me seriously wonder if I jumped now if I wouldn't mind it at all. Seriously, no matter how some people justify it, if the iPhone can be subsidized to a reasonable price point. Why not these? What gets me even more confused is the Zune HD. Better EVERYTHING but without a phone radio and they can sell it for $225?? Phone radios are cheap. Tegra processor vs. the tired one in the TP2? Screen difference? HD radio? Seriously, is Microsoft taking a huge hit on the Zune HD? You can't honestly tell me that it costs DOUBLE to make the TP2 over the ZHD. I'd bet almost every single component of the ZHD cost more than its TP2 counterpart. What gives?

Great question. One really has to wonder why WM phones are consistently priced above the competition, especially when the hardware is in most cases behind the competition. And as for the software, WM is certainly capable of holding its own in the business world but is not perceived as well in the consumer world. So is it that the keyboard that is so expensive to add to a device? Touch Flo 3D? The license for WM 6.1? The same Qualcomm CPU and amount of RAM and ROM that were on HTC's previous devices? Or maybe this is a coordinated effort on the carrier's part to sabotage WM in general? Lets face it, isnt it strange that 2 carriers so far out of 4 have released the same phone at the exact same price? Where is the competition that is supposed to exist between carriers?

I thought I read once that the WM license is only something like $12 per phone. Certainly Microsoft isn't the one to blame for the prices. They're not getting rich off of WM, that's for sure. Based on the prices of these vs. the Zune HD price, I'd point to either HTC or the carriers as the beneficiaries of the inflated prices. It would take a lot of numbers to convince me that it's in the manufacturing. The components just aren't that much in comparison to other stuff like the Pre, iPhone, and some of the Android stuff. Some of it is definitely because they know they can milk the enterprise crowd who purchase a bunch of these, but it sure seems a lot of it is doesn't add up.

I thought I read once that the WM license is only something like $12 per phone. Certainly Microsoft isn't the one to blame for the prices. They're not getting rich off of WM, that's for sure. Based on the prices of these vs. the Zune HD price, I'd point to either HTC or the carriers as the beneficiaries of the inflated prices. It would take a lot of numbers to convince me that it's in the manufacturing. The components just aren't that much in comparison to other stuff like the Pre, iPhone, and some of the Android stuff. Some of it is definitely because they know they can milk the enterprise crowd who purchase a bunch of these, but it sure seems a lot of it is doesn't add up.

@cascade, This is a world phone. Basically, unlocked for $350. I think that sounds good to me when it has CDMA and 3g on unlocked phone.

There are a number of "world" phones for $49 at Sprint. The radios just aren't that expensive. Certainly not enough to justify a $200+ price difference.

@anonymous, EVERY carrier has worldphones, and smart ones for less.

The big issue with the price (for me) is that there's no internal memory included. I'm going to wait to buy mt TP2 (on whatever network) until Black Friday.

hey guys i just wanna try and make some things clear. ok heres my story. i am eligible for an upgrade from sprint and i was planning on getting this phone. the phone i have now is very old and i dont even think it has a sim card or anything (i think its a samsing m300? or something?) but i was going to get this phone. now, i dont have a data plan or everything plan so i was wondering if i am able to get it? also, lets just say i bought it from radio shack, since my phone doesnt have a sim card does that mean i would have a different number or something? can someone explain how that would work if i did that? number change etc. and last thing, should i wait a few months so it has wm6.5? and how long do you think it will be? any help would be great. thanks alot guys.

Sprint doesn't use sim cards, they use a different system. Basically what you do is when you buy the new phone, you open up the battery compartment and give them a number that is printed on the phone. This number will not work unless the phone is specifically a Sprint phone. So you can't, for example, buy the T-Mobile one and then use it on Sprint. As far as having a data plan. I AM NOT SURE but 3 years ago when I bought my Motorola Q they said that I won't get the discount unless I get the data plan too. But like I said, I am not sure what they do now. I also agree with what the other person said about the TP2 not being worth it without a data plan. The phone revolves around email and messaging and the internet that you would be paying 350 and barely being able to use any of the functionality you payed for.

Ok I see now. I really don't need to check my email on the road or need to check the Internet but I do have wifi at home so I thought that was good enough. But ok let's say I ordered it online how would that work explain what would happen. I'm not going to buy it when it comes out caus it's way to expensive so I was going to wait till it's cheaper.

What I wonder, is the time frame from that to the stores, cause you know Best Buy will be INSTANT rebate and not mail in, which I HATE. @Matt...You just port you number over to a new carrier if you have someone else. If it is Sprint, you dont worry about it. When they activate the new one, if switches over. Personally, it would be a waste to spend that type of money on that phone and not have data. I'd suggest if you dont want data at all, dont get that phone. I'd go with something much cheaper. I wouldn't (myself) get it without having data, as that's my main reason for a phone like that. WM 6.5...You could put a ROM on it in a matter of weeks probably from XDA as i'm sure they'll have one ready for it after its release.

I hope it is only a typo, on HTC press release for the Sprint TP2 it has this:
Interface: HTC ExtUSB (mini-USB and audio jack in one; USB 2.0 High-Speed) contradicts the pictures that we saw not so long ago!!!

You are reading the Touch Pro press release from a year ago.. http://newsreleases.sprint.com/phoenix.zhtml?c=127149&p=irol-newsArticle...

yep you are right, my bad.

FU sprint be a leader in the industry not a follower. I will be waiting for a price drop. So sad

Holy crap what a kick in the nuts. HTC needs to price more sprint needs to bring that price down to 200 tops. All with Winslow 6.1... WTF

Why do people think that the iphone is cheap yes to get it is cheap but the monthly price is not. I would rather pay $500 for the phone and ask sprint to split it in my $45a month bill than to pay $200 and pay $80 a month. People wake up the iPhone is cheap becuase they will charge you over $2000 in monthly fees.

I must be missing something. I'm currently on an ATT family plan. Whether I go with the iPhone or any WM phone, my plan doesn't change. In fact, if they had their way they would force me into a PDA data plan which is actually MORE expensive than the iPhone plan. Which plans are you comparing?

Amen about the Iphone monthly fees. Listen, I like the most of you are not very happy about the price, however, that is the price you pay for being an early adopter. If you are willing to wait for a few days past the 8th, I know you will be able to purchase this phone for around $150 at other sites just like Tmobile customers have. I for one am going to bite the bullet because I will get an upgrade discount from Sprint. BTW, how long does it normally take to recieve the phone if you buy via direct sales or online?

You will never get this handset for $150, at least not in its lifetime which is a year. It will got to perhaps $250/ $275 on ebay new in weeks or months not days.

Yea right, just wait a couple weeks after the release like T-Mobile and Amazon and WM deals will break a deal out for you sprint guys. All the carriers can ask all they want,but if they stop selling because of the B.S. price their asking,the price will drop. And wait a couple months when the HTC Leo(4.3 screen) and Whitestone(3.6 screen) releases on Sprint and Verizon. I Bet the price of TP2 will drop then.

Great news, except for the obscene amount of money they want! I was looking so foward to buying this phone, i've been fiendin for this phone like some Dope! for Months. Now it looks like I am going to be forced to wait for another moneth or so until amazon cuts the price in half

From the family plans selection page on att.com.
I can see clearly the iPhone isn't special. Please note: Data plan for iPhone is required for the life of your iPhone service and cannot be removed in the future.
Data Plan for iPhone $30.00/month Your choice of preferred feature Messaging Unlimited for Families $30.00/month
iPhone Text Messaging Unlimited $20.00/month
iPhone Text Messaging 1500 $15.00/month
iPhone Text Messaging 200 $5.00/month

Preach on zookeeper preach on! Check out cnn.com today because they have a feature from cnet discussing the Iphone being released by other carriers. I know everyone wonders how AT&T can sell the Iphone so cheap. Well they are subsidizing the cost to the tune of $400 per Iphone. It is not realistic to think that the other carriers will subsidize the TP2 to that extent. Considering market share opportunities, it just does not add up.

the upfront cost of the actual device is the cheapest part of having cellphone service. The $200 price for the iphone is just a carrot. Once you are in, you are down $70 or more a month just for no frills service. They make the 3-400 back apple charges them per device 2-3 times over. Sprint has some of the cheapest service in the US. Are you really going to hold back on a device because of $100 up front cost extra? Think about your monthly plan costs..

Here's what I have to say......there are soooo many complainers about how much this phone is and what is not offered or comparing it to the Iphone which I don't think anyone can really compare any phone to the Iphone, look at how much you have to pay just to have it. I have been with Sprint since day 1. I am so happy I can get this phone for only $150 without having to do any mail in rebates. I'll never leave Sprint.

I too have been w/ Sprint from day one...but how the hell can you get this for $150, let alone w/o rebates?

How could I get an account like that? I have had sprint 8 years.

Through my corporate discount. I love it!!!!! When the Pro came out we only had to pay $100. Now with the Pro 2 we pay $150.

I agree, do tell! I'm also a Sprint customer.

I ain't giving you no tree fiddy you goddamn Loch Ness monster

Yes Sprint did charge the HTC TP2 phone to my account. I have been with Nextel/Sprint for over 11years. Also I am receiving the HTC Hero in Oct to determine which device I am going to keep.

I contacted sprint last night about the phone, as in the past I have had them charge it to the account, but this time the gal told me they couldn't do it. Anyone able to have the purchase charged to their (Sprint)account?

Look fellas its plain and simple. stop complaining about the price, its worth every penny. If you were to buy an iphone yea you get the phone for $100 but their cheapest plan with 450 anytime minutes and only 5000 night and weekend minutes from 9pm-6am, unlimited text, and Internet would run at $90 per month. that adds up to $2260 over the 2 year contract and if you get the iphone 3GS it would be $2360. now with the Sprint touch pro 2 yea you get the phone for $350 but your monthly plan with 450 anytime minutes and UNLIMITED night and weekend minutes from 7pm-7am, unlimited text and Internet, and GPS would run at $70 per month which adds up to $2030. if you add GPS to the iphone it runs at an extra $10 per month so you can change those prices to $2500 for the iphone 3G and $2600 for the 3GS. So with ATT you have to pay extra for GPS and nights start at 9pm instead of 7pm and you only get 5000 night and weekend minutes instead of unlimited. THE CHOICE IS SIMPLE PEOPLE!!!

Welcome to luxmobiles.com - premium quality luxury Vertu replica professional online shop. In our internet shop you can find exclusive replica Vertu models, GoldVish replica, Mobiado replica or Tag Heuer Meridiist replica, you can learn all news about collections and novelties, or order and purchase amazing gift for yourself or loved ones.
Widest selection of perfect copies, true quality (all products are made in South Korea), reasonable prices and qualified service - all it is our guarantee to you. Our customers don't only save money on the actual product, but on it's shipment as well. We provide absolutely free shipping worldwide.
Premium quality Vertu Constellation Ayxta replica cellphone, 1:1 copied from the original model.
Vertu Constellation Ayxta replica supports communication and GSM operators in more than 175 countries of the world. This model has has all official Vertu logos, unique IMEI code and personal serial number. Dear visitors and customers, please note, that most of factories in China produce cheap Vertu fakes with the same special IMEI code, and many online shops offer to buy such replica models. Recently, Vertu special departament began special company against such fakes, began to purchase fake models, and shut the access to the mobile networks for the models with same IMEI code. Please, beware of buying such cheap Chinese fakes, which can become absolutely unuseless in future, and pay attention to the fact, that every of our premium quality Vertu replica cellphones (produced in South Korea) has it's unique IMEI code, which is exclusive for every model.
Additional complectation - magnificent gift box with Vertu logo on top and storage branches for phone and accessories (completely imitate the original), 2 batteries, 1 USB cable, 1 USB adapter, 1 headset, illustrated manual, microfiber drawstring pouch.
Made in South Korea, P-link factory.
Windows Central Newsletter
Thank you for signing up to Windows Central. You will receive a verification email shortly.
There was a problem. Please refresh the page and try again.