T-Mobile Touch Pro 2 for $149.99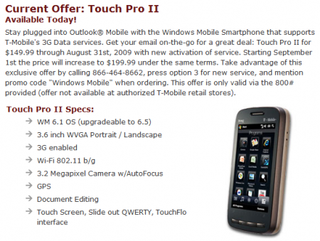 Yep, you read that right. You can go to a T-Mobile store and drop $350 for a Touch Pro 2, or you can head to www.wmdeals.com (actually, just call the number in the picture above) and snag one, with a new contract, of course, for just $149, through the end of the month. Starting in September it'll run $200.
What're you waiting for?
Windows Central Newsletter
Get the best of Windows Central in in your inbox, every day!
Phil is the father of two beautiful girls and is the Dad behind Modern Dad. Before that he spent seven years at the helm of Android Central. Before that he spent a decade in a newsroom of a two-time Pulitzer Prize-finalist newspaper. Before that — well, we don't talk much about those days. Subscribe to the Modern Dad newsletter!
anyone know how legit this deal is? or how safe the company is thats offering it?

I went to the link and there isn't anything to click. Seems bogus.

sounds like Tmo is trying to reel in the hold out. Why wait for vzw or sprint when you can get it now for $149. Bet the contracts are marked up to make up for the price cut.

The link worked for me but you do HAVE to call to get the deal. The link just lists the deal

anyone know if this will be offered to people eligible for an upgrade.

This is totally legit. I ordered mine Sunday noght and received it today. This deal made me switch from AT&T.

The contracts are not marked up at all. It would be impossible for them to offer different contracts than those that are listed on their website. Just because we want a good deal doesn't mean we're stupid.

Deal is legit. Just ordered one. Added a new line to my family plan ($9.99/month)---activation fee was waived too. Requires a two year contract. As they ship from GA---it should be here Thursday. Now to find out how well I am going to like Windows Mobile.

This is a legit promotion that started with the Dash3G (HTC Snap) I just had to get th touchpro2 as soon as I read this article @work. I had to sign up for a new 2yr plan but they waived activation ($35) & also free shipping. can't wait to retire my MDA finally. Any suggestions on how to archive my very loyal & reliable (albeit the constant crashing) old friend? ;-)

well if this is true i do hope something like this happens for verizon

The same deal is unlikely for VZW. Google the phone number and you'll see it's the same one that's associated with TMO discounts available to several higher ed institutions.

From the looks of the all the posts it seems for real. I will give it till the end of the week to be safe and then give it a try! Crossing fingers for the best WinMo phone from TMo to be in my hands before Sept 1st!!!

I just ordered one, they let me get the deal with just a $39 data plan. I had the ask the agent to ask her super, but when she came back on the line she gave me the deal.

You just added data plan to existing service?

I really don't trust this, but... Is it $149 after rebate? Often with internet deals like this, you just never get the rebate check. Has anyone seen the actual charge to their credit card and were they really charged $149 or was it more? It is easy to fake these postings. All the "this is real" postings COULD be posted by the company. If it seems too good to be true, it probably is.

This is a legit website, the deal's actually supposed to all for WinMo developers to get a reduced price on a development platform (the link is posted in the private MSDN WinMo developer forums) but nothing on the page limits it to just developers and they don't ask about that when you call, as long as youknow the promotion code.

i was thinking that because no ones name is verified hmmm so i dont know its really tempting but i dont want to risk 150 so i guess i will do the same and wait till the end of the week till someone says i got scammed or hey i got the phone

This deal is straight through T-Mobile Business Direct. Do a Google search, you'll find the same phone number all over the place, talking about this same deal for other WinMo phones as well. This is how I got my T-Mobile Shadow for about $80 off when it was first announced. Hell, I found Business Direct to be more helpful than regular Customer Service.

So you're not required to be a business customer for this to work? I have a family plan and am no longer in contract - will they let me renew my plan to get this deal? It's just a personal account though, not business.

Yeah, I'm wondering the same thing as the guy above. If I have to add a new line, how can I keep my same number?

Well I have a 4/line family plan and i already upgraded two of the phones for my parents. Now the other two line are still off contract. Can I get this deal for the two Off Contract lines with an upgrade? or would i have to add new line to the plan and cancel the off contract lines. I would like to keep the same number because i have had this Num# for about 5 years.

how much is the data plan for the tp2 though this deal and can you open up a family plan with it

Unlimited Data = $24.99/month
Unlimited Data + messaging = $34.99/month Yes, you can open up a family plan or add a new line to your current family plan (as I did).

Do they add the charges to your next bill or must you pay for it over the phone ?

Charges for phone must be made right away (in my case put directly on the CC that I use to pay my monthly bill...no need for me to give them any CC info as they already have it). Charges for the new plan will appear on the next monthly bill.

The Promo Code Work, I just order two of them and they will bill it to my Acct.

ok has anyone received their tp2?

Does anyone know if you can get this deal with an upgrade? Or do I have to add another line to get this offer and is it legit?

Listen, this deal is as legit as it gets. I was one of those who actually bought the TP2 @ retail on day one for $349. Imagine my shock and anger when I found out just days later that it was $149 with this deal. As u know, if u purchase from retail, they can't do anything for you on the phone @ all for the cost of the phone. So a rep actually implied (indirectly) that there was a loophole I could exploit. I ordered a 2nd TP2 for $149, received it in the mail, then took the one purchased @ retail back 2 the store for a full refund (still within 14 day buyers remorse). T-mobile holds ur number for up to 60 days when cancelling a contract. I then called customer care to activate my new phone with my old number. This all happened yesterday and I'm typing this on the fantastic keyboard of my $149 TP2. Go get it and enjoy.

Thanks for the great tip Coperyte, but one question: what happened to that new second contract that you had to sign up for the super deal? Weren't you supposed to return the phone when canceling that contract? I've been with Tmobile for years and like everyone else, prefers to keep my existing number. I would order this phone in a heartbeat, please share how you went around the loophole. Thanks again!

I do believe this deal is legit I called yesterday and spoke with a rep and I was about to get the phone but when they ran my credit I found out that my ex gf before she stop paying for the tmo service she put it under my name and now I f*cking owe money so I cant get the phone and the rep told even if I pay it back it wont change anything at the moment so im only eligible for flexpay some bs if anyone can help me or knows anyway around this crap please help

hey can i get this deal by adding a new line to a 4 line contract and then removing another line later and then get my old # to my new line ???

What about sales tax? If you do pay is it on $149 or "value" I am in Ca. 9.25% tax

i got my wife to put the plan under her name so i ordered mines and its suppose to come in on monday lets just see what happens.....

:/ i called to check up on my order status and they said the phone was not picked up when i paid for an overnight delivery so now im suppose to get it tuesday.......... this better work......

I came across this website after almost leaving Tmobile. I didn't like any of their other phones, and my contract runs out on Friday. Anyway, I got it for $150 plus tax. Also, I have the valued customer unlimited phone for $49.95. Well, they gave me that again, and on Saturday, I will be cancelling the old line. Of course, I would like to keep the same phone number, but I will have to call in to do that. We shall see. Thanks again for the tip, it was really sweet. I look forward to figure out this phone. I am currently working off of the Tmobile Wing, and everyone says that this is a vast improvement. We shall see. Later.

I GOT DA PHONE WOOO i taught this was a scam but it really works

well as the person to end this discussion i can say is that the tmo excitement is over now its sprint time to shine i enjoyed sharing my emotions with all of you through the laughter angry and the sad so till the next touch pro 3 this is Anonymous saying foocker out

that is so selfish why the ppl that need an upgrade cant get it for 149 ur still renewing ur contract for 2 more years they make no sense

that is so selfish why the ppl that need an upgrade cant get it for 149 ur still renewing ur contract for 2 more years they make no sense
Windows Central Newsletter
Thank you for signing up to Windows Central. You will receive a verification email shortly.
There was a problem. Please refresh the page and try again.