Spruce up your Lock screen with Wallpaper Patterns for Windows Phone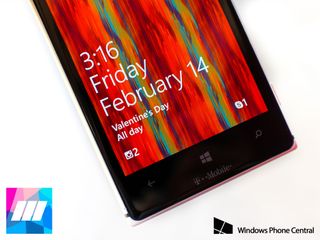 There are a variety of ways to customize your Windows Phone handset and make it your own. One of our favorite ways is to select and personalize the Lock screen. In the Windows Phone Store you'll find hundreds of apps that allow you to rotate images on the Lock screen or display app data. Wallpaper Patterns is another one of those apps that can make your Lock screen beautiful. Let's check it out.
Wallpaper Patterns pulls in thousands of patterns from COLOURlovers (www.colourlovers.com). It's a popular online community where people make and share patterns. They offer up an API that developers can tap into for building apps –apps like Wallpaper Patterns on Windows Phone (and Windows 8).
Here's what you get with Wallpaper Patterns on Windows Phone:
Endless variety of patterns
Browse latest or most popular patterns
Set a pattern as a lock screen or wallpaper
Save a list of favorites
Save patterns to your image library
Share patterns with your friends
In the Windows Phone Store you'll find Wallpaper Patterns and Wallpaper Patterns Pro. One is free and ad-supported, while the goes for $0.99 and has no ads. Functionally, both apps are the same. Fire up the app and you'll be able to browse an endless number of patterns to select as your Lock screen. Tap a pattern you might like and you'll have the option to share it, download it, set as your Lock screen or add it to your favorites.
As of right now, you'll be select a Lock screen on an individual basis. When you want a new one you'll hop back in the app and manually select a new pattern for your Lock screen. This is the initial version of the app, but we'd definitely like to see the option to have the app cycle through new patterns or your favorites.
If you're looking to spruce up your Lock screen we highly recommend giving Wallpaper Patterns a download. Head to the Windows Phone Store to grab either Wallpaper Patterns or Wallpaper Patterns Pro. Don't forget to check out the version for your Surface in the Windows Store (opens in new tab)!
Thanks for the tip Alex K!
Wallpaper Patterns
Wallpaper Patterns Pro
Windows Central Newsletter
Get the best of Windows Central in in your inbox, every day!
I'll stick with Bing but on another note does anyone notice Bing lock screen updates to yesterdays background?

With me as well. Must be a bug in WP8

Yes, but I don't mind the WP Bing image being a day behind the computer Bing image. It's still a beautiful picture each day.

Same thing here too.. HTC 8X

I think it updates 24 hr from time of setting it. So if you set it just after midnight it should be relatively up to date

My TMo L521 updates a day late but my ATT L1020 syncs on time w my desktop. Its actually carrier dependent for me & its weird

my lockscreen bing image and search screen bing image does not match most of the time..... on a more on the topic thingy - not interested, Lockmix served me well enough and i am satisfied with it

I like this app a lot. Bought the Pro version.

Why you gotta be so generous, Daniel? Gosh. :-D

I agree, this app has been truly amazing and i have already saved up a few for when WhatsApp updates and allows chat backgrounds :P

I agree and did too. I was shocked by the number of options and how interesting and creative they are. Very nice!

I think this is a nice change from what I normally use which is Bing on my lock screen. Every now and again, I might want to "dress myself" before I head out the door. Especially those times when Bing image of the day, just ain't bangin'. I'll check it out.

Yep, same here. When I go out to a club or something I often change it when there's that cute little animal on there lol.

All the wallpapers look like some shirts curtains drapes bed sheets....

I think it looks awesome http://imgur.com/O9qy0Mv

I just love when you reply...You are awesome ; beautiful....

Oh my, where do you shop for your home goods that they would like like these lock screen images. I would change stores immediately!

Lol...come to India...people do use such patterned stuffs for their home goods...not me though...

Perhaps I'll use this when I'm in the mood for something other than Bing's landscapes and animals.

Can these be used as glance screens? I'd love those geometrics, see how they might look.

That's what I want to know. I don't care to change my lock screen but I'd pay a buck for glance papers

Im using bing as lock screen, and im happy about it

I have one wallpaper for each day of the week. Through Lockmix. I wouldn't want to have any Bing image on there as a lot of them are fairly cheesy imo. My Saturday wallpaper that greeted me today just says Saturday to me. Nice and familiar. And carefully selected. Patterns may be the way to go but not these busy ones. :)

That looks like a headache waiting to happen..

Downloaded this app two days ago and can't get enough of patterns. Now I have so much patters in favorites I can't decide which one to set as a lockscreen wallpaper :)

It is indeed very nice and easy to use app with beautiful wallpapers!

By the way, I noticed on wp8.1 screenshots the time and date was positioned lower. So I wonder where is place for agenda items or notification icons?

These will be perfect whatsapp backgrounds.

A+ They do work very well for that

I like it. Support rotating wallpapers and I'll buy it.

I like to use "8.1 Lock Screen", I dont know why app have that name. But its really good.

Um, so it asks for photo library permission, is this an approved app? Are they gonna steal our photos?

You never read that article, did you? Read it again...including the headline.

Verizon released GDR3 and Lumia black at midnight last night. L928. Who updated?

We reported on that 3 days ago. Please stick to the topic or head into our forums, thank you.

Very impressed with the choice available!

a random mode would be great.
Windows Central Newsletter
Thank you for signing up to Windows Central. You will receive a verification email shortly.
There was a problem. Please refresh the page and try again.