Square Enix planning game subscription service
There's going to be a lot of them from the looks of it.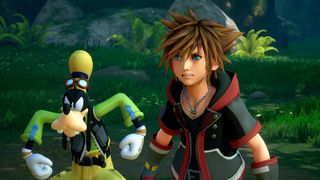 (Image credit: Square Enix)
What you need to know
EA, Ubisoft, and other companies offer their own subscription services.
Square Enix also wants to offer one down the line.
However, there are significant hurdles in terms of investment and technology at the moment.
At E3 2019, Ubisoft unveiled "Uplay+," a subscription service for PC and Google Stadia, that gives you access to many of the company's games for $15 a month. Over the past year, EA and other companies have also announced plans for their own streaming and subscription services, and it looks like Square Enix will be the latest company to enter the ring.
In an interview between Square Enix President Yosuke Matsuda and GamesIndustry, the Square Enix head said that the company eventually wanted to offer its own subscription service.
It's unclear what the timeline is, but hopefully Square Enix's Xbox Game Pass support won't end. If everyone offers a subscription service, none of them will be able to survive because of the fragmentation and split revenue. At some point the abundance may be shunned by the market.
How many subscription services do you have at the moment? Would you subscribe to one from every major publisher? Or do you want games to be part of Xbox Game Pass? Let us know.
Xbox accessories you'll love
Every one of these quality accessories is guaranteed to enhance your Xbox experience.
PowerA Enhanced Wired Controller for Xbox One (opens in new tab) ($20 at Amazon)
PowerA's take on the Xbox One controller is an attractive pickup for budget-conscious gamers that nails all the basics.
Talon PDP Xbox media remote (opens in new tab) ($20 at Amazon)
The Talon PDP Xbox media remote is great for watching shows on your console.
Xbox One S vertical stand (opens in new tab) ($10 at Amazon)
Stand your console upright with this accessory.
Asher Madan handles gaming news for Windows Central. Before joining Windows Central in 2017, Asher worked for a number of different gaming outlets. He has a background in medical science and is passionate about all forms of entertainment, cooking, and antiquing.
I would rather it be a la carte under one subscription like GamePass having multiple subscriptions is a pain to manage

How ridiculous.
The game industry is heading for a fragmented mess if this madness continues.
Apparently the phone industry is only big enough for 2 players yet the game industry thinks it can head down a path of every man for themselves.
What a joke-No, categorically I won't pay for several subscription services, 1 maybe.

All of these publishers will suffer heavy losses and may go out of business if they don't partner with others. Going alone in gaming is a recipe for disaster. This has been proved time and time again, but somehow game publishers never learn.

Hmm if everything stay the same and they just add a subscription service to their catalogue I don't see how it's an issue... For fans of one or several franchises of studio it can be appealing... Now what would be really smart would be to double dip... Have your catalogue rotating on Xbox game pass, and have your own sub with an ever growing listing as new games come out... And of course keep selling stand alone copies...... But I can see why you would want your own service... But that doesn't prevent them to band with MS or Sony or ninty too...

This is probably what some will do, and really have to do IMO.

That's if it's added to the status quo.
Sounds like many are going it alone, what a cluster duck

I would rather have it all under a single subscription. That being said, if other publishers offer something similar to EA Access on xbox at a similar price point, I'd be open to multiple subs.

Well, this should make Guest quite happy. Yet another subscription service.

Actually I think it's great. Let every publisher have their own subscription and it'll just hurt the whole renting games and subscription service.
Its becoming more and more ridiculous.
So what is it now? EA access, origin access premier, PS Now, Game pass XB, Game pass PC, Stadia pro, Ubisoft's Uplay+, Apple Arcade, Utomik, Nvidia GeForce Now. And that's not counting the PS+, gold and Nintendo switch online Come on Square Enix, Amazon, Nintendo, Activision, Tencent... what are you waiting for? Join the party!!! :)

A started the business model 1st, offering "games from every publisher" in a sub. A has the biggest user base.
B went independent, started theirs, and it can survive cause it owns some insane popular sports and FPS games.
Most stayed with A, few sub both, some went for B. (and I think B still needs to pay A the royalties) C started their's, then D, E, F, G wants to follow... Kinda like the relationship between Netflix, many other video-renting services and Disney.
Also, we already have Steam, GOG and Epic (has FN, has Game Engine, 12% cut, and 50% of their users don't use Steam). Will 5~10 more destroy PC gaming? Would you want to open one? Do you have resources and guts to open another one? You really think you and your investors can make a break through in PC gaming, steal users from Steam or Epic? Don't think it will hurt the whole game renting business.

That day you compared sales numbers to the number of people who have tried a game.
And now you compare subscription service to PC game stores? In the case of subscription service we talk about market share because they depend on what people pay monthly. People can use all game stores at the same time all the time. Do you think people will subscribe to every streaming services out there?

Some people will get many more than others, but I think there has to be a saturation point for everyone. I would think this is reached easier with gaming services. I currently have 3 (4 if you count a live TV) for video, even though I can easily afford another I feel like I am ok my current limit. When I need to do Disney I will probably cut one or find a way to justify it to myself.

* Kinda like the relationship between Netflix, many other video-renting services and Disney.
↑ this. Game Store isn't a perfect example but still, no one wants 10 launchers sitting in the background. There's a limit to everything. Rest is like what Avatar said. There will be a time where you must sacrifice an old sub for a new sub. And there will be a time where starting a new sub (or game store) business == suicide. * The difference between a video renting and game renting business is user investments e.g. game saves / progress and in-game items / DLC. ps: UPlay+ is for PC and Stadia. A competitor to PC game stores.

I traded in my Final Fantasy on Xbox 360 years ago, because I didn't read the fact that I need to pay $13 per month to play one game. No thanks. Now, this would be were a cloud service provider could potentially make money, if there was one that could manage multiple games from several developers that decide not to use system proprietary online services. I get it... I understand some developers want their games to be truly massive and there may be some limits to how massive proprietary gaming systems online services will allow. But, to pay a monthly subscription for just one game? No thank you
Windows Central Newsletter
Thank you for signing up to Windows Central. You will receive a verification email shortly.
There was a problem. Please refresh the page and try again.