St. Louis Windows Phone Meetup 2013 is just around the corner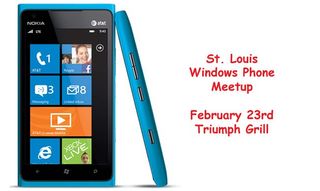 If you happen to live in the St. Louis area or just happen to be passing through on February 23rd you may want to stop by the Triumph Grill (opens in new tab) for the 2013 Windows Phone St. Louis Meetup.
It's an opportunity for Windows Phones developers and fans to come together and share ideas and experiences with like minded folk. This is the third (or is it the fourth?) meetup in St. Louis and Nokia has helped sponsor each event. This go around, Nokia is providing a Lumia 900 as a door prize.
The event will start at 12PM and run until 4PM and attendees will be responsible for their food and drinks. If you plan to attend, you can sign up here (opens in new tab) so organizers will know to reserve enough seats. There is also a discussion going on here in the Windows Phone Central Forums about the meetup in case you have any questions, comments or suggestions.
George is the Reviews Editor at Windows Central, concentrating on Windows 10 PC and Mobile apps. He's been a supporter of the platform since the days of Windows CE and uses his current Windows 10 Mobile phone daily to keep up with life and enjoy a game during down time.
Wish I could attend this but I'm in the uk. Also.. Comic sans next to a windows phone.. Nooooo!

I may be the only one who likes that font....

It would make sense if you were a 12-year-old making his first assignment on a computer, but that's not the case. At first it's an old font, just like Arial, Verdana, and what else. The fact that it's not as clean as Segoe WP strikes me as a designer with a huge 'splosion.

Good, home some one brings up the fact that we are in 2013 and still can't create custom SMS/MMS or email notification tones!!!!

Oh my God, no custom ringtones. Run for your lives. Nevermind the fact that it's the smoothest most beautiful OS in known to mankind, possibly straight from God himself. Ok, little dramatic, you get my point.

We still want tone customization, even if all you said is true.

Just because the OS has a lot of pluses doesn't mean we can't criticize the minuses of the platform, especially when said minuses are practically a given on every other competing platform.

We are in 2013.how dare you mentioning sms and especially mms in a sentence talking about lags in technologies

St. Louis is just a trip up I-44. I may have to consider going. While I appreciate Nokia providing a door prize, I would think it be a Lumia 920.

Nokia gave me a supply of Lumia 900s (and one Lumia 710) just after their WP8 devices were released. Getting a WP8 device was impossible at the time due to low availability on their end. Heck, even my Nokia contact didn't have a WP8 phone issued to him. I suspect they'll send me some WP8 devices during the first half of this year to give away at future St. Louis Meetups. Nokia has been the only WP mfgr. to ever support the STL WP Meetup. I have asked HTC and Samsung on multiple occasions, but in each instance all I heard were crickets. Nokia was all over my Meetup after I asked them to join in.
Nokia is great to work with and they really understand goodwill gestures.

I'd go if I didnt have a business trip that weekend. Lived in Soulard, neighborhood south of downtown, and would like to see the town again. This would have been a good excuse.

How does one organize an event like this? Would be nice to know how Nokia sponsored this.

Well, organize it yourself. That's what I did. Get big enough to be on Nokia's radar and you'll know it!

"I will be giving away one Nokia Lumia 900 to a very lucky attendee. Thanks for the donation, Nokia." Boooooo! In all honesty, I'd like to go and this is a great idea, but isn't it slightly embarrassing to provide a Lumia 900 to one lucky attendee?

Not at all. Nokia has been great to my meetup group. They're the only WP mfgr. to ever support us. They gave me a supply of Lumia 900s in 2012 and this is the last one I have to give away and the supply will be expended. I stretched the supply as best I could. WP8 devices from Nokia were impossible due to market shortages we are all aware of. They'll get around to getting me some WP8 devices, I am sure of it. I never bite the hand that feeds our St. Louis meetup.

I wonder when Seattle's meet up is going to be. I imagine this is where we have the highest concentration of WP8 users.

Any meetups in NYC? Or even Boston is closer lol

Organize it yourself. Don't wait for some one else to do it for you.

The attendee that wins the door prize will be anything but lucky. A Lumia 900? Seriously?

Well, it's a good thing you aren't coming isn't it? Why would you sneer at a new Lumia 900?

Why? Because the Lumia 900 is essentially an obsolete device. Nokia should be giving away a Lumia 920

Did you see the op's response, kudos to speed touch for organizing a meetup large enough to get nokia's attention, and kudos to Nokia for their support, there are plenty of 7.x users out there

SevenDead1ySinz...Puhlease! I totally enjoy my Lumia 900 - yeah, the NEW one I bought this past November :) If I felt like I was significantly shortchanging myself, I wouldn't have bought the L900 over the Lumia 920, as I considered both for an off contract purchase. WP8.0 just didn't have substantial bells and whistles over WP7.5/7.8 for my needs.

I highly doubt that the person who gets the prized Lumia 900 will turn it down!



Organize it yourself. Don't wait for some one else to do it for you.

I will be attending. I missed the last meeting. I do agree that Nokia should offer a 920 or at least an 820.

I don't refuse gifts from Nokia. They're the only WP mfgr. to ever send me anything to give away. They'll get around to sending me some WP8 devices. I think Nokia can send me whatever they want. T-shirts, pencils, phones, whatever. I'll never reject any items from them. I'll happily give away all of them to grateful attendees.

I completely understand what you are saying and I understand Nokia's situation. I love the chance to see all you guys and talk WP. See you on the 23rd!!!!

See you then! We'll have a great time, as always.

Likewise, this time I plan on getting everyone's contact info....lol! Do we still check in with the hostess when we get there?

Why should they? Nokia didn't create this meetup - but they wanted to support the event, in some way, when they didn't have to.

Some people aren't ungrateful - they will gladly accept the Lumia 900, which is a great device, and has roughly 85% of the functionality from an OS perspective as the Lumia 920.

Comic sans used improperly? How professional.

When is it going down in Atlanta Ga...!!!

It will if you organize it yourself, that's what I did.

I'll be there. That wedge mouse that was given away at the last one was a nice prize. However, meeting local developers and other aficionados, is a real boon. Food's pretty good at the Triumph Grill, too.

That mouse was cool, wasn't it? That was provided to us by a local Microsoft employee. I look forward to seeing you again and having a great time as always.
Windows Central Newsletter
Thank you for signing up to Windows Central. You will receive a verification email shortly.
There was a problem. Please refresh the page and try again.