Stagelight for Windows 10 is a solid music creation tool with complicated pricing
If you want to merge your technical talents with your musical gifts, Stagelight is a great tool.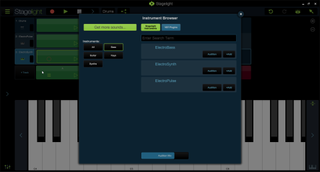 Stagelight provides a digital array of tracks and instruments that you can use to make loops, beats, tunes, and entire tracks.
It takes full advantage of your PC's touchscreen to make music. The interface is tricky to learn, but once you have it down you can create all sorts of tunes and beats.
The app is free to download, but to unlock features you'll have to pay extra. Stagelight's pricing is more complicated than most apps so there's a breakdown later in the review.
See in Microsoft Store (opens in new tab)
Making music
Stagelight is a digital mixing board designed to help you make the different components of music. You can create loops, beats, and entire songs. The interface is complicated, but when you first open the app there's a very helpful tutorial. You can create songs by building separate parts and elements or within a musical timeline. There's a large number of instruments to pick from, and you can layer multiples of the same instrument (your song will be so great with four electric basses). When you're creating music you can use the touch screen to make beats or play music on digital instruments such as a keyboard.
The app can also do MIDI recordings. When you're done making your creation you can export them or share them directly to SoundCloud.
Feature set aside, this app is just fun to use. I felt like Beca in Pitch Perfect mixing music as I tapped on my PC to create a drum beat or play the synthetic keyboard. I grew with music being a big part of my life, but I personally only play one instrument. Stagelight allows me to take my musical knowledge and turn it into songs with digital versions of instruments I've never played.
Pricing
Generally, pricing for an app can just be listed in the introduction, but Stagelight has a pricing system that is almost needlessly complicated. The app itself is free — to unlock features you have to pay extra. For $9.99 you can unlock a large number of instruments on any Windows PC you use. If you want to go cross platform you have to spend $29.99.
Further complicating the pricing is that you don't just purchase the packs through the Microsoft Store. Instead, you shop within the app and add things to your cart. Then you pay through the store interface.
Even more tricky is that the pricing isn't realistically representative of what you'll pay. You can earn credits in the app that can be used to make purchases. For example, I earned $6 by entering my name and details. I then had to purchase a $4.99 credit which I had to use for a $10 purchase, leaving about $1 wasted.
This pricing system is the biggest drawback of the app and it just seems odd. Users end up using two stores, purchasing credits, earning credits, and having unspent money. It's a jarring experience compared to other apps in the Microsoft Store and a reminder of why it's so nice to just use the Microsoft Store to make purchases.
Summary
Stagelight is a great way to get into creating digital music. It has tutorials to walk you through the basics and the app allows you to show your creativity using a variety of instruments and sounds. The interface and pricing setup are overly complicated, but still functional.
If you want get into creating digital music, Stagelight gives you the flexibility to start with the basics and expand to making more advanced creations.
Pros
Has a number of instruments available
Helpful tutorials
Fun to use
Cons
Complicated interface
Confusing pricing structure
See in Microsoft Store (opens in new tab)
Windows Central Newsletter
Get the best of Windows Central in your inbox, every day!
News Writer and apps editor
Sean Endicott brings nearly a decade of experience covering Microsoft and Windows news to Windows Central. He joined our team in 2017 as an app reviewer and now heads up our day-to-day news coverage. If you have a news tip or an app to review, hit him up at sean.endicott@futurenet.com (opens in new tab).
I would like to see apps from Akai, Fostex, Roland, and others in the store. Come on MS!

I read: Promising music tool
Then thought: Better check pricing before I read any further. When will devs get that deviating from Microsoft Store pricing models just makes them lose so much potential interest?
If I have to pay via 3rd party, I am out. I do not think those models deserve a place in the Microsoft Store 😌

Hey everyone My name is Matt Presley and I'm the product manager for Stagelight. I love this review and totally agree we need to do a better job of streamlining our purchasing options on top of adding and enhancing features. While we're currently working on enhancements to our store experience, I want to clarify how things work today. As for purchasing items in Stagelight, today we do use the built in Microsoft payment system to sell in-app credits. These credits can be used to unlock features and purchase content, such as loop packs and instrument presets. Our main reason for this model is to ensure the best cross platform support and flexibility. For example, when you buy the Ultimate Unlock, it includes $30 credits for content purchases and unlocks all features on Windows, macOS and Android devices. With this, if you owned an Android phone or tablet, all you would have to install Stagelight and sign into it. From there your features would automatically unlock and any credits you have in your account are available to spend there too. This also applies to individual content purchases. Any loop or preset pack bought on Windows can be used on Android or macOS and vice versa. I hope this clears things up a bit and if anyone has any questions I'm happy to answer them. I can be reached at matt@openlabs.com. Thanks for reading!

Matt, are you looking at bringing an iOS version to iPad? This could be what I'm looking for to transition from GarageBand for recording demos and songwriting.

I don't have an eta on the release, but yes, we are working on an ios version. Stay tuned!

Great software! Where else can you get Cross platform recording at this price? I think I paid $50 for the full version...Works on iOS, Android, and yes, Windows! I use Stagelight on my Surface Pro 3, great software for touch screens! They have incredible prices on sounds packs, anywhere from $1.50-$9.99 and they do sales often. They're great with customer service too! I've received two major updates for free from them. Highly recommended and easy to use.