Star Trek Online beams onto the Xbox One in time for the TV show's 50th birthday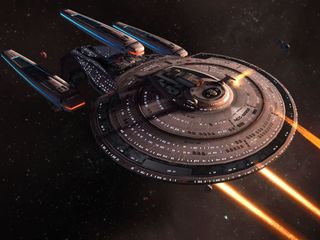 Star Trek Online, the free-to-play massively multiplayer PC game based on the 50-year old sci-fi TV and film franchise, has launched for the Xbox One and PlayStation 4 consoles.
The game, from developer Crytic and publisher Perfect World, has been available for PC owners since 2010. Star Trek Online is set several decades after the events of the "Prime" TV shows and movies. The Xbox One and PlayStation 4 versions also have some lighting and graphical enhancements compared to the PC version. Here's a quick look at its features
Free-to-Play – Experience a triple-A MMO game for free. Play from level 1 to 60 free of charge!
Adventure in the Final Frontier - Explore strange new worlds and seek out new life and new civilizations in a vast, expanding universe.
You Are the Captain - Partake in epic space battles and lead away teams across unknown worlds, interacting with allies and battling enemies.
Choose Your Faction – Fight for the Federation, Romulan Republic, or Klingon Defense Force, each with vastly different ships and tactics.
Total Customization – Create and customize a Captain from any species in the galaxy, or even make your own! Even your ship can be customized, from color to construction.
While the game is free to download and play, it also does have optional in-game purchases. Also, be aware that the console versions do not yet support the most recent expansion pack to Star Trek Online, Agents of Yesterday, which sends players back in time to the setting of the Original Series.
The launch of the game on consoles happens to come on the same day as the premiere of Star Trek: The Original Series on television 50 years ago today. The episode 'The Man Trap' was shown on CTV in Canada two days before it premiered in the U.S. on NBC.
I was addicted to this when it first came out on PC, took over my life for a year of so

I still have it installed on my PC and have a Level 60 Fleet Admiral on that account.

Any info on cross platform (PC) play or cloud saves?

This is a totally new version for consoles only so there is no cross platform play or cloud saves. I asked this question myself a while ago

Not showing in the UK store yet :(

Change you location to us and download.

Apparently it's only in certain North American regions at the moment

What are the in game purchases? Upgrades or ships?

lockbox keys, lockbox keys, and err lockbox keys. Yes mostly upgraded ships, cosmetics, add-on packs (eg inventory space etc). You really dont need to buy anything and get access to most content.

That's good. I was hoping it wasn't pay to win.

I play the PC version and unlike other free to play MMOs this one is fully functional and doesn't require you to pay anything, unless you want to of course

Yes, definitely. But only if you are a Star Trek fan, it can be quite heavy going with the lore of the TV series and films

Not in Canadian store. Tried switching to U.S still can't find it in the store. Any suggestions

It's not available everywhere yet, it's not available in the UK yet either

Just downloaded it... You really have to search it well. Shows and movies show up until you hit search and filter.

Only shows Pinball Arcade for me

In game purchases. What a scurge for gamers this rubbish is, just charge for the game and ditch this BS ffs!

You don't NEED to pay anything if you don't want to, you should read ALL the above posts before commenting as this is already mentioned!!!!!

I can't download it for some reason Posted via the Windows Central App for Android

RIP Star Trek Online (2010-2016)
Windows Central Newsletter
Get the best of Windows Central in in your inbox, every day!
Thank you for signing up to Windows Central. You will receive a verification email shortly.
There was a problem. Please refresh the page and try again.