Star Wars Battlefront beta coming to Xbox One and PC in early October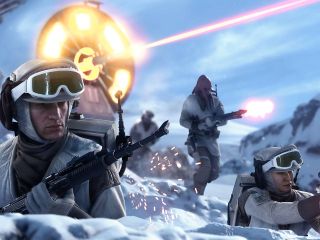 Xbox One, PC and PlayStation 4 gamers will be able to get an early glimpse of Star Wars Battlefront in a few weeks. Publisher Electronic Arts has confirmed it will hold a beta test of the multiplayer shooter starting sometime in early October.
EA stated:
EA will also launch what it calls the Star Wars Battlefront Companion experience alongside the beta test. It states:
No word on if the beta is open or how to sign up, although EA says they will have more information in the coming weeks. The full version of Star Wars Battlefront is scheduled to be released on November 17.
Pre-order Star Wars: Battlefront at Amazon.com (opens in new tab) ($59.96)
Source: EA
No game should ever be more than $25.

It was sarcasm come on. In fact I wouldn't mind the idea

I think in this year, with all the foreign currency meltdown vs the US dollar, no game should be more than US $58 outside the US. Games from last year before the US dollar gained strength were $76 where I lived, $76 with the strong dollar outside US is too much for a video game IMO.

I was told by a former employee at THQ that to get a game checked out to be by MS/Sony/Nintendo, it costs roughly $40,000. And most big name game developers have to get it checked more than once. How in the world can they price it @ $25 if it can cost them 80K-120K+ just to get the thing certified:? That's not taking into account the wages, marketing and any unforeseen costs.

Sell more copies. Tons of people like myself hold out until we get a killer sale even if it is year later. I'd buy way more games when they first launched if they were cheaper. But the underlying reason these games are so expensive at the start is that they have to show a profit in the first quarter they are released....so they start high and watch the market respond. Lower as they need until they make their goal. I'm sure lots of marketing and sales science goes into their models, but it keeps cheapos like me away...and often I forget to buy later when it is cheaper.

Yeah, and cutting the price by almost 60% means they need a crapload more sales.

If you (and everyone else willing to wait) still buy it later, when it's cheaper, then they haven't lost a sale. They just didn't miss out on the extra money from people who were willing to pay more to have it sooner. I'm really not sure how your suggestion works out better for them...

If you forget to buy it later when it becomes cheaper, you probably weren't that interested in it then. The people who want it now will pay, the people who don't care or don't have enough money will have to wait. It's like saying a Bugatti Veyron should only be $350,000. Bugatti loses, I think, ~4 million bucks on each veyron that leaves the factory and VW surprisingly allows that. I think it's the same thing with game devs, they spend tons and tons of money on the game and in the end pray that it sells successfully. That 60 buck price tag is necessary to help create an actual profit.

I feel like people don't understand the licensing fees, but wishful thinking

you said "coming to xbox one and pc" in the title but in the desc. it says ps4 as well!

It also says it in our opening sentence.

Well this is a windows centric site

Apparently to some people its Microsoft products and playstation site.

"more details in the coming weeks"

I've seen demos of this game in youtube and it looks like a next generation shooter, even Crysis 3 cannot meet the advanced graphics EA achieved for this one. Really going to miss not having a Xbox One, with that said, I'm hoping starter/middle range laptop GPU's of 2015 (Nvidia or AMD) support this game at 30fps (low textures and 1024x768 or 1280x720), It's always better to play maybe this game with low settings at 30fps, than not being able to run it at all.

No mention of how to get access? :(

They said they'll have more in the coming weeks on that.

"more details in the coming weeks"

Be patient!!! And read the whole article, lol.

Looks like a Battlefield re-skin.... But those sound effects are beaut! I am highly likely to buy this.

I've seen/heard so many people say that, and I'm not sure what the problem is. Battlefield was/is a great game (not hardline) after the bugs were taken care of. As long as this doesn't lauch as another turd waiting for polish, I think it'll be really fun.

Not such a bad thing, I have spent countless hours on Battlefield games, but sometimes I tire of the same style. That said, I live the Battlefield controller layout, so that will help. I sm looking forward to it.

It's star wars so even when I get owned alot I'm not going to care, I will love the 300 ticket 4hr matches lol

I really wish this had a campaign. I just couldn't care less about multiplayer. I like a story and no whiny kids.

Awesome news! I cant wait to play this game.
Windows Central Newsletter
Thank you for signing up to Windows Central. You will receive a verification email shortly.
There was a problem. Please refresh the page and try again.