Start menu transparency revealed in latest Windows 10 build leak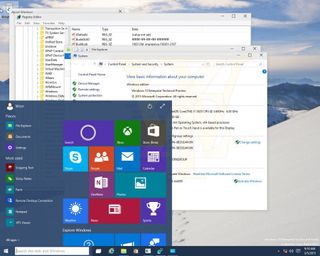 Screenshots of Windows 10 build 10031 have leaked online today, revealing a transparency effect that has been applied to the Start Menu. Microsoft previously said that transparency would not only be hitting Windows 10, but Windows 10 for the phone too.
Looking at the screenshot, it's clear to see a rather subtle effect on the menu itself, though no other part of the OS appears to be altered as-of-yet. Microsoft is expected to release a new build of the Windows Phone technical preview soon, which should contain Project Spartan.
Windows Central Newsletter
Get the best of Windows Central in in your inbox, every day!
Rich Edmonds was formerly a Senior Editor of PC hardware at Windows Central, covering everything related to PC components and NAS. He's been involved in technology for more than a decade and knows a thing or two about the magic inside a PC chassis. You can follow him on Twitter at @RichEdmonds.
then why is the article posted :)

Welll want the action center having transparency effect too. .!!!! Soon come insider for 720!!! Feedback app will come to rescue B)

Action centre should be there in black version also with transparency

COME ON, MICROSOFT! Windows 10 feels like a 90's OS. Please fire who design the UI. . if it didn't improve i will switch to mac

Seems like you never used windows in the 90's then...
:)

Exactly! I did. Windows 3.1 and 95 certainly never looked anything like this.

That was the dumbest comment I read all day. I think you were born to be a mac user if you can not see as far as a appearence of a UI to determine which OS you use. It is like someone that has to read comic books over novels. I have a macbook pro at home that I ended up using as a media server for my projector and I have to do some work around for common functionality in windows in order to function with almost everything. Down to an effing right click button! Comannd + click because two buttons is too confusing for the average user.. The OS tries to be so simple it is actually ends up being unintuitive for me to use and I refused to install windows on it because it defeats the purpose.

Dude, you don't have to command+click on a Mac, if you are so computer literate then change the setting for crying out loud.

@Jaybonline. Well If the UX for Windows 10 looks like a 90's o/s then I guess the UX for ios/android looks like an o/s from the cretaceous period :P.

And if someone says that the new modern Windows design language is old... Then just tell him that, Go **** yourself... You know what I mean ..!

@TechFreak1 False. Everyone knows the cretaceous period was considered the UI Renaissance.

LOL you're kidding right? Be gone troll. I moved from clunky / ugly OSX about 4 years ago. It was good back then, but feels very dated compared to Windows 8 now.

Are you judging a product coming out in the end of 2015 by how leaked screenshots from the alpha looks like in march?

@jaybonline. You just went full retard. Never go full retard.


Please do so you can go over to that camp and complain. If you don't think this is innovative, please design your own OS, or go use Linux.

And what are you going to do on your mac? Browse the web with your single button mouse and edit videos. Macs are rubbish, ive had one.

Did I just saw 280 gb of Ram in that screen shot behind the transparent start screen. ......!!!!!!??????"" ;-O
Tell me I'm not wrong
.........

seems like. but maybe is just 2,80. in 8.1 you have the exact value in () and maybe in 10 you have directly the exact value.

That may not be the case. The processor is also Core i7. 2.80GB is too less for a PC having a Core i7.

I was also going to say an i7 4ghz with only 2.8GB RAM? doesn't make sense.

Looks like it is. Wow too much ram

Hahahahahahaha! So it seems... That's a whole lot.

I don't think that's possible cus as far as I know 64bit OS can support only upto 192 GB of RAM.

64 bit pc can support upto 16 TB ram. It depends on The version of Windows. 64bit vista can handle 192 gb. Win7 64bit can handle 512. Same goes for 8 and 8.1

Why do people still care about Aero? It wasn't really that good looking to begin with so why is it the top requested feature on the Feedback app?

I agree, keep with the flat / clean look. That said if in the setup it asks questions about preferences where things like this are on / off, that's good for everyone.

Some alphabets are written in the background of 1st white window in yellow colour... any idea?

Should be out today... Right?!

probably no. the build seems only 5 days or so older. since ms has'nt released any builds recently we expect soon.

I see you a there new recycle bin!

Not only recycle bin, all of them sucks!

Which includes you, BataBole?

#batabole. Dude if u don't like the new OS, gtfu here

@burgerkill @Shoxrux you guys are tellin me you want see those outdated folder and recycle bin icons on final build of Win10? @Shoxrux I don't see where have I wrote that I don't like new OS so go F yourself.

i personal don't care at all what the icons look like. it's least important part of the OS. @shoxrux is out of line, but these complaints about really minor issues are tiresome. i believe there are ways to change the icon if they really bother you that much.

I uninstalled almost 100s of apps just because I didn't like the icon and associated files icons.

@abm why not just change the icons? You can download thousands of alternatives, or make your own.

I've tried to do that. I also have a huge collection of icons too. That takes too much time. Clean and easy UI is also a priority for me. But I want those things to come preinstalled. As a example of my customizing, back in WM6's days, I copied iconres.dll from Win7's System32 to my WM6 and updated some registry key to get those icons of windows 7 in my windows mobile.

Yes, I do infact like those icons. yes i would infact like to see those all in the final OS, so, please go ahead and speak foryourself, but stop being a tool about it.

@Shoxrux Shamanov, there is no need for blind fanboyism. BataBole referred to the icons not the o/s. Besides there are many that do agree the icons look well... terrible... If they are placeholders then they could have left the old icons in place and spent time on something else.

Submit feedback to ms that you don't like the icons.

totally agreed. Feels like outdated compared to windows7/8/8.1 recycle bin's icon.

You mean the on from vista ?

Pretty sure they're mostly placeholders.

I am sure "placeholders" will be the official response from ms once they get inundated with complaints, but if they were truly placeholders; wouldn't they have just used the existing icon(s)?

That's why it's a preview so they can make adjustments with each new build. The problem I have with you guys is that you come in here moaning like a bunch of b*tches instead of using the feedback portal in windows 10.

No, they've already said these aren't the icons you'll see at launch.

Recycle bin = Windows 3.1

I'm in the minority... I actually like the newer icons. I think they look simple enough and are fairly straightforward, as well as matching in the flat design. To me, not all icons have to be fancy to be effective.

No need to be fancy... But that recycle bin icon is TOO out-dated looking.

i do think same, the new icons are very informative and straight forward but not aesthetically pleasing, which matters to me.

I have not tried W10TP but looking at the picture I wholly agree that the recycle bin icon looks both ugly and outdated. The first thing I did with my Surface Pro 3 was remove the recycle bin icon , because I hate icons anyway. It's either the start screen tiles or pin to task bar. I will disable any Start Menu too, but that's just me.

You can't disable the win10 start menu. It IS the start screen now (in tablet mode)

From previous comments about the Start Menu I have been informed a few times that the Start Menu can be disabled in the final build?? Edit....I'm referring to the desktop mode here.

You can toggle full screen or not, also there is an option in the taskbar settings.

At this point in the build process, I don't really care what they look like. I do hope they are not final. Reminds me of what I would expect from a trash can clip art search in 1996. If they are just simply placeholders, then why wouldn't they have just used the existing ones?

+1
Agreed.
I love the flat design as a whole

All you cry babies need to go suck a bottle because all you do is whine in every comment you make on forums.

No kidding. I just threw up in my mouth a little.

That's why smart people know they change the appearance of icons but bitc*es have to cry

Do you guys rememeber Windows "Whistler"? They had a whole look and feel in the previews and it was radically redone by launch. This is not final. They are asking for feedback.

Doesn't bother/irritate me. It's just corny. If ppl want to willingly be corny go ahead. Just letting you guys know, it's tired and old. Dont be sheep

I sure hope it's just an option. No desire to go back to the 00's :P

How about a release for the high end Lumias?

seems like you've missed MWC Barcelona. Flagships are only after windows 10 is ready.

I think he means windows 10 preview for high end lumias too

Microsoft already announced they're not releasing a flagship Windows Phone until Windows 10 is released.

Next build will be available for "more" devices says Gabe. What more means is anyone's guess but I would assume 9xx line and 1520.

Windows 10 is a horrible joke being played. I'm so disgusted with Microsoft right now.

Go cry to mama.. Or just buy AppleCrap!

I agree, no love for it right now.

It's alpha. Not beta, alpha. Shut up and report whatever you don't like. And if you don't like it at all, then please go back to your former OS.

I hope it gets better, as of right now, I'm liking 8.1 better on my Dell V8P.

Agree. There are little inconsistencies using that tablet. It kind of its a negative spin on using a full Windows device without a keyboard. There are important features not available in tablet mode, such as access to desktop shortcuts and files, as well in desktop mode the soft keyboard doesn't trigger automatically. Hoping it is a little more logical for this smaller form factor in the next build.

Why? It's turning out quite nice. Really like it on my laptop

The Dell Venue is not a laptop, but a full Windows 8"tablet. This OS is created more towards laptops and other PCs. The tablet UI is a small step back from 8.1.

Says the guy with some of the worst opinions.

Should be a little bit more transparent.

I don't like that app list on left when we enter full screen on start. It should be like on Win8.1, on bottom.

you can go full screen start menu in windows 10.

He's referring to the fact that when you go full screen, the app list status as that narrow list on the left which is really lame for touch screens.

Yeah and it's ugly, broken, and missing features Windows 8.1 has.

it's not the app list. it's the most used and places list. the app list can be seen on the bottom.

I hope they fix that before the final release, else I'm upgrading only my desktop to W10. My surface and other tablets are staying on W8.1!

Yep, looks wrong now but think it is desktop only and some say it can be disabled, sure hope so, always hated the start menu for some reason.

It's in Antarctica. I talked to the officials recently and they said that due to bad weather, it's departure from there has been delayed.

@malay Agarwal should I say wow or something? -_-

You can if u want to.
Looks like people get offended too soon nowadays. Have a bit of sense of humor, it won't kill you.

Hope they have an option to not have transparency. I'm not a fan of it

I'm starting to really like Windows 10. Important improvements are being implemented. I seriously hope Microsoft shows this level of dedication for Windows 10 for phones too. :)

Yeah. That was one of my first suggestions to the very first build. I was really surprised that it wasn't there from the get go.

Still isn't attractive to look at or use.

They should stop numbering the build in such a manner. They should name the builds as 1, 2, 3, etc. This would be WTP3 if its a major update or if its a minor one, than it should be WTP2.1.

No they shouldn't. This is a beta, not something the general public is being sold.

This is how most major programming projects are done. There are many internals builds in between each public release. Since this is a beta version still, there's no need to make anything "friendly" yet. When the final version is released, that when the simple numbering comes out.

I understand that. But yet, naming them in that way, while maintaining the build number internally, would not harm them.

This is a leaked image. The official name for the preview probably will be March Preview like the January Preview.

Touting transparency as a feature is really pushing the term feature. :-)

Want aero interface and its beautiful transparency in windows 10. I love aero in windows 7.

God no. Aero is an ugly resource hog.

Optimization ? It works perfectly on my old PC with windows 7.

W10 for phone build is really needed rite now.. We sure can use a few bug fixes..

W10 for Phones was always going to have a lot of bugs. It's the earliest version of the OS Microsoft could have released, even earlier in development than the first W10 PC build. It was intended for use on second or old phones, not really for the devices that people use in their everyday lives.

Keep posting these kind of updates won't catch consumers attention, better concentrate and release it faster.

Microsoft hasn't posted anything, this is a leak

Start Menu. Disable. Enough said.

Too many flat opaque blocks in W10, who cares about a little transparency. More of this stuff should be fully transparent imo.

I'm running the preview on my main machine it's remarkably stable, can't wait for the next update and the Spartan browser... I was a fan of Windows 8.1 but this new OS really is all things to all people in my opinion...

Disagree. Windows 10 is so far a massive step backwards, a cowardly retreat from good ideas and appeasement for small minded trolls.

And when will we see this new build? There should have been one in Feb. ??

Should be soon. It's an organic process; judging by the leaks there was nothing new in the internal builds worth having external people testing since the last build.

Even the START BUTTON is quite smaller..

What about the Windows 10 for phone
???

I am more excited about the new Recycle Bin icon. :/

Hope this fixes my video driver problem on my laptop

the icons Microsoft should use what used in windows vista. though vista was a flop but the design was pretty good enough.

Use the feedback portal in windows 10 preview please! We are not the windows 10 programmers in here, we're just windows central forum members who cannot make changes

Vista was pretty, but a resource pig. Not worth it.

I hope the transparency is something more blurring...

Luv the recycle bin icon...

Standard icons looks shity

Agreed. Windows 10 icons look like Windows 3.1 icons.

Did i just saw 280 gb of ram in that screen shot??????....!!!!!!!!!!!!!! Tell me I am not wrong.............

I'm less concerned with cheesy effects like transparency than I am with the return of functionality Windows 8.1 has that 10 doesn't.

I don't like transparency!

Here Microsoft is, trying to make an OS that is greatly improving all of the faults that were present in Windows 8 for mouse and keyboard users....and now you're all complaining about something as stupid and petty as the icons being flat and ugly.....what the f**k is wrong with the human race?

I know.....people keep moaning about people moaning, weird hey lol

so this is their fix to their horrible functionality problems? make it transparent? they've lost.

I was a bit unsure about the Start Menu returning at first, but seeing more images of it is making it grow on me. I can remember the version MS showed at it's Windows 10 event with the translucent black start menu - that looked very nice. It would be nice if MS could include an option to retain a Windows 8.1-style Start Screen, however - I may not use it, but options are always good to have.

Hoping they reinstate being able to use the desktop wallpaper as a background too. This is one feature that reduced the perceived "jarring" effect on windows 8.1 for me

The resize button should be small
..

Or larger, depending on your preferences.

I commented the taskbar looked like someone used a fill tool in windows paint and asked to at least add the option for transparency or something. A couple months ago I don't know if they took my feedback seriously, but it is great to they are adding this!

Can't wait for this new build! Spartan looks interesting, a functional Cortana would be welcomed, hopefully there is a fix in store for the broken WiFi auto-connect, and hopefully we will see DX12 in the new build as well (though that may be coming later). But as silly as it is, I can't wait for new transparency settings for the OS. Back in the win7 days I basically set everything to a faint white UI, and it was great because it allowed my background to essentially supply the theme color for everything rather than fiddling around with color settings that would never quite match right. I just want to know when it will hit. I was expecting it last week, but there has been nothing yet. Maybe next week? I hope we do not have to wait until /Build for the new win10 build... that would be rather painful.

Getting sexier by the day

what's the current build number? i have 9926. thanks

Veeery subtle indeed... Need to set my eyes closer to see that one...

Seriously, who is asking for transparency in 2015..../vomit

MS should carry out a questionnaire survey for UI elements. I think more than 95% of users would choose iOS or Android material design over Windows 10. Compared to other OS, thin and small system fonts in Windows 8 and 10 is also ridiculous.
Windows Central Newsletter
Thank you for signing up to Windows Central. You will receive a verification email shortly.
There was a problem. Please refresh the page and try again.