Ster-Kinekor, South Africa's largest movie chain, comes to Windows Phone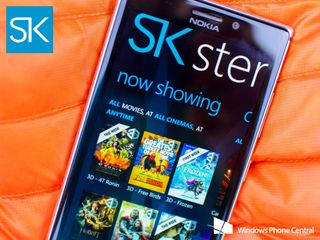 Odd are you're going to Ster-Kinekor if you're in South Africa and want to see a movie in theatres. After all, it is one of the largest cinema companies in South Africa. Good news if you do see movies there often, because they've just released an official app for Windows Phone.
Ster-Kinekor (sterkinekor.com) has over 54 movie complexes in South Africa and can claim over 400 screens with over 63,000 seats. It's by far the largest movie chain controlling about 65% of the market. They also operate Cinema Nouvea, a chain of 15 digital cinema houses focuses on more independent films.
Like any good movie theatre apps, Ster-Kinekor does everything you'd expect it to. You can brose current showings, watch trailers, and purchase tickets all within the app. You can also toggle between Ster-Kinekor and Cinema Nouveau to find what you want. Here's what you get with the app:
Swipe through movie lists to see what's currently playing and coming soon
Browse and filter movies by genre, cinema and date
View high-quality trailers
Read detailed movie information like synopses, parental ratings, run times, director, producer, cast lists, and enriched Movie News from Africa's number 1 Entertainment Content provider
View accurate performance times
Ability to purchase tickets with the app, including exact seat by looking at the floor plan for the cinema
Sync booked movie times with your calendar and get an alert an hour before the start of the show
All in all, this looks like a solid movie theatre app for all Windows Phone users in South Africa. Of course we're not there at the moment, so we can't test this out ourselves. But do let us know what you think of the app if you're from there area!
Want to get Ster-Kinekor for Windows Phone? Grab it for free from the Windows Phone Store.
Via: iafrica
Windows Central Newsletter
Get the best of Windows Central in your inbox, every day!
Would have loved this when I was living in SA. Sterkinekor provided a better movie watching experience IMO. (with much lower ticket prices than in the US or here in Jamaica for that matter)

I don't think so, I rem paying over R80 for 2 tickets, pop corn n coke..Here It comes to under $30 for 2 ppl..
I'm not taking currency conversation into account..

If you watch movies on Tuesday, the tickets are half price...its just that the popcorn is just so expensive. Also is recommended using your SK club card, you get 100 points per movie and an extra 100 points if you buy a popcorn combo. Once you have a 1000 points you get a free movie (2D or 3D-you just need to buy the glasses)

Your right..
Also popcorn is way way to expensive..nxt time I'll take my own seeds n ask if I can pop them there

You really should take currency conversion into account. R80 is about $7 these days, isn't it? It's certainly much cheaper to go to the cinema when I visit family in SA than here in the UK, where we pay about 8 GBP per person per ticket (about R150). Anyhow, yes - always pleased to see more apps coming to the WP Store. I noticed that WP is doing well in SA... All Nokia phones on the front of the latest Vodacom booklets...

The reason you found it cheaper n the reason I didn't convert currency is because you went bk with £ so you got more money, if I used $ it would also be cheaper but I'm talking abt for when you only earn Rs..

Good to see you guys reporting on apps from here. Now we need to get other South African companies to realise that WP outsells iPhone here and develop their apps for WP as well. We currently only have two of the four major banks here with WP apps out

Quite a few large companies are bringing out WP apps soon. Hold tight.

I'm aware of that and that you probably have a hand in it. You're doing an awesome job promoting WP locally and you're apps are stellar.

BEST APP ON WINDOWS PHONE 8 IMO. Need to push wp here its got so much potential with devices like Lumia 520, 525 620 625 . It can dominated here because of great reliably and durabilty of nokia/Microsoft phones

Well Chris, I use Samsung Ativ S which I think is better than any Nokia except maybe the larger ones like 1520 - which haven't launched here yet.
Had to order it from overseas as I got tied of being told by Samsung Store that theirs is actually a Galaxy Store and they've never heard of Windows Phone.

Great man. I would just love it if more could support the platform. Budget wise we will need more devices like aforesaid but thanks fir growing the community with a great phone like ativ s

This is great stuff, Ster-Kinekor is a very good movie chain. Just would like to see their rivals (Nu Metro) also release an app for Windows Phone. Thanks for the news for the South African market, would love to see more local news on WP central about my platform. :)

Ster Kinekor apps on all platforms are really great, they follow design standards layed out for the platform and take advantage of the unique features on every platform. The WP8 app is no different, and they continue their standard of high quality apps. Great work SK.

Good news for SA, I'm in Malaysia still hoping for GSC or TGV cinema to release their app for WP8.

Seems like a great app. Nice work Prezence! Doesn't seem to be published in the US store though which makes it useless for those of us who have our region set to there. Most people I know in SA don't have their region set to SA because it disables a bunch of stuff.

Finally...all those emails I sent them paid off... I'm surprised how many south Africans are here (I thought I was the only one) and I'm even more shocked that a RSA only app made it on the front page...thank you WP central.

This is lekker hey boeties! Okay that's all I know :P

Haaa haaa love this!! Good effort Having said that, good seeing SA giving Windows Phone some leave. If only the UK would give the platform as much attention

The app is great! I especially love the calendar integration for new releases!
*I'm a movie nerd!

Remember to vote Da !! Otherwise sa = Zimbabwe!!

Awesome App from Ster Kinekor, another nice app for Windows Phone Platform.

Nice!
App look beter when compared with my Android phone; works very fast, trailers are decent quality and love how booking portion is done - very nice and clean.
Well done Prezence/Sterkinekor and glad to see this article published on WP Central - made me open user acc so I can comment :)

Awesome, I just happened to stumble upon the app last night and was quite suprised to find a ster-kinekor app, I was hoping to find some thrid party app. I come here today and I see this article. Nicely done =D

Not much of a movie fan.
Still waiting for Xbox music app.
Currently not enabled for South Africa

Wow, good to see so many fellow South Africans on here! Now we just need an ABSA app...

Awesome, more love for us Saffers left behind! :-)

Wow this is great! I did spot this somewhere and thought maybe I was dreaming. I have to say I have been using web apps of both Ster-Kinekor and NuMetro and both are pretty good (Ster-Kinekor slightly better). I do believe Windows Phone is being taken more seriously now because I'm seeing a whole lot more in the wild (mostly Lumia 520) even more than BlackBerry and I own both Lumia 800 and Lumia 520 (also use to own Samsung Flash) and I do whatever I can to promote Lumias even on my personal blog. Pricecheck is also a pretty good and useful South African app too.
I am a big movie watcher too and I jump between the two companies some have 'this' movie and the other has 'that' movie (lol) I take advantage of the membership discounts too (Clicks/MovieClub) but having full features even to purchase tickets is a huge plus! LEKKER!

Thanks for covering a South African app.