Steve Ballmer Mobile World Congress Keynote Liveblog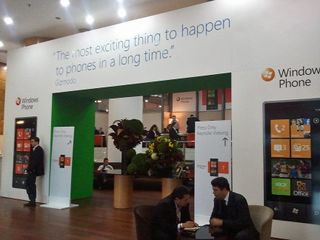 We are live at Mobile World Congress, but you knew that. Steve Ballmer is set to give his keynote at 4pm local time, which equates to 10am Eastern in the US. We hope we're going to hear details on the next version of Windows Phone, but with Steve, anything is possible. We're at the Keynote viewing party at Microsoft's digs at the Catalonia hotel, where we will not only watch the Keynote stream but also hit up Microsoft folk for questions after the event. Join us after the break!
w00t, I'm ready and waiting. Come on MS, give is something good to look for.

Damn I have a meeting at 10 ET so guess I'll miss all the tasty stuff. Hoping for a CMDA announcement and maybe those phone shots from yesterday will be release soon!Love the colors!

Ehhh, I was hoping for more. It seemed a good half of it was a refresher from what WP7 is, which has already been done. And no CDMA talk :(

Yea, the new stuff they showed was pretty cool, but there still doesn't seem to be a sense of urgency or fight or even some excitement coming from Steve.And why can't they just give us a solid date? "First 2 weeks of March" is such an odd time span.

Just as I suspected, no mention of any updates at all.

is this the only day MS will be up there? or do they do a little but everyday?
Windows Central Newsletter
Get the best of Windows Central in in your inbox, every day!
Thank you for signing up to Windows Central. You will receive a verification email shortly.
There was a problem. Please refresh the page and try again.