Store app for Windows 10 PC and Mobile updated with new music collections feature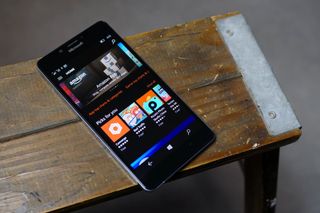 (Image credit: Windows Central)
Microsoft quietly updated its Windows Store app for Windows 10 PC and Mobile over the weekend. The new version includes an added feature that shows music collections in the store that are curated by Groove Music editors.
The new version number of the Windows Store is 2015.25.22.0. Microsoft, as usual, didn't offer an updated change log, but if you spot anything new or interesting when you download the update, feel free to let us know in the comments!
Thanks to everyone for the tips!
Windows Central Newsletter
Get the best of Windows Central in your inbox, every day!
What the store app really needs is notifications for app updates.

And tile updates for the small tile.

I can't believe this was a lost feature from WP8.1. Along with the loss of change logs...

And the "last updated" date for when apps were last updated by the developer.

for me it seems like MS wants to hide the fact that apps are normally abandoned in the Windows store. you can't find the version either.

Tell me about it. That alone is bothersome and an feature that shouldn't have gone but Microsoft wants to hide and spare the embarrassment of showing when an app was last updated. Like Kik for one. Abandoned but people don't know that Posted via the Windows Central App for Android on my Lumia 950 XL

"Posted via the Windows Central App for Android on my Lumia 950 XL" Did you manage to hack the 950 XL or is the Android runtime available? LOL Just wondering...

Also the number of ratings in parenthesis after the stars.

Ratings should be most recent by default rather than most helpful, which are often two years old or more, which usually isn't very helpful.

SECOND THAT.
Put that in windows feedback Posted via the Windows Central App for Android

Yes!! Notifications for app updates would be awesome!

Also update history, change log. Also control them through notfication without opening the store. Also update the store last. At the moment, it just closes and leaves the other apps pending, until you open the store again.

In other words, bring back everything that was lost from 8.1.

Yeah. The new keyboard is less than helpful on 10.

The old version is 2015.25.15.0 The new one is 2015.25.22.0

Great! Now we need these on the Groove Music app.

Need "universal apps" section. That would be great

Second that. Would be very interesting to know...

Being able to browse by universal compatibility would be wonderful, and give devs the incentive to tick as many boxes as possible.

That really would be great, a category for "true universal" app's.

But when windows 10 updates for non insider mobile

New feature - new bugs over existing - keep polishing

My guess is he has no idea. He's just trying to look snarky, when really he's looking like he knows nothing about software development.

I saw my Facebook app and generally my Lumia 730 performance getting better today. Anyone else?

Don't know how to explain it, honestly! But everything feels buttery smooth today!

I can explain it for you. It is called Placebo effect.

It's called... "Seems faster".

The app now loads quickly...on my NL730 it loads almost within no time now... (even smoother than Windows Central app :P :P)

Been loading quickly on my 925 for quite some time now...but even faster with the last two updates

You're right. It was loading for maybe 1-2secs before but now the "splash screen" (store logo) is barely noticeable

Nice...but would be nicer if I had w10 to actually USE IT :|

So install it or buy a phone/PC with it installed.

Thank you for your imput *closes door*

Why are there no changelogs in the Store? Posted from my Note 5

You need a proper phone to see them.

Is a 635 not a proper phone? I used to not see them on my 930 either... Posted from my Note 5

I'm pretty sure he or she means the note 5 part.

The Note 5 is far more of a phone than anything running Windows 10 mobile. Posted via the Windows Central App for Android

Sorry, did I wake you DH?

Aww, don't feel bad. You'll learn some day

My BMW trumps your Note 5 any time.

So what happened to the official Facebook and Instagram app that was suppose to come with Windows 10? Or the universal 6tag and Windows Central?

Rudy Huyn said 6tag is coming in a week or so. He made 6tin universal first and was working on an Official app for another company before he could get 6tag done.
Windows Central app is in private beta...
Im guessing the official uwp Facebook app will be done by the time W10M is released fully to all eligible old non-insider devices?

I believe the 6tag developer has said he's starting work on the new Windows 10 app this week/last week. It'll arrive. Facebook has made a public promise to release Windows 10 Facebook, Instagram and Messenger apps, so whilst there's still no guarantee they'll stick to their word, it's more than likely they will at some stage. Just a little more waiting, as per usual. Whilst I cannot talk for the Windows Central team and have no clue as to the workings behind this site and it's apps, I think it'll be quite soon; last i heard, a public beta was being considered? (Correct me if wrong)

What about the universal app for twitter on phones? Its PC counterpart came out ages ago!..all the way back in july if i'm not mistaken :(

Oh yeah, can't believe I forgot to mention that.

The official Facebook app is here. It's one or two updates from being perfect right now. It's a great app.

That app can never be perfect with its battery drain on all OSs. Posted from my Note 5

Where? I thought the one now is from Microsoft

Can anyone give me the link? My store can't search for updates, so I always have to go on the app pages themselves. Is there even a Store app page?

It's just somewhat inconvenient to have go go check, as opposed to Google Play on Android, which notifies you of updates. It's a nice thing to have.

I couldn't find an app called "go go check". :/

I hate that notification on my android phone..it is annoying. Posted via the Windows Central App for Android

I have the same problem. Install appraisin. You'll find a link there. Didn't fix my update problem though.

Oh my god thank you so much! So there really is a Store app page, but it's apparently not searchable because I tried that many times and couldn't find it. Anyway, it didn't solve the update issue like you said. I guess hard reset is the only way. Thanks again!

You're welcome - been driving me nuts for long enough. Installed AppRaisin out of interest, then this weekend - a link I thought didn't exist. I read a forum where someone was asking for a link to update the Store, but MS could only answer through the Store update even though he was having the same problem. Maybe a future Phone Update will solve the issue. Maybe uninstalling some apps that don't seem to exist in the Store any more. Who knows. Have tried many things - installing a different keyboard, unpinning tile, clearing browser history, soft reset. Nothing is working for me. Certainly a hard reset will work but I don't want to do that. Don't want to uninstall those apps either. AppRaisin seems to be quite good at informing of app updates. Also I watch Windows Central RSS feed. So don't miss anything important anyway. I choose to wait and see for now.

I somehow don't believe that a future Phone Update will solve this, as I have that problem for 3 builds now or so.
​Your idea about uninstalling some apps that don't exist in the Store might be a solution. Maybe I will try that.

I sent you a pm. Not sure if it sent though.
I have a solution. Hope you haven't hard reset yet !!! Close store completely, close all tabs in edge and close completely, remove store tile from home screen (not sure if all these steps are necessary, but that's what I did) Now, open edge and type: ms-windows-store:PurgeCaches Then go back to Edge and type: ms-windows-store:Updates Then check for updates and nothing happens as usual, but set option to automatically install updates and next day, voila !!!

Try sysapp pusher, you might find it there.

Thanks but I used AppRaisin and this updated the Store app. But searching for new apps still isn't working.

Go to the Edge browser and paste this link: ms-windows-store:pdp?pfn=Microsoft.WindowsStore_8wekyb3d8bbwe

Pls Microsoft add wishlist to the store ... This should be at any store in the world !!!

My store app has stopped launching. It just doesn't open anymore after the update.

Restart phone. Failing that, a soft reset. Good luck pal.

I am using a windows 10 PC and pissed like never before. And the funny thing is the app will open in one user profile and won't open in another. What kind of OS is this.

Only thng I can think of off-hand is the number of devices allocated to that account but I doubt it, maybe worth a look though. Good luck.

Thanks man. I have only two devices associated with that account. I did a system restore and everything seems fine, for the time being atleast.

I've got the same PC issue. Several suggestions on the community forums but they don't seem to work usually.

Same thing. Now the Windows Store on my Surface 3 won't even launch.

Same thing here. The update killed the store for my profile on one computer. I eventually had to reset Windows to get it to start again. Weird thing is that now the stores in the other profiles on that computer have lost the list of apps that had been purchased over 3 months ago...

So wait - what good is the curated lists if it stop doesn't recognize a music pass properly outside of Groove? Would also be nice to have it create an auto playlist in my playlists if I download/subscribe to it.

Wallpaper studio 10 got updated. For me, it fixed the Microsoft Band color customization page where it wouldn't show up

Maybe it's time to give Groove a new chance. I used it for about 2-3 months back in 2014 but alot of music where stil absent

I've had the same issue, my store app fails to launch on my Lumia 950 xl after store update last night. I tap it and my screen goes blank, press the screen again & it activates what ever tile is in the position of where I tap (except the store obviously)

Can MS please add the ability to download music with your music pass directly from the store? At the moment you have to "listen with your music pass" (which starts streaming) before you have the option to download it.

I wish they would put back the listing of the last time an app was updated, like it is for the store in 8.1.

I can't even update the store as nothing comes up in check for updates and when I manually search for it to update it as the store search can't find the store itself. Yay

That's cause it automatically updates itself.

Think it's time to beat Microsoft at their own game with not stating the apps last time it was updated, we can start each time we get and install the update go to the ratings and update your ratings comments to include the date. Just a idea that could work.

Really, seems to launch faster. Though fallback language is still wrong: If app's language variety does not have e.g. Finnish available, description is in Spanish.. Needs to be english,

One of the many problems I have with the Store and Groove is the "curated" stuff and "picks for you". I find most of the curated stuff bad, at best, and offensive, at worst. Anything alleging to be a pick for me is so far off-base it's not even funny.

Don't take it so personally, then.

The recommendations can be pretty bad.. but Groove music is mostly whats new/whats showcased and then whatever you turn it into. Offensive though? seems like an odd choice of words

We also need feature that we can search by swiping through keyboard while searching for apps. Remember it was present in wp8.1 store and update history would be awesome. WP8.1 was pretty fast in downloading apps, I meant to say from tapping download to finishing installing was blazing fast but in wm10 it takes a bit time compared to wp8.1 from tapping download to starting download process. These features are still missing that I love to see on new wm10 store

How about look at what Apple & Google do 'right' and copy that?

I would be happy if they fixed that, when I try to exit the store app, it only exists on the second "back" button press... On the first it only does a page "reload", and nothing happens. This does not happen when I open the app, and exit immediately, but when I do some scrolling, clicking, etc... The MSN weather app is doing the same. Is it only me?

The store app is broken for me (Pro 4). Clicking the title does not open the app. I presume this is after this update. Does anyone have the same issue.

The store app broke for me too after this update. See full comment above.

There's a PowerShell command that can be run from an elevated session to re-install the store app. WindowsCentral has posted it a couple of times.

Thanks but I tried wsreset and various powershell-based suggestions and it did not help. Wsreset popped out a cryptic error window about not being able to clear the cache and the powershell scripts failed complaining they could not merge files. Eventually I did a full Windows reset and that solved the issue but it took me hours to reinstall all my win32 apps...