Store Companion lets you browse for Windows 8 apps on Windows Phone 8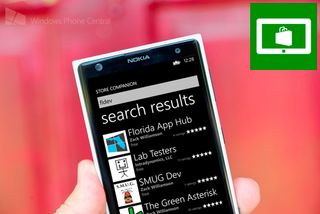 Odds are you're rocking Windows 8 if you own a Windows Phone device. If that's you, you'll want to check out this Store Companion app on Windows Phone. This app gives you access to the Windows Store while you're on Windows Phone. It's a neat way to browse the Windows Store without busting out your tablet, laptop, or desktop. Let's check it out.
Fire up Windows Store on your Windows Phone 8 and you'll be able to search for Windows 8 apps by using Windows Phone. Type in a search item for an app and you'll see your results populated in a list view. This view gives you quick access to the price, number of ratings, rating average, developer, and name of the app. It's a quick way to scan through the fluff that you'll find in the Windows Store. The layout is very reminiscent of how search results look in the Windows Phone Store.
Jump into any Windows 8 app and you'll be able to view the description of the app and check out screenshots. Most Windows 8 apps work best in a landscape orientation, so Store Companion will keep screenshots in the proper landscape orientation when viewing them. No need to disable or enable orientation lock in your settings.
Obviously you can't run Windows 8 apps on Windows Phone, so why use Store Companion? Because it's a great way to browse for apps when you're not at your Windows 8 machine. You can then share the global link for that app in the Windows Store from the Store Companion app. Sharing works via the built-in social networks on Windows Phone, through messaging, email, or through NFC (if your phone has it).
Store Companion is free for Windows Phone 8 users. It's ad-supported, but you can remove those advertisements with an in-app purchase for $1.99. Grab it in the Windows Phone Store today.
Windows Central Newsletter
Get the best of Windows Central in in your inbox, every day!
Would be even nicer if we could press the install botton, then install it on our machines.

Nice idea, I like the search feature, but it doesn't allow you to browse.

Yea. I'd rather browse...

Why does it require so much info from my phone? Identity, data services, proximity...? Holding off for now, even though it seems like a great app!

Ads. They require weird things like phone dialer, etc... Though proximity seems weird. That's not an ad one. Just inattention to detail when they were checking things off in the required list would be my guess.

Hmmmm.... I don't like weird crap like that. It's a no go for me then. Thanx for the heads up

Ads require all of that information. The developer cannot exclude those, however if you decide to pay to remove the ads you can sleep easy. None of that information is transmitted.

Thanks for the replies, didn't mean to start with the pitchforks, I've just never understood why simple apps require such things. Ads! It's always the ads...

Hey, folks, the dev here. You're correct, device identity, sensors, and media playback are required for ads. Also, proximity is required for NFC communications, which the app uses. :)

I don't see how this app is useful on windows phone

Simple. There's been times when I'm away from my surface and I want to browse the windows 8 store to see if it has a certain app available, while I'm out

And it's of course for wp8

Cool app. I can vouch for the dev, he's not harvesting the info. Its all ad-goodies. Nice job Zack.
Windows Central Newsletter
Thank you for signing up to Windows Central. You will receive a verification email shortly.
There was a problem. Please refresh the page and try again.