Study shows Global Windows Phone sales now dominated by Nokia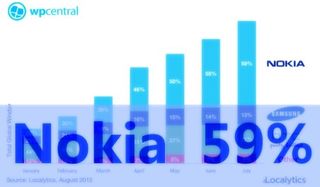 Statistics from Localytics are showing that Nokia is now the key supplier of Windows Phones handsets worldwide. Whilst this news might not surprise many considering Nokias considerable push in the retail channels, it does paint an interesting picture of the state of play with the three main manufacturers. According to Localytics survey, Nokia is now clearly in pole position as of July with 59% of total sales.
While the survey shows Nokia winning in market share it also illustrates the rise of sales in Windows Phone units from January until the present. Interestingly the growth looks almost to be exclusively with Nokia, the other device maker's shipments look to have remained almost static since April.
These statistics could be seen to illustrate that most of the Windows Phone sales growth this year is driven by Nokia. Nokia has waded into the market and sunk huge amounts into advertising and promotions. Since the launch of Windows Phone, this kind of focused push had been sorely lacking. A recent look at retail chains here in the UK, shows that Nokia is front and centre with placement in shops. They have successfully leveraged their relationships with retailers and networks to get their products in front of consumers.
With the launch of Windows Phone 8, Nokia will be in prime position to dominate sales. They have been laying the groundwork over the year to make this happen. So much so that it's getting increasingly hard to find other options in retail stores for Windows Phones. There is even some evidence to suggest that consumers associate with Lumia as a brand more than Windows Phone.
We've wondered openly if these factors may wake Samsung and HTC to the possibilities of pushing the platform more through advertising and promotion. If these figures are correct, it should be clear as day to other manufactures that Windows Phone will sell if pushed properly. Sales from HTC and Samsung show to be pretty flat and we would expect to see a much bigger push come Windows Phone 8 launch. Nokia has now garnered strong brand recognition, differentiated their services and built up a strong feeling of brand loyalty.
We'd love to see Samsung and HTC push the platform in the same way, the results will only mean a stronger and healthier eco system for all of us.
via: AllThingsD
Get the Windows Central Newsletter
All the latest news, reviews, and guides for Windows and Xbox diehards.