Suicide Squad Wallpaper Wednesday
We've had a lot of superheroes in the last few years. Here's to something very, very different!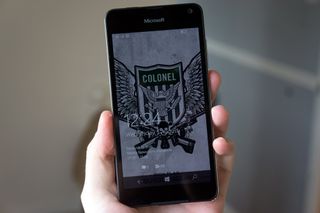 Unless you've been living under a rock, it's been damn near impossible to avoid the Suicide Squad the last few months, from the ridiculous set stories to the Comic Con remix I can't take off repeat. Suicide Squad is DC's answer to Guardians of the Galaxy and Deadpool, and while Suicide Squad wallpapers are harder to come by than the millions of Batman or Deadpool walls out there, we've got a bit of help this week in that the artwork for this film has been kinda incredible.
Let's get bad, shall we?
Harley Quinn by s2lart
Maybe it's the contrasting textures between the fishnets and Margot Roobie's sculpted legs or the subtle detailing like the symbols for each member under the logo, but this poster by graphic artist s2lart is phenomenal. You may not want to put it on your work phone, but this simple poster is a simple delight and I adore it on my home screen.
Captain Boomerang by ColourOnly85
Captain Boomerang is rude, crude, and less useful on the squad than most of the super-powered members roped into the mission at hand, but he serves up a lot of humor and attitude in a dark, dark film that's gonna need a lot of both. And his trademark swagger is being delivered by Aussie actor Jai Courtney, so bring him on. We'd join him for a beer... just lock up anything valuable or tossable first...
Captain Boomerang by ColourOnly85
Harley's Tattoo Parlor
At SXSW this year, WB set up a fully-functioning tattoo parlor and offered free temporary and permanent tattoos for our favorite DC badasses. The film also tweeted posters featuring these tattoos, and their muted color pallette and brought a brilliant insight into each of the film's characters, even Enchantress and Rick Flag, who were left out of a lot of the film's promotional materials....
Amanda Waller
The brains behind Task Force X is a devious and possible souless woman by the name of Amanda Waller. In the words of her actress Viola Davis, Waller completely lacks remorse, and is 'ready to pick up a gun and shoot anybody at will'. This is a stone cold killer and a master tactician, frequently going toe-to-toe with Batman and other brilliant minds throughout the DC universe in the name of control and good old American dominance.
Official Suicide Squad Posters
Suicide Squad has a lot of characters to fit on their posters, so they've given everyone (except Waller, sadly) their own acid-washed stylized skull poster to rock with their own distinct flair. While the colors may make you feel like you dropped acid when you look at your phone, you can't deny they're powerful designs and remind us that while in other superpowered movies there are people we consider 'safe'... no one is safe in a Suicide Squad movie.
What Suicide Squad member do you roll with? Are you looking forward to catching Suicide Squad in theaters tomorrow night? Who else misses Harley's old costume?! Sing out in the comments, and excuse me as I go put Sucker for Pain on a loop. Again.
Get the Windows Central Newsletter
All the latest news, reviews, and guides for Windows and Xbox diehards.
Ara Wagoner is a Writer at Windows Central. She's addicted to music and video subscriptions. When she's not writing help and how-to's, she's running around Walt Disney World and singing show tunes. If you see her without headphones, RUN. You can follow her on Twitter at @arawagco.