The sun will set on Amazing Weather HD for Windows Phone on March 17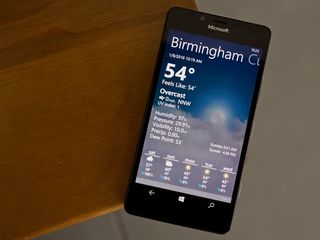 If Amazing Weather HD (opens in new tab) has been your go-to weather app on Windows Phone, you might want to start looking for an alternative. We've known that the app was on its way out since early January, but now users are being greeted with a message stating that the app will stop working altogether on March 17. Amazing Weather HD's developer also confirmed the news on Twitter, stating:
It's sad to see the app go, as we have previously cited it as one of the best weather apps on the Windows Store. Unfortunately, it appears the realities of developing for Windows Phone have made maintaining the service too costly to keep up. That said, there are plenty of alternatives, like AccuWeather and 4Castr, to consider if you're looking for another weather app to be your daily go-to.
Best Weather Apps for Windows 10
Thanks for the tips, Hoppman, John K., and Halden W.!
Dan Thorp-Lancaster is the Editor in Chief for Windows Central. He began working with Windows Central as a news writer in 2014 and is obsessed with tech of all sorts. You can follow Dan on Twitter @DthorpL and Instagram @heyitsdtl. Got a hot tip? Send it to daniel.thorp-lancaster@futurenet.com.
Crap... This was the only weather app I truely liked :(

yeah same here and it was the most accurate in my region :(

If you are in Canada or in any European country then try out "The Weather Network" app

Same! I must have missed the original announcement too. Hopefully if/when WP gets the market share it deserves this will return along with all the other apps we've lost

I've been using Amazing Weather HD for years, such a beautiful app :( Time to look for a replacement I guess

I use msn weather and sometimes the weather channel

My reaction to news such as this has gone from "Oh no", to "uh okay".

The Microsoft Weather app in Windows 10 and Windows 10 mobile is my favorite. I love how it has weather for ten days out and you can tap on any day to see the weather over the course of the day. It's super handy to see when the rain is going to stop. It's gorgous UI, has no ads and is free.

I agree, it's a great app.

Agreed. My one annoyance with it is that it still shows wind speed in km/h. I'd assume changing it to m/s would be trivial.

I won't be able to hold on for too long.

I finally gave in about 2 months ago, after the Delta app disappeared. Moved to Android, and I sure do miss the WP/WM/W10/whateverthey'recalling it now UI paradigm. There are so many things that take longer on Android. I keep holding out hope that one day I can come back but seeing stuff like this is rather disheartening; doesn't seem like there will be a whole lot to come back to. Sure, Microsoft has tacitly given up on this current iteration of mobile devices and is waiting for the "next big thing," but it's very sad that their current decisions for Windows on Phones has pretty much betrayed every developer that's poured their heart and soul into the platform. Why would any dev want to come back or even right now, invest in UWP?

Gave up too a few months back after years with Lumia's like 1020, 635 the 650, due to the dwindling apps. Now iPhone 6S and even put my Surface 3 in a drawer for an iPad Air 2 and Apple Watch. Will be hard pressed to switch back. Microsoft sure smooched the pooch on mobility.

Why would you ditch Surface for iCrap. Watch, maybe??? iPhone, no chance - boring and horrible, even with heaps of apps.

I did the same thing. I ditched my surface 3 for an ipad, because traveling, The apps on the ipad are much more useful than a website on the surface 3. Same goes for my iPhone. Had the 1020, Microsoft decided not to support it, and put windows 10 availability to it, so I did what ANY normal human would do, is talk with my wallet. I bought something else. WIndows phone left me...not me it. But the apps make up for the "boring and horrible" IOS. which it's neither. windows 10 mobile is much more boring and horrible since you can only do basic things with it now like check your email, or weather. Surfing the net instead of using apps, that's a massive step backwards in functionality.....check your fanboy at the door aden. I use only windows 10 on computers...but NOT on mobile beause it's so far behind the others....

Same thing here. But I went to Android. Windows phone 8.1 was on it's way to catch up with the competition. But then comes another reboot with Windows 10 mobile : Catastrophe planning, Overpromising, feeling of incomplete OS and total desinterest from Microsoft themselve on the OS, Clients and Devs. Just Look at this Website, they went from Windowsphonecentral to Windowscentral. And they justify it by a Hypocrite : Onecore Strategy. While the truth is, it's because the would be now updating the website just once a week and with a bad news about windows 10 mobile like this one. Last but not least : "The surface phone is going to change everything" It's like when the nazis were saying that their miracle weapons will make them win the war. You know what happened after.

I said it before Nokia broke the deal and started testing Android waters: The day the Nokia branding leaves Windows is the day the ship sinks because in the international market, Microsoft is just known for Windows ..and believe it or not, some people think Windows is a brand of its own and dont even know of MS. MS puts absolutely zero effort outside of the major EU countries and the US. In the case of Lumia, despite not having the recognition Nokia has around the world, MS put zero effort gain recognition. Despite facing "death" twice now, look at sales of Nokia 6 as evidence to how powerful the Nokia branding is, yet MS failed to capitalize on that when both when Nokia was onboard and when they had broken the deal and could have continued the momentum. It was the Nokia brand that sold Windows Phone devices, they were also the ones bringing major apps to Windows as well as helping mature the OS so it could compete. It seems MS was the only one who was never onboard, as they seem to have just expected it to sell on its own. Shame really cuz i truely love the OS and still enjoy using my 950 over my Galaxy, which will soon be replaced by whatever flagship Nokia announces next week and I hope eventually my 950 for a Surface Mobile.

The Delta app did it? It was useless from the start.

Yeah, I gave up on android a few months ago. I ditched my landline and my crappy DSL, and upgraded to a 950XL. I have the cricket $55 12GB plan, and I remote control an i7 on FIOS at my dads for torrents. BTW the 950XL works great with the curved samsung monitors on the continuum dock. I bring my kangaroo PC over to the FIOS once a month and download updates, when I bring it home, it somehow peer to peers the updates out to the rest of the PC's in the house. I know this is a bit off topic, and prolly not for everyone, but hey it worked for me. Hopefully I get two years out of the 950XL, and I'm saving $20 a month so I'll be ready to buy the next Microsoft Phone. I dont care if they dump the whole existing WP OS, as long as the new system does continuum, and is compatible with onedrive, groove, office etc (the microsoft ecosystem)

Windows Central has become the nostalgia site for Windows Phone.

Yeah, I'm leaving too with tax return money. Not much so will have to stay budget, but this Aristo or whatever on T-Mobile has same or better specs than my 640. Will miss live and transparent tiles but will be nice to have better selection of apps that are supported, fully featured and not third party. Looking forward to real Soundcloud app and local TV station news apps.

all MS services are available on IOS and work better on the iPhone/ipad as well! speaking from experience of course...not from fanboy blindness that resonates here...

I ditched all of the other weather apps because they killed battery just use Cortana mostly.

You surely haven't tried out The Weather Network app

Strawberry Weather is the next best thing

Surely trying to be.. ;) Developer of Strawberry Weather!

Dude, your app is amazing. Thanks for that.

Hey, thank you.. for using Strawberry Weather!

lets all go buy strawberry weather!

I really enjoy using Strawberry Weather. I went from MSN Weather, Accuweather, Perfect Weather Universal, and now Strawberry Weather. I really like the UI of it. Just got the extras to give the dev some coffee for any long nights. If it stays simple and lightweight, this will be a long term app for me.

Yes, simple and light weight is the key thought behind the development!

Try Strawberry Weather, it's really batery friendly.

I use this apps since Wp7

Looks like GasBuddy might be next.

Nooooooo...! Damn them all to hell!

If Microsoft ever manages to breathe new life into Windows Mobile 📱 it is going to be a true miracle. For now with a heavy heart I ordered S7 Edge as the replacement for my 950xl, as it no longer has the apps that I need (and some of them it never had but I kept waiting).

Just made switch to the edge last week. I will keep my 950 as a backup phone and see what improvements are made.
With all the Microsoft services available on Android I have kept all my integration with the ecosystem but have gained massively from the increase in app options.

My 950xl is awesome, all the apps I need and others I don't. Best camera. Love it until WB's phone or Surface.

I do agree, windows 10 mobile is so much better than android and I do solemnly swear to come back the minute Microsoft addresses the app gap. Instagram and Facebook are great on Windows but I do need other apps too, such as updated Spotify to control my receiver, BMW remote for my car, my banking apps, Booking.com, Scrabble for occasional entertainment, imdb for movies,etc. All Microsoft Office apps are already on Android. I've denied myself all the missing apps for far too long. Life is so much easier when everything is available whenever you want it. And with Arrow launcher Android experience is fairly similar to Windows in some ways. I am afraid it could grow on me....

Just switching to S7 Edge as well. My experience is kind of mixed. The phone itself is amazing. But android looks like a mess compared to the clean WM/WP UI. I wouldn't say MS apps are better overall there. Like I can't get a black background for MSN News and Money, Outlook is kind of annoying, but bearable, missing a few calendar views. Their widgets are... better to not say a word about those.... Although I got apps what I needed. And lost two of my favorite: Groove and Cortana, those aren't available in my country. Google's assistant... well... again like designed by a developer without any sense of UX (like me). If Microsoft will get something which is working, with the same clean Modern UI, I would go back. But for now. I will swallow the UI, hope for the best and will be happy for the available apps.

Been at the top of my start screen since day one. Sucks. I love the devs note-"Windows phone platform is not the stallion it once was". Package Tracker dev pretty much said the same thing-zero interest from MS in supporting this OS. Thanks a lot MS.

It's just a weather app guys, yes it'd be good to keep it, but really not worth getting upset over.

You can't just look at the termination of this one app and dismiss it just because you don't care about it. That is merely a symptom of a disease. Yeah, it's "just a weather app" now, but it could just as easily be Whatsapp, WeChat, Wells Fargo, or some app that matters to you personally.

WhatsApp better not leave. It's essential for me

I also used this for a long time, but moved on to new better W10 UWP apps. I don't really mind seeing WP8 apps go away anymore; it's all W10 UWP or bust from here on out. Of course it's still unfortunate for those who are still using a WP8 device and can't get a Windows 10 Mobile device yet.

Gods dammn it this sucks!! What else is good for weather lock screen support besides Amazing Weather HD? I've yet to find a good replacement.

Appy Weather and MeteoLens are two other weather apps that provide lock screen support.

Try Forecast. It supports lock screen, transparent live tiles and a lot of other features packed in. And it CAN SHOW WIND SPEED IN meters/second, unlike that not so amzing ex weather hd.

I swear I have had this app since WP7.

Sadc damn day, paid for it and it was the BEST damn weather app on WP... CRAP!

Thankfully my addiction to Amazing Weather was gone about a year ago after regular problems with losing settings and not updating.

Cry me a river. They got my money several years ago but they didn't update it for so long. I stick with Microsoft's Weather app on all my devices because you know... It is universal and it is regularly updated.

Do people still use apps other than the MS weather app?

Yep, MS weather doesn't give alerts. Need those.

It also doesn't have a transparent tile.

You are wrong...it did not but now it has been fully transparent for some time. I know because I am looking at my background picture right through it.

it sure does for 8 months now, do you have a windows phone?

Just about time to hang up the Windows Phone.

Shame.. Just stick with Ms apps and wait for a proper pocket PC where you can bypass the app culture. See Windows phone as a Business phone and we'll be ok. Consumer, populist apps are on their way out.

App culture is not going anywhere. Software for computers are not mobile centric. They provide less function in mobile situations. So POCKET PC....which was tried once already and failed, will not Boost anything....

Sad to see them go. Well, it's expected. 4castr wasn't updated pretty long time too so I guess it's just the metter of time that dev quit too. Not to blame them, but MS.

It was never a UWP app. Microsoft's own weather app is nice. I also recommend The Weather Channel app. The developers who don't make UWP apps don't even bother with PC apps. There's so many other options.

Truth be told it wasn't really that amazing of a weather app. I keep 4castr as my weather live tile.

Would there be a reason for apps like this one to not be open sourced? Drop the code on GitHub and have the dev community have at it. I would build hackathons around this kind of thing if the project is feasible. Ongoing support, not sure about that, or funding for server side content or licenses, but it would be app dependant.

This is a bummer, might go back to 4castr for alerts

Don't know what you do any more. I bought weather hd several months back because I want to support developers that hang on in there with Windows Phone, where has it got me.

Another one bits the dust, I just got a iPhone 7plus to replace my Lumia 1520 and what's really sad is Microsofts game app for the Xbox on the lumia isn't as good as it is on apple, goes to show you how Microsoft cares about its own users.

Ya, I Carry my 1520 and an LG Android phone daily. Same apps installed on both and SquareHome launcher in the android phone for the whole Windows Phone look and feel. Live tiles and all. The Android version of everything just works so much better and a hell of a lot faster. It's sad how Microsoft is just letting Windows Mobile die on the vine.

Sad to see this app go. I remember using it on my Lumia 920 the first time. Sigh ... Windows 8.1 showed So much promise back then. Now I truly feel like windows 10 will die before it even gets a chance to shine (and it does so many things right.....)

Yeah, I loved this app on my 920. Hard to believe that was more than four years ago. Such promise, wasted.

That's definitely sad news. Till this day still one of my go-to weather apps on my Lumia other than the stock app

What's a good lock screen weather app that can replace this one?

Retrenchment....good grief.... ROFLMAO!

Used this back in the windows phone 7 mango days! Since I got my 950 just used the Microsoft weather app. Shame to see one of the big original ones go. Slowly but surely windows mobile is just becoming a business phone. I'm so jealous of my wife's one plus 3t with its near unlimited apps.

AHHHHHHH! All the apps I use are leaving...

Pity, however I started using the preinstalled weather app (microsoft's own I think) about couple months ago simply because it does much more than look amazing...I live in mountains and realtime/interactive weather maps are a must which the app delivers. Amazing weather only offered a snapshot of precipitation without forecast etc...so thanks, but i am still good ;)

Retrenchment!!! Bots will take over /S

Ahhhh...remember when Microsoft hired the token CEO for an ungodly amount of cash and he then did NOTHING? DUMP THIS IDIOT ALREADY.

ROTFLMAO!!!!!!!!!!! Face it man, we got started real late. This decent didn't begin with this CEO, but will probably end with him. It began with Balmer. Remember the long delay for something then we got the MS Kin? Not just Kin, its deluxe model, the Kin II. Sent this to Verizon and they dropped kicked it. Didn't want to talk to MS since. They did get started but it takes money to push into a market 4 years later. Then Balmer created a rift with Google and we were slowed considerably. The rest is history.

Ballmer made and effort..this clown spends his whole time telling us how we should feel about immigration, while at the same time telling women they dont have a right to ask for a raise....all while the brand he is put in charge of is crapping it in one of the most important markets. He is an utter failure.

Ohhh.. That's a bad news. It was my best weather app. The best part was highly customizable the lock screen.

Death of a thousand cuts, continues.

I'm at a loss. If it is as easy as they say to make a Desktop app and make very small adjustments to bring it to the Mobile devices, what's the deal? Even if there is that many of us, if its that easy, it should be worth it for a tiny few.

Heard about this a while ago. So I started using Strawberry Weather and like it ALOT!

Wow. My favorite weather app. I actually have been missing it once I switched to Android. It's very sad that I even switched. WP had it all but they didn't think it through correctly and now I'm stuck with this sh*t.

I'm quite sad about this. I love the app and have used it for years now. It has a great live tile and I often have no need to open the app. I always liked how customizable the live tile is and liked having the five day forecase as the flip side. Amazing Weather HD, Chronos Calender, and Analog Clock Tile have long been favorites for me.

W10 on ARM will most likely be the new Windows Mobile. If you have been following this site the editors have already speculated out that: http://www.windowscentral.com/microsoft-windows-10-mobile-still-includes...

So what if it is? That won't solve anything.

WoA is not gng to be replacement of W10M, it will be for some hybrid devices 2in1s or mini tablets

I am using Yandex Weather. Previously it was MS weather but for some reason, I cant update the app. Yandex is fine.

I was upset. Just got the notification when I opened the app but to be honest they didn't update the app enough. I will just use MSN Weather from now on

This is a pay app isn't it?is it legal to a developer to redraw an app from a ecosystem after he sells it to so many people?

Is it legal? Seriously? No, the developers will be sentenced to death now. Might as well ask Microsoft that question.

Ugh, this year I had three apps retire that I actually use on my phone. This lack of apps is starting to affect my use... Microsoft for God's sake, do something!

Microsoft are not releasing phones just phones Nokia designed. When are they going to release a new device, they are falling behind badly now.

FFS this the 2nd weather app i got which is now turned off.

Now I can say wp platform is dead

Windows mobile is dying:(

dying:? I think she's dead ....and has been for a while.

It's dead for haters still dying for fans :(

Haha, more and more people realizing what a stupid compromise Windows 10 currently is on mobile. Until Microsoft unleashes the 0 compromise pocket PC, Android is the closest there is to that...

It's a sad day for Windows Mobile fans. :-(

Clearly a sign that indicates this platform is slowly dying.

Gee how many weather apps you need? There are more than enough. I use Yandex weather app and it has a nice design and gives me all the info I need, much of it on the live tile. Very accurate and free.

Even I never used other than MSN weather and Accuweather. But its about app store, availability of choices.
How many lame excuses we will give until the complete death of this wonderful mobile platform??

I've started using iPhone, just because I can, and its "choices" are just for the sake of having choices. Trakt.TV tracking apps are either expensive as hell or just plain unusable. There are no tech news reader apps like Converge and Flipboard is a confusing mess. Apps for WP/WM are scarse, but almost always spot on. How many weather apps do you need, indeed? I wish I didn't need THREE navigation apps for my iPhone, but the stock maps can't do **** here in The Netherlands, while my 950 is always flawless in any country I had to relocate to.

This is great news! I hope WP8 apps continue to circle the drain. If people refuse to change, jam it down their throats!😃

If Microsoft isn't trying to get hardware to market, why should anyone support an app?
quite soon I might have to give up on windows phone. why should I spend big $ on something, when I can go to another os and get more for less money.

Sad to see another one going.
I use weather to go, it's pretty good and does a reasonable job in rural Western Australia and looks nice as well.

I paid for this one back in the day, the best Weather app for Windows PHone.... another great goes away.... More signs of the nail in the.... oh why even say it, we all know...

Great work stupid ceo of Microsoft

I'm busy trying out alternatives to Amazing Weather HD. What I found very nice about AW HD was that I could pick a live tile that both gave a significant amount of information with relatively large type and aesthetically nice iconography which filled the available live tile (wide) but did not look too busy. ​Microsoft's Weather app has tiny font size and relatively small icons. It leaves much in the way of empty space. ​4castr has a live tile that one can setup that is FAIRLY close to AW HD, but not quite as attractive. However I do not see that I can get rid of the red tinted transparency for the live tile which is pretty much a no go for me. With the exception of the red tint, 4castr would probably be my choice as a replacement for AW HD. ​Strawberry Weather is nice, but it does not diplay much on the live tile. It also seems as though you have to pay inorder to get live tile that flips, and I'd rather be able to see what I am paying for before doing so. ​Forecast is quite attractive. The live tile is also attractive and I appreciate that the flip side displays a five day forecast just as I used to run with AW HD. What I would REALLY like from that program is that they use the layout for "Current" information as the wide live tile. It would then be pretty much ideal. ​Is there any other weather apps out there that people really like?

Accuweather, Weather Channel, Weather Network Just try them before they leave MS sunking ship as well

the weather network is the only one that shows the feels like temp here in Canada.

That's weird. All three show "feels like" here in Georgia (Caucasus)

Hello, I am the developer of Strawberry Weather! It's not like you have to pay for the flip tile. It's that you have to pay for the alternate weather source (becuase that is costly for me) and the flip tile is available to that source only. Flip tile is planned for the free weather source too, currently working on it. Also, I am gonna include multiple styles of live tiles so that you can choose the one that suits better to you. Working on that too! If you have any ideas about the live tiles ex. what information you want to see, what layout you like and more, you can contact me here or e-mail me at Strawberry_corp@outlook.com. I am open for any such suggestions and the implementation will be made available through an update within a day or two! Thank you for using Strawberry Weather!

Interesting, will give the app a spin.

I use Strawberry Weather because I loved the different icons, but now the emoji style icons seem to have disappeared. :( Is there a reason for that?

Appy Weather. Love the customizable live tiles on it. I had Amazing Weather HD also, but Appy always won out on my start screen.

While the lock screen is pretty, the worst part about this app is that the music payback will stop when you open the app.

that happened because the animated backgrounds in the app were actual video files, and since you can't play music and video at the same time, something had to stop. you could disable the animation in the app settings though

that is adjustable by setting

best weather app ever, can't find an equally good one even after switching to android. thanks for the good times, eizsoft!

Way too many apps have left WP. Next month my contract is up and I'm getting an iPhone.

Lol. Have fun with the horrid iOS experience.

Man, this sucks. Totally dug the live tiles and lock screen. I bought this app as soon as I read about it here years ago

Yet another of my primary applications going away. This platform had so much promise that just never materialized.

IDK when the sun will set on this platform

Still the most relevant weather apps are still there. The weather channel, accuweather, and msn weather. Don't panic!!!

Still the best weather app there is. The one that can show detailed weather info in the lock screen. Weather channel, accuweather, and msn weather cannot do this.

Yet one more app disappearing on this platform. The fat lady is worn out from singing the death of WP

For those of us who have stayed the course with Windows phone, windows mobile until now, stories like this are just apart of the unevitable reality. The mobile element of MSFT has been in flux for the past four years. They mentioned in at Build and other events that windows mobile wouldn't be the focus for MSFT at the time and things have pretty much followed suit. I don't fault anyone for jumping ship to an iPhone or Andriod phone, though I don't understand the jump from a Surface device to an iPad. In that sense you're kind of regressing, and if you're comparing the Surface 3 to the iPad Air, you're underselling the Surface 3. A more comparable Suface would be the Pro 4, which wouldn't even be fair. I guess the bigger question isn't why people have abandioned the mobile experience that has become windows mobile, but why are there still those who use it, and love it? For me it pretty much is the UI first and foremost. It is by far the most elaborate, yet simplistic display of any mobile device. All your important information in front of you. Weather, calendar appointments, Facebook messages, Email, all on the same screen at the same time. In a world where we are required to process information faster than ever before, the Windows Mobile UI allows you to do that. The transparent tiles just takes it to another lever from a personalization aspect that again, no other device can compare with. The other big factor for me is ecosystem integration. I know there are those fully immersed in the Apple ecosystem that will disagree, but Windows 10 is on another level. iOS and OSX are still two diferent OS's. From my Alcatel Idol 4S and 950XL, to my Surface 3, to my Xbox One, it is so seemless when it comes to integration across all my devices. I do get frustrated with Windows Mobile at times but I see the bigger picture. As a share holder I understand what MSFT's mindset is at. The HP Elite is just the tip of the iceberg. The surface phone really will change how we veiw mobile, just like the surface changed how we view tablets. Last time I checked the iPad Pro looked a lot like a Surface Pro 4.....hmmmm....whos looking over whos shoulder now?? It's only a matter of time.

Windows is a legacy platform. That includes desktop. The jump to an iPad from a Surface makes perfect sense, unless you specifically need one of the few legacy tools available only on a full PC, which I think are only full Office, programming IDEs, heavy-duty media editing applications, and niche, field-specific tools. All else can be had, and better, on an iPad or Android tablet. Even my daughter's $40 Android tablet is "more capable" outside of those four domains than any Windows device. I still spend much more time on a PC than on a "mobile" OS, but that is because, as a scientist, I do a lot of coding and depend on lots of niche applications. But everything not related to my work is better done on a non-PC.

This is a shame. Like others have said this is the one app that I kept coming back to.

It brought me down over last week when I got the notification for the first time. I substititued MS weather. It's OK. I think the iphone style UI is probably popular. What I miss most about Amazing Weather are the animations and the lock screen forecast. MS weather doesn't do it or I haven't figured out how to make it do it yet. I'm going to try 4castr since it seems to have a richer live tile. This most recent nail in the coffin really hurt. I may yet be the last man using a Windows Phone before this is over.

I stumbled upon Lockmix and it shows MSN Weather on the lockscreen. For Live tiles on your start screen I used MSN as well but you can use whatever. Anyone else doing or interested in this? The only other decent, accurate lock screen weather was Amazing Weather HD (while letting you keep detailed info at the bottom such as calendar). Other apps noted here do allow lock screen weather but it is in the detailed notification area so you loose anything else you had selected.

Bought Amazing Weather HD when I got my Lumia 925 3 years ago. Have continued using it this past year on my Lumia 950XL. Felt it provided the best mix of info, live tile, graphics, etc, really enjoyed it! Sucks to have so many useful apps, including ones that people were willing to pay to support, swirl down the drain.
Windows Central Newsletter
Get the best of Windows Central in in your inbox, every day!
Thank you for signing up to Windows Central. You will receive a verification email shortly.
There was a problem. Please refresh the page and try again.