Super Calendar updated to version 1.6 with new day and month views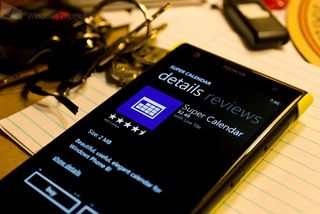 The stock apps available on Windows Phone aren't bad. The built-in apps for things like email and calendar get the job done just fine. However, sometimes you need something with a bit more power and options, something that goes above and beyond. Which is why the Windows Phone Store is filled with alternatives for those stock apps. Alternatives like Super Calendar, which was just updated. Let's check out what's new in version 1.6.
We first covered Super Calendar when it launched in early September. The app gives you more control and options over the standard calendar application you get on Windows Phone 8. Super Calendar has received a handful of updates since we last covered it. Notable additions to the app include things like a new day view, new week view, custom colors calendar, new Lock screen styles and more. Today we're looking at version 1.6 in the Windows Phone Store with the following features:
Two new day views

Two month views

Separate style for front and back tiles

Refined week view

New lock screen style

Redesigned details page

Redesigned edit page

Settings screen chooser

Event color indicator in live tiles

Bug fixes
The default calendar application on Windows Phone is fairly limited with the different view types it gives you. Super Calendar handily beats the default application in the number and variety of ways to view your appointments. For example, the latest update provides not one, but two new day view and two new month views. There's also been a lot of improvements in the look and feel of the application. Things like the details and edit page have received redesigned, while there's a new Lock screen style. The week view has even been refined in this update.
Super Calendar is a strong alternative to the stock calendar application on Windows Phone. Already have it? Be sure to grab the update. New to Super Calendar? The app goes for $2.49 in the Windows Phone Store, but does include a trial so you can check it out before buying.
Thanks for the tip Sean T!
Windows Central Newsletter
Get the best of Windows Central in your inbox, every day!
I updated mine yesterday. I entered an appointment dated January 1, it's already January 2 and it's still there in my live tile. I deleted it from the calendar but still, it's still there. Darn.

None of the third party apps on my 928 update on the main tiles daily. The day will stay the same unless I select the tile and go into the app. The weather also does this. Anyone have a fix?

I saw a thread in the forums a while back that indicated if you had too many apps under the "advanced" applications menu in the settings it could stop live tiles from working. I tried deleting some I wasn't using and sure enough my tiles started working again. Give that a shot. I have an 8X.

Every so often I had the same issue on my 920. Someone on the forums suggested turning off the phone for at least a minute then turn it on again. More often than not, this got the tiles working again, in adition to not having too many running in the background.

This is a peculiar behavior of WP8, Nobody(Including MS) knows exactly why the live tiles randomly stop updating, From my research phones most likely to be affected by this behavior are the L920 and L928. Just yesterday I noticed my tile weren't updating and got it going by doing a list of suggestions I found online. Personally I suspect its a App installation gone bad, cus' it seemed corrected by uninstalling/reinstalling my newest Apps. I hope MS is working on tracking the exactly cause as well.

Even lumia 520 does not update 3rd party app's live tile.

This is a very old bug that I encountered many times on my 920. I think it does have to do with one bad app causing all the others to stop working. The problem is that nobody knows which apps cause this. The only way I got apps to work again was to do a restore. What a pain! Once I moved to the 1020 the issue was gone, same with my 1520. I feel bad for you because no matter how many different things I tried from other people's suggestions, the bug kept coming back. Gdr3 didn't help?

I'm running GDR3 preview, problem still persists. L928

I see they've copied some elements from Cal.

My super calendar still eats the storage ;(

Hey! check your storage please. On nokia: Settings -> Storage Check, wait for the storage circle, then swipe to details and click details under the apps. How much space SuperCalendar allocated? Fresh install will not give any interesting values.

This app just keeps getting better and better. The developer is very responsive to issues and keeps the app moving forward.

Love Super calendar, but this update is crashing. Tried uninstall and reinstall, bit it just tries to open and then goes back to home screen. Anyone else having issues with this update? Lumia 928.

Same here, catch a glimpse of what appears to be a nice update, but the app flashes closed immediately. Uninstall/Reinstall too. 920 user, will be broken hearted until this gets resolved as I have tried all other calendar apps an none can come close to Super Calendar

I'm working hard to fix the issue. For the mean time, if you have events that span multiple days, if it's not too much of a pain, can you add those as individual events for the individual days? If you're interested please send me your main email address to kim.wpdev@hotmail.com that you use for your phone so I can add you to the beta that has the potential fix. Sorry for the inconvenience.

Thanks for the caretaking response, will email you.

Holy shit that looks confusing LMAO!

Crashes after updating. Uninstalled then reinstalled, keeps crashing on startup.
I'm in New Zealand :-/

1020. Crashing to home-screen, reinstalled couple of times.

I have used simple calendar and calendar calleague as well

is there a calender app round up review? if not daniel should make one

That would be awsome! I'm trying to find a nice one that syncs both ways with my Surface Pro 2. I use Chronos on my phone but it only syncs one way so I need something new. Well... maybe not need but it would be convenient.

wp is growing very fast gonna be the nxt king of OS

Extremely doubtful. There's a 1% chance of WP overtaking android. (I do believe Linux will over take Windows on desktop/laptop market share in the future. /s)

Anyone else having trouble with the original WP calendar?
Can't go back any longer than October 2013...
When in month view it goes further back, but there's just some Latin BS on the dates.
It's the same on my 1020 and my wife's 920

I just received an email from the developer (Ronel), that he just submitted a new version to the Store: V1.6.1
This version solves the bug that users have to constantly manually sign in if they use the outlook.com account within the app. This bug is within the trial and paid version of Super Calendar V1.6.

I had the problem of app crashing to home screen as well,mailed the developer and got immediate response! Just tested a beta which works really well,so problem solved within 24h! Great app,love the new features, gives you great overview on detail level that you can set yourself: day,week,month,year + great live tile options. Well worth the purchase.

Can't find my FB friends birthdays -> useless

Still missing with outlook sync which was really good with nokia PC Suite....

Love this app do much. The ability to add backgrounds alone sold me and t just keeps getting better.

I'm perfectly happy with the stock one. It syncs with my laptop, Surface 2, and phone and does what I need it to do. Don't see why people don't like it. It is a calendar. Oh well, to each their own. But I do enjoy seeing good devs do well also.

Me too but it's a shame it shows just one event in the lock screen and on the live tile...

For me its the option of viewing the events in the month view... I really need that and a big plus is the live tile. Its great and you can choose from a few stiles.

Yeah, same. It's a good calendar and I like the functionality (though I don't use Outlook or anything) and need the simplicity of one task at a time on the tile.

I've purchased this app and I've been using it for few months now, I love it but I noticed that it doesnt update the tile until I connect to the wifi, I dont understand why it doesnt remove the passed appointments until I connect to the internet??

Osama, no tile gets updated unless you are online. This is especially ridiculous with apps that do not download any information from the internet, i.e. stand alone calendar or connection tiles. As far as I know, the MS is aware of this but I seriously doubt they would do anything about it.

This dev never sleeps. Good job.

After the update.. The app now crashes on startup. Tried uninstall and reinstall. Still crashes. Don't developer please look into this. I am paid user. Using Lumia 920.

I love this app... is the best calendar app I found.. Just its a little slow to open =(... still its my default calendar app. Would pay double to make it start quicker. (Lumia 920)

Yes. Too slow. I use Cal for this reason.

Another person with app closing down immediately after starting.

Version 1.6.1, that includes a fix to this issue, is now pending certification. If you need to get the fix sooner than that, please send me your email address that you use with your phone, so I can add you to the beta version that has the fix, and a few goodies.

I bought both Super Contacts & Calendar, I had uninstalled Super Contacts as it crashes as soon as it opens. Now Super Calendar are behaving the same. I'm using Lumia 1020 & 920 both with GDR3. Contacted the developer once and never got a reply.