Super-hit Android game, Hill Climb Racing arrives on Windows Phone 8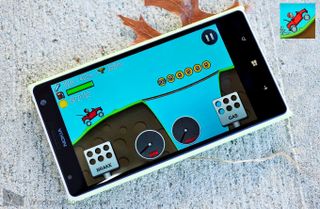 And here's another one! Yesterday I wrote about the popular Android game – Sky Cups – arriving on Windows Phone, and then we learnt that Hill Climb Racing has also hit the Store.
Hill Climb Racing is a very popular game on Android, judging from a 4.7 rating with over 900,000 reviews, and is known as one of the most addictive and entertaining physics based driving game.
The game follows the journey of Newton Bill, a young aspiring uphill racer. His journey takes him to where no ride has ever been before. With little respect to the laws of physics, Newton Bill will not rest until he has conquered the highest hills up on the moon!
The game features unique hill climbing environments - Countryside, Desert, Arctic, and the Moon - with 16 different vehicles. You can gain bonuses from daring tricks and collect coins to upgrade your car's engine, suspension, tires, and 4WD.
Hill Climb Racing has pretty neat graphics and features smooth physics simulation. Once you start indulging in the game, it's hard to put it down. You can download this fun, casual game for free for Windows Phone 8 devices from the Windows Phone Store. Download it right away, and let us know how you like it.
Thanks everybody for the tip!
Finalllyyyy wooohooooo hahahahahaja

YESSSSSSSSSSSSSSSSSSS!!!!!!! WOOOOO

WILL WE FINALLY GET THOSE VIRUSES AND OTHER ASSORTED MALWARE THAT OUR PLATFORM SO DESPERATELY NEEDS??????

FINALLYYYYYY!!! xD The reason my EVO Lte would get as hot as a stove and stay up till 3AM playing... muahahaha now Lumia925 you shall get hot as a stove as well :D

You just had to didn't you? :-)

WTF is candy crush saga? I used to get 10 notifications daily on FB due to this stupid app. Finally blocked it.

Windows phone has finally hit critical mass :D

Dont know if you were sarcastic, but yeah, having this, FIFA 14, Asphalt 8, Temple Run 2 is a great sign. I would love to see my other beloved games like Infinity blade, Reckless racing, Zombie Road Trip and Prison break would be a great sign.

Zombie Road Trip? Sounds interesting.

Infinity blade only ios forever

Very good game! WP rocks!

I've been playing this on Windows 8.1 and it is pretty nice and yes, highly addictive. Windows Phone is now unstoppable.

It always was unstoppable. Google kept trying to stop it, but they couldn't. If a billion dollar company couldn't slow the growth of the platform,who could?

In-app purchase should allow you missing frames, so no more lagging

It's just low FPS.. :( I think this might be because it's desingned just for low end hardware (1ghz dual cores), so the game doesn't take advantage of our 1,5ghz dual cores with better gpus... Just speculating though.

Actually the low end phones might end up more future proof as the 305 gpu is pretty close to the 225 in the high end phones and they are pushing half the pixels...

I do not agree. I have HTC 8X, my girlfried has 8S and we were both comparing performance on Angry Birds: Star Wars II title and 8S has much slower performance when you zoom out while playing. Actually 305 is almost 50% slower in pure processing. In this kind of game performance is great on 2-3 years old Android phones, on my iPod touch 4th generation, etc. Much more outdated hardware runs much better on both leading platforms than on Windows Phone. It is possibly a port problem with DirectX. All games on iOS and Android are developed around OpenGL API.

As a programmer, I do not approve that much lagging for such a simple game.

Installed the game and started playing it. Awesome ! Its good to see all the android games coming to Windows Phone. Keep it going MS !

Halo Spartan assault is on sale

Send in your tip to tips@wpcentral.com.

This is app gap 2.0, now we get all these crappy games. Give me Starbucks, this is the current app my preppy friends claim they need.

You can't please everybody all the time :)

I appreciate those games more than i would appreciate Starbucks

Disgusting and disgustingly overpriced coffee vs games? I'll take games, thank you.

We have that here in México ;)

I played it for a hour. Too easy for my liking. The coins are easy to get enough of without even trying. So I was able to get almost 5 levels of upgrades so far and not even get past level 4.

It is at such times that I miss android. I wish WP had a root file browser. First thing I do when o download hcr on my android phone is hack the coins. Don't get me wrong, in not a fandroid. I love WP. However, WP does need a root file browser.

Dude....its windows not laggdroid..who wants to access the colour of underwear we wear to get a app installed...

and when that happens, (root thing), it's like saying, Welcome to our world, Viruses & Malwares!.

Aah finally on WP8.. By the way, this game is also available for Windows 8..

Yeah. When something arrives on windows 8, the wp8 release can't be far off.

This game was also released on iOS back in 2012...not as popular there as on Android (# of ratings), but it's always good to see a multiplatform game make its way to WP.

Can a game like this succeeded on WP?

These games are super popular here in india and are must for platform to succeed..keep them coming

Buy 99 cents worth of coins and ads disappear. Same as on iOS and Android. Worth it- completely amazing game.

Hope in near future we get subway surfers'

Omg...still u need it .....its tooo old and yucksss

With you on that one.. Fyi, rail rush has similar gameplay. Definitely reduced my want for subway surfer, still prefer it over rail rush though.

I spent many hours playing through this game on the GalaxyS Captivate a couple of years ago. I enjoy this type of racer more than Asphalt series. Some of the hill climbs will test your patience.

Bring us Clumsy Ninja! This game is so popular in my school now for some reason...

I have been waiting for this from a long time. This, Zombie Road Trip, infinity blade and Prison Run are the games for which I still keep my iPod Touch with me. The day all this would arrive on WP, I am never going to switch from WP again.

This game is pretty darn fun.

So pumped! Been waiting for this for a very long time!

I miss those Symbian era games which were small in size they were less than 1 MB games and graphics were bit good, i miss those games which were in try n buy especially metal blaster, stone of saga, bounce, snake, brothers in arms :( :( reply me those who are missing that games.

Can we at least drop the Minion Rush comments until the video release? Perhaps they are going to release it then.

Gameloft announced a couple of games, including minions rush 2 or 3 month ago. They will release it sooner or later.

Plz write an article about gba,gbc.,sgs emulators by Mk being unpublished from the WP store

waiting anxiously for tinder lol

plz bring the subway surfer to windows phone....

Hey is a great game to kill time

not so smooth scrolling on l920 (even it has very simple graphic) + microtransactions = not acceptable game..

Great game, tried this on my surface last week. Great to see it come to wp8

I was playing this on my surface for about 3 hours last night. as I went to sleep I thought, "this should be ported for windows phone"...

Great game, very addicting.

Buy the Tourist Bus and upgrade it to max. It's a BLAST and kills the highway- you can get 2 million coins in one round.

Finally, the day has arrived.

Man I hope the Gorilla Glass on my L920 holds up to the pressure of my thumbs as I brake and accelerate...

Hey guys please provide some news for subway surfer.i m waiting for this game

Why is this game has low fps or kind of lag on my Lumia 920? This is my favorite game on my 4 year old iPhone 3gs which can play this very smooth and no lag at all.
Windows Central Newsletter
Thank you for signing up to Windows Central. You will receive a verification email shortly.
There was a problem. Please refresh the page and try again.