Support ends for Windows 10 Mobile version 1511
Microsoft has officially dropped support for the original release version of Windows 10 Mobile.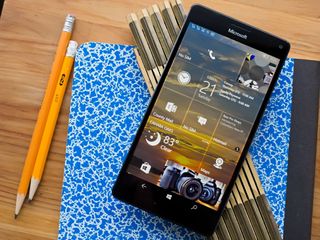 Mainstream support has ended for Windows 10 Mobile version 1511. Both consumer and Enterprise releases are affected, according to Microsoft's product lifecycle page (opens in new tab), meaning that no more cumulative updates will be delivered to devices remaining on the original release version of the mobile OS (via Neowin).
Windows 10 Mobile version 1511 originally shipped in November of 2015 on the Lumia 950 and 950 XL, but it didn't roll out to Windows Phone 8.1 devices until months later. Even among those currently sticking with a Windows 10 Mobile device, dropping support for version 1511 is unlikely to affect many. According to the latest available numbers from AdDuplex, released in June of 2017, Windows 10 Mobile version 1511 was installed on 4.6 percent of all Windows 10 Mobile phones.
If you're running a phone on the Anniversary Update or later, you'll continue to be supported going forward. Support for the most recent version, released in October of 2017, is scheduled to end in December of 2019. As for Windows 10 Mobile itself, well, it's not much of a focus for Microsoft anymore.
Get the Windows Central Newsletter
All the latest news, reviews, and guides for Windows and Xbox diehards.
Dan Thorp-Lancaster is the former Editor-in-Chief of Windows Central. He began working with Windows Central, Android Central, and iMore as a news writer in 2014 and is obsessed with tech of all sorts. You can follow Dan on Twitter @DthorpL and Instagram @heyitsdtl.
thanks for sharing I did start a new blog related to tech news can you give some suggestion for my newzywiki blog.

be the underdog at first and make amazing articles and then when you gain popularity, go hire some terrible people and make bad articles. (at least that's what happened at ZDnet, WinBeta, and partly MSPowerUser

Use AI to create your stories. The content may not make sense but you shouldn't have any spelling errors.

Any Phone with running out of support can join the insider program and you still get the latest update. So I do for my Lumia 640.

My Lumia 1020 is stuck on 1511 and has not seen any patch updates after build .682

I'd advice for a 1020 to roll it back to WP8.1 ... also unsupported, I know... But at least you'll have alle the camera goodness back. W10M really destroys the camera-software tech

If you installed W10 TH2 via Insider and then LEFT the Insider program once RS1 released, you should've kept getting updates for as long as the branch was supported. And anyway, you should really really registry hack your phone and install W10 1709 at this point.

What a terrible advice. The only way to get that monster camera back is to return to WP8.1, W10M shouldn't be considered even as an option. What a crap of OS Microsoft did.

Still love my HP Elite X3 and the Windows Phone OS. Truth be told though, I jumped ship last night and bought a Samsung Galaxy S8 Active. I'm somewhat versed in the Android ways so the learning curve wasn't bad but it's still not my Windows Phone. That said, I work in the refractory world and I was amazed as to what I've been missing out on pertaining to apps in that department alone. Then even some of the typical everyday WP apps seem to lack certain features that the Android apps have. There are an overwhelming amount of apps in Play Store, or even on other APK sites, that seem absolutely useless though. Truth of it is, I have been missing out on some rather useful ones nevertheless. Still love WP OS, but I have to admit, I'm willing to suffer with Android just to have some useful, functional, along with some necessary apps for not only personal but professional use. Good luck to all the do or die WP users, you're going to need it. I once was one but I'll not hang my head for jumping ship.

I understand. I've got the X3, 950xl, 950 etc. etc. and they are my daily drivers, but I also have an Android (Moto 5S Plus). As much as the Android has a few more apps (really, mostly crap) and I need it particularly for two, I pick WM OS any day of the week. Right now I am tethering from my HP, typing on my Pro 4 and using my 950xl because it's aweeeeeeesome. I can do anything on these machines. Looking forward to Andromeda!!! I think you must be as well.

I'm with you on this I moved last year from my 950xl to lg g5 it was a very good phone tbh but moved to Sony xperia xz premium and I have to say has a lot of lumia about it worth the shape camera button power button ect but for me I still prefer wm and I miss 1st gen wm where Facebook ect was built into the people hub far better than a app imp but it's gone now so can't change the past unfortunately.

Re: Gunite:
I'm tempted to upvote you, but I just can't. Every vote counts. I'll continue to support what I like.
Best Wishes.

Don't worry, I upvoted him for you. ;)

Glad I sold my 950 to a buyer on Craigslist haha

Why? It's an awesome device, so under appreciated. I just got two more, one for me and one for my mother-in-law. She loves it. Camera still better than most.

:)) yes the device is quite nice. Too bad it runs a mediocre JUNK OS that happens to be dead :))

Thanks for the nice years w10m and i hope microsoft comes back to crash android again for the lovers of ms.See you soon in Android central with love for my future phone the NOKIA 7.

Why not Nokia 6 or 8 which are currently in the market. 🙂

When did they ever "crash android"? Lmao

I guess this means my 635 (512) won't move on from 1511. Then again it wasn't supposed to get it anyway.... Oh well. Back in "The Drawer"

You can still upgrade to 1709 vial hack!

Strange decisions seem to have been made for some device's elegibility to upgrade to newer versions of W10M OS. I have an Acer Liquid Jade Primo handset that has similar specs to my Lumia 950 (same amount of memory, same SoC, etc.) yet support for it officially ended with W10M 1511 even though it came out in 2016, months after the Lumia 950/XL! I was able to upgrade it to 1603 via the Insider Program, yet it has never been clear why these handsets were never able to officially upgrade past 1511 since the Lumia 950/XL are supported on the latest of W10M. I've just assumed that Microsoft requires device manufacturers to test their devices with the new versions of the OS to certify compatibility and Acer were just too damn lazy to bother.

Most likely because Acer doesn't give a **it?!

Why should they? When even MS does not give a **** and never did.

Acer's products are based on hit and run business model. Once consumer buys it, that's where their engagement with that unit ends. They will only provide limited hardware warranty as aftersales and that's it. Their Android-based products are having similar fate.

Odd that your Lumia 635 with 512 MB Ram has not moved on. But maybe it is due to you living in a country where the updates have not been continued? I live in Sweden and I have received every update up to and including 1607 and increments up to and including .14393.2007 as late as Monday January 8.

Should I upgrade my Lumia 930 to FCU via interop tools? Has anyone tried?

Obviously, yes :D I have FCU on my L830

My Idol 4s still has the life. Please MSFT let your next mobile device come out sooner than later so I don't have to have a short and disgusting relationship with Android.

Perfect time for Microsoft to allow a company acquire the Win 10 mobile division and develop it further for die hard fans since they quit doing so themselves!
I am sure there are some interested parties.....
It would be pity to totally abandon this functional and fluid operating system....

They should have sold Groove.

Who would buy an OS that had less than 1% market share? Not only that but if Microsoft sold it then it could no longer be called Windows Phone or Windows Mobile, which would only confuse the marketplace and make people care even less than they already do. Guys, we have to face the facts. It's over. But there is a silver lining: it's a just a smartphone operating system. You're going to eventually have to do what I did a couple years ago.. get used to a new OS and nice in with your life. The first couple weeks are going to suck but then you get used to it and you'll eventually see that it's not the end of the world.

:))))) Functional and fluid? :))) LOL, more like JUNK full of bugs.

I just got an upgrade on my Lumia 640 yesterday . Thank you Microsoft

I have the 640xl still, and it functions the same as day one - brilliant. For a phone with 1GB Ram, that's great! I still love it and some days use it over my 950xl, 950, HP Elite X3!!!! I just make sure that the 8gb memory isn't too full, so don't have as many apps, but enough of what I need.

I've been considering going back to my 640xl. What do you think? I really miss using it.

What's the difference between Windows 10 Mobile and Windows 10 Mobile Enterprise?

Now, there is no difference. Both are dead :))

do you know the difference between alive and dead? dead is like your iOS and android home screen. dead. stared for years and they're still... dead. both W10M and the Enterprise are actually still alive. check out their homescreens. if you still can't tell the difference, well, you're probably close to being dead yourself.

"was installed on 4.6 percent of all Windows 10 Mobile phones." So seven devices are no longer supported... got it...

Just checked I am at 1709 so still in the game :)

@tale 85: are you still insider? Exit from the Insider program and you'll receive Anniversary Update for your Lumia 635

mijn Lumia 9330 works fine

RAM 2 GB Versie: 1703 systembuild: 10.0.15063.608

W10M is the best OS still. I am using i with Android. Maaaaan, I hate it, Android is clumsy, resource hungry, laggy......I don't understand how people are devoted it. The only reason I could find is that the majority of them have NOT EVEN TRIED a windows mobile os'd phone.

Better try a decent android device and then we'll talk...jeez fanboy, what world do you live in? How's the taste of Nadella's sh*t spoon?

like it matters :))) This junk OS is dead anyway.

at least it once lived. android and iOS never 'lived' to this date, and will probably be inanimate for the rest of your life.