Surface 3 to be used by 7,500 ExpressJet and SkyWest Airlines pilots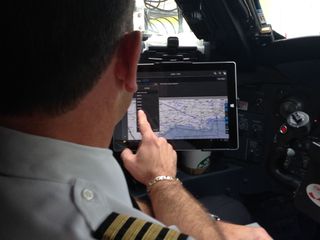 The older and larger Surface Pro 3 tablet has already been deployed by a number of airlines for pilots to use in the cockpit, Now the newer and smaller Surface 3 is finding a place in the air as well. Microsoft has announced that SkyWest, Inc will deploy the 10.8-inch tablet, with Windows 10 installed, for use by 7,500 pilots at its ExpressJet and SkyWest Airlines.
Microsoft stated:
Microsoft also revealed that the Surface 3 has now been pre-approved for any airline who want to get approval from the Federal Aviation Administration and the European Aviation Safety Agency to use the tablet as an Electronic Flight Bag:
Source: Microsoft
Windows Central Newsletter
Get the best of Windows Central in your inbox, every day!
Hope they are using windows 8.1 Like I'm on the Win10 insider builds on my Surface3 and like it but wouldn't really depend on it YET if I ever need some information about flying my plane!

Not even the rtm is stable enough. No way windows 10 in the cockpit.

These devices are just used for logistics, schedules, reference material, etc. They aren't flying the plane.

The very first paragraph reads "with Windows 10 installed"

Me too, but damn. I hope it's a couple months before they deploy these pilots. I never know what to expect when I turn my Surface 3 on. And I haven't done much of anything with it. I'm all stock with the only non-store item being Office. I worked in avaition software before so I suspect they will do a trial period with backup systems in place. I hope Windows Central keeps up on these developments. Piolots do not tolerate unreliable systems.

The Windows 8 era is over. It's already down to about 10% marketshare worldwide. Time to move on like the rest of us.

Nice low profile tablet stand in the image. Any idea who makes that?

The big question is if the apps are properly touch optimized. Otherwise, this won't work well.

Yeah, this kind of software has existed for a while. What isn't quite touch optimized is Windows 10. But if the system is designed well they shouldn't have to deal with the start menu too much. Which is where I find the touch experience to be the worst. Sometimes I have to touch the tile a few times before I do it right. Otherwise it just bounces. I'm not sure about this application but I remember they had to keep the tablets off in flight and only used them on the ground.

Yes, window 10 on the Surface 3 isn't reliable, especially for something like this. Even though it's only business use for the pilots you don't want them getting annoyed and distracted.

Someone gift me a Surface 3 tablet..

Hope all passengers feel safe, with the pilots using flaky Windows 10 OS.

Another business deal cut by Microsoft just like the NFL deal. I doubt any of those pilots would choose to use a Microsoft device...

Windows tablets have been used in avaition for a long time. It's just the idea of a Surface 3 with Windows 10 is a bit concerning given my own experience.

If you think that an Airline, or any other major company, would sacrifice their organization's workflow just because MS wants to make some kind of advertizing deal then you are truely clueless. They are doing this because the enterprise runs on Windows computers and this is a natural extention of that. When the iPad was the only option, some companies tried to duplicate their client software and shoehorn iPads into their workflow. In most cases it has been expensive and not very sucessful. However, the Surface line can be deployed with minimal effort, run the same software (or at least be developed by the same people with the same tools), and maintained with the same tools that enterprise IT already uses for their desktops and laptops.

Somebody please make sure they have all the maps downloaded.....current updates

It allows us to drop ~4​5lbs of books and charting we would carry normally. we update by hand every 2 weeks major or minor airport and airspace changes (approach plates), should with luck be able to drop them altogether end of Oct. Surface 3 is running win10, battery life for some has been a mixed bag, couple of hours to 10. The low end of the spectrum is likely due to bad batteries.

Outstanding. This is a huge win for Microsoft and Surface devices.