Surface Book gets updated with better graphics, battery life and much more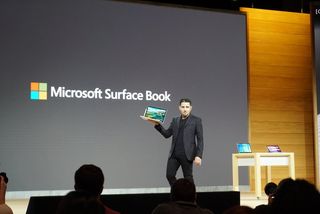 On stage at its Windows 10 Event, Microsoft announced an updated version of the Surface Book that includes drastically increased battery life, graphics performance, and much more.
In order to serve up even more performance for everyone from gamers to engineers, Microsoft says the new Surface Book packs two times the original's graphics performance and 30% more battery. While the new Surface Book looks the same as the original, it contains even more battery cells for up to 16 hours of battery life.
Full specs aren't yet available, but Microsoft says the new Surface Book will be available for pre-order starting today at $2,399 ahead of a November launch.
Dan Thorp-Lancaster is the former Editor-in-Chief of Windows Central. He began working with Windows Central, Android Central, and iMore as a news writer in 2014 and is obsessed with tech of all sorts. You can follow Dan on Twitter @DthorpL and Instagram @heyitsdtl.
Absolutely awesome. I was hoping to see a USB Type C port.

I think they would wait for the SB2 for that, they didn't even change the headphone jack placement. So this is literally just a hardware update.

I wonder if it's gonna be available in all europe. Or I should go to the XPS 13

Get the XPS and save yourself the frustration. I have a first gen Surface Book (i5/256/dGPU) and it isn't worth the pain and annoyance. MS hasn't fixed all the issues with the first ones yet (and continues to introduce new issues with each firmware and Windows update), so I wouldn't hold my breath on this slight upgrade being much better. But that's just me.

I have the base model and have been very happy with it, sorry your experience has been subpar.

What happened to the new hinge?

Someone hasn't been reading WC all that carefully over the last ~4wks, by the sounds of it.

Guys, I think the new design is coming in a Surface Book 2 launch NEXT year. This is just a simple refresh/some slight hardware upgrades of the original Surface Book, which is what the rumors leading up to this event suggested.

That makes sense. They can really think afresh for the redesign for next year.

Thanks! Much better response than the jackass comment by Mr. TWang above.

Nice. Best laptop out there.

$2.5K for laptop, thanks but no....

Its more than a laptop, if you want something cheaper there are plenty of other options out there

Why is it an underpowered tablet? It still has a core processor. Should be more more powerful than most tablets out there. The base has the dedicated video card, but you don't need that when you are using it as a tablet.

You ment an iPad Pro with "its a laptop, underpowered tablet, and over priced 2 in 1! all in one amazing unit​", right?

I see that it's a great device,maybe state-of-art & Tech, but don't you think it is a "little" bit overpriced?! For that money i can buy a high-end phone + a great tablet + a middle-range laptop ....

Meh just wait for the price to decline a bit. I'd rather have one thing for everything than carry around a bunch of devices

Not at all. You can't compare it to prices of phones, certainly not ****** tablets and not to middle range hardware, cause phones are a different market, different processor architecture and so on, tablets are the worst that happened to humanity in the past few years and to get a comparable tablet experience you'd have to get an ipad pro and then you are over the price and you still don't have the functionality. Also high end hardware is always unproportionally more expensive than mid-range. And last but not least, you don't have a few devices lying around that together can't achieve the same, as this one device. :)
Expensive: Yes! DEFINITELY! Overpriced? Nope, I don't think so.

I think the biggest question here is, for us performance enthusiasts, is the bottom half of the Book backwards compatible? Panos noted they only changed the keyboard half of the Book so does that mean we can connect any current Book to this keyboard? Would be the sickest thing ever, AND gives me reason to forgive them for lack of new or more ports

That would be kewl if you could just buy the base. :)

Someone on the The Verge in the comments stated that they will not be selling just the upgraded base. There was no article or anything or evidence so take that with a grain of salt. I was hoping they would just sell the upgraded base :(

If I'm reading elsewhere correctly (Ars Technica), this still has a skylake i7, but a new thermal system with a 2nd fan. Perhaps this is to address the massive overheating issues some were having with first gen i7 units. I'd really like to know what the new graphics capability is ... better GPU? Still custom GPU?

Yeah, better. 2x graphics performance they said. 1.9 tflops. I think they went from a 940 to a 965.

There were never any overheating issues with the Surface Book. However, there were overheating issues with the Surface Pro 3 but no issues with the Surface Pro 4. The Surface Pro 4 has a much better cooling solution than the 3

Wait, so the cheaper models don't get the refresh?

Nice device but surprised they said redesigned from the ground up and didnt seem to address the 2 main issues... The hinge doesnt allow the display to come down flat... And a lot of users found the device bouncy when they typed on a lap. They seemed to have addressed the technical side fine (more processing power) but the usability issues werent talked about.

They actually said from the inside out. IOW, new guts, not new design.

It has not been redesigned from the ground up and they never said or implied that it was

Actually I watched the live stream and they did say they redesigned it... although Tarkus13 is probably accurate they might have said redesigned from the inside out. I would have to rewatch to get the exact wording. Symantecs... The point is still the same. If they are saying it was redesigned I am just suprised they did not address 2 of the things that were talked about as issues of the original Surface Book.

Changing the hinge would make it completely new hardware which means todays announcement would have been for the Surface Book 2 which by all accounts will be next year.

WC has written (or was it discussed on one of the podcasts, I forget) that the newly designed hinge would likely be in the surface book 2 since it's new hardware. This is mainly a refresh.

You obviously don't own or use a Surface Book and are just following some of the terrible review sites that made an issue where there really wasn't one. The Surface Book not touching the screen is a feature and in no way harms the Book. The gap that is between the screen and keyboard allows for a better typing experience because the keys can have more travel. Also, there is no bounce in the screen in real world use when typing. I am currently typing this in my bed with my knee up and my Surface Book on my knee balancing and typing this response, there is no screen wobble of any kind. So your 2 main issues are not issues and you shouldn't spread misinformation about something that you clearly have no experience with.

Is it just me, or did the promo video show an improved gap between screen and base when closed? Looks like the keyboard is on a steeper angle and has vents right at the back in a 'trench', was that always there? ​If it is a newly-angled base, it looks like the gap might be less of a problem (though presumably not solved). Gap never bothered me, but the Surface Book was never aimed at me either - SP4 is my kinda thing.

Yeah, the trench has always been there on the base. I actually think it's a nice touch from a design and engineering stand point. The GPU is located in that area and has a fan but even base units have that trench.

Ah right, gotta say I like it too - though I've seen an article on The Verge where it shows the trench is more pronounced on the thicker base model, so the keys are now angled a bit closer to the screen like I thought.

There is no issue with the gap. I have had my Surface Book since launch. I have not had one single issue with the gap. The gap is a feature that allows for longer travel keys for better typing and also allows the clipboard to be on an angle for a better writing drawing experience when the clipboard is flipped around and laid flat on the keyboard.

I I know, like I said I don't mind the gap - I actually quite like it. But there are some who seem to be crying out for this to be removed, so some people seem to regard it as a problem.

Somehow Microsoft claims the Surface Book has the highest customer satisfaction of any Windows 10 computer or MacBook.... Anyone else find that highly suspicious?

Haha I do! As a day 1 SB purchaser and being part of the countless pages of complaints/issues on forums in regards to the device and all the returns that happened (I'm on my 2nd one) I just don't see it.

Oh you're lucky. I am also day 1 purchaser, I am on my 4th or 5th one. And none of the issues I had previously were minor / update issues.. (constant BSODs at rates higher than most people - 1+ BSOD a day; massive graphical glitches across the whole system; N-Vidia GPU constantly crashing (yellow triangle in device manager and overheating base during sleep); issues with the base release mechanism) My current device seems OK so far, although I've already had couple issues with it. I have it for 2 weeks now. I am tired of Microsoft.

I have been very happy with mine! Don't forget people are more likely to post about things they need help with/problems than just to praise a product. So if you're looking at forums, you're mostly going to find people complaining. This goes for any product ever.

And a 50% discount on the current Surface Book to clear old inventory???

Until they get rid of that hinge and offer it in black I won't consider a Surface Book, no matter the specs they throw at it.

=( We all knew this would just be a refresh, but I was hoping it would be a little less minimal.

Just hoping this drives down the price of first gen surface books. This is an incremental upgrade at best. Good performance gains and some better battery life.

Should have a GTX 1050ti instead...

i want one so badly but dang the price, but high end is high end

remember when the surface book and sp4 was suppose to have 9 hours of battery life but only manage to squeeze out 3 hours? 16 hours would translate to 4 hours in real life usage. O I remember, because I had to recharge today around 3-4 hours of usage.

Anybody with a brain knows that the quoted numbers are for very basic tasks and that holds true of any battery powered electronic device from any manufacturer. The Surface Book gets a solid 6-8 hours and the Surface Pro 4 gets a solid 4-6 hours give or take depending on what you are doing.

Will this finally be available to the rest of the world?

Still overpriced only "custom Nvidia GPU" ...
Windows Central Newsletter
Thank you for signing up to Windows Central. You will receive a verification email shortly.
There was a problem. Please refresh the page and try again.