Surface 'Centaurus' could run Android apps — but would that really help 'Windows Lite' succeed?
Could the ability to run Android apps on Windows Core OS help it succeed? It's possible, and here is why.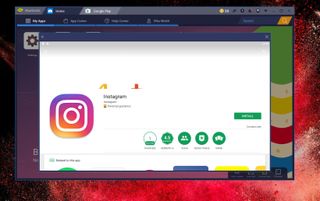 It is rumored that Microsoft is working on Android app support for Surface "Centaurus", Microsoft's upcoming dual-screen tablet 2-in-1 that runs a new flavor of Windows Core OS known as "Windows Lite." This new version of Windows is designed to kickstart Windows into a new era, featuring a brand-new lightweight user experience, fast and fluid animations, and with some legacy components removed.
Will Android apps even make a difference?
Can Android apps make a difference when it comes to app support on a device like Centaurus? The ability to run Android apps on Windows is not a new idea and is something you can do today on Windows 10 via tools like Bluestacks, but it's a niche thing that people do on Windows. I've never seen your average user say they depend on Android app support on their PC, however. Most people using a Windows PC are simply using a web browser to get all their activities done.
And if they're not using a web browser, they're likely using a program that's already in the Microsoft Store, like Spotify or Office. The introduction of Android app support could fill the gaps where necessary, but on a device like Centaurus, I'm not sure if supporting Android apps is going to make a huge difference. Android tablets haven't exactly taken off, and most Android apps scale poorly on screen sizes larger than your average smartphone. Centaurus is rumored to have nine-inch displays.
Perhaps Microsoft is leaning into the upcoming Android Q desktop feature, which essentially turns any Android smartphone into a Continuum-compatible device. If developers begin taking that seriously, more apps will be built-out with desktop use in mind. That could very much change things for Centaurus, so in that context, adding the ability to run Android apps on Windows Core OS makes perfect sense.
How will the emulation work?
You also have to wonder how exactly Microsoft is planning to enable Android app support on Windows Core OS. I don't think it'll be "natively" via the Microsoft Store. I think it's possible that Microsoft would go the route of simply enabling third-party emulators (such as Bluestacks) to operate on Windows Core OS instead of building out its own "native" Android app ecosystem on Windows like it was planning with "Astoria."
The reason for this, I think, surrounds the legality of it all. Google would have to agree to something like Astoria, and Microsoft would have to pay for the Google Play Services license, because Google Play is required for many popular Android apps to be useful. Leaving it up to third-party emulators like Bluestacks means it isn't Microsoft that has to handle all the licensing and agreements with Google.
It also means Microsoft could tie it in with the whole open store idea that it announced with HoloLens 2. Bluestacks could be a storefront for Android apps on Windows Core OS that can seamlessly integrates with the Windows Shell experience, kind of like how Steam games download via the Steam store but are listed in your Start menu and placed on your desktop. An API layer would be required to enable this for emulators, but it isn't impossible.
What are your thoughts on the possibility of Android app support on Centaurus? Let us know in the comments.
Our favorite Surface accessories from Microsoft
Every one of these valuable Surface accessories is Windows Central Approved and guaranteed to please.
Surface Precision Mouse ($77 at Amazon)
The Surface Precision Mouse is not only one of favorite Surface accessories, it's one of our favorite mice for any PC. It's packed with valuable features and customizable buttons. Its scrolling and tracking are seamless and spot-on. And it's rechargeable so you never have to buy new batteries for it.
Surface Pen (From $72 at Amazon)
Every Surface owner needs this Pen. Period. It supports 4,096 levels of pressure sensitivity, tilt support for shading density, and enjoys supremely low latency. When paired with a Surface PC, the potential is endless. And it comes in a bunch of cool colors.
Surface Dock ($136 at Amazon)
With two Mini DisplayPorts, four USB-A 3.0 ports, an Ethernet port, and a 3.5mm audio jack, this dock gives you the ports you need to stay connected to all your favorite devices. Plus, it easily turns your Surface into a desktop power hub. We highly recommend it.
Get the Windows Central Newsletter
All the latest news, reviews, and guides for Windows and Xbox diehards.