BlueStacks 4 review: Putting the best of Android onto Windows
If you want Android on Windows you've heard of Bluestacks, but how does Bluestacks 4 stack up?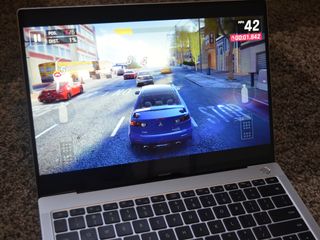 (Image credit: Windows Central)
While Windows 10 has improved when it comes to game and app availability, it's still behind platforms like Android and iOS. BlueStacks is a well-known emulator that brings that latest version of Android to your PC, allowing you to play the latest mobile games and use popular apps.
The most recent update, BlueStacks 4, brings a number of feature additions and some serious performance boosts. BlueStacks' makers claim it's six times faster than the latest Android flagship. Those are big claims, but BlueStacks 4 delivers an excellent Android experience on Windows.
BlueStacks is free to download and is available on Windows and Mac.
Built for gamers
While you can download just about any Android application through BlueStacks, it's probably the most useful for gamers. The performance boost compared to BlueStacks 3 allows you to play games with less lag and stuttering and BlueStacks has a number of features aimed at helping gamers use mobile games on the PC.
One of the most important features for an emulator is keyboard mapping. BlueStacks 4 allows you to create custom keyboard maps to make sure that you can play mobile games with your keyboard setup. You can map keys on a per game basis, create custom tap spots on your screen that you can map to specific keys, and even use you mouse to aim and shoot (though many would consider that unfair). This is a great addition to BlueStacks and makes it easy to play games like PUBG, some would say too easy.
Performance of BlueStacks is going to vary depending on your hardware. I use a Matebook X Pro which isn't a powerhouse but does have an MX150 in it to give it a little extra oomph. I ran into a few stutters that affected my gameplay but for the most part, I could play Breakneck well, or at least almost every time I crashed was my fault and not BlueStacks'.
Gaming is going to be the primary use case for many BlueStacks users and I think they'll be happy with it. The emulator runs smoothly and allows you to play popular titles with customized PC controls or your touchscreen. If there are mobile titles you want to play on your PC, BlueStacks more than delivers.
Closing the app gap
While I think BlueStacks is probably used most by gamers, it can also be used to close the app gap a bit on Windows 10. Most of the apps I use are available natively on Windows 10 but in some cases, there are more touch-friendly versions on Android. I tried a couple of these out and they worked very well. There were a couple stutters or delays when jumping back and forth between mouse and touch inputs, but the overall experience was impressive.
If there are apps that you need that are on Android but not Windows 10, BlueStacks is a great option and will help deliver a native-like experience of Android on your PC.
Performance
While there are significant feature additions in BlueStacks 4 when compared to previous versions, the two numbers that matter most are "six times faster than the Galaxy S9+" and "eight times faster than BlueStacks 3." The new BlueStacks is lighter weight and more powerful than previous iterations. This means you don't need to be on a superpowered PC rig to play mobile games.
In my testing I found BlueStacks 4 to run smoothly. There were occasional hiccups here and there, but the overall experience is positive. Trying out more taxing games such as Breakneck and Asphalt 9 helped me push it as hard as I ever would need to, and it responded well. The fact that it can run multiple games at once is very impressive.
Overall thoughts
BlueStacks 4 is a significant step forward when it comes to Android emulation. It is multiple times faster than previous versions and high-end flagship phones. The additions of customizable gaming controls, a simplified interface, and the addition of the ability to run multiple apps or games at once all create an excellent experience for Android on your PC.
Rating apps and programs is always a bit difficult because some apps are lightweight, basic and nearly perfect while other apps are more ambitious and have some flaws. BlueStacks 4 still had some performance issues from time to time for me but I think it is a remarkable value considering that it's free. I'm honestly surprised you can get this level of emulation for free. It's also worth noting that my PC is good for what I generally use it for but isn't aimed at gaming.
Pros
Custom keymapping
Impressive performance
Ability to run multiple games
Sleek interface
Free
Cons
Occasional performance hiccups
Windows Central Newsletter
Get the best of Windows Central in in your inbox, every day!
News Writer and apps editor
Sean Endicott brings nearly a decade of experience covering Microsoft and Windows news to Windows Central. He joined our team in 2017 as an app reviewer and now heads up our day-to-day news coverage. If you have a news tip or an app to review, hit him up at sean.endicott@futurenet.com (opens in new tab).
Which version of Android is this equivalent to? I've been running AMIDuOS for a while now and it's no longer receiving updates and is stuck at KitKat. It struggles when there's no network connection for some reason though.

The article on this link says Android Nougat
https://blog.en.uptodown.com/bluestacks-in-depth-talk-director-marketing/

If Andromeda could take full advantage of this,,,,,,,,,,,,,,, that would be awesome

I use Bluestacks 4 and love it. It runs games decently on my HP laptop with a Ryzen 2500U...the integrated Vega graphics get the job done for the games I run (endless runners and some RPGs), and since my laptop is a 2-in-1 with touchscreen functionality, BlueStacks 4 means I now have a "free" Android tablet (albeit heavier and with nowhere near the battery life but oh well).

This is great for installing HD games which don't exist in the Microsoft Store which were designed for larger displays like an iPad or an Android tablet and occupy more than 1GB of size. So far I have only tried Bluestacks 3, I have a ASUS 11.6" 2 in 1 and when I want to relax I play Android games in tablet mode, very recommended. My system has a Intel Pentium N4200, 4GB of RAM and 500GB of hard drive, so installing tons of GB of Android games is not a problem. Will install Bluestacks 4 ASAP and reinstall my games, the good news is I have 60Mb/s FiOS home speeds so downloading 10 GB of data takes about 25 minutes

I have a Surface Pro (2017) with i5/4GB of memory and the load times were pretty bad. I just wanted a good Google Play Books client! What was your experience with load times?

I think it depends on how complex games are. The only problem I have is when Bluestacks 3 is started it make take a whille but once is started, the Android interface is pretty smooth, also loading games has same performance for my device than Windows Store games. Take for example loading King CandyCrush games which exists on the Windows Store takes same time on Android.

Nope, too much ads (chinese games not to mention autoinstall, wasting bandwidth, lags). I'll be better with LDPlayer.

My experience with Bluestacks with a 4GB/i5 U-series chip is that the load times are terrible and it completely dominates the memory. I think having at least 8GB would be much, much better ...

anyone know how I could use my xbox controller for games on Bluestacks4?

Does it still cause BSODs on start when Hyper-V is installed and enabled?

I urge users to come forwards with experience with Android emulators on Win10. More comments on running the emulators in Surface Go would be great.

The first screen you show is that of Asphalt 9...a game that's already in the Microsoft Store...

Yeah, and I bet the native version is running 10x better than running it through Bluestacks. Could be that the writer just used Asphalt 9 for testing and as an example, but this is the internet, so I'll go ahead and ignore that part.

I'm having problems downloading the Bluestacks software from the provided link. Downloaded it twice. It downloads to 100% but then stops at the last second and says the software could not be downloaded. Don't have this issue with other downloads. Even explorer says the file in the downloads folder is only "partially downloaded". By the way, can't you just hide the taskbar through the windows settings? why need Smarttaskbar?
Windows Central Newsletter
Thank you for signing up to Windows Central. You will receive a verification email shortly.
There was a problem. Please refresh the page and try again.