Surface Dial could be a wireless remote for Surface PCs and artists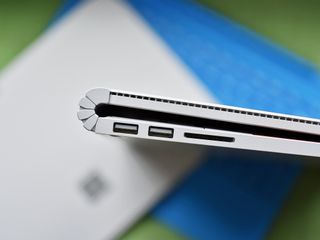 (Image credit: Windows Central)
File this under speculation but recent information about a 'Surface Dial' and patents were revealed this morning in addition to Surface Studio. While the latter makes sense for an all-in-one Surface PC, many heads are scratching on what 'Surface Dial' could be.
A few weeks ago, Leon Zandman found references in the Windows 10 code for a radial controller that "can be paired and has haptics" for feedback. Twitter user WalkingCat posted some of the references as well speculating RadialController could be the software for Surface Dial.
Interestingly, back in June, Christian Jolicoeur tweeted an image of his Windows 10 Settings following an Insider update. The image references settings for 'Wheel' under Devices that are usually paired with a PC e.g. Mouse, Printers, Bluetooth, etc. The description of the app says:
There is also a toggle for Vibrate i.e. the haptic feedback references noted above.
Christian goes on to speculate that maybe this device is similar to Wacom's Express Key Remote (opens in new tab), which has "17 customizable buttons" and a "Touch Ring" that "allows for instant one-touch access to timesaving shortcuts in all your favorite creative applications." That device is primarily aimed at graphics professionals and acts like a handheld shortcut for frequently used features.
Putting all those clues together and it seems as if Surface Dial is a handheld device for an artist to streamline their actions. The Wacom express Key Remote retails for $99, and that seems in line with what Microsoft would charge for a similar feature for its Surface line, including that new Studio-centric PC.
This information also meshes with the Surface Mouse and two Surface Keyboard desktop accessories already discovered.
Of course, with just two days lefts all should be made clear very soon.
What we expect from Microsoft's Windows 10 event on October 26
Windows Central Newsletter
Get the best of Windows Central in in your inbox, every day!
Daniel Rubino is the Editor-in-chief of Windows Central, head reviewer, podcast co-host, and analyst. He has been covering Microsoft since 2007 when this site was called WMExperts (and later Windows Phone Central). His interests include Windows, laptops, next-gen computing, and for some reason, watches. Before all this tech stuff, he worked on a Ph.D. in linguistics, watched people sleep (for medical purposes!), and ran the projectors at movie theaters because it was fun.
That sounds plausible and awesome.

Yeah whatever you want boy whatever you want

Oh, great detective work there, Dan!

Hmm.. this is kind of backwards.. What about supporting Chromecast protocol? Every other app is building support for this these days . It's almost as though Microsoft lives in alternate reality. Yet they build apps for other mobile platform and use enterprise as a camo to give their mobile consumer user base the finger.

Chromecast sounds so open...

What is Chromecast protocol? What does that have to do with this product, essentially a creation macro tool?

Probably better to ask Google to make Chromecasts support Miracast. A protocol that's actually a standard a lot of devices can use.

Miracast and Google Cast are two entirely different protocols for two entirely different use cases.

True. Was more a statement that it's Google that's locking it down not Microsoft 'lacking support'. It's not like Google couldn't support Miracast for their Chromecast (or open up the Chromecast protocol for that matter).

Chromecast is a closed down proprietary Google solution made to lock out those who don't share user data with Google.

I can't wait for the big NY event really! Exciting stuff coming!

So basically the Studio+Dial is the ultimate Wacom Killer. a 22" Cintiq is $2000 and you need a $1000 laptop with a dedicated GPU to work on big, professional files. If they sell this at $3000 you'd be getting an AIO that would replace the cintiq+laptop combo. The ultimate studio PC. It'd be cool if the Dial would come with a switch so you can also use it as an Xbox remote.

It is either a "3D mouse" like the 3Dconnexion SpaceNavigator or something you put on the screen to control objects while drawing. The original "Surface" table could use objects to manipulate on-screen elements.

My first thought as well, although I'm now guessing something simpler, more mainstream...

I really hope not. I just upgraded my 3D mouse to the Enterprise version. I'd prefer a different gadget, haha.

I'd rather have a home assistant than this tbh. Though it makes sense as a home assistant is more for consumers and less for professionals

How does this theory about the Surface Dial excludes Microsoft from announcing a home assistant again? They could announce both products for all we know.

True but leaks this close to the day are generally real and there is nothing leaking about a proposed assistant. But like i said, it doesnt fit the narrative that MS is pushing these days. Businesses have no use for such device therefore MS will ignore that segment just like they ignore the car segment and have nothing to rival CarPlay/Android Autot.

You clearly haven't heard the HomeHub rumors.

True. But MSFT has a better history of keeping secrets in the house. Take Hololens/Band/Surface Book for example. Or maybe it's just that not that many people are interested in MSFT leaks? I think the Surface Dial fits into MSFT's recent narrative pretty well. It should be a good companion for a rumored Surface Studio, perfect for the graphic design industry. You are just limiting the definition of Business, for me and many others, graphic design is certainly a huge business. I don't get the idea of missing out some segments, the real leader tries to create its new category. That's what MSFT aiming for with Hololens, just sit tight and look forward to the event.

Home Assistant is designed and aimed for consumer home use. This accessory for Surface is aimed for professional use, basically like a competitor to Wacom Cintiq except this is a full computer, not just graphic digitizer display.

The day after the announcement

The day you stop asking...!

For a moment I hoped "Surface Dial" meant Microsoft was getting the Band back together and getting back into wearables.

I was hoping it was a retro turn-dial phone... Oh well, better luck next year!

It would be better to have a Surface Watch and a Surface Lens. But hey, they cannot develop top class products in each category in more or less two years.

I use an existing USB dial controller now. They really come in handy.

The kind of thing that you feel like you don't need until you get one

This solidifies that this Surface AIO is essentially like a Wacom Cintiq but a full PC. I love that! This can be really great for digital artist on freelance and studios who find Cintiq+PC to be too expensive.

No, I think Surface Dial us special soap you was your hands with before using the touchscreen to reduce fingerprints.

interesting...this could also incorporate the work from the Cortana "Clip" device they were working on since it has the button in that image for search as well. http://www.windowscentral.com/microsoft-rumored-be-developing-cortana-ba...

Maybe, but isn't that basically a Bluetooth headset connected to your phone or pc using "Hey Cortana"?

Times are changing, now MS seems to produce interesting stuff for creatives.

No wonder Microsoft employee likes Satya Nadella. Because it all about Innovations.

Well, coming from a former MS employee... These things are 5-10 years in the making.

does this mean i can wirelessly connect my surface pro 2 with desktop and use the surface pro to draw like a wacom tablet on photoshop that's running on my desktop? so i don't have to buy a wacom tablet for desktop?

Let's hope we see some great stuff announced on Wednesday

It would be nice to have this wheel both in physical and virtual forms, so I could use it directly on Surface screen for PS shortcuts, like Tablet pro (last one is terrible to use and set)

Everything Surface gets me excited, but as Nutella sits and watches the phone situation collapse to nothing all while saying nothing, many of us have to look elsewhere (iphone/Android). At the same time, if I have to do that, then the One Windows on all thing is out the window (pardon the pun), and the Surface becomes less appealing to me. Keep sinking part of the ship and the rest will eventually go with it. Kudos on a bang up job, Nutella.

Hi. I can't imagine this "dial" to be targeted to artists mainly due to the limited size of the market. I'm not smart enough to speculate what this could be but anything that Microsoft develops, I imagine, would be for a larger audience. (With the exception of Hololens which is clearly meant to showcase the technology and investment into future products.) Just my humble opinion. I am intrigued for sure.

The only group in ms that isnt cloud first cloud only can pretty much do whatever they want. Its not like whatever they release matters to the ms bottom line considering the record quarter they just had on cloud and business service earnings alone.

https://msdn.microsoft.com/en-us/library/windows/apps/br212145.aspx Other windows.ui.input classes include pointer.point, mousewheel, edgegesture, and several other kinds of events like dragging and so it could be a software/ux improvement coming to redstone, a new hardware accessory category or a built in part of another device, maybe even all 3. According to google the msdn documents showed up in august with one document mentioning digitizer showing up in october.

kinda like the Griffin Powermate then .. i've had one of those for years..

I'm wondering if they'll ever decide to make an ergonomic mouse w/ gesture control. I used to use a Magic Mouse @ work & loved the gestures but the ergonomics were terrible. Now i use a logitech MX Master but still really miss the gesture control. Why is it that Windows 10 is built for touch but Mac OS has better gesture control? ps: I've never personally used the arc touch mouse but reviews seem mixed at best.

I just commented below you but that's pretty much what I'm hoping for. A really touch-heavy gesture mouse. There hasn't been a lot of innovation in that area for ages, and I never knew I wanted it until I just thought about it.

I used to have a literal hardware dial for scrolling but I feel like for most people this is an outdated concept. Touchpads and scroll wheel are pretty good these days. I can't speak for artists, so maybe it's awesome for them. However a dial like an iPod wheel and the features above integrated well with am ergonomic mouse could be an interesting concept.

Altogether nothing to shout about later today then. Redstone, followed by a day of Apple hysteria tomorrow.

Finally a wireless remote. I was getting tired of all my wired remotes...
Windows Central Newsletter
Thank you for signing up to Windows Central. You will receive a verification email shortly.
There was a problem. Please refresh the page and try again.