Surface drove positive revenue for Microsoft's More Personal Computing division for Q3 2016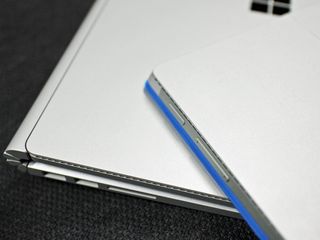 Microsoft is reporting their Q3 2016 financial results today and the consumer division under the rubric of More Personal Computing. This category includes Surface, Phone, and Xbox Live membership along with the all important Windows OEM revenue.
The good news is overall the More Personal Computing division had $9.5 billion in revenue, which is up 1% (up 3% in constant currency). High growth was seen with sales of the Surface line and increased Xbox Live adoption up 26% year-over-year to 46 million users.
Surface revenue was at $1.1 billion for Q3 2016, which is up from $713 million year-over-year and slightly down from the peak holiday season at $1.3 billion.
Windows OEM revenue declined 2% in constant currency, outperforming the PC market, driven by higher consumer premium device mix
Surface revenue increased 61% in constant currency driven by Surface Pro 4 and Surface Book
Phone revenue declined 46% in constant currency
Xbox Live monthly active users grew 26% year-over-year to 46 million
Search advertising revenue excluding traffic acquisition costs grew 18% in constant currency with continued benefit from Windows 10 usage
Windows OEM revenue declined by 2%, which is never a good thing. However, it did outperform the general PC market overall. Microsoft attributes that discrepancy to "higher consumer premium device mix", which is a significant shift as the low-end market rarely yields significant revenue due to low margins. Success in the high-end market is key for Microsoft as they continue a premium experience and hardware through their Surface line.
The Phone segment continued to decline by 46%. That drop follows a 49% percent drop by in Q2. Middling sales and lack of a market push for the Lumia 650, Lumia 950, and Lumia 950 XL are not suprpringly resulting in a lower market share for Windows Phone.
Finally, Search advertising revenue grew 18% driven by Windows 10 usage and is another positive sign.
Overall, Microsoft's More Personal Computing segment appears to be stabilizing and performing well with positive growth in nearly all areas except phone, which is not at all surprising due to their retrenchment policy through 2016. Wall Street will likely be happy with the Windows OEM revenue performance, increased Surface adoption and evident success in the premium segment of the computer market.
Daniel Rubino is the Executive Editor of Windows Central, head reviewer, podcast co-host, and analyst. He has been covering Microsoft here since 2007, back when this site was called WMExperts (and later Windows Phone Central). His interests include Windows, Microsoft Surface, laptops, next-gen computing, and arguing with people on the internet.
Microsoft sold 2.3 million Lumia handsets during the January-March 2016 quarter. Just about the same number as Apple iPhones sold in less than 3-4 days. A pretty reliable estimate.

Who cares? I love my Lumia way more than a stupid iPhone, and that's all that matters for me. Posted with the Windows Central app for Windows 10 on HP 250 G1 notebook. It is a scary old monster, I think :D

Does iPhone support Continuum, sync with W10 or Live Tiles/pinning? I might consider switching if it does. :-)

no but well.. it supports apps to run .. like the apps you would like to see in continuuum - syncing with W10 or pinning somewhere

And Lexus sells a fraction of the number of cars that Ford sells. Should Lexus go out of business? No. Simple minds have simple logic and think that this is a handset count contest and there can only be one winner. Pretty foolish thinking. Windows Phone is a very nice product. Better than iPhone in my opinion. Windows Phone is my Lexus. The Wal-Mart shoppers can purchase iPhones. Both can continue to exist in the marketplace.

Windows Phone is Lexus? Lexus is a luxury brand. Microsoft didn't break out specific numbers to determine ASP (average selling price) of Lumia handsets but my dartboard guess is that Microsoft did not sell more than a million units (hedging again) of the Lumia 950 in the four months after launch. Safe to say that most of the Lumias sold are at the lower end of the price range, the Toyota Tercel or Toyota Corolla category and not the Lexus line. The Tercel and Corolla are good cars but are not luxury cars.

They sold 2.3 million Lumias, so slightly more than less than a million.

If Microsoft sold 2.3 million Lumia 950s in the four months after the November 2015 launch, that would upset my entire world view of everything, in the universe even! But we both know Microsoft didn't sell 2.3 million 950s. Even be generous and throw in the few thousands of 950 XL. Most of the 2.3 million Lumias sold during the quarter were the lower end 5xx, 6xx series phones.

Not very likely. With lower end they are not making much money per device. And if you have a look at the real numbers again you will see that they have to have sold higher priced phones then in the quarters of the previous year before.
And the 2.3 million are for the last quarter... That does not include nov and december... I am not even sure if it includes april.

This is from the Microsoft filing with the SEC. Windows Central knows about this. They reported information from it: "Phone revenue decreased $662 million or 47%, as we sold 2.3 million Lumia phones and 15.7 million other phones in the third quarter of fiscal year 2016, compared with 8.6 million and 24.7 million sold, respectively, in the prior year." So why do WP fans still try to weasel their way through this stuff? Microsoft wouldn't lie in a document they provide to the SEC. Phone ASP Q3FY15: $42, Q3FY16: $41-$42. The higher end Lumias PROBABLY made an impact since Lumias only made up 13% of the total units compared to 26% same quarter last year. Unless Microsoft breaks out the revenue number specifically for Lumias that's about all anyone can say. What can be said with certainty is they didn't sell very many.

Though I agree with the sentiment. I feel that the analogy you used isn't applicable. As smart phones serve as a platform for other services (apps and telecomm), Network Effects are in play, and quantity does matter. I'm not saying Windows 10 Mobile sucks though (I think my Lumia 950 is great for what I need). It's just that I would not be surprised if there were individuals who make business decisions within Microsoft who may be arguing for moving their focus from Windows 10 Mobile to other business segments.

This is more a comment on yourself rather than on Microsoft.

As long as the stick with their phone efforts, I'll be a happy camper.

Agreed. I don't care if I have the bigfoot/loch ness monster mobile OS. Kinda bothers me no one wants to make Windows apps, but in general the OS is most desirable of the three. My problem is more not knowing if they will stick with the efforts. I guess I should enjoy it while it lasts.

It's all Wondows 10 now; PCs, 2 in 1s, Tablets, Hololens, XBox, Band and Phones, MS won't drop it, just fused it!

So the W10M marketshare is down to less than 1% (2.3 million Lumias vs 350 million total smartphones sold in Q1/2016). Ouch.

Um, that's not how market share works. Market share is TOTAL volume of phones in the market that are active. Phones sold per quarter do not equal market share. Over time, yes.. For now all you can say is 1% of all phones sold were Windows Phone for end FYQ3 2016.

Well, just look at the latest Gartner/IDC and other market researcher's result reports and you'll see they all have the same definition of market share as I do. Just because you close your eyes and live in denial doesn't really help here. What you are talking about is total active users which is obviously different. Anyway: Total volume of Windows Phones / W10M sold: 110 million. Total volume of smartphones sold since 2011: 4 billion. So 2,5% market share by your definition. Hope that makes you happy now.

I think both stats are important but for different reasons and to be honest doesn't matter what they are labelled as. In the short term the market share for a quarter is important as it reflects performance of recent devices and marketing efforts. However, in the long term total market share over a long period reflects how well the platform is doing. When we see a positive growth in market share for the quarter it will indicate that MS and OEMs have got decent devices and decent marketing strategy in place, as soon as that happens they just need to focus their efforts to build on that success and slowly the long term total market share will increase which in turn creates a successful platform, I think this will only happen around 2018 with a Surface Phone 2 release and hopefully a Galaxy running W10M. The UWP platform will have had enough time by then to mature along with OS features that the app gap may be less of an issue. It's a long road to get back to success when you are so far behind but I feel Microsoft has made a lot of smart decisions and their direction is solid, the real issue is that people are still expecting a turn around yesterday instead of realising it will be years from now. Posted from my Lumia 950

@DancingDave You can tone it down. It's not about me living in denial, but you are factually incorrect on that and I pointed it out. If you have 90% share of the active market e.g. total users and your have a really bad quarter and sell only 2% compared to everyone else your market share does not drop to 2% from 90%. I mean, c'mon. That is now how this works otherwise each quarter would be an up and down rollercoaster. Long term, if you have enough bad quarters your market share will drop. But let's not equate quarterly sales with market share. It's wrong and your attitude does not make up for that.

As someone who actually works in the industry I'll back Daniel up 100% here. Market share is the percentage of ACTIVE devices used in the market, not the percentage of NEW devices. If the latter were the case Apple's Mac (global) market share would be down below 1% whereas we all know it's ~8%

Yes. Market share is share of what moves in the market. Installed base on the other hand is entity different thing but it tanks fast as well when no new phones are sold (no market share) and old devices are scrapped & discarded while previous owners move to non-dead platforms.
https://en.wikipedia.org/wiki/Installed_base

Market share of sold units vs market share of active units is something different for anyone. If you say market share most people will assume total market share of active units. He is right there.

Where that 2.3 million number will have the biggest impact going forward is probably the EU. It's safe to say that old Windows Phones are being retired faster than new Windows Phones are being sold. This should be reflected in the Gartner, IDC, Kantar, netmarketshare stats in the months and quarters to come, whether shipments or usage.

I haven't purchased a new phone since May 2013 when I got my Lumia 928. I'm still using it. It runs incredibly smooth at nearly 3 years old--much smoother than my 3-month-old Samsung Galaxy S6 (that they make us use at work because Microsoft completley failed to get their phones into enterprises). I don't plan on replacing it anytime soon. If I break it, I'll simply buy a used Lumia 928. They can be had in great condition for merely $50-70, which is incredibly affordable given what you get.

@coip, 930's fetch around £80-£90 second hand and in good condition too. Pretty cheap for what you get.

The moment you see a brand sale take off, that is when your light should brighten up. Hey surface is doing great, why don't we kick in gear and work on the phone too!

Took a while for Surface to become profitable. MS had that big write off on RT tablets, and started to turn things around with SP3, a 3rd gen device. Need a major product to change W mobile. UW apps are the right first steps, but currently the W10M OS is still too buggy to be competitive. But they are not far off. There is also worldwide market they need to tap into which will be easier than the US market. Posted from Windows Central for Windows 10

To be honest, with this kind of throttlig, it won't be surprising if they stop producing phones altogether. It was already a very hard feat for them to gain more market share when they were at their peak. Now, it is beyond impossibe. And I don't think they can repeat what they did with the surface either. The surface tablets definitely didn't start off with a platform with almost non existent marketshare.

I already said there are no new Lumias coming this year.

I didn't mean "Lumia" in particular, I meant the Microsoft phone business in general; name it lumia, surface phone or whatever. They can not play the "Surface hardware is some sort of guidlines for OEMs to follow" card with phones. There is no significant OEM hardware share in windows on phones to start with. In any case, I don't want to be another guy pouring the doom and gloom of windows phone/W10 at you. You better stock up bottles of Whisky, you need them more than ever now.

Microsoft has struck gold with the Surface line. Don't know how redefining the phone category will work out for them. Might just be that much harder.

it will in the Enterprise sector of which I think Microst is truly targetting with mobile. The consumer largely will be left to the OEMs.

Only time will tell. I'll believe it when I see it

I would like to see comparing number of sales between surface devices and Apple computing devices.

I would say:" I would like to see comparing number of sales growth between surface devices and Apple computing 'tablet' devices (iPads)! growth"

Last quarter iPad Pro outsold Surface line. Niche vs. Niche. I would like to know total marketing expenses of Surface line, pretty sure its near the revenue.. When all marketing expenses hidden to other segments are added up. Surface moves paltry million units a quarter and is basically loss leader.

That's all speculation with absolutely no facts to back up your statement. I seriously doubt Microsoft spends $4 billion/year on Surface marketing.

Quite like being part of an elite phone owners group instead of the rabble masses :)

Oh man...tough currents lie ahead folks. Not sure what to think. I'm sure app developers out there can't possibly react positively to this when it comes to debating a WM app :(
Windows Central Newsletter
Get the best of Windows Central in in your inbox, every day!
Thank you for signing up to Windows Central. You will receive a verification email shortly.
There was a problem. Please refresh the page and try again.