Microsoft's Surface Duo 2 is official with MAJOR upgrades across the board
By Zac Bowden last updated
Microsoft's flagship dual-screen Android device is back with a vengeance.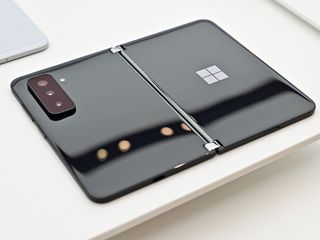 (Image credit: Daniel Rubino / Windows Central)
What you need to know
Surface Duo 2 is official with upgraded specs, bigger displays, and more!
Featuring a new "glance bar" down the spine, 5G connectivity and NFC.
Pre-orders are now open with an expected ship date of October 21.
It's finally official! Microsoft's has taken the wraps off its second-generation Surface Duo handset, aptly dubbed the "Surface Duo 2" and features upgrades across the board, including the latest Snapdragon 888 processor, 5G connectivity, NFC, and much more. The device is available for pre-order today for $1,499 and is expected to start shipping on October 21 in select markets.
Top billing for the Surface Duo 2 includes a new triple camera system on the backside of the device. This new camera system consists of a wide, ultrawide, and telephoto lens at 12MP, 16MP, and 12MP respectively. Microsoft says these cameras will provide a flagship camera experience, including support for features such as night light photography, portrait mode with adjustable depth control, and low-light and Auto HDR photography improvements.
Microsoft has also increased the displays of Surface Duo 2 to 5.8-inches each, which now equates to around 8.3-inches of total screen space. The displays have a refresh rate of 90hz and are slighly curved down the middle as well, which allows a small section of the display to be exposed down the spine when closed. Microsoft calls this the "glance bar" and it will show notifications as they come in.
Category
Surface Duo 2
Surface Duo 1
OS
Android 11
Android 10
Processor
Qualcomm Snapdragon 888
Qualcomm Snapdragon 855
Network
Wi-Fi 6 802.11ax (2.4/5GHz)
Bluetooth 5.1
LTE: 4x4 MIMO, Cat 20 DL / Cat 13 UL
Wi-Fi 5 802.11ac (2.4/5GHz)
Bluetooth 5.0
LTE: 4x4 MIMO, Cat.18DL / Cat 5 UL
SIM
Nano SIM + eSIM
Nano SIM + eSIM
Network bands
FDD-LTE: 1,2,3,4,5,7,8,12,13,14,19,20,25, 26,28,29,30,38,39,40,41,42,46,48,66,71
WCDMA: 1,2,5,8
GSM/GPRS: GSM-850, E-GSM-900, DCS-1800, PCS-1900
FDD-LTE: 1,2,3,4,5,7,8,12,13,14,19 20,25,26,28,29,30,66
TD-LTE: 38,39,40,41,46
WCDMA: 1,2,5,8
GSM/GPRS: GSM-850, E-GSM-900, DCS-1800, PCS-1900
Display
Single: 5.8 inches (1892x1344), 401 PPI, 4:3 aspect ratio
Dual: 8.3 inches (2688x1892), 401 PPI, 3:2 aspect ratio
AMOLED, HDR, 800 nits, 90Hz
Single: 5.6 inches (1800x1350), 401 PPI, 4:3 aspect ratio
Dual: 8.1 inches (2700x1800), 401 PPI, 3:2 aspect ratio
AMOLED
Memory
8GB
6GB
Storage
128GB, 256GB, 512GB
128GB, 256GB
Camera
Front-facing: 12MP, ƒ/2.0, 24mm, 1.0um
Rear-facing wide: 12MP, ƒ/1.7, 27mm, 1.4um
Rear-facing telephoto: 12MP, ƒ/2.4, 51mm, 1.0um
Rear-facing ultra-wide: 16MP, ƒ/2.2, 13mm, 1.0um
11MP, ƒ/2.0, 1.0um, PDAF, 84.0° diagonal FOV
Audio
Stereo speaker
Mono speaker
Security
Fingerprint reader
Fingerprint reader
Ports
USB-C 3.2 (Gen 2)
USB-C 3.1
Battery
4,449mAh
Fast Charging
3,577mAh
Fast Charging
Dimensions
Open: 145.2mm (H) x 184.5mm (W) x 5.5mm (T)
Closed: 145.2mm (H) x 92.1mm (W) x 11mm (T at hinge)
Open: 145.2mm (H) x 186.9mm (W) x 4.8mm (T)
Closed: 145.2mm (H) x 93.3mm (W) x 9.9mm (T at hinge)
Weight
284g
250g
Color
Glacier
Obsidian
Glacier
Interestingly, Microsoft is also releasing a new "case" that snaps onto the front and supports magnets to store the Surface Slim Pen 2, and can also wirelessly charge it. The Surface Duo 2 is available in Glacier White, just like the first Surface Duo, but it can now also be had in a new Obsidian Black color.
Other improvements to the Surface Duo 2 include improvements to the overall fit and finish. The exterior glass now curves into the device around the edges, and the device is more robust thanks to a slight increase in thickness to 5.5mm on each side. Microsoft says this should address the USB-C cracking issue that the first-generation Surface Duo suffered from.
It's clear that Microsoft has worked hard to make the Surface Duo 2 a better phone, so it should come as no surprise to hear that the Duo 2 finally supports NFC technology for wireless payments; a must-have on any modern smartphone in 2021.
Surface Duo 2 is available for pre-order right now and is expected to ship on October 21 in the United States, United Kingdom, Canada, France, Germany, and Japan. U.S. pricing is as follows:
| SKU | Price |
| --- | --- |
| 128GB | $1,499.99 |
| 256GB | $1,599.99 |
| 512GB | $1,799.99 |
A real phone
Upgraded in almost every way

Surface Duo 2 is a major upgrade for the dual-screen form factor, featuring larger 90Hz displays that curve down the middle, the latest Snapdragon 888 processor with 5G, 8GB RAM, NFC and can even charge the Surface Slim Pen via an optional case accessory.
Zac Bowden is a Senior Editor at Windows Central. Bringing you exclusive coverage into the world of Windows 10 on PCs, tablets, phones, and more. Also an avid collector of rare Microsoft prototype devices! Keep in touch on Twitter: @zacbowden.
Glance screen, i love it man. Such an easy solution(rather than adding a brand new screen on bsck) to a problem every had in v1. and the case covers the entire back now. Finally i may buy this device.

I have to say, it's a damn fine feature, very innovative

You are right. The Edge screen that Samsung debuted several years ago is very innovative.

Except it was meaningless nonsense on Samsung devices. It was curved on both side of a device that wasn't covered. It caused phantom touches, something you don't have face with this form factor--while also having a meaningful purpose to address a drawback of the Surface Duo's form factor.

This. I work for a phone company and I don't know a single person who used Samsung's curved screens as intended. All it really did was make you worry about dropping the darn thing while avoiding touching the sides.

Looks amazing! but that camera bump does not make it fold to screen to screen all the way. I can picture that actually breaking the camera.. Also 1500???? Are they nuts that is such a crazy price, with the fold3 at the same price they are different categories. I am afraid this will be a flop just because of price.

I think this actually competes with the fold, the specs are top tier, so it makes sense to me.

"I can picture that actually breaking the camera.."

It won't. It doesn't hit the lenses.

How does it stop? Does the hinge stop the travel? I'd be more concerned with breaking the hinge if that's the case.

the lenses are physically a slight bit deeper than the surrounding "bump" part, so the lenses don't come into contact with the back face, only the bump makes contact.

Yeah, and almost any other smartphones does this with their back camera lens. Pretty much an industry standard.

I'd worry less about the hinge and more what might happen if you fold it back and press tightly. Does it scratch/chip at the back glass? Does it chip away at the bezel that sits above the lenses? Does the screen break from the pressure? Will there be durability concerns if you pocket it folded back (where pressure is going to be distributed less evenly than with the first-gen)? Hopefully we get these things answered when the inevitable JerryRigEverything video comes out.

Still looks like crap and half engineered.

Also one other thing... if the software is buggy on the 2nd one its game over...
Still waiting on android 11 on 1st duo

I'm sure they'll announce that a bit later.

When configuring the Duo 2 (Microsoft Store), it asked if you want to use your existing SIM, AT&T, or Verizon.

I wanted to be more excited for the Duo 2, but was actually more excited for the other devices. The curved screen in the center is cool but in a couple of the pictures it shows a bad reflection on the curve making it unreadable. And I don't like the camera bump but understand going with this design it was necessary. But they could have matched the material around the lens with the same as the back of the device to blend in more. And I would have liked for the bump to have blended gradually into the back of the device better, not such a hard edge. But overall a great new addition to the Surface line.

I don't think that they could have blended the edges of the camera bump too much because they really need a reasonably-sized flat surface for the other side to fold against. If the contact area was too small then it likely would have damaged the other surface.

Still hate the camera bump and the inability to fold back flat (that was the most innovative aspect of the Duo originally) and 128GB is a non starter for me so it would now be 1600 minimum. Such a mixed bag for me personally that I don't think I can do it. I want to want to, but the bump and the price... it's tough.

Agreed, I don't see how Microsoft justifies the price increase as Samsung aims to make foldables (a little) more affordable. Like you, I feel 128 GB is insufficient (and Microsoft is missing one-third of the RAM that SD888 flagships normally have). Given as poorly received as the first-gen Duo was, I was surprised they were bold enough to think fixing glaring flaws justified a price hike...it's hard to fault people from being turned off when Microsoft seems to like hugging the line of scaring people out of their products.

Not sure if and when this will come to Australia but, if the usability of the camera is reported as being OK, I think I'll get one. I'm disappointed with the lack of wireless charging although I'm not surprised. I have some magnetic USB-C cables with a fairly discrete plug so I would probably use that. It just means that all my wireless chargers will be gathering dust for a while at least and maybe indefinitely.

Wait a couple months for the fire sale. Zero chance this is successful for $1500.

Yes it will be successful.

How? Who is going to spend $1500 for this when the Fold 3 is similar priced? This will almost certainly flop.

Similarly priced? It's an extra $300, or 20% higher. It's the same $300 increase you probably from the S21 Ultra to the Duo 2 that you think makes it a failure.

Yeah me too, this will be very expensive if we import this to Australia. So I guess wait for official release or at least the price to come down to make the export cheaper if there is any.
The lack of wireless charging is indeed a bummer as I was already setup on my car to just mount it and it will charge fine. At least NFC is here now for mobile payments which I always use. I wish Opal would just support Google Pay or their own app to use NFC, so we don't have to use the physical card.

Unfortunatly at this time they are only offering $475 trade-in for my Duo when ordering a Duo 2. Not good for early adapters. It is too bad that they do not have special trade-in offers for the early adopters that paid full price. As much as I love the Duo 2 I know I will wait it out until the price drops.

Are there going to be payment options to spread this out? That's pricey. But man is it beautiful. May have to bite the bullet and get one. My current phone is OLD!

Best Buy has 24-month financing.

Dell Financial Services is Microsoft's financing service. I used it for the first Surface Duo, 30 months 0% interest.

I normally would not pay over $1,000 (heck, even over $800) for a smartphone, but this one is really making me reconsider..I'd have to try it out first...I really wish the Microsoft store in NYC were already open.

Same. If it had stayed at $1,400 base, I probably would have pre-ordered by now. Adding an extra $100 and taking away the included case (another $40) just feels like brazen assumption they have an Apple-like fan base that won't question awful pricing.

And Australia gets the middle finger just like with Xbox Design Lab.

Yep! Was all set to hit Optus up for this but not now. Not happy, Jan...

It's Available late October from the Microsoft Store for $2,319....I'm getting one!

I do miss Windows Phone, but I don't miss the app gap or the bugginess of W10M

A nice update for sure, but no wireless charging and no cheaper version makes this a no-go for me. Nice hardware though.

in order to keep it thin, they're going to have to forgo wireless charging, and tbh it's not the end all, be all feature anyways. I have wireless charging on an iphone 12 mini and i never use it. also in what world do you see them pricing this below $1k?

Snapdragon 888 device start around $700. Adding a screen and a bit more housing doesn't add $300 to the price. Even at $999 this will struggle to sell. $1,500 means it has zero chance to grow. Watch for fire sales and cancellation early next year.

The price of the original Duo didn't go down for quite a while. At least from what I've seen. Don't see why this would be any different, especially since it's such an upgrade over V1.

Not true; it was discounted by $200 within the first 60 days because when I complained about the price drop to Microsoft they said I could just return my Duo for a full refund and then reorder it again at the lower price. And then the price dropped further a couple of months later.

So buy the parts and make your own much cheaper Duo. Sounds easy from how you frame it.

Everyone else has failed doing that, including Microsoft. Why would I repeat a failure?

"Why would I repeat a failure?" I mean, that seems like the exact thing you do every time you post here.

LMAO I really comments here but this was funny af lmao

😂😂😂 the device is going to be successful. I can see OS change in 2022.

I don't see Apple licensing iOS for this.

Getting the dual screen accessory from LG added $100 to the price. Buying it standalone was $200. That's before adding things other things like a better-engineered form factor (thickness, hinge, etc.) and giving the screens pen support. You talk about the Duo's fire sales, but seem to totally ignore that most flagships LAUNCH on fire sales (like B1G1 offers). The F Fold is already $200 off on Amazon, but I'm sure you're not running to Android Central to tell everyone the Z Fold is a failed product.

I don't care much about wireless charging since I never use it in the first place, but a cheaper version with Snapdragon 700 series chipset would be an enticing prospect. We saw it before with the LG Velvet 5G last year.

The price is too high, the rest is great, maybe the 90hz screen is not what I was hoping for but apart from that, it's all great.

I'm still waiting to hear more about this case for the slim pen.

I love the new camera app and photos app they showed plus having apps launch in span mode is awesome. Any word if these will come to the original surface duo?

I would love a Microsoft Photos app for all Androids, that works flawlessly with OneDrive. Samsung Gallery works fine for the most part, but limits you to have all your photos in the Samsung Gallery folder. I want more flexibility.

With the original Duo, I believed that an external screen would enhance the user experience, but when those Duo 2 pictures leaked, my first thought was "surely now they'll add an external screen. How on earth would you use it without one?" If they're willing to sacrifice the smooth outer, ahem, surface of the device with a camera bump, why not go all in and add more furniture to the outer body with a decent size external screen? I so wanted to be excited with this device, and maybe I'll be proven wrong after the first user reviews start to come in, but I really feel that omitting an external screen to act as a camera viewfinder and quick notification centre is going to be a problem. Every foldable mobile device that's starting to see some consumer success (the list is admittedly short...Galaxy fold and flip, please step up) has an interactive, useful external screen. Why does Microsoft believe this shouldn't apply to their device? Whether it's arrogance, oversight, or under-engineering, it's going to hold the Duo 2 back.

Duo isn't the same as those devices, it doesn't need an external screen beyond the glance screen they added. It can be fully folded if you want to use a single screen, where Samsung's foldable cannot. The issue here is price. Dual screen foldable devices aren't highly desirable at any price, as has been proven in the past by previous attempts. At $1,500 this is a joke. Sure sales flop which will create a dead form factor. Microsoft does this every time they try to create a new product type.

I agree it's expensive, but I'm not sure that cost will hold it back. Electric cars are expensive, and we're largely still in the guinea pig stage with them, but people are still buying them. History is full of expensive items which gradually became cheaper over time, but still sold well enough to gain traction and become mainstream. CD players, VHS recorders, sound systems and portable tape players cost hundreds when they first showed up. Heck, my first flat screen tv, bought in 2006, was a 43" HD model with zero smart capabilities, and set me back nearly £1,000 at the time. If that same TV came out today, it would be worth less than £100. I don't think that cost drives people away from adopting technology. I think useability and usefulness does. People will buy innovative technology if it has a wow factor. But critically, it must fulfil a function and do the basic stuff well, with a view to it getting better over time. The original Duo had the wow factor and fulfilled a function (depending on who you ask), but everyone universally agrees that it did not do the basic stuff well. We'll see how the Duo 2 performs, camera bump and all. My guess is that, if early reviews confirm that the OS, camera, and overall usability have improved substantially, Microsoft will sell enough of them to warrant a third generation.

I might agree with you, but you are missing one big point. The Duo isn't using any innovative or exotic hardware. It is standard phone hardware and a standard hinge. Isn't like an electric car, it doesn't have any advanced technology. There is nothing that is going to get cheaper, like a folding screen. When it is on the shelf next to an actual folding screen and similarly priced, very few people will choose the Duo.

At the minimum, I need to know if whatever material they use for the edges will break again, if the software will know when the device is using two screens or one screen, and if the edge for swiping apps is too sensitive or too far from the actual screen edge. I really like my Surface Duo, but considering what it was made for, such issues shouldn't exist.

This is the lack of support issue I have railed on Microsoft since the Duo's release; I'm not taking it on blind faith that anything is different with the Duo 2. They've had a year to get the OG Duo right and haven't bothered at all.

Some good spec bumps but shame the top and bottom bezels still look massive.

Great device! I can't wait, but I might have to. May be waiting on version 3.

No way this makes it to version 3. After the first flopped, and now they release the new one at the same price, it will almost certainly be canceled early next year. Just get the Fold. You will be guaranteed a product with a future. The Duo's future is rough at best.

The best part about Duo 2 is that it makes you wet your diaper everytime someone mentions they like it. I LIKE IT, WET BOY!! Keep crying 😭😭😭

Sorry. I like when Microsoft makes successful products. You seem to like when they set themselves up for sure failure. This is too obvious, how can you not see that this product will fail again?

If it upsets you that much I'm going to buy 10.🤤 Sucks to be in your head for you. 😭

We will see a in couple months when it is canceled. You haven't been right yet, this isn't going to be the first.

No, you haven't been right about anything,, ever. Just like you said Duo would never make it to version 2 and would be canceled.. 🤔 You panic about Microsoft making the wrong decisions as if you are qualified to work there and do better... Yet, Microsoft has a strong lineup of devices, software and services, their stock is lucrative, and employees are getting paid,, some at the top, millions. All along, you're sad, uneducated, most likely making minimum wage with no clear path for advancement. You complain endlessly about a stupid PHONE in between flipping burgers, and you obviously have some serious sociological issues you are too lazy to address. All this, and you expect us to trust your judgment over Microsoft's? Lol. Get a life. In the grand scheme of things, who really cares if a phone succeeds or not? IT'S NOT THAT BIG OF A DEAL! If worrying as much as you do about Microsoft's success, and others preferences, is the only thing you have going on in your life then God be with you. Your issues go far beyond anything you could get help with repeating yourself like a fool on Windows Central. What's even more sad, and embarrassing to others, is your lack of self esteem and mental stability shows beyond what you type. I promise you if you stop hiding behind complaining insistently about everything around you your life would be a lot better. If you think I don't know you, think AGAIN. And, you might be too weak to admit it, but you know deep down inside everything I just said is absolutely true, and your family has told you these things too many times. Cheer TF up, and stop being such a mental burden to everyone on the internet and especially in your personal life. 🤦🏿‍♂️

Dude, that is funny. Good try, but no where near true. I just want Microsoft to make good products like Windows 11, which I am a big fan of on my Surface Pro. It actually is somewhat useful as a tablet! Now it just needs some decent software outside Chrome. Surface Pro 8 also looks amazing. Everything else they announced today was crap.

No, you know it's true. You're pathetic. You don't even believe in your own comments, that's why you have to repeat them over and over, and over, and over.. If you did you would just wait until you're right and tell everyone "I told you so", but you obviously don't have faith in yourself and it's seriously and sadly obvious.. So, admit to yourself you have issues and move forward. Not sure how old you are, but you don't have to be like this your entire life. Fix your life! Here's another tip: nobody here gives a rat's ass about what you want to see Microsoft do, and especially Microsoft gives a rat's ass. I mean, do you seriously think all this making yourself look like a fool on social media is getting you anywhere or making a difference? Answer that. Get a life.

bleached must work for Samsung

Why doesn't Samsung have a dual screen? They threw everything else against the wall for years, but never a dual screen. You know they had a prototype just like the Duo. Why didn't they release it?

Well, to be fair, as one who works for a phone company, I see about as many Folds as Duos among the customers. And both sets seem to really like their purchase. They are both niche products. You get a Fold if you want one big screen. You get a duo if you want two screens. It's all down to preference of the user.

Yep, but he's not on payroll - involuntary volunteer

I wonder how many times he's been arrested for trespassing. Funny thing is he probably looks like Mini Me. Lol Tiny ass handcuffs 🚓👮🏿🚓👮🏿🚓👮🏿

I think the fact that the Duo 2 was being worked on even before the first Duo was released indicates that Microsoft may have had an idea on what they were doing. The first Surface "flopped" to use your definition and yet it's one of the best 2-in-1's out there. You have to start somewhere, and with the right advertising it'll gain more traction. Wonder if five years from now, if we're still seeing the Duo being uses in public will you call it a flop? Guess the whole Surface line is a flop. Might as well throw Mac OS and OSX in there too if we're using your barometer.

Zac said on the podcast after the event that Microsoft is already working on the Duo 3 and he have information about it that he will share later.

The third version should better have 120Hz screen refresh rate.

Camera bump?
1500$...? No thank you.

Man, I'm still underwhelmed with the Duo line. It's definitely an improvement, but $1500? It's still most definitely a 2 screen phone and the argument for that over a single large screen just really eludes me, although I do appreciate a tougher/glass screen over a foldable phone. But it seems to kind of cancel itself out, when folded closed there is no outer screen and that's exactly why they tried to fix that with the notification bar. But it seems like they introduced new issues, like with the camera bump I can only assume the 2 sides won't be completely flat when it's opened 360 degrees, and even then the camera or the back of the phone, or both are going to get scratched up. I applaud MS for trying, but I called the first Duo fire sale when it was announced, I'm calling it out again, 6ish months we will see the fire sales. Now as a "companion" device it might make more sense, but as a full phone I'm not so sure.

Since Best Buys still have their Duo displays (without the actual device), I wonder if the Duo 2 will be demoed eventually. I need to test a few things before I decide...

$1,500 starting! Didn't anyone tell Microsoft this is old technology? Dual screens have been around for years and don't command a premium. It just makes no sense except as a budget foldable option. Dual screens can't compete with a single folding screen. Not to mention, it still has outdated bezels and aspect ratios. There is no reason Microsoft can't release this at $999 as the hardware isn't exotic. That unrealistic price just causes so many issues. It will be a big factor when reviewers pick it up; they will hold it to a higher standard. It just isn't as exciting as a single large folding screen, and now reviewers and buyers won't be able to at least point to a much lower price to justify it. That will greatly hurt sales and mindshare for the Duo. Microsoft has set this up for failure. The form factor likely isn't viable at any price point, as previous dual screens have proven. At such a huge price it most certainly isn't viable. Watch for cancelation and fire sale early 2022.

"Dual screens can't compete with a single folding screen." I doubt that. Single folding screen can't run two different app simultaneously without doing some screen splitting whereas dual screen easily can. Also, you have the freedom to leave one of the screen running an app without any interruption. You can't do that with single foldable screen. Try to open TV streaming app like Netflix or Amazon Prime and social messaging apps at the same time without Netflix or Amazon Prime taking over the whole screen. That is why I still prefer dual display solution over single foldable screen. Don't make me even mention about repair cost.

So? You can still run two apps, or even three with no issue on the Fold. Duo only gives you two, with no option for one big screen. There are zero productivity advantages to the Duo. It's only chance is as a budget option. Repair costs? No phone is that repairable now, especially the Duo. Fold seems much more repairable than the Duo. Are you serious?

Bleached, Only MSFT knows how many people bought the Duo and at which price points. They also know how these people are using their phones. So they have a price elasticity model and they have a user profile. They also know they have a price point to meet to justify the investment in this form factor. MSFT is not trying to be a mass-market consumer company. Will it sell in good numbers? What is a good number? If they sell 10,000 a month is that considered a success? OR do they want to sell 100,000 units a month? OR 1,000? So is $1.5 MM, $15 MM, or $150 MM a month in revenue the goal?

I think Duo 2 was created out of taking a chance. They are are giving it one more shot just to make sure it won't catch on. With the fire sales of Duo 1, we can be fairly certain it didn't even sell as well as Microsoft wanted. Of Duo 2 doesn't catch on fairly quickly, or it outright fails to sell, they will most certainly not continue with the experiment. I don't think I am going out on a limb making this prediction. Dual screens just don't work. The rare times you want two apps at once don't make up for the awkwardness and trade-offs of the hardware. Duo 1 was almost perfect for a dual screen, if it didn't prove the form factor, nothing will.

Yeah I agree. I wanted to love my OG Duo (which I still own) but the unanticipated trade-offs just didn't work for me either on a day to day basis. It also didn't help that less than two months after release Microsoft discounted the device but offered no relief to pre-order purchasers other than "return it and buy it again at the lower price". Great customer service there.

"They are are giving it one more shot just to make sure it won't catch on. "

You say a lot of dumb stuff around there, but this is a new achievement. Also, there is already another Surface Duo in the works. I keep telling you that, but you keep ignoring it (on purpose), even though we're right on these things.

Tsk-tsk

Daniel! Lol... Geezus. He's going insane this round. I normally would ask why yall keep him around, but know I realize how much entertainment he actually provides. Although it is kind embarrassing. 😂

Surface Mini was in the works too. Where is Andromeda? Where is Windows 10x? Where is Neo? Come on, you know quite well that "in the works" means nothing for Microsoft.

I have to agree with him that "it's in the works" means nothing. McLaren was in the works. Courier was in the works. Neo was in the works. W10X was in the works. Astoria was in the works. We've seen a lot of things, even reviewed by this site, that involved canceled products. We've also seen a lot of Microsoft projects canceled after the second effort. Kinect got two tries and an axe. Band got the same. The original ARM Surfaces died off after two efforts. It could be totally feasible that the Duo doesn't get a third effort if there isn't a big uptick in sales. In that regard, it's why I'm so surprised to see them raise the price, rather than lower it, as Samsung does the opposite on its foldables. They need it more accessible to justify continuing to give this project resources, but they've squeezed the niche a little tighter with a needles increase in the price.

Right, because other manufacturers don't cancel "in the works" projects... 🤔 Following a Microsoft biased site would make it seem like Microsoft is the only company you hear about doing this, I mean seriously think about the things yall think about. Your first indication this is dumb perception should've been when you decided to agree with Bleached. Think, dude. 🤔

You should just cut and paste your comments since you're pretty much saying the same thing.

What i want to know is the device thickness when folded back on itself. With the camera bump in between the two sides in that orientation, it seems like it is going to be rather thick.

It should better have a much bigger battery than before.

The glance screen on the spine certainly looks like it has the space to display the number/name of an incoming call. Suspiciously they did show that kind of functionality in their demo. Any chance that it can display that, or a software update could add that?

I'm pretty sure it showed some call information in the video.

I took a second look, but only saw notification badges of the number of missed calls/messasges. The 'call' only showed a flashed color animation with no information. :(

Anti-google so.... I'm out. How do you even take a photo with one hand ? I mean using the big camera.... ? $1500 ????? So much not to like...

It's obviously not for you then.

If Microsoft sell the new Duo 2 with unlocked bootloader out of the box as they did with the Duo, that should have some glimmer of hope.

"How do you even take a photo with one hand ? "

How do you use a dual-screen phone that folds open with one hand? Have you thought this question through .... ?

I assume he's overestimating the quality of the hardware. He thinks it's too bulky/unwieldy while opened. It's certainly not the lightest device around, but no one's been crying at Samsung when someone holds the Z Fold with one hand while opened fully.

A physical button works for the camera shutter like my current android phone and old windows phone i hope

So am I. There are options for severely hindering google services on android. If you don't want to root (because honestly that's it's own ball game and you wouldn't have made that comment if you were the type) here's what you can do to keep it as "user friendly" as possible: 1. Don't sign into google
2. Download alternate app stores: I personally consider both Aurora and FDroid to be an absolute must, though APKpure, Amazon, and Aptoide can come in handy in a pinch too.
3. Delete/remove/disable any google-made apps, but leave google play services. (You will need it for some things to work if you're not rooting and going the whole way.) Replace Phone/SMS/Google Photos/Calculator/Clock/etc. with Simple Mobile Tools equivalents, found in FDroid. They are kind of "orange". You can download the "Simple Thanks" app and leave a donation if you want to change the color scheme. Replace Google maps with "Here Maps", which Windows Phone used to use. Edge is preinstalled, but you can also install DuckDuckGo and/or Brave.
4. A good privacy VPN couldn't hurt either. You will need to regularly check Fdroid and Aurora to keep your apps updated. Both apps have an "update" tab, get in the habit of doing them manually once a week. System updates will still work, as Google Play Services is left alone. Most games will still work although you won't be able to make in-app-purchases unless the alternate app store supports them. I have run into a game or two that required itself to be downloaded over Amazon, because it absolutely required that *some* app store be signed in before they let you play. However most will just let you do your thing without buying lives or other in-app-purchases. While this doesn't "root" out Google entirely, it should severely hinder it. Also, apps installed from Fdroid and Amazon do *NOT* require Google Play Services, as the previous is intended for rooted phones, and the latter is intended for kindle fires. All microsoft apps/services should work. I do have a onedrive account and have no issues keeping my pictures backed up.

When markets are they releasing this in?

It would be really awesome if this device had the "Continuum-like" ability to connect an external monitor, keyboard, etc. and run full-blown Windows 10 (on ARM). The specs can definitely support it, although it would require some software trickery.

Microsoft can definitely develop their own Android Continuum either as a standalone feature like Samsung DeX and Huawei EMUI Desktop alongside Motorola Ready For or use the built-in barebone Desktop Mode feature as the base like LG did with the Screen+.

Finally, a much needed upgrade from the 1st gen model. That glance bar idea is neat, I like that. With Ari Partinen, an ex-Lumia engineer, working for the Surface department, I am definitely hoping to see a flagship-worthy camera performance. But as much as I anticipate the Surface Duo 2, I'm still going to stick with my current LG V50 with its DualScreen case. I don't see a need to upgrade my current smartphone for now.

Looks pretty cool to me, but will wait until I can trade in directly with AT&T.

RoarinRow have you heard any news as to when its coming to AT&T? I chatted with someone at Microsoft and they said it was going to AT&T but then I chatted with someone at AT&T and they said no.

my wallet is ready. im buying 2

reading these comments, i see bleach working overtime today being a resident troll. he cant keep up with all the excited duo fans. theirs always that one debbie downer here.

I will wait for a Duo that has a camera in such a way that I can take pictures while the phone is folded outwards.

you would have to have a decently large camera bump on the front face of the device, which would make it difficult to close fully. Given a choice between not being able to open fully or close fully, I think they made the right choice. If you don't want a top of the line camera, then Duo 1 has what you want, but obviously that was not a popular choice. or you could just take photos with the Duo 2's front facing camera with the device opened all the way, which looks to be better than the Duo 1's camera.

my android phone you double tap power to open the camera app and then single tap volume to take a pic.
duo 2 should have that function

Does anyone know Carrier Availability? The original Surface Duo was released on AT&T and was listed on their site up until about a week ago so just wondering if they will get the Surface Duo 2? Not everyone can shell out $1500 all at one time even with trade in deals. I know on the Microsoft website you can get an AT&T sim or Verizon Sim but nothing on the AT&T website yet.

Just checked the trade in value for my 256gig Duo 1 and it's only $450 USD which is rather disappointing. Considering my largest complaint about the Duo was software related, and not hardware, I don't think I can justify the upgrade cost. Maybe if Android 11 comes out here shortly and I have a month on the Duo with it before the trade in allowance date expires (nov 7th) I might. But if Android 11 still has my Duo never actually knowing it's orientation and which screen is being used and constantly disabling screens that I am using I can't see my ever getting another.

Obsidian model preordered using gobs of Microsoft Rewards points - and after trade-in, should bring it to under $500. Just gotta plan ahead is all ;)

Just went to pre-order and they are already out of stock.

It's not "good" now because they upgraded the hardware and camera specs - the hardware was fine in the OG Duo, it was the user experience that was totally lacking. Because of the form factor you really need to use the Microsoft software for launcher, keyboard, etc. The launcher was abysmal with virtually no customization options and the Swiftkey keyboard was OK but not nearly as good as Gboard and introduced a lot of frustration when trying to type quickly. But really the bigger issue was (is) that there were so few optimized applications for the dual screen experience outside of Microsoft Office, and even those weren't great and really didn't add much to the vaunted "improved productivity". I still don't have the much touted Google Maps upgrade that supposedly takes advantage of the Duo's two screens. I'm a heavy Outlook user and it was maddening how if you used it in dual screen mode it would go back to single-screen mode if you clicked an email link. The entire implementation was (is) half-baked on the OG Duo, which was expected initially but Panos promised constant updates/improvements that never came (the most egregious of these is that the OG Duo STILL doesn't have Android 11 and only might get it after Android 12 is released). So unless you see some applications actually working in dual screen mode that you believe will really improve your daily life, I wouldn't get too excited about a faster processor or three unproven cameras instead of one janky one that no one every used except for Teams/Zoom anyway. I did like the photo/editing program's optimizations for dual screens that was demoed but I really need to see evidence that those cameras are as good or better than what the Pixel 6 or Sony Xperia 1 III can produce (and I still can't imaging pulling the Duo out to take random snapshots). The "glance bar" is awesome though. You may set me on fire now.

"It's not "good" now because they upgraded the hardware and camera specs - the hardware was fine in the OG Duo"

It can be both things, c'mon. That CPU was very old when it was released. The

design

of the hardware was great. The CPU and RAM were not. Neither was the camera. If you don't think the Surface Duo was slow/sluggish for things like the camera/rotation, animations, etc. because of the chipset, not sure what to tell you, except it plays a BIG role there. Duo 2 gets a lot of benefits from simply using 888. Yes, Android 10 was terrible, but Android 11 (and 12) brings more support for dual screens and foldable.

I don't think people question if the SD888 will be an upgrade, but it's not like the Duo was ONLY lacking because the hardware wasn't fast enough. The SD888 won't fix if they don't get the orientation bugs fixed. Qualcomm's not magically getting Microsoft to keep the Duo from not realizing it's closed or which screen is being viewed for using the camera. There is a lot of bugginess in the Duo that Microsoft has to prove is fixed on their end, rather than just saying "seems faster." Since we're going to harp on the SoC though, Microsoft inexplicably is also showing up with the lowest RAM config you can get with the SD888. Coming out with 8 GB of RAM in a device egging the user on to multitask doesn't seem terribly wise. Even the S21 Ultra brought 12 GB, as did the Z Fold 3. Microsoft opted to target the base S21 and the "budget" foldable in the Z Flip with its RAM config. Given we're supposedly going to move away from worrying about hardware performance, seeing them cheap out on the RAM and raise the price seems a bit ridiculous.

Agreed the bumped up specifications will help, but my point is unless they really make the dual screen experience work, and make it meaningful (which I never found with the OG Duo), the upgraded specifications won't matter. I really don't get the emphasis on the camera's, other than Zoom/Team meetings I never use the Duo camera (and never intended to when I bought it). While the camera specs look great, you actually have to have the Duo 2 fully open in order to use them, instead of folding it in half (well I guess you can still do that if you use the inside camera, but if you're going to take a picture you would want to use the rear cameras). I know consumers probably stayed away from the original Duo because of the camera but once you use a Duo you really don't think of it as a "camera" device. I hope Android 11 is as good as you suggest, because I've kept my OG Duo as a Kindle and will be interested to see if it actually improves the overall user experience.

For those people complaining about the Duo, have you tried it for at least a few weeks? If you haven't then you really don't know what it can do. It's not just a device for using one application to span across two screens, like the MSFT Office suite of apps, but what I find most convenient is that I can run two apps at the same time on compartmentalized screens. It's really like having two phones stuck together. We can talk about the price point because while I would agree about $1500 being a little high, so was the first Duo, and the iPhone 11, and you can go on about overpriced tech when it's first released. It's the world we live in people. Here's an easy solution....don't buy one. I will say that I've been using my Duo for the past year and once your screen goes double......you're in trouble because I assure you, that you won't want to go back to a single screen device again, if you're primarily looking to expand multitasking. That's what this device is all about.

Why didn't any of the reviewers find this? Why didn't the Chinese copy it? Why didn't Samsung ever release a dual screen? Why did the Kyocera, Axon M, LG, or Duo 1 catch on?

I'll cede this: The Duo's form factor is something that's very hard to give up, once you've adopted it. Microsoft, though, seems to be making every effort to stop people from taking that first step. It wasn't bad enough for the first Duo to be less feature-packed than a 2012 flagship, it had to price itself like a more premium device than it could emulate. Now, they get it up to par with a 2018 flagship, but bizarrely raise the price to chase more people away. I've done enough unpleasant multi-app stuff on my G8 to know how the Duo would make things better for me. what stops me is Microsoft's seeming unwillingness to do the thing it claims is its goal: "meet you where you are," as they've said in the past. I was ready to adopt the Duo, then they threw a nice slap with the price tag. I was ready to get the Duo 2, and I just feel like Microsoft's price increase is their daring people to stop using good sense with their purchasing decisions. Can I afford the extra $100? Yeah, sure, but I can't help but feel like it's more of a principle thing than a budgetary one. Microsoft just seems disinterested in baiting customers into their ecosystem, and it makes me more worried about the long-term success of the Duo. Throw in the bugginess and terribly slow update process that the first-gen Duo offered, and I'm struggling to pull the trigger. Microsoft keeps making it harder and harder to trust them as a device maker, yet I'm being asked to pay more than ever to see if I've won the lottery and bought a device they'll properly support.

I'm a little surprised. I haven't seen it did they launch a surface earbuds 2. Is that interesting device but I just don't see the need of having a surface Duo. If I need something bigger I just pick up my surface pro x.

A few news outlets have reported that the Surface Duo 2 is coming to Australia as well in late October!! Prices starting from $A2319
So happy it's finally coming here 😭😭

The lack of Qi charging is still a deal breaker for me.

For any of you that are wanting to get the Surface Duo 2 and you are on AT&T and you want to take advantage of their installment plan, I just chatted with a representative and they said it would be on their website within the next week or two.

Thanks for sharing! This is the route I'm planning to take.

I like what I see so far. Dunno if I'm jumping yet, but I did have my USB port crack once, so maybe I should.

I adore my Duo 1. Got it recently in the flash sale, i could not go back to a single screen device now it's just something i've evolved into using. Greatly looking forward to the software upgrade in October. Seeing the Duo 2 just double's down my assertion that this is a great future progression concept, i know that they're fully invested into the device line :)

If surface 8 pro with windows 11 can work as a tablet, why durface duo can't running windows 11?
I think MS should made a window version of surface duo, less than android version, just a test for the next generation.

Looks like a major upgrade from the dismal first generation model. I really do like this, but I'm still wondering about the $1500 price. Two premium tablets would cost less than that. Not sure what's justifying the exorbitant price on this.

Software improvements. What about the software improvements? Nobody is talking about whether Microsoft has squashed the bugs and if Android 11 will be a better experience. Will this also come to Duo 1? Let me try the new software out on my Duo 1, and if I see it working better, then I may go for the hardware improvements in Duo 2. But if the experience is still bad, there's no way I'm going to pay full price for a Duo 2 to put up with buggy software.

I've said exactly this. My Duo is a pretty cool device, and could be terrific with great software.
Windows Central Newsletter
Get the best of Windows Central in in your inbox, every day!
Thank you for signing up to Windows Central. You will receive a verification email shortly.
There was a problem. Please refresh the page and try again.