Here's what the Surface Duo's camera app looks like
Our first look at the Surface Duo's camera features and UI.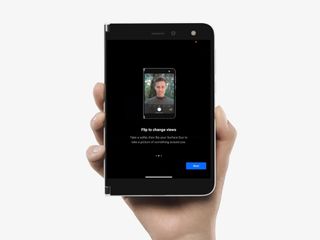 (Image credit: Microsoft / Windows Central)
Even with the Surface Duo now available for preorder, we still don't really know much about its camera. Sure, we know it's an 11MP sensor with an 84-degree FOV, but we don't know anything about how it performs in real life, and we don't know much about the camera's app UI or features yet either.
Well, today we can solve one of those mysteries as we have screenshots of the Surface Duo's camera app here for you to take a peek at. The screenshots reveal what the app itself looks like, as well as some of the features of the camera app, all of which are standard camera features you'd expect to see on a device with a camera.
Along the bottom, we can see the user has the choice between a handful of different modes, including:
Photo
Video
Slow-mo
Portrait
Panorama
In addition, we can see that along the top, the user can set a timer for the photo to be taken, and toggle on/off the flash when in photo mode. Along the bottom is a capture button, and in the bottom right corner is the gallery icon for your recently taken photos. Nothing groundbreaking here.
Image 1 of 3
Furthermore, we also have screenshots of the first-run UI that pops up when you open the camera app for the first time. This brief walkthrough quickly describes how to take a picture, flip the Duo around for a selfie, and how you can span the app so that your photo subjects can see you take a photo of them in real-time.
These screenshots were captured during a live chat session with a Microsoft Store associate to help shoppers considering a purchase of the device. While these screenshots still don't tell us how good or bad the camera is, what are your thoughts on the camera app so far? Let us know in the comments.
Preorder today
(opens in new tab)
Two screens are better than one

Microsoft delves into the future of foldables with an ambitious dual-screen device, featuring two ultra-thin 5.6-inch AMOLED displays bound by a 360-degree hinge. This pocketable inking-enabled Android smartphone marks the latest in the Surface lineup, geared for mobile productivity.
Main