Surface Duo receives its March 2021 Android security and firmware update
Microsoft's dual-screen Surface Duo is now getting its March 2021 security patch ... and likely other fixes in tow.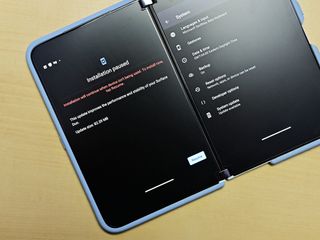 (Image credit: Daniel Rubino / Windows Central)
What you need to know
The Surface Duo is now getting a March Android security update
The update is only 82 MB in size, suggesting it is just security and maybe minor fixes.
The changelog has not yet been posted detailing fixes or improvements.
Microsoft's Surface Duo appears to be back on track for monthly updates as the March 2021 one is now rolling out to unlocked Duos (AT&T branded ones are usually a week later pending approval).
The update contains Android security patches for the month and likely other fixes and improvements as well. The update is 82.39MB in size, which is slightly bigger than last month's cumulative update, which arrived three weeks ago and was just 66MB.
The update bumps the Surface Duo build number from 2021.115.52 to 2021.207.70 and the security patch to March 5th, 2021.
To check for the update, use the following steps:
Connect to a Wi-Fi network.
Select Settings on your Surface Duo's home screen.
Select System.
Select System Update.
Select Check for update.
Select Restart now.
Microsoft has not yet shared the changelog (opens in new tab) for this update, but we'll update this article when that happens.
Update 3/19: The changelog has now been posted:
Addresses scenarios outlined in the Android Security Bulletin - March 2020.
Improves device stability.
Improves device performance.
Improves Surface Duo UI stability.
Improves incoming ring experience with the communication apps.
Fixes the experience when dismissing apps in single screen mode which had a delay before showing the home screen.
Taking screenshots in single screen mode captures the active screen instead of both.
Increases time that the "Double-tap to switch screens" is available to change screens.
Fixes the ability to unlock the device using the fingerprint reader when an app is running above the lock screen.
Apps that only support portrait orientation can now rotate clockwise when spanning across both screens.
Surface Duo has been receiving many updates for its Launcher and keyboard recently with multiple updates per week. From our own experience, the Launcher has a much more significant impact on gestures, behavior, and smoothness than previously thought, with substantial improvements being observed after each one.
Surface Duo recently went on sale in four new markets including France, Germany, UK, and Canada. And just today, it received support from Xbox Game Pass (Beta) for on-screen controls, which is a killer feature.
For those in the US, a permanent price cut of $400 is now in place six months after the dual-screen device's release.
Double the Android
(opens in new tab)
Two screens are better than one.

Microsoft delves into the future of foldables with an ambitious dual-screen device featuring two ultra-thin 5.6-inch AMOLED displays bound by a 360-degree hinge. This pocketable inking-enabled Android smartphone marks the latest in the Surface lineup, geared for mobile productivity.
Windows Central Newsletter
Get the best of Windows Central in in your inbox, every day!
Daniel Rubino is the Editor-in-chief of Windows Central, head reviewer, podcast co-host, and analyst. He has been covering Microsoft since 2007 when this site was called WMExperts (and later Windows Phone Central). His interests include Windows, laptops, next-gen computing, and for some reason, watches. Before all this tech stuff, he worked on a Ph.D. in linguistics, watched people sleep (for medical purposes!), and ran the projectors at movie theaters because it was fun.
Successfully installed. Seems faster.

Version 1 Duo is the coolest beta test every. Terrifically quirky device that just works on so many levels even when things aren't working their best.. Version 2 should address many quirks, and version 3 should be the Surface Duo that we dream Surface Duo should be. I'll be getting every version of Duo until it's good enough to skip generations.. 6 months using Surface Duo and my only problem with it is the overall camera experience. Not bad for a first generation device. 💯💯💯 No regrets, although for most users I can't recommend it yet.

Agree with you. Especially on the camera. If they would just make it faster when taking a pic it would be passable. The delay I get as well as the crappy pics are the only downside I see with the duo.

Agreed.. Over on our Surface Duo Facebook Group the camera is the most talked about complaint. I don't care what Microsoft calls this device; a device that falls into the same category as a smartphone has to have a good overall camera experience or it will fail at a premium price.

While I agree from a consumer vantage point, I do observe that video chats for business are better / more natural, as the zoom elements distort your face with other phones (in my view). Also, it works perfectly well for document scans. If this device is used as your main work driver, especially with O365, then the issues don't really pop up. The gaps arise for consumer uses, and even only a few, at that, but they aren't the target market. That said, branding and promotion do matter, so they lose on that front.

I couldn't agree more with you rodneyej. The irony is I think with more advertisement and marketing, which has always been MSFT's problem, this device would have a lot more buy in. The only real down mark would be the camera, but it outshines the other phones when it comes to the dual screen and gesture centric controls. If anyone uses two monitors understands why you have two dedicates screens vice one adjustable one. I know that anytime I'm in line ordering food or buying something and using my Duo, at least two people are asking me about it and saying that's exactly kind of phone they need.

Yes! The excitement surrounding this device in public is something only last seen by the original iPhone. If managed correctly Microsoft could have an "iPhone" on their hands.

rodneyej, totally agree. Best pocketable device by a country mile I've ever used, but that camera is bad.

It is literally the best device I've ever used, and I use iOS, Windows Phone and Android. My iPhone is the most polished device I have, but it's just boring. But, it's consistent, and Duo has a lot to learn from it. As long as Microsoft continues to take the camera experience serious Duo will grow in popularity and usability.

Duo is just a stop gap until folding screen technology fully matures. Dual screen is pointless when you can have a single folding screen in a similar package.

To not have a Surface Duo in hand and claim that it's usability is pointless is not only ignorance but supreme ignorance. Post what you want, but most reasonable people will take the opinions of people who use a device day in and out over someone with extremely limited experience using a device. Basically, my thoughts on Surface Duo supercede yours because I have one. You're entitled to speculate about it as you please, but I wouldn't be foolish enough to think you know more about how good/bad this device is than someone who uses it everyday.

True, but that's a couple of years out. The 360 hinge is key, and even for full folding or tent mode. It really is useful for the multi angle clamshell mode, down to flat

They switched which way apps auto rotate when spanned. Like some apps would auto portrait mode with bottom of app being on the right screen. Now it's reversed. I don't like the change, I liked having my thumbs by the volume and fingerprint reader.

That's because the back of the right screen is the bottom of the Duo when in laptop mode by design as evident by the Microsoft logo being on the back of the left screen to show onlookers that it's a Microsoft device. When held vertically, Microsoft originally designated the left screen to be the top in portrait view, giving maximum view to the Microsoft logo, keeping the logo unblocked by fingers. The same for the speaker being on the left screen, when held in portrait, designated to be the top screen, the speaker is unobstructed by hands. The inherent problem with that initial orientation designation is that when apps default to the right screen being the bottom, the camera would be covered by hands since the camera is also on the right screen. Instagram is an example with the old firmware that shows the need to switch the default rotation to the left being the bottom in portrait. This change ensures that the camera is not obscured by defaulting the right screen to be the top for apps that do not rotate 360 degrees. With that said, it would be nice to have an option to set the default orientation for portrait/vertical viewing for users that want to hold it as you described. I prefer the original designation of the right screen always being the bottom for easy button access, natural grip with the bumper and showing off that reflective Microsoft logo. It will be interesting to see if Microsoft takes orientation feedback into consideration for the Surface Duo 2.

Snappier. Fixed the slow single screen app close that Zac was complaining about.

They should just concentrate on their software applications and partner up more with Samsung... Microsoft will never match the quality of products like the Note 20 Ultra 5G and Z Fold 2... These products are worth the premium price too with top of the line specification and have fantastic cameras...

They can certainly match and even supersede Samsung in hardware. Look at the Surface Pro today. It's safe to say that without the Surface Pro, 2-in-1 PCs will have been either a pipe dream, or generally been in a sad state overall.
You have to start somewhere. Philosophically speaking, this applies to all things in life. The more you iterate, the closer you approach perfection. They only need to keep at it. Learn lessons from v1 to develop v2. Learn from v2 to develop v3 and so on. You'll be amazed at where they'll be by say v5 or even v8. It's the way of all things. I'm definitely rooting for them to succeed with the Duo line of devices.

I would disagree on this one for sure. The Duo seems solid from a hardware perspective. I would prefer a pure Windows version to get away from Google tracking, but compared to any other device out there this one is a winner.

I might sound like a nut but I wish the operationg system of the Surface Pro X were
modified to work on the Surface Duo. Why because the Surface Duo & the Surface Pro X
both use ARM CPU's the 4 main differences are 1= one is a single screen device & the
others is 2 screen device 2= size. 3= one runs android & the other runs Windows 10
home on ARM. I think microsoft's Software engineers can build a duo runing Windows 10 on
Arms infact info has come out the Duo originally ran something simular to Windows 10 on
ARMS but changed "OS" to run full Android because they wanted more Apps for the Duo.
Folks I believe there are enough people who would buy a duo running modifeid Windows
10 on ARMS for Microsoft to make a Profit selling them. Also windows 10 X is a good "OS"
because it is the Operating system of the Surface Neo the Dou's big brother dual screen
device.

I just got the update and noticed that any app that required fingerprint login verification stopped working. The only fix seems to be to uninstall the app and then reinstall. Is this a known issue?
Windows Central Newsletter
Thank you for signing up to Windows Central. You will receive a verification email shortly.
There was a problem. Please refresh the page and try again.