Surface Duo unboxing: Watch Windows Central's Daniel Rubino go hands-on
Seven years in the making.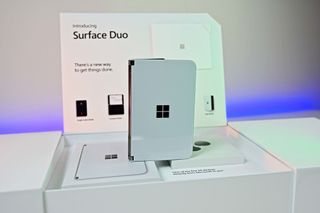 Microsoft's Surface Duo is still a couple of weeks off from its official release, but review units are already starting to arrive. If you're eager to see a little more of the Duo ahead of launch, Windows Central executive editor Daniel Rubino went hands-on with an unboxing and closer look at the hardware Microsoft is serving up. Check out the video above for more.
Surface Duo is the first phone in Microsoft's Surface lineup, and it's also the first dual-screen Surface to make its way out of the company's design labs and into stores. For many, it's the realization of a years-long "Surface Phone" journey that will finally come to fruition on September 10. Ahead of the launch, you can preorder Surface Duo at the Microsoft Store, Best Buy, and AT&T starting at $1,400.
Looking to dive in more before pulling the trigger? Microsoft plans to have Surface Duos on display at Best Buy and AT&T retail stores starting August 28.
Preorder today
(opens in new tab)
Two screens are better than one

Microsoft delves into the future of foldables with an ambitious dual-screen device, featuring two ultra-thin 5.6-inch AMOLED displays bound by a 360-degree hinge. This pocketable inking-enabled Android smartphone marks the latest in the Surface lineup, geared for mobile productivity.
Main
Windows Central Newsletter
Get the best of Windows Central in in your inbox, every day!
Dan Thorp-Lancaster is the former Editor-in-Chief of Windows Central. He began working with Windows Central, Android Central, and iMore as a news writer in 2014 and is obsessed with tech of all sorts. You can follow Dan on Twitter @DthorpL and Instagram @heyitsdtl.
300 bucks for packaging it looks

You have never actually bought packaging, have you? Just be honest, it's OK.

Packaging's not cheap, but let's not get crazy. Gamers Nexus actually did a tour of a box factory a year or two ago, where packaging is designed for PC parts manufacturers. For some video cards, the boxes were upwards of $20. All of the packaging seen here is probably more than than, though I would imagine less than $50. For the Duo alone, I would imagine it's pretty cheap, given it's a fairly small box without much going on inside.

"a fairly small box without much going on inside" That sums up Rubino well. What kind of impotent coward routinely antagonizes his readers? Even worse, who would continue to reward that kind of nescience with page hits? Zac is cool, and Jason was great, but the angry, little, tone-deaf troll is unbearable. No more hits.

🤣 Daniel is ok. Try to relax, there's a virus out there that preys on existing conditions

Seems like a coward wouldn't actually be out their criticising those commenting on the site that they rely on to pay their salary. Seems like the "angry" part is projection to me.

@Decaitare Vivit, Dan writes some of the best reviews and provides fantastic analysis. He's one of the chief reasons Windows Central is my favorite tech site.

I agree that DR needed to tone down his criticism of commenters - but he did that years ago. Now you're just sore. Also you used the word 'nescient' wrong.

Wow! What's this guy's problem, and who are you? Daniel, did you shove this guy down in front of the whole class in 5th grade or something?

A lot of that packaging appears to be specifically for the limited edition set with the bumpers and Earbuds, so they have obviously put a bit more into that. It appears that there are only 50 devices with that extra packaging and everyone else will be getting just the box containing the device itself.

That is what I thought when reading the test in the package on that video

I've been seeing renders and videos and all that featuring the device for months now, but a real hands-on really brings home just how beautiful the Duo itself is. I'm not going to buy it but boy I'm impressed by the hardware. It would be a damned shame if it didn't sell. If it weren't for Covid I'd be at Best Buy right now playing with it.

Well said, Andrew. I have shifted from planning to probably wait for ver 2 for Qi, some waterproofing, NFC, and a better camera, to thinking I'm going to buy it. I'm waiting to hear early reviews that the camera can take at least decent pictures. They don't need to be the best, but decent for 2020.

Same here. Do I hold off or buy it now? Decisions, decisions.

If you have an iPhone or Samsung phone to swap you can get a decent price cut for the duo otherwise it is expensive.

The latest rumors is that it will be similar to the ProX camera but probably better through software processing (like how the Pixel gets better photo results then one would expect when looking at the hardware). My guess: In good lighting between ProX and Pixel so quite good (not flagship quality though), and in dark lightning bad.

Yeah it is a beautiful piece of hardware, very thin compared to other foldables too..

I hear you buddy, I'm fortunate enough that my job hasn't been affected in a negative way, so I was able to pre-order me one.....I'm stoked

When the bumper is on, can it be folded "open" all the way or does the bumper not allow it to open flush? Can't wait to hear your review of the software on the beautiful hardware!

"When the bumper is on, can it be folded "open" all the way "

Yes, there's really no difference with the bumper in terms of function or range of motion.

That is awesome to here.
Is the bumper use once and done?

Amazing. Can't wait for mine to arrive.

It is really beautiful device and the hindge is wow

Hey Daniel! Glad you got a review unit. Looking forward to your review...

Man, that's an amazing piece of hardware.

Seven years and this is what we get... They didn't even have to produce an OS... Two screens, old processor with a small battery... Too big to be a phone and too small to be really productive... I'll stick with my BlackBerry Key2 and Surface Pro the perfect combination... This is just a gimmick and looks ridiculous when held up to the ear...

What makes the Key 2 and Surface Pro a perfect combo for you. Asking because I've been thinking of switching (for over a year now) to and Android and Windows set-up. I'm using an iPad Pro and 11 Pro Max now. Thinking hard about a Surface Pro X (don't know if it's powerful enough for video editing) and either a Duo, Key 2, or Note 10+. Also, eventually, a Surface Studio to complete the set.

I'd recommend waiting for Oct event for your spx purchase. Bc you want it for video editing, You may want to consider the sp7 or whatever is new for the surface pro line. It sounds like you are set on that form factor. Even if you don't get anything new, prices should drop a bit for last year's generation of products. As far as for a mobile device, bc you're used to the amount of interoperability between your iPad and iPhone, I would recommend either the duo or note. Microsoft has really been honing in on windows and Android synergy in the last year but it's not uniformed across all devices. You'll get the most out of the experience with the extended 'link to windows' functionality which is more akin to what I'd predict you to expect coming from ios than using another android device where 'your phone' doesn't always work as intended. As far as surface studio, is there a specific reason you want that particular device? The windows world has a lot of choices in comparison to Mac and so you can do a lot better for the money. Not saying the studio line is a bad device because Surface itself has always been about the totality of the experience and not just having the best spec'd device. Also, a refresh is expected to be announced in Oct as well

Thank you for your reply. Yes, portability is a big factor for me. Have been using an iPad and keyboard combo but the limited functionality (not being able to run visual studio code) is frustrating. Will definitely wait until the next event in Oct. Thanks for that tip. Yes, I'm looking for a seamlessly integrated experience. I was leaning toward the Note because
1. It is a more mature device -- you know what you're getting
2. I've been intrigued by the DEX feature
3. Battery life. The form factor and the potential productivity gains (2 screens) with the Duo are VERY intriguing, but I don't know if I can get around the lack of a notification display (wish they had an accompanying wearable) and potential decent but not great battery life. I currently have a Fenix 3HR and Fitbit Ionic. Don't know if the Duo would push notifications to those. Surface Studio for the screen and the articulation. I do a lot of video editing and use of the Adobe suite. Also, I think that it's the most beautiful desktop I've ever seen. I've thought about trying to learn how to build my own custom setup but quickly realized that I'd rather just buy something that works...and has a warranty. Hate that they closed the Microsoft stores. Like, I've mentioned previously, I've been on the fence for a couple of years in regard to switching platforms. iOS and macOS are great at what they do, but I constantly find myself wishing that they did more. Seeing the Surface Pro X really started to change the game for me. Now, when I use my iPad all I notice are the limitations. I really appreciate your input

Just a quick note, the Fenix and Ionic should push notifications to any Android phone, Surface Duo included. In fact, non-Apple wearables generally have a better UX on Android across the board as compared to using those same devices with iOS (because of restrictions imposed by Apple for 3rd-party wearables).

That's great to hear!! Had an Apple Watch. a couple of years ago. Sold it due to having to charge it daily. But the notification functionality was great

Buying from MS online is actually surprisingly good. I actually just called in and the person got me everything I needed without any issues. I received all items related to my order via email and they shipped 2-day air which they refund to my card once the item arrived. So while I'm disappointed, I guess they think, we have dedicated sections in BestBuy via agreement so if we really need to get the hardware we can simply pick it up there. When you think about it, they are paying BB million of dollars so why have to pay BB and the overhead of Brick and Mortar in addition.

The Surface Pro is a portable power house... Excellent performance and keyboard on the road and able to dock with two monitors in the office... The Key2 is not available anymore sadly but the physical keyboard is what makes this the best device for me to reply to emails and messages when travelling... The two day battery life is a bonus with the Key2 as well...

Does using it with two monitors degrade performance at all? I have always been a BlackBerry fan. Saw a few KEy 2's on B&H's website, but with no more updates planned I just can't justify the expense. Disappointed that they're not available anymore. I LOVE BB physical keyboards.

p51, if you're going to use it with Windows, Samsung or this new device look to provide substantial advantages over the other brands thanks to the level of integration in Your Phone.

True, but you know MSFT will definitely do the same for their DUO if not better

I agree. Samsung looks to be the more logical choice, but every time I see the Duo... Going to wait until the reviews to see what battery life is like before I make a decision. Battery life is the one area where I won't accept compromises.

That's what I'm looking for. Admittedly, I haven't used Windows in over 10 years. I know there will be a learning curve which is why I want to make the experience as seamless as possible.

You'd want a SP7, NOT an SPX for video editing - assuming you're committed to the tablet 2-in-1 form factor. If not, get a real powerful traditional laptop for dedicated video editing. Dell, Apple, Asus, MS (the Surface Book will be much more powerful than the SP7), etc. have great options for that. Samsung phones work great with Windows these days but they're pricey. BUT more Android phones should have this better Windows integration soon.

Trying to steal my response , eh??

Wuddya gonna do about it, punk??? :-D

Hmm. Will the SPX be good for Photoshop? I wish the screen size on the SP7 was a bit larger. I'm also rethinking my workflows. Maybe save the video editing and photoshop stuff for my desktop & use SPX and phone for emails, Word, Excel, internet research, social. I like the Surface book but not sure that I want to carry a large laptop anymore -- especially when I have a desktop at home. REALLY into portability now. Duo or Note for when I'm just chilling
SPX for reports, web surfing, working at local coffee shop
iMac for heavy lifting (FCPX, Adobe Suite)

"I'm also rethinking my workflows. Maybe save the video editing and photoshop stuff for my desktop & use SPX and phone for emails, Word, Excel, internet research, social." That sounds like a good compromise. Especially if you have a powerful desktop already. I personally prefer a good-enough laptop to do everything - but I don't need the power of a desktop. But if you find yourself needing video editing on the go, I doubt the SPX will fit the bill.

Still weighing my options. Leaning toward the SPX but am looking at other Windows laptops. It's a bit overwhelming with all the choices out there. Good problem to have though.

There would have been a time that many - possibly even you - would have said that your BlackBerry looked ridiculous held up to the ear. Everyone is entitled to their opinion, of course, but when people state their opinion as though it is objective fact, they just make themselves look silly.

People do that on Twitter everyday. It's amusing.

Not about giant iPhones. Those always seem to get a pass.

My Nokia 1520 was a really large phone, I'll get used to it. Wireless head phones hide things well. I didn't try to hide the Nokia won't this time either. Doing my thing pull it out of my pants pocket immediate jealousy. Gotta love it.

Yeah, it's beautiful hardware and I would expect the vast majority of tech-aware people to be at least interested in the device when you whip it out, even if not actually jealous. It is missing some features that I hope we will see in future iterations but can you imagine the fawning we'd be seeing if Apple had created an iPhone with this form factor?

It's only a matter of time now

I remember when Samsung started what was then called Phablet and it was labelled HUGGGE, well not anymore. One of these days, we will put a real 13" laptop to our ear.... before judging, folks carry their boombox on their shoulder (I know it is not a phone) but was fashionable then. - Hope y'all got the sarcasm

They said the same about Phablets back in the day... I figure if people can put a first Gen NGage to their ear nothing is off limits.

Hello, I grew up when boom boxes over the shoulder was a thing. This is more subtle gets more done.

And probably plays better quality music, too.

It is an opinion but that opinion is also fact. A pocketable device is more subtle than one as flamboyant as a boom box over the shoulder and it can play more music with higher quality files

And way better battery life.

Not many people (relatively speaking) use a phone regularly to the ear these days, consider also on speaker, earbuds etc. According to leaks battery life is ok because of good optimization of chipset, and cpu is actually better than eg galaxy flip z which has a newer cpu lol (shows how important optimization is).
Phone is small enough to easily fit into pocket (see also the unbox videos if you do not believe me) .
The BlackBerry Key2 like the Duo is a bit overpriced, they are both unique however.

Holding it up to the ear is the 'signal' to others from the Pocket Protector Brigade that you've just got a new toy. If you're not going to experience a visceral thrill from this device, it's pointless to experiment with it in a key work flow that has actual solutions already available. Get it to enjoy. It's like bikes; I could get by just riding the aluminum-frame disc brake crosstrainer I use for rough surface and bad weather rides, but the carbon bike is a sports car in comparison and worth the thrill. However, I'd never use it to commute and didn't buy it because I thought I really needed it.

I'll most likely be buying one! Will wait and hear what you have to say Daniel.

Oh my. It looks fantastic. Can I come over to your house? I can leave right now and be there a couple of days. We can go out for dinner, I'll buy. I want to get my hands on one of these in the worst way. I have been waiting years and years for something like this to come along.

Big Endian, you can come to my house for after labor day bbq in New Jersey. Save an additional 24 hours getting to Dan in Connecticut. Metro traffic and all the other complications. You will have to quarantine in a hotel for 14 days. Cant stay here. Just saying. Dan will most likely provide much better information.

Hmm.. North Jersey? Pick me up from the Secaucus train station please! Trip to Dan's to get the surface duo, it is! We're coming for the duo Dan! This can go one of two ways; the easy way or the hard way!!! Lol

Can I tag along? I'll do you one better ; If you let me tag along, I promise to let you buy me dinner as well.

Enjoy - but don't forget to wear masks and social distance guys! We have enough lingering Covid in Northern NJ as it is.

Did you see the new report that 6 feet isn't enough? There was a report on masks to. And the cdc recently says they is no point on testing people who aren't showing symptoms? Something fishy is going on

"Something fishy is going on" At the CDC? Hell yes. With this White House, always assume corruption until you can prove otherwise. (That's not how prosecutors should work of course - I mean people reading the news.)

Have we gotten any info about other case options for the Duo? I'm personally not a fan of the white bumper. Also, I would probably get a dbrand skin for it, if I bought one. Any idea how compatible the bumper would be with a skin?

My guess is you put the skin on first, then the bumper. The bumper is silicon type material that sticks on using the adhesive tape.

'designed for surface' accessories slated for the 10th of September and that's when the different color bumpers are expected to go on sale.

I don't really want to hide the original build's beauty with a case, but I do thinks some sort of rubberized skin would give it some drop protection (Not, that I'll be dropping mine when it arrives) but such an expensive device warrants some protection no matter how little. I this a rubberized dbrand skin the xx millimeter thick the wouldn't interfere with the 180 degree capability would be awesome.

I'd love to get this device having been a fan of MS' phones over the years. However, I really don't see this as geared towards consumers in general. It's much more of a productivity device for professionals IMO. If it had come out a year earlier, before I retired I would definitely have picked it up. It would've been great for meetings, conferences, etc. I would have loved to have had it at MS Ignite for those last three years in Orlando for taking notes.
Now though, I can't imagine lugging around a heavy, wide/large phone just to go out on an errand, mow the lawn, go for a walk, etc. I'm not going to watch a movie on it across that hinge. It's single mono speaker won't be great for playing music while I'm cooking in the kitchen, etc. I no longer read technical books where the ability to take notes on the other screen in One Note would have been great.
I'm afraid, for myself, it's too late. I'm almost tempted to buy one and just swap out the SIM card when I want to switch to a smaller device...

i can totally see consumers using it. watch a youtube video on 1 screen and flip through tik tok vids on the other screen.

There's little doubt that many consumers would be quick to make use of multiple screens. How many teens and young adults in particular already use their phone while watching TV or their computer? I'd say loads. Microsoft are obviously pitching this at the productivity set but it has great potential for consumers too. The lack of NFC and, therefore, mobile payments may be an issue for many, myself included. I can't really do without wireless charging but that may not be such a big deal for many. The camera is quite possibly the feature that will make or break it as a consumer device, other than the price of course. I think that will need a significantly above-average camera to sell to a large number of consumers at that price. Even if the first generation is a not a big seller, if the reviews are positive and they can address the obvious weaknesses, the second or third generation could be a big hit.

Quite doable. I retired my SP4 for kitchen duty when I bought SP7 for daily use mostly as a tool for IT tasks. When at home with Mouse without Borders SP7 is used as a KVM along with it's own capability to a W10 home built franken computer connected to a large screen, 65in TCL Roku TV. Surface Duo with Your Phone should bring a lot to the mix.

Your perspective makes complete sense to me. On the other hand, tech stuff is my blood sport now that baseball is cratered. Even though I have zero professional needs for this device now my personal life for well over a decade has been optimized to be digital in nearly every aspect. These devices, how they work together, and how the software stack works is still of vital interest too me. Essentially, these machines are central to managing my life, my creative endeavors, and my communication needs. This optimization is rather transparent anymore. Microsoft has done remarkable work here. So much so that much of my writing is done with a paper and pen and my books have printed pages. It is an odd experience being all in on the digital thing. It takes real work to get this all working seamless - how you model your life is the challenge. With that sorted out your life becomes rather frictionless and the work needed to remember much becomes self-managing. At that point I found myself lasered focused on the absolute minimum set of hardware I wanted to own. The Surface Duo nails that gap between a smartphone and a laptop thing. If the Surface Duo is implemented correctly, I am done looking at hardware, software, and such. Every digital need I have is met and when that happens, I can reduce my focus back to my pen, my paper, my books, and my three screens: a phone thing, a laptop thing, and a desktop. I fully acknowledge my use case is not typical. It took work but I struck, for me, an ideal balance between living an analogue life and digital one. Being fully connected 24x7 via the cellular network with an elegant box in the purse makes the technology invisible. It just works. It just flows. The Surface Duo is profoundly elegant from what I can tell. There is great value in that. We often mix inexpensive solutions as having the highest value. I disagree. Owning anything comes with real costs, not all monetary. Anymore, in life I seek those things that bring true value to my life. In Mr. Panay's presentation he mentioned the emotional part of this machine, in how it worked. It all sounds like new age magic crystal stuff. Instead what I heard is what I have outlined here. I sound a bit crazy here, but this box is a significant bit of hardware. It may take a version or two to get the implementation nailed cold, but the implicit value proposition here seems self-evident. The buzz this box has generated signals to me that my thoughts here, that this machine is important, are not a solo flight. I can't wait to get my hands on this device.

You sound crazy! But let us not fray in the face of what's crazy! You sound super focused with your intent and honed in on your endeavors! Many people don't get to experience that so that makes us the crazy ones. But to the one's who can relate? You are of the cloth. You are amongst brethren! So be crazy. Be crazy enough to set out with your aspirations and be crazy enough to achieve your goals. Be crazy enough to do what you do to the best of your ability amidst the ones who have everything but something figured out. Be crazy!

I found myself lasered focused on the absolute minimum set of hardware I wanted to own. THIS!!!

Get it because you'll love it. That should be enough for you. You are in control of your happiness, satisfaction, and what you find value in. You've worked for it. Everyone's use case won't be for you and what's for you may not be for them. And honestly, Microsoft is looking for use cases that they haven't thought of for this device.
Just go for it! Even if you don't end up doing 'nothing new/nothing my current phone can't do', who cares. The argument that 'this is a solution looking for a problem' has been dead in the personal technology space for a long long time. That's not why we crave or get something new. We get new devices bc it takes our hearts and minds to a place where they are in a better space of being; Whether its creatively, productivity, emotionally or mentally. Everytime you go to those places, you become a little more you. You get to learn about yourself in new ways and what you'd do with new experiences.
If it's something you'd love, do it. You have 0 reason not to! If I gave you a book, you could use it to teach, you could use it to learn, or you could use it to balance. It's up to you to define your life and how you use everything in your life to make you happy!

I have been mucking around with technology, personally and professionally, for decades with my first two computers being a Sinclair and TI 99. The general observation I can make about the progression of personal computers, in all their forms, is they have gone from being personal mostly because they were in your home, until to today, where they are personal in the sense in how they uniquely impact your life. We are surrounded by machines that rarely get thought about: when was the last time you thought about owning or not owning a refrigerator, a television, a car, or a lawn mower? Only when they aren't working has been my experience. It is unthinkable to not have them in a modern technological world and how we use them is transparent, they just flow, to borrow Mr. Panay's notion, in and around our lives. Personal computers and software, and computing more generally, have evolved to where these devices truly are personal anymore. Once again, they just flow in and around our lives transparently. I broadly think about modern computing as having occurred in four waves. The first was the initial PC explosion and how it created the entire foundation for and democratized what we consider technology today. The second wave came when the Internet began its march to remapping nearly every aspect of life; It seems unthinkable that it never existed now, but it did. The third phase really got rolling when Mr. Job's walked on stage and introduced the iPhone to the world; nothing has been the same since then. And now, we are at the beginning of something new, something that consolidates all these events, the beginning of ubiquitous computing and for individuals, truly personal computing. This ubiquity speaks of the maturity and reliability of communication networks and the internet, the remarkable development and ever shrinking of silicon and the profound range of computing devices now possible, how cloud computing, with an emphasis on the software here, and AI now create a seemingly perfect balance between the client – server model that is at the core of computing. With these things in mind, we should not at all be surprised at the depth of interest and reaction people have to new form factors in hardware. Companies like Apple are not successful because they build great hardware, which they do, but because they are tapping into, something much deeper about human nature. Thoughtful elegance matters too, if I may, it is the butter on the bread. Hardware provides the physical expression of how all this ubiquity lands in your hand and brain. Couple these things to brilliant software and rather silently computing stops being computing, it becomes transparent and fundamentally alters human life. It is this perspective and foundation that frames how I use and think about modern technology and goes far in explaining why I find paradigm shifting pieces of kit worth paying close attention. The ones that got my attention over the years have been the IBM PC, the first viable laptops, the first smartphone, the Surface Pro, and now the Surface Duo. Looking at this list it seems nearly unimaginable and at the same time inevitable that we begin with an IBM PC and end up with modern mobile computing devices as the primary devices for billions of people. That is breath taking. Which brings me to Surface Duo. It is a box does some stuff well and others not so much. At the same time, it is precisely that box the allows me to slip into my purse or pocket something that encapsulates the various waves of computing, looks at the what comes next, and extends what personal computing has come to mean. To recap, the TLDR version: That Surface Duo is one cool computer that has set my brain on fire. Me want.

I'm actually amused by people trying to make 'cases' for buying when they would buy it anyway so they can have the newest toy. That's the best reason to buy it, so why not just admit it and then enjoy it for what it is, not try to make it what it is not?

Daniel, can I use the Surface Go wall charger to charge the Surface Duo? I just want to carry one wall charger for my Surface devices.

The Surface Duo comes with a 18W charger, while the Surface Go is 24W, and the Surface Pro charger is 65W. If your Surface Go charger has a USB port on the brick you should be able to charge the Surface Duo with that charger. My Surface Pro 2017 with the M3 CPU came with a charger that is similar or identical to yours, and it had a USB port on it as the does the Surface Pro charging brick.

So I can use a wall charger that is higher than 18w and it will not hurt the Duo?

I don't see why not. I often use chargers of higher output than the target device. Maybe larger brains can chime in here. You will give up some portability - the Surface Pro charger is larger but at the same time you reduce the number of items you need to lug around.

That should be the case. The important thing is voltage, not current. If the voltage of the charger is too high, it will damage the device. But if the current the charger is rated for is higher than what the device is rated for, that's OK because the device will just draw the current it needs and no more. So a device won't draw too much wattage in that case.

At least here in Australia, the Go charger has a captive Surface Connect cable and no USB port, so there's no possibility to charge the Surface Duo, which has a USB-C port.

One could get a Surface Pro charger in that case. Yes?

Definitely so. I'm not sure what the output on the USB port is though. The new 127W charger for the Surface Book 3 has a 7.5W USB port so it definitely won't be more than that. Also note that the Duo comes with a USB-C to USB-C cable only, so you'd need a different cable to connect to the USB-A port on the Surface Pro charger. We've all got loads of those nowadays though. ;-)

I just took a look at the tiny print on my Pro charger (had to take a photo and then enlarge that to read it - poor old eyes) and it says that the output is 15V/4A and 5V/1A, so I guess that the 65W is comprised of 60W on the Surface Connect cable and 5W on the USB port. That's a far cry from the 18W of the dedicated Duo charger but it will still help to keep the device charged if you're using it alongside another Surface device.

Yeah, you can use any Type-C charger and the chipset will regulate what it needs. I don't think there is a way you can fry it.

I was very excited for this and decided it probably wasn't for me - Then just seeing teasers made me rethink that stance - I looks like everything I have lo ved about all of my surface devices - Even though I am hesitating, I am thinking of getting it because I can, and I want them to succeed - Daniel, with what you have been able to show, I would have liked for you to show how pocketable it is. - Thanks - Dave

"Daniel, with what you have been able to show, I would have liked for you to show how pocketable it is."

Hah, tough to film by yourself, but I can say it's very pocketable. It just slid into my shorts. It wasn't even something I had to think/worry about. Same with back pocket (I'd only use if there if standing, obviously). Will try with pants/jeans soon too, but they designed it, so it'll fit into pockets. It is a bit wide, but not prohibitively so, imo.

Perfect - Thanks. And thanks for following up.

I would find an article about how the Surface Duo team came to choose a 4:3 aspect ratio for each screen most interesting. The 2:3 aspect ratio used on all other Surface devices is a defining signature and it extends to the Surface Duo. When the device is opened fully the combined screens have a 2:3 aspect ratio. There is something going on here the feels dead right even if it the design choice yields a device that is wide by standard smart phone standards. The team could have gone with a 2:3 aspect ratio for each screen and ended up with a combined aspect ration of 4:3 which is an excellent choice for tablets. Plus, this would have yielded a device that would be much closer to the width of a typical smartphone. But the team didn't go with this option. I would like to know why as this choice is the foundational design choice; it drives the user experience. It is a sly thing happening here. My best guess is the 4:3 aspect ratio for each screen creates an excellent amount size that is neither to tall nor to wide; 2:3 at that size might be slightly too tall. These design choices are critical much like not having an external screen and the final width. At first it seems like the device having 4:3 aspect ratio was predicted that it would be paired with a smart watch for regular notifications; you don't need to interact with the box to get basic information. Also, the resulting width is predicated on using wireless earbuds; once again you don't need to interact with the device to take phone calls which allows for the screen size that seems dead right. The Surface Duo has many subtle design aspects happening which I am still trying to puzzle out. There is something brilliant happening here that extends well beyond the physical shape of the Surface Duo. I am so looking forward to getting my mitts on the actual device. I am expecting magic, I don't think I will be disappointed.

I forgot to include that the 4:3 aspect ratio seems chosen to maximize the inking experience. I think this aspect of the Surface Duo is under reported. Scribbling on the screen seems to be a potent interaction method here. 2:3 seems to once again, at this size, yield an input surface that is slightly the wrong shape. This device is endlessly interesting to me, and it seems to be perfectly realized for the computing environment we will be experiencing over the next decade. It is not unreasonable to conclude that the Surface Duo is the first, or one of the first, devices that was designed from the ground up to fully exploit distributing its user experience across multiple devices such as pens, buds, and a watch. Mr. Panay is right to resist categorizing the Surface Duo as smartphone. That is more than market differentiating speak going on, this is a fundamentally new computing expression.

Indeed, I am looking foward to this device to be a real digital note book for every day carry. We will see, $1600 for the 256mb version. Hope MS and Panay sent the welcome letter along with graphite earbuds.

Those graphite ear buds, I am selling blood and whatever copper wire I can get out my neighbor's house while they are on vacation tomorrow.

So the 3:2 aspect ratio is synonymous with surface design bc when they switched to that is when they reached peak design for that form factor. It's familiar to us bc it's the same ratio as notebooks/pads we were taught to write on when switched to portrait but also remaining usable and pleasurable for media and digital consumption and production in landscape. With the two screens separate, it was deliberate to have those be 4:3 seeing that the gap had to be accounted for as well to ensure the combination of the screens would end up in the classic 3:2 aspect ratio that made surface what we know it to be today.

Great comment. I am also very interested in this. Apple made a big deal about this for their first iPads, and I think they got it right. But phones have gotten longer and longer, and I personally don't like it - particularly for a device designed for inking.

Here is my key question on the hardware. Does it fit in your front jeans pocket? Or is it to wide?

multiple people have said it fits in jeans (people who had early hands-on like that mccraken guy)

I get this question a lot. And I don't understand why bc I wear pants [almost] everyday. Like I'm flattered but it's not THAT big. It'll fit in my pants. 😏🤣😂

Bought one. Hoping to get it sooner than 9/10. I guess with the embargo of displaying features sooner, mine will arrive sometime on that date or soon afterward. :)

If the Surface buds come with the Duo as standard which i doubt it? the price falls in line with what i originally thought of $1,100 & would make me reconsider the $1,400 price.

The earbuds do not come with the Duo. They were included here because it's a special package sent to reviewers.

Thanks for the video, Daniel! I'll be interested to see how the non-reviewer packaging compares (beyond obviously not having the earbuds included)

Watch the CNET unboxing. They didn't get the special review package with earbuds, so I assume it's regular consumer packaging.

the pen does magnetically attach to the surface duo! MKBHD showed it and iJustine talked about it

It does, but it is not meant for that. There are magnets near the display edge so when it closes the OS knows it should turn off and turn on when opened. Those same magnets CAN be used to stick anything to it, but it is not designed to be used that way. Trust me, it's not a great solution and the pen doesn't usually line up perfectly.

Dan, please include that on your review video. The flat surface pen probably works better than the regular surface pen. Slimmer profile.

Can't decide.
Surface duo
Or
surface go 2.
The Surface duo has the cooler Hardware with the dual screens.
But the surface go 2 has Windows 10. If only it could be combined together😭😭.
I was hoping for the surface Neo but it runs Windows 10 x yuck🤮🤮.
So I don't know what to do.

Get a Surface Pro and a Nokia 8.3 or Pixel 4a...

Got a Note 9 and Surface Go 2. Works great, and the Note is an actual from-the-ground-up phone by a company that built a very good modem, good connectivity, and great digital notepad, which is now connectable using a very nice Your Phone. If I need a real computer, the Go comes with me, if not, the Note 9 is enough for almost anything else, including the build-in pen MS 'forgot'. Duo is a toy for people going stir crazy, a jack of a few trades and master of none.

Really a charming piece of hardware!
For the 2nd version, I would add an integrated pen, an external little (e-ink?) display and some more physical buttons such as a switch to mute.

That would add thickness which is why the passed on it, however, the surface pen does stick to the Duo magnetically now.

Ok, but still some sort of solution might be found. The magnetical one is not a good or optimized option.

Looks fantastic, cannot wait to get mine!😎

Want to watch but also want to enjoy my personal unboxing...two weeks-n-counting...sigh... @WindowsCentral/Dan: *really* looking forward to your insights/articles on how to set-up and make the best use of the Duo. First App Group will be One Note/Spotify, but beyond that, I'm blank...

Dan's unboxing was the unboxing of a press kit. Yours will be different so it won't take away from your experience.

Under Embargo to show the software....LOL!

Yeah... Ha ha ha... It's Android... Yawn...

Beautiful hardware, no doubt about that...! Yoo bad it's running Android. And is US only. Looking forward to v.3 running Windows and sold worldwide!

Wow! The entire unboxing community is drooling over this device. Apparently the world was hungry for Nadella's vision of combining Google and Microsoft into one platform. Edge >>> Chromium. Surface Phone >>> Surface Android. What's next? The possibilities are endless. And we the fans, and developers, only benefit.

I'm no expert on this but I'm wondering if this isn't more about moving to something more platform neutral. Doing lots of Google stuff, including lots of high-quality, popular Microsoft apps on Android, is a big step in that direction. MS can reap tons of profits from the interconnection of its own host of services even if it's on someone else's platform.

MAUI is coming next year which is One .NET (Xamarin Forms future) and it will work on all platforms. Current options are Mono and.NET mix.

Thanks for the reminder on MAUI. Microsoft development has never been more exciting. Well... late 2021... and then it will never be more exciting. ;0)

BTW if folks (I suspect most on this site) have no clue what .net MAUI is, an easy way to understand it is UWP on steroids. Where UWP allowed a developer to write one "universal" app that worked on multiple devices it was limited to only Windows devices. Microsoft then of course callously abandoned Windows mobile... abandoning at the same time UWP too. But in steps MAUI. Imagine Spotify or Starbucks or Twitter or Intuit or any working out of your garage dev being able to write ONE native app codebase (both business logic and user interface) that runs on iPhone, iPad, Mac, Windows, Android, and Linux. They could do it with .net MAUI. If you are a dev, and haven't heard of it yet this video is the best history and explanation of it hands down... https://youtu.be/gpWzRrlZBpY Anyway, long story short, MAUI is why a Surface branded Android device isn't necessarily the end of the world for the "universal" app vision. In fact it's only just begun.

Could MS purchase Android for Google and Leave Google to the ad business allowing google to collect the ad revenue from Edge Chromium as a part of a future deal??? Strange but could it be a possibility??

Dan; I love the way you started the video, Surface Phone in your head, have been waiting for 7 years (You missed Months, Days, Hrs, min and sec)
I hear you, you are a patient man and I am there with you on the waiting.

Hey Dan, Question, do you get a pair of surface earbuds when purchasing a duo?

No, it was for the initial reviewes

We need so metallic silver version of the bumper that will compliment the color on the hinge. Pass that suggestion to Paynos for me.

Best unboxing video thus far : Watch "Microsoft Surface Duo Unboxing. Wow" on YouTube
https://youtu.be/-Ys4zp-cQOU
Windows Central Newsletter
Thank you for signing up to Windows Central. You will receive a verification email shortly.
There was a problem. Please refresh the page and try again.