Join us tomorrow for the Surface event in NYC!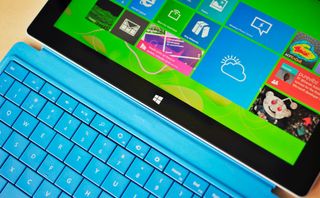 Tomorrow is a big day for small things. We're all expecting Microsoft and the Surface team to finally announce a tablet to take on Apple's iPad Mini and the Google Nexus 7. We've long heard about rumors of a Surface 'Mini', but tomorrow we'll most likely finally get an announcement from Microsoft at a private press event in NYC. It's not all Surface Mini though, we've heard rumors that the Surface Pro 3 will make a debut there as well. Details on what we know so far and when to tune in to catch our live blog.
Surface Mini
Rumors of a Surface Mini have been circulating for a very long time. Remember those rumors of a 7-inch gaming tablet from Xbox? Those rumors started way back in the summer of 2012. Those rumors slowly faded away after Microsoft announced the original Surface RT and Surface Pro that same summer. The rumor mill picked up again with talk of a Surface Mini slated for some time in 2014. Those rumors started when we learned that Microsoft was working on a 7-inch tablet for the next round of Surface products.
Set aside those hopes for a gaming, because tomorrow's Surface Mini is likely to be positioned as a note-taking tablet with pen input. Details are still relatively scarce at the moment in terms of specs, but here's what we know so far:
7 to 8-inch tablet
Pen with Wacom digitizer or comparable technology
ARM processor from Qualcomm, which means Windows 8.1 RT as the operating system
June availability
And that's all we really know about the Surface Mini at this point. 24 hours from now we'll have the whole picture, but it's pretty incredible that the Surface team has been able to keep the majority of the specs secret.
Surface Pro 3
It's not all Surface Mini tomorrow and the Surface Pro 3 is going to make sure of it. While we're sure the Surface Mini will be a great piece of technology for both consumption and productivity, the Surface Pro 3 is aimed squarely at being a machine to get work done.
The Surface Pro 3 isn't just going to be the follow-up device to the Surface Pro 2, but will be an entirely new model. Here's what we know about the Surface Pro 3 (from Daniel's scoop over the weekend):
Larger screened device, possibly 12-inches
Smaller bezel
New Type and Touch covers available in black, purple, cyan and red
Various configurations with Intel i3, Intel i5 and Intel i7 processors
Again, it's remarkable that the Surface team has kept this device secret as well. Specs like battery life, weight, resolution, screen dimensions and more are unknown. Do tell us what you want to see with the Surface Pro 3 below in the comments.
Surface Event
The event is happening tomorrow morning in NYC. That's of course useless since we're all spread out over the world. To be precise, it's happening at 11 AM ET in New York City. You can get your local time by going to timeanddate.com or checking out a few locations with their local time below:
New York City – 11:00 AM
Chicago – 10:00 AM
Los Angeles/Seattle – 8:00 AM
London – 4:00 PM
New Delhi – 10:30 PM
Beijing – 11:00 PM
Sydney – 1:00AM (May 21)
You can't attend, but you can watch the event live at the Microsoft News Center (opens in new tab). We'll also have Daniel Rubino and Mark Guim at the event doing a liveblog and getting hands-on photos and videos of the announced devices. Like usual, we'll have our liveblog streaming the presentation so you can watch live, view photos from the event and join the community conversation.
Surface Tweetup (Meet Daniel Rubino and Mark Guim!)
In NYC? Some heavyweights that cover Microsoft will be doing a public meet-up after the Surface event finishes. You'll meet bloggers and journalists like Mary Jo Foley (@maryjofoley), Paul Thurrott (@thurrott), Brad Sams (@bdsams), Ed Bott (@edbott) and more. Of course you'll also get to meet our very own Daniel Rubino (@daniel_rubino) and Mark Guim (@markguim) at the event.
There's going to be booze, food and a lot of folks talking about technology at this event. It's free and open to the public. Anyone in NYC is encouraged to go and say hi!
It'll take place at Rattle N Hum (rattlenhumbarnyc.com) on 14 East 33rd Street in New York City. Party kicks off at 3 PM local time and will probably go for a few hours until 7 PM. Are you planning on attending? Let us know in the comments below!
Tomorrow is sharping up to be a very busy and fun day. Have any questions or requests for tomorrow's coverage? Now is your chance to let us know what you want. We can't wait to bring you all the info on the newest Surface devices!
Windows Central Newsletter
Get the best of Windows Central in your inbox, every day!
Ditto. But working in NY this week so reckon I'll stop by!

No Surface Mini tomorrow, according to Computerworld.

I reply here because I want to express how excited I am despite the fact that now I'm stuck on the surface 2. Either way, YAY -- Bam --

Hope your excitement keeps been as expected!
--bam--

Love this comment. Nice find.

come on surface phone!!!!

I wish, so much. I need a WORTHY successor to my 920. New tech, with microSD, and 5 inches. Is that too much to ask? :-/

Without microSD, the 930 is there to take. I just want a new phone exactly like the 920, cyan, with upgraded internal. Don't give a damn about FHD, big or bigger. I only need a faster 920.

Exactly. If the 930 had microSD and/or more internal storage, and came to att, I would get it.

930 made of vaporMG and thinner would be the perfect phone for me!

Since all Surfaces have microSD right now, the Surface phone would probably have microSD!

Yes! Any Nokia in vapormg! -- Bam --

Until the Icon exclusivity agreement expires; there will be no 930 model available for purchase in the U.S. Rumor is that Verizon made a deal to extend it past the usual agreement of 6 months. So I hoping it will be only 9 months and not a whole year!

By then, it will be outdated, and new phones will be out with newer tech. Like a 1020 successor? :D

I got tired of waiting for such a phone and just got a 1520. Don't regret it one bit. Amazing phone and no longer find it too big, everything else is just too small :)

Stop fooling around and get a 1520!

Man I wish this would happen, I'm waiting to upgrade from my 920. Needs to be much lighter, larger display and faster overall. Hopefully Microsoft can deliver.

Lumia 1520?? I am delighted with mine and you quickly get used to the size... Very hard to go back to a smaller screen after that... Great HD screen, extra fast performances 3d gaming and video are amazing etc... Great battery life... Excellent Camera... And a microSD (currently 32gb internal +64GB SD)... (support 128 gb sd!)... Plenty of space... Can't wait for WP 8.1 on the 24th June!
The 1520 ticks all the boxes for me..

Seriously! I upgraded from my 920 to a 1520 and I get all shocked when people are all "WoW that phone is so big that's amazing What is that?!" because I totally forgot about its size as it just feels natural now, I was very hesitant about getting it because of its size but after doing the math and realizing all of the benefits storage being #1 I went for it and now there is no going back as it has been a dream to use and I even caved and rebooted to 8.1 Preview and WOW just WOW it is now hands down the Best OS on the market.

Stoked for tomorrow! Can't wait to learn what my next mini-tablet will be ;) Also jealous of the meet up tomorrow!

Something tells me you already know a lot more than you're showing...

This! I'll be in class, but I can't wait to see what's revealed! Also, jealous that I'm not in New York. I'd love to check out the meet up!

I can't wait!! I can't wait to see what is reveled... I just really want W8 tablets to take off big time...
II'm looking forward to thinner, and lighter... That should be the theme for tomorrow.....
............
Also... This is like the coolest XBM feature requests ever❕ Please vote for it... This would make XBM the killer music service...
..............
http://xboxmusic.uservoice.com/forums/209733-xbox-music-suggestion-box/s...

You'd get my vote, but the link pretty much stops after "suggestion-box/s..." so I can't figure it out :(

I'm really hoping that the differences between the Pro 2 and Pro 3 justify me keeping my Pro 2. I'm just in my 30-day warranty range, but I really don't want to go through the process of returning the Pro 2 and getting the Pro 3 if the upgrade is worthwhile.

Well, that's selfish for the rest of us... Lol!

Haha, understandable. But if you paid $1300 for a great machine, and shortly after a better one was released, you might share my predicament.

Kind of on the similar boat although my return window is already gone so I would have to sell my Pro 2.

I'm on the market for a SP2

Free and open to public? Wow! I wish I could go to NYC :-/

Just finished a different kind of electronics convention. HAMvention. :P

My Father used to go all time, I've even been back in the day. I got on the radio one day that he and friends were driving to the Hamvention. I heard him many times call his friend say "this is K9WFZ calling K9SQO". I did the same and all of a sudden, I heard my dads voice on the speaker say, "RICHARD, GET OFF THE RADIO NOW". Ignert me, didn't realize both of the gentlemen were in the same car. I laugh about it now, but, man was I in trouble...

I'll definitely be there Anyone think they'll release the Surface Watch?

I was just thinking it but I think it's still a bit to soon. Look for that annoucement in the fall with the Next round of new phones (preferably on ATT) so all of the early adopters of the Lumia 920, whose two year contracts are up in Nov. (cough cough) can get New Phones and New Watches!!!!

Yeah, it would be nice tie-in. Maybe then they'll have a Surface Phone to go with it I hope more phones come to T-mobile though. While the 521 and 925 are great phones, they're already getting old.

Is there any chance we could get a surface windows phone too?

There won't be no surface Mini according to ComputerWorld. That would be interesting to see if that is true.

Double negative.....so there will!!?? :D

Seriously, "Won't Be No" ????

There's a new appIcon for WPCentral ;)

This is going to be the longest 17 hours and 10 minutes of the month.

I love these events. Get ready for Surface 2 sale events. Might be time to upgrade my Surface RT.

Only a new surface pro is rumoured, not a new surface rt. If that pans out, I doubt surface 2 prices will be going anywhere. That said, I want to upgrade my surface rt too, so would love to see surface 3 announced.

I got a Certified Refurbished Surface RT for the Wife off eBay for $179. Works great.

I'm looking forward to the Surface Pro 2 to go on sale!!!
I can't Wait!!! SP2 Here I Come!!!

Stoked. Maybe with a new job I'll afford a pro level device.

This is going to be so Epic that Tim Cook will be calling his iPad a Surface!

8 inches>7 inches My opinion. Just 7 feels too small...

An inch is all that's needed, no?

I really want Surface and Surface 2 prices to get reduced in the UK. In lines of £150-£170. Hope this launch brings it!

Same here, as much I'd love to shell out for a new phone and tablet, bills and other expenses come first unfortunately lol.

My brother said "can you make phone calls on it?". I said "unlikely" and then he lost all interest. I'm still interested though. Oh, thanks for putting up global times as well, I hate having to work out those cryptic US time zones...

Also, a question. Would it be a good idea to sell my SP2 and upgrade to the SP3?

Yes, I will buy it for £99 including P&P. Thanks!

I cannot wait! I have been waiting a long time for a Surface Mini. Taking an early lunch so that I can watch the live stream.
Posted via the WPC App for Android!

Give me a decently build surface mini with 1080p screen and decent specs for the 300 bucks, day one buy

Wish the surface pro be stoked on att store.

I'm expecting a thinner fanless surface pro 3 with better battery life. I'm not too much into small tablets so whatever the mini will be it will be fine with me.

I'm still very happy with my Surface 2 no matter what they unveil tomorrow!

I am happy with my Surface Pro2 too, but will be putting my SP2 on Craigslist or ebay after tomorrow announcement.

What model do you have. I'm on the market for a SP2

If the Surface Pro 3 is fanless and thinner, I'd have to imagine the device is at least slightly less powerful than the Pro 2.

It feels like Christmas eve!!!

Surface mini, thin with 1080 p screen and surface pro with 12" plus qhd screen and thin as or thinner than surface 2 and i will buy both.

Looking forward to it. Depending on what's announced I may just have a DV8P up for sale by tomorrow afternoon to help finance a new Surface Mini. :)

Okay, but what about the afterparty? Also don't forget the after-afterparty... Lol @-@

Will it be THE Dan Rubino? or his dancing hologram?

This will be my first live stream event with Google Fiber. Eager to see if it will make much of a difference ...

Any chance of a STB or a $99 XB360. I am looking to replace a few 1st Gen rokus. With the XBL Gold restrictions lifted, it seems like a good opportunity for MS to get into that market.

I would be surprised to see the 360 hit 99 anytime soon. Black Friday would probably be your best bet

Anyone remember the rumors of the Nokia Illusionist/2020? Here it is!

If the Surface Pro 3 is made bigger I may for sure get it. The 10.1 inch screen is too small for me to get work done. If a WP with a screen less than 5 inches come with it and is available on Verizon, I may switch for real this time. I hate big phones.

Hates big phones and hates small tablets. Its not funny but its making me laugh anyway. Hopefully we can all get what we want.

Phones and tablets are two different product categories, what is so funny about that? Posted via Windows Phone Central App

Tis quite funny. I hate small scress but wish screens were smaller!

I like bigger screens for laptops and smaller screen for something in my pocket. What is so hard for you people to comprehend? Posted via Windows Phone Central App

Can't wait! I know I'll be streaming it at work! Hoping the news for the SP3 is real good! Was about to pick-up an SP2 this week. Obviously that got put on hold!! LOL

Dammit, I'm in London till Wednesday for VGI with all the big game names. (Cloud gaming event) a Teleport device would come in handy. I'll be getting this device, anyways.

Totally off topic, but what's that gorgeous weather app?

Not sure but the icon is similar to those in 4castr so that may be it

I wanna go to New York City they tell me that's the place to be...

Does MS still do events like this through their Live Event app on WP? This is during my workout time, and I would like to listen to it.

I've already got a Surface 2 and my wife got a ThinkPad 8. There is nothing else I can get. I'll be in NY and I work on 39th but I have meetings all day though.

Pro 3 better have a hinge on the keyboard... Thing is worthless typing on anything except a table top... Totally killing the mobility of a "tablet"

Mini Pro here we come!! Wohoo!

I am getting real worried. There are a couple of reports saying Microsoft will not introduce a Surface Mini. Posted via the WPC App for Android!

What app can you use to watch on your WP?

Microsoft should do the launch event at rattle n hum !!! Awesomeness!!

I'm not a huge fan of the surface(I own an iPad mini) but I am trying to push my girl to buy one because I know it would make her happier then her iPad...which she hates. I hope the new surface can help me convince her

Ask if it will actually keep a charge for more than a couple days on standby. My wife's iPad will last weeks with no use, my gen1 RT lasts at most two days with no use!

My HP ELitebook is like that - woeful. Was great new, now 18 months on if I take it off my dock it lasts maybe 2-3 hours at best

Why do you by something to be on and not being used??? Turn it off when your not using it. Battery will last like forever! -- what? What? BAM! --

yup there are doubts now that a surface mini is on the books for tommorrow, we will have to wait and see.

Gahhh was hoping the mini would be windows 8.1...not RT...

Are we gonna fucking wait til October for the release again,?! I want these to come out after it's announcement. We lost interest waiting for couple of months

I should have waited for surface pro 3, SP2 is little heavy for one handed use, I know still SP2 is a unique device for its own so, i got it. But this Surface pro 3 rumors are killing it, thin and less bezel, I mean its will be awesome I think and they are going to release it in same Surface 2 Vapormag color. It will look much better than SP2. I hate that black color on SP2 it scratched so easily and upgrade cameras. They should launch it in India too this time. Lets hope best for MSFT.

I wish there was a Windows RT car deck. My life would be golden

If they do make a Mini it has to be under $199.

Unlikely. Due to quality.

You can be sure it's gonna be at least 399$. Microsoft can't go lower than their OEMs

http://m.youtube.com/watch?v=oqveOIhim9o

Thanks for the Sydney time same as Melbourne 1:00AM :( will have to wait till I get home from work tomorrow.

Wish I can attend the event but ill be watching it live. Can't wait.

Great you include major city times around the world. Thanks.

Hey Sam, The Microsoft News Center link goes to time and date website. Not the correct link? ;)

Apart from Surface devices.. I wish they launch some official apps! Candy Crush Saga Maybe? Or BBM? Or Photoshop Express? Or etc etc etc.??

You can play CCS in a browser. No need for an app.

Hey guys, the MS News Center goes to time and date.

Surface pro 3 12-inch?? Too bog for me.

SP3, larger screen = thinner device; have to see the weight though

I really just need to hang out in NYC for a day. Seems like all the cool things happen there and I'm only 3 hours away. I want the Surface mini and a Bluetooth keyboard and I'm set. That or the the Dell Venue 8 Pro.

Really appreciate the times for different time zones included in the article

Will they release it in more countries now that the Nokia deal has closed? I really want to see a Surface in my country..

Will the surface pro three have gesture controls a early morning tip says that gestures could be a new feature of the new tablet/computer

Can't wait to see the surface mini. I will buy this device or the Dell Venue 8 pro

Damn, I should sell my iPad mini and buy Surface 2 with cyan type cover, that combination is so sexy! :P