Microsoft holding 'small' Surface event in New York on May 20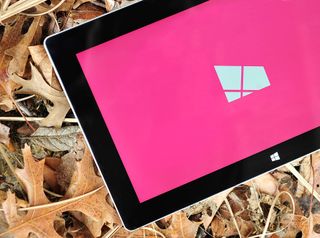 Microsoft has begun to send out invitations to a private press event hinting that a smaller Surface Mini tablet may be the topic of discussion on May 20th. According to the invitation, Microsoft is asking media to join it for "a small gathering."
Though no mention of a Surface Mini was given, the invitation did bear "Microsoft Surface" branding. We can take that as a clue, along with the "small" wording, that a smaller Microsoft Surface Mini tablet will be joining the most recent Surface refreshes, including the Surface 2 and Surface Pro 2.
Rumors of a smaller Surface tablet have been going on for some time now, and a smaller Windows 8.1 tablet may help Microsoft compete better with Apple's iPad mini and a number of 7- and 8-inch Android tablets, including Samsung's Galaxy Note 8.0 and LG's G Pad 8.3. There are also a number of Windows tablets currently from Asus, Acer, Lenovo, Dell, and Toshiba that sport the smaller form factor, but none officially from Microsoft's official Surface product line.
Source: @JoannaStern; Engadget
Chuong's passion for gadgets began with the humble PDA. Since then, he has covered a range of consumer and enterprise devices, raning from smartphones to tablets, laptops to desktops and everything in between for publications like Pocketnow, Digital Trends, Wareable, Paste Magazine, and TechRadar in the past before joining the awesome team at Windows Central. Based in the San Francisco Bay Area, when not working, he likes exploring the diverse and eclectic food scene, taking short jaunts to wine country, soaking in the sun along California's coast, consuming news, and finding new hiking trails. For news tips or to connect, please message him on the Signal messaging app at +1 (424) 666-7438.
If the price is right, I'm buying this.

I may... Definitely will if it's in 4:3

This. But having the 1520 it's almost pointless with this screen. 1520 with RT would be absolute.

I prefer phone to rt I just wish a stylus came with the 1520 and dual apps

So basically you want smaller tablet...?

I do feel a little silly using my Dell Venue Pro 8 next to my 1520...

Exactly.. But, imagine the 1520 running pro...

Yeah. And I've heard the PC is dead, and Windows is dead, and Xbox is dead. If RT could talk it would probably say, "The reports of my death are greatly exaggerated." Or maybe it would just let Cortana tell us.

It is if you want a toy. Mine works hard and works well. A mini RT tablet would fit my needs very well and I'm not afraid to pay for Microsoft reliability.

No, RT will be the new platform for phones and tablets.

Very likely that MS will make a few changes, drop the name RT since it is badly tainted, then just rebrand it.

I'm very sure they will rebrand a new platform, and all apps can be used on all platforms. A major new step, and I hope it will be soon, my guess is end 2015 or maybe 2016. It could be great with only one platform - PC, Tablets, Phone, Xbox and TV.

Same here. I've been waiting for this for so long...

But I think we still need to wait, from words to action in the shops Microsoft always are slowly. I hope they will change that in the future.

$399? I just got a Surface with 64GB for $299. A smaller one might be cool to have but I'm not paying more for it.

Gettting a Surface 1 just now puts you in the cheap market. Not comparable to a new device. 399 sounds just about right. Preferable with ARM SOC (Windows RT) and active stylus.

If I was to guess (which is all we're doing at this point anyways), I'd say it'll sell for between $299 and $349. My reasoning being that the current 32GB Surface 2 sells for $449, so this would be about $100 cheaper. Just a thought. $399 would be the absolute top for an 8" Surface, though even that seems too high.

I second your reasoning for that pricing suggestion. I would lean toward $299 for the 32GB and $349 for the 64GB version. that should create enough pricing headroom for the 106" surface 2.

Precisely. What is the right price? It's different for everyone. But "most" of these people who read these types of sites thinks these companies should be giving away their products for peanuts. The Price is the Price. If you think it's too much don't buy it. Or if you have a job save a few bucks if you think you can't live without it. It's very simple.

Too many people buying subsidized Android tablets who blame capitalism if a company makes money.

Subsidizing is simply another, nefarious, way to make people spending; exactly as revolving card are.

At the end of the day you have to sign the contract. Nobody is holding you at gunpoint forcing you to.

1020 nothing comes close.

I would say that the 1520 does, but the camera needs some serious attention, which it doesn't seem to be getting....

I don'r know that I agree with that. My wife has the 1520 and the1520 images are nearly as good as my 1020.

See, the thing about them 1520 is that it doesn't take good images easily... High light pictures are way to blurry, and low light pictures are bright, but to noisy.. At times I wished I had my 920 with me because after a few updates the 920's software really takes advantage of the hardware... Not to mention that video is not great at all on the 1520 with it sometimes stuttering... I'm not nitpicking, but these issues are true, they're evident, and they need to be addressed... Nevertheless, when I can finally get my 1520 to take good pictures they are nothing short of amazing for a smartphone, so I know a little twerking can make it a great camera... Funny, twerking is now in the dictionary for W8.1... LOL!

Nokia is ignoring the 1520 just like they ignored the 820. The 1520's video capabilities go on par with my LG thrill at night.

Do you think that the picture quality is poor for a 20mp Lumia camera?

Have you tried taking a stroll at night with your 1520 recording the beach or park where there's light, it's awful, take the same stroll with your 920 it's higher quality. I have little problems with its camera quality I can beautiful pictures on most situations but video is really poor.

Exactly.. We need a update.. Hopefully the Cyan update will bring a fix to 1520 devices..

Will buy one if it comes with "Metro" Office 2013. I don't want my 365Office subscription to go to waste.

It will...any tablet under 10" I think includes Office.

Remember that WP is going to be getting that cool new, feature rich, universal Office app that W8.1 is getting... 1520?

Really? Haven't heard of that before.

Hell yes!!!... And, no other platform can do this... Basically WP will be getting a full Universal Mobile touch version of Office.. This should shut up those who say that WP phablets are nothing but big phones, and don't have true phablet capabilities... Seriously, this is one of the most exciting new things coming to WP8.1.. All of the features we got with the WP8.1 preview are cool, but its just the beginning.. There's much more to come over the course of 2014..
.........................
http://www.wpcentral.com/microsoft-demos-new-touch-focused-office-apps-c...

I wish it was WP exlusive .. Seeing it's built using DirectX that may take a while cos we first need DirectX support on our phones which was rumored in 2015 I think.. If of course DirectX is needed.. :)

"Metro" Office is not ready yet. Posted via the WPC App for Android!

They'll price it wrong. I'll hang on to my Dell Venue 8 Pro until the price drop.

+928, I'll keep my $100 DV8P for now as well. I barely use it, but it does come in handy. I wonder how small the SM is going to be. Hmmm..

A Surface phone would be news. But I don't think that will happen until RT and Windows Phone become one and the same. I don't see that happening for a while, if ever.

Isn't that just a Lumia?... Nevertheless, I do think it would be cool if MS had multiple brands of WP devices... Multi purpose devices like the Lumia line, a Surface line that is more business/enterprise oriented, and a "sport" line with devices that are waterproof, and more rugged.. That would be awesome..

That is actually a very good idea.. Ima steal this >=D -- Bam --

Take it!!.. Take it and run with it...

A waterproof surface mini with LTE would be awesome, but it would have to have lots of memory built in.

Super idea, hey what about a MS job :) it could help a lot.

I'd take it if they offered..

Three sifferent styles would be really nice, i like this, MIcrosoft! DO IT!

Three, or even four, styles would seriously get WP8.1 recognized.. It's almost a no brianer... I suspect that MS has thought of this.

This was my first thought. I think sexy new hardware would compliment 8.1 just fine.

Yes. My Surface RT runs like molasses.

Clear some space on your hard drive, that should help. I moved my documents, pictures, and video folders to a SD card and it helped huge for performance

I'm curious about it but at the same time, my surface is my laptop. I can't see me using anything less than 10.6 inches

I have a surface pro 2 and I l;ove it, but there are times I wish I had something smaller to carry around for consumption only.

Have a 1020. Tough to give that up just for the bigger screen.

Same. I already have a Venue 8 Pro,but if its reasonable I'll still buy one of these.

I think 350 would be the right price, just like with the surface 2, 50 bucks below ipads

Price plus a PEN and better than 1080p (8") dispaly! That's my dream list. I need high rez and the pen for fresh paint.

Let me guess... $800 with LTE.

I am going to choose between this and Asus vivotab note 8

Hopefully they'll announce an availability date that is only a couple weeks away. I hate when Microsoft announces something without a date, and then it lands several months later. It just kills all the excitement by the time you can buy it. Besides, the speed at which Samsung "borrows" ideas, they can build one from scratch and have it in stores in a couple months.

Please be full Windows 8, my RT has almost made me lose faith in app centric products :|

While I agree, I wouldn't hold my breath.

Hey SwimSwim, do hold you breath when you dive deep..

Haha, where'd that come from? But alas, I don't dive. And for a swimmer, I actually have terribly small lung capacity. :/

It'll be RT, doa to everyone but Microsoft fans.

Unfortunately. While I agree RT is the future of Windows so Microsoft can dump all the old baggage of old versions of Windows, it's still premature. RT is the future, but as usual, Microsoft is always too early or too late.

Lol. But you know surface rt is one of the best selling windows tablet? So it is about time. And the surface brand is now establish. Tablet market is really for a killer hardware, so msft has a real opportunity here. Just price and market it right. Posted via the WPC App for Android!

RT SUCKS. I need legacy apps!

non touch legacy apps in a small screen? have fun with that.

RT is fine for people like me who just need it for school and web browsing with very little interest and interaction with unnecessary apps. IF you need legacy, there is surface PRO for you and tons or shitty laptops from Acer and such. More options is better than ignoring the minority. I dont understand how some of you cannot see this shit? THere are two options for a reason.

RT is pointless. For apps and web browsing most normal people buy iPads and Nexus 7s.

Is the Surface RT 2 better at running Windows RT than the original? If so, how much so? If it's substantially, then I may buy this mini tablet of (almost) my dreams :)

From what I hear, the Surface 2 runs RT buttery smooth.

Upgraded from original RT to Surface 2 a couple months ago and love it. Performance is substantually better than the RT. Also went from around 6 hr battery to around 9 hrs on the Surface 2. This new Surface mini will most certainly be RT its the most ideal form for it. If its not an RT device then its safe to say Microsoft has given up on RT.

Ideal? Bay Trail STILL consumes less power than the Tegra 4 in the Surface 2, guys. This has been a fact since it released, and will continue being a fact. AMD's new APUs and Intel's Cherry Trail come out this year, they're also both great in low power and will be very competitive with ARM. x86 being more power hungry was busted quite a long time ago. Don't want to deal with "legacy/old" apps on your tablet? Don't install them. Don't want your kid installing old apps and viruses? Lock down the UAC. If your kid is smart enough to figure a way around that they probably wouldn't be good with an RT anyways. Windows 8.1 is simply more flexible.

My Asus 8" device can't even outlast the first generation RT and all the review tests I've seen confirm this too.

But your (and my) Asus 8" Note 8 is smaller, thinner and lighter than the first gen RT. Batteries aren't made out of air. My Asus is giving me 8+ hours, and more standby time than my Surface 1 RT ever could. With light/moderate use, I charge it once a week. What a pleasure.

I'm not saying that RT is the "ideal" OS, but if Microsoft plans to continue the RT line, an 8in or mini device is the ideal form factor to put RT. Personally I would never think of using a mini device, or my S2 for that matter, to do real work; I have a laptop for that. But I like the convenience of having a light OS, without the bloat of a full-blown windows OS as a consumption and portable device. Having Office, and open ports are plusses.

Indeed it does! I have the Surface 2 and it definitely runs 8.1RT buttery smooth!

Ya, my first Gen Surface is pretty slow. But I've heard the S2 is smooth and fast. I was debating getting a Surface 2. But I may hold out to see what this Surface Mini is like.

It is light years better. Almost any Gen 1 device is inferior to a Gen 2 or newer. Just bought the wife her first Surface 2, and is liking it over her normal Win8 laptop. A few app exceptions that aren't deal breakers, and she's been happy

I think you mean windows metro. Microsoft has said that are going to discontinue RT with windows 9

They did not. Actually RT and Windows Phone will evolve in PRT according to Microsoft. Remember universal apps? Windows RT is here to stay.

you're gooung to use the desktop on a 7-8" device? it's hard enough in a 10.8" device. are you also going to carry around a mouse?

RT =/= Metro I do carry around a mouse with my surface pro, actually.

You're going to buy an 8" tablet just to dock it to an external screen ?

There's the guy from the Android tablet commercial.

Surface pro mini with Wacom input and stylus holder

would be awesome for taking notes.

Ugh 4:3? No way. 16:9 is one of the best parts of win tablets. Like when I'm using word, I can have a whole page on screen, AND all the menus and options visible. Makes productivity so much more practical. Or when the on screen keyboard pops up, you still can see MOST of your document/email/whatever. It also gives you more room for snap views! You can still have a large sized workspace with something small snapped to one side. 50% snap view gives generous workspace to both tasks. Trying to "work" on an iPad was a painful exercise.

you seem to ignore that the os and many of the apps are designed for 16:9. the apps scroll sideways and use a newspaper style layout. ipad apps tend to have a book style layout and scroll down or show a single page that turns. i think 4:3 won't be that great on a windows device. the only real pro for 4:3 layout is that it is a bit easier to hold.

The mini will have 4:3 same as the iPad snapdragon processor hd display no built in kickstand, pen support and option cover with kickstand, Ms will also be releasing something else at this event also

Exactly what I want. Even a core i3 would be fine.

I'm holding out til we see what if any effect the free pricing for smaller than 9 inches gets felt. Hard to evaluate until we see the ramifications of that.

Please don't screw up the pricing and marketing Microsoft...

Ho ho ho... I see what they did there!

YESYESYESYESYESYES!!!!! I am buying, no matter the price! Hopefully, Modern Office will also be announced!

Ah, man...goosh bug. And tears. Plus sylus and kinect like feature plus around $300. HEAVEN! Posted via the WPC App for Android!

In class note taking ? Hells yes. I have the 2520 which is great for notes but a low key tablet with stylus could the OneNote king in the classroom

Yes, I'd love this! Already have a Surface Pro 2, but a nice small, low-profile device would be great for class.

How bout a surface phone please?

Why so people keep clamoring for this? What exactly would a "Surface Phone" entail?

The amazing design of the Surface, but in a phone. It's hard to argue that the Surface's design is pretty kickass.

Honestly I think the Lumia Icon/930 is pretty close to a Surface type design and it sadly gets no love. :(

i love my icon, but sadly the sales people @ Verizon dont, and it sits in the back of the stores unused

Verizon store reps are some of the worst. I had a friend who was getting his first smartphone, and he was going to get an Icon. But the store reps fed him blatant lies, and convinced him to get a Galaxy S3. Disappointing, to say the least...

While I agree (especially in regards to the Surface 2, that device is so elegant, the most beautiful tablet on the market. Too a lesser extent that applies to the SP/SP2, but the thickness and weight does mildly detract from it), what's wrong with the current WP handsets? Especially since (as this very site covered), the Lumia Icon extremely resembles the Surface 2 design. I understand it's not available globally, but nonetheless. While I'm not opposed to it per se, I just feel like such a device would be "Surface" in name only. But who knows, maybe Microsoft will prove me wrong (and is love it if they did). A 1020 with a Surface 2 style metallic design, with a small built-in kickstand would be magical, especially if it came with a BT keyboard accessory that connects magnetically. Sigh, a man can dream...

Seeing that the Lumia Icon seriously resembles an iPhone, and even WPCentral has admitted to the surface resembling an iPhone.... Don't we already have a Surface phone,,,, if you want Surface like style get a Lumia Icon... Lol!

How does it resemble an iPhone? I honestly don't see it.

They both do.. Seriously.. The Icon just does.. The buttons, the body.. It just does.. So much that I think it was intentional...

I really don't see it. I see how it could resemble other metallic kin like the HTC One, but the iPhone? Sorry, but no cigar.

Well.. I can't make you see it.. Lol!

I think you're the only one who sees that Rodney... The Icon, the Surface? They look nothing like an iPhone...

Your boy Daniel sees it...

Well the Surface branding for one. ;)

VaporMg clad phone sounds sexy to me

I personally want colored carbon fiber... That would be the shiznit..

I can't wait...really hope its a mini with LTE baby!

Stylus as rumored, full Windows 8 and a sub $300 price point and I'm in.

Full Windows 8? Good luck... With that.

My Dell Venue 8 Pro with Windows 8.1 Update that I bought for $250 brand new said luck has nothing to do with it.

It's more than possible, but Microsoft is very stubbornly holding onto RT. RT is the future, but it's not ready for prime-time just yet.

I bought a 64gb version for 190 bucks, what a steal

I will only consider buying this if it's RT.

You may as well start saving for it as MS seem to want to push RT and the battery life of a small tablet would go further with RT.....basically it's gonna be running RT

I don't get why people want full Windows 8 on this thing. I was using my friend's Venue Pro and it was definitely too small to be used for any desktop app.

Because having the OPTION to use desktop programs at a cheap price is better than not having the option. I'll keep playing Far Cry, Unreal Tournament 3, Mirrors Edge, Dreamcast, N64, Killer Instinct Arcade, Quake 3 Arena and more with my Xbox 360 controller on a screen that is bigger than my phone ALL THE WHILE running Metro/Modern/Store/RT apps as well via Windows 8.1 Update. That's why. Choice. Do or Do Not, there is no Try. Windows 8 factually can do more. It's great streaming my games from my desktop via Steam to my Venue 8 Pro via Steam (since it is Windows 8) and playing Tomb Raider on max settings powered by my GTX 780 and being controlled by my 360 controller while in bed. I was playing Super Smash Brothers 64 on my Venue 8 Pro last night from the comfort of my bed. There is so much more value for your money in having Windows 8 instead of RT. The possibilities are endless. http://m.youtube.com/watch?v=efDdh1iOC_8

HDMI out or a USB dock will turn it into a desktop easily. People forget this. Some argue the surface pro is to small... The ability to dock and use a larger screen is everything. One device is the future.

Only want full windows, because of the lack of apps. My pay TV provider in Australia still only has a desktop app. It doesn't look like it will change in a hurry either.

I agree. I've had my DV8P for a few months now and have only used the desktop a handful of times. More often than not II find myself needing the larger screen if I need to do anything in the desktop. If the Surface Mini is RT, I'll swap someone my tablet for one! Ha!

Sorry but its arm quad core snapdragon

"but none officially from Microsoft's official Surface product line." not sure if that is correct.

That was brought to you by the Department of Redundancy Department.

Will wait until next fall for Microsoft to announce the 6in dual screen Surface Phone. (aka "Courier") http://youtu.be/UmIgNfp-MdI

If they released the Courier the iPad would not be as popular or even dead

I want a 13' surface now...

13 feet? that's stretching it out too much.. literally.. :)

I hear 12'' coming. We will see. 15 days to go. Posted via the WPC App for Android!

I was just going to ask if I'm the only one wanting a 13" version. The current version is just too small for a laptop replacement. Plus the larger size would give them room to store the pen and an extra HDMI port on the dock.

My main computer is my surface rt. I would love to trade this in, buy a mini and get a full fledged laptop or desktop as well

MS does not even sale original surface rt/pro in my country yet. so iPad is always a better choice, Apple even support local gift card to buy things from appstore, not to mention a lot more local apps available for iOS.

I don't know about sinisfree but there are smaller countries where surface is not sold but ipad is, with the newest model being available for sale in at less than a month. importing may not be optimal as some warranty is not international and import charges are high, plus shipping cost.

If it's windows 8 pro with a stylus it should do gangbusters... If it's windows 8 rt, it'll just fade into the background.

I held off buying a surface for a smaller version. I feel this smaller version should not be just a smaller version of the surface. It should have tapered edges and NO full size USB. IMO

Hey Choung Nguyen I didn't know you are with WPCentral(?), I've been following your posts since Pocketnow. Welcome to WPC!

Any more discription about the Writer ??

AMD Mullins or Intel Bay Trail based Surface tablet, hopefully

I think you will see surface 3 go bay trail the mini is ARM

This is going to be mine, I would not care about the price.

It better be 8 inches, not 7! 7 is too small!

Come on Microsoft....... 7-8" with no desktop, 1080, wacom, hdmi & usb, $300-350 and my wallet is yours. Then a premium T100 Surface 3 in fall with Windows 8.1 & AMD Mullens @ $450

Microsoft would actually sell more Surface tablets (particularly the Surface Pro 2) if it came with Office 365 free outta the box (not a trial). What's the incentive of buying a product from Microsoft if it doesn't translate in any way?

Umm... it DOES come with incentives.... it comes with +200 GB OneDrive and UNLIMITED Skype Minutes and it DOES come with Office... you get the full version of Office! (which you can optionally sign in with your Office 365 account).

Not everyone loves cloud storage and Skype or should I say they never need it .... For what?

Since when?!? I own a Surface Pro 2 and all I got was 1 year of Skype and the standard amount of OneDrive storage space.

Hopefully it comes with 4G/LTE otherwise I am looking at a Nexus

Get rid off windows RT Microsoft and install windows 8.1 like on other tablets

A even smaller surface? Really? Then can they make a bigger surface?

80%-85% of the market is in 7-8" devices

Because of the cost, not because it is enjoyable.

Microsoft will not go 100% in with Intel. RT Surface 2 has sold as well as the Surface pro line. This device will be Arm based. I have the Asus Note 8 and the desktop is useless without HDMI to easily turn it into a desktop with a monitor. Miracast is too inconsistent & USB adapters like display link cost extra money, use too much processing power in 1080 & you can't charge the device via usb when in use. In my opinion they should go <9" with windows phone/RT merged OS.... all of their 10" tablets should be full Windows with Atoms or Mullens & Haswell CPUs.

Agreed, I'd be shocked if they release the mini in x86 form instead of ARM. If they do then they are waving the white flag on RT given it is the ideal form factor for the OS.

Off topic....but, any rumours of a 1020 replacement? I'm due for upgrade in Oct. Love the 1020 but something better.

I think there are around 5 Nokia phones in testing right now release later this year

I'm kind of scared this will have lower specs

Pretty sure it will have the same specs as the Nokia tablet and a nice display

I don't really want Microsoft to release a smaller tablet. It simply has no appeal to me whatsoever. On the other hand, I'd love it if they released a Surface laptop. Sadly enough, the hardware vendors for windows laptops keep making way too many compromises for my tastes. I mean if Apple can make a laptop that runs their essential apps that lasts 12+ hours and doesn't look like a brick, then so could MS.

Totally agree! Although I'd still like it to be like the Surface, just slightly larger.

I held off buying a Windows tablet waiting for the Surface Mini! Posted via the WPC App for Android!

Will this tablet actually get an amazing amount of good cases that work with the tablet+keyboards? Unlike the regular surface 2... I want an incipio for my surface 2 >< -- Bam --

If this runs Windows RT, well then I just have no sympathy for whoever in MS thought that was a good idea.

Why? If you don't get it, it does not mean that it is the best option. Personally I prefer it to run Windows RT on a Qualcomm S800.

Impossible. One wise man said it was foolish to think there was a Surface Mini, especially because of cases popping up in Amazin, he said it on Twitter!!! Oh no, poor Tommy boy will be disapointed! /s

Hello... "Compete with Android tablets like Samsung, LG" Completely overlooked Nexus?? Really?

What if it is the rumored Surface Phone? (not holding breath)

There is something else being released along side this... But cant say

OMG OMG OMG OMG OMG ITS HERE!!!! SURFACE 3!!!!!!

A surface Watch would be small too... They put a lot of money into bringing storage requirements to less that 4GB... and improvements to 512MB ram... they need to capitlize on that What about a Surface mini phone... >=4 inch... very thin and light, very small besel? Zune-like you know... that would be a surface phone that dosent compete with HTC's and Samsung's... which would me a nice honorable and loyal move on microsoft parts as to not compete with OEM partners... Yet... it can be a cute little phone that people might want... because it's different and incredibly portable...

The only thing keeping me from purchasing the surface, surface 2 and now possibly the surface mini is Minecraft. All my son's friends play that game.... Will someone please think of the children...

Whatever it is, price it well...$1.

I can't wait to get a surface mini, I've been waiting for a small windows rt tablet, at that size you don't need full windows, just games and web browsing, Microsoft should have started rt with a 8 inch and then release rt for free to low end OEMs

Can't wait to see the announcement! Unfortunately it will probably get the usual negative press,and cheap ass brainwashed people complaining that it costs too much,but would pay a premium for Apple's overrated iPad mini (with or without retina display). I know.. We own one.

A 5-6" Surface Phone running full Windows 8.1 Pro would be kickass

Microsoft should of offer it during last years holiday sales back in October-November. But now; it has to be cheaper and much more high specs to sell well. I would of purchase a Windows mini tablet too! I happy with my iPad Mini Retina LTE 128GB!

Can't wait. But I can't help that it's release is too soon. Something tells me the specs will be somewhat disappointing when it comes to battery life and I hope that they will seriously consider usb rather than a proprietary magnetic charger as a charging device. I like my magnetic charger on my surface pro, but the consequence is I have to take a whole brick with me. And when I lose my brick or its broken its difficult to find an new one.
Also, if the claim of stylus support will be here, notetaking apps should be a high priority. And the current Onenote, Journal and the like, in my honest opinion, need some more work to make it more useful on such a smaller screen device. It would be nice to have to stylus supported notetaking apps more tailored for the small screen, and especially ink-to-text recognition to be improved. Otherwise the end-user experience will be disappointing and the stylus yet again be another gimmick...which it shouldn't be. Fingers crossed.

Welcome Chuong H Nguyen to Wpcentral (Mobile Nations ) , looking forward to your upcoming articles :)

Yup. There's plenty of phablet options that are close enough to the people wanting a compromised experience.

Minny yay near my birthday

wow its been along wait for me..1.1 is to big 7 better..

What I need is a Nokia 2520 mini. Also the idea of a surface pro mini isn't bad at all.

My guess is that it will be the Lenovo thinkpad 8 in a slightly modificated version. Why? Well the thinkpad has mysteriusly disappeared from the lenovoshop as availible and when surface mini cases has been displayed in shops it has been with a Thinkpad 8. Hopefully it has been upgraded with the new Atom 3775 (to get Win8 64 bits) and 4 gig of RAM. Two other nice to have upgrades would be an wacom pen and a USB that could both charge and work for data at the same time.

The mini is 4:3 not the same device

8", 4k screen, digitizer, 4g LTE, 802.11 n/ac, Octo core CPU, 64GB w/4GB Ram, $300. I'll take 4 please.

I just hope that time between announcement and when it can be purchased is less than 4 months.

Supposed to be available in june

I am curious about the device. But i believe i will be disapointed by its price

Another DOA Surface RT model. It'll be priced too high so as to not tick off the other OEMs. And WinRT basically nukes the only reason for going with the "Windows" platform anymore -- backward compatibility. MSFT needs to detangle the Win32 and WinRT API mess. WinRT needs to renamed "Surface OS" and split away from "Windows". That way the Desktop/Win32 can stand on its own without having to carry WinRT on its shoulders. Small screen devices are "Surface apps" only. On large screen devices (laptops, desktops, etc.) you run the Win32 Desktop as usual but you can also run "Surface apps".

however the problem (biggest one anyway) is that such strategy wouldn't work. Surface OS as you put it, would imply the surface brand which has failed to gather traction as you point out. So it would discourage adoption by OEMs who don't make "surface" devices. The result would basically be the same as abandoning it and retreating to the desktop which is basically MSFT surrendering into irrelevance, like IBM did. That's not their plan. The other problem with your thinking is that you call "winRT" an OS, when in fact it is yet another technology baked into the various MS ecosystems which unlike win32, it is ready for the mobile future. WinRT doesn't place any additional burden on desktops. It is just an app model. In fact one may argue WinRT, having to support the bloated win32 mess that lies underneath the shell, is what really holds MSFT back from advancing faster. All that bloated legacy, insecure, API which feels more like working with a 90s character system (it is after patterned after late 85's-90s API design). You need to separate the UI choices from the technology itself. Yes, MSFT did some very very dumb decisions around UI for desktops, but the universal app model which supports resolution independance, touch input and secure sandboxed app-store based distribution is unatainable in win32 because it is just too bloated for it and was designed back in the days where computing was more local and less subject to security concerns. It was also less mobile and less connected. So while you may not get that universal apps and WinRT as a means to a goal are completely unrelated to the particular UI choices within the OS shell itself, you have to see the writting on the wall: Win32 is a dead platform. No significant apps are made for it anymore. You will never see a win32 netflix, a win32 instagram, a win32 FB. All you get are second class web apps, you now, the kind mobile users hate. The kinds we hate when there is no native app for our phones or tablets. That's because no company invests in win32...unlike with WinRT which has, even with all its problems, out paced win32 desktop apps...and it is only the beginning. Once WinRT apps run in windows (as in windowed mode), there will be little difference between a win32 native app vs a winRT app from the perspective of an end-user. Except off course the winRT app will be discovereable from the store, updatable over the cloud, will sync across their devices, and won't suddently steal their data and install malware. Consumers, even those of desktops and laptop systems will notice that Win32 = ugh, Store Apps = yai. It is inevitable. The power of the appstore can only be harnesed by winRT based apps. And while the legacy desktop win32 app model will remain, particularly supporting old enterprise apps, other than chrome, and firefox, and probably media suites like adobe, the number of new desktop apps (already past its glory days) will basically be reduced to nothing. There is just no cost benefit, no rational, no incentive to not adopt universal apps once win8.2 or 9 fixes the last remaining issues. You'd have to be severelly entrenched on windows desktops to the point your model can ignore mobile, or be very well funded to support a legacy platform like win32.

WinRT is a framework on Win32 but the whole stack on ARM devices needs to be called something other than "Windows". And to say that the Win32 somehow "holds back" WinRT is ridiculous: 1. All the wizbangy WinRT/Metro UI animation, you know, the fast and fluid part, isn't performed by WinRT, that's all done through the yucky Win32 API (Direct3D). 2. WinRT has no drivers to access hard disks, that's all done through the yucky Win32 file and directory APIs. The part that *is* WinRT-specific, the File Broker, absolutely ruins the fantastic performance of the Win32 file and directory APIs. We're talking two orders of magnitude performance hit. I love the part where you claim that "no significant apps are made for" Win32 anymore. Do you even know the total value of Win32 program sales in a year? There's zero, zip, nada demand for WinRT versions of my programs from my users.

going by your theory that it needs to be called something else, ok, same result, nobody will care. It is too late. I don't blame MSFT for trying to take the windows market and try to migrate it over to touch. Basically they had no strategy left. If they had started over with a new OS that is not windows and was ARM based, it would have been ignored by the market. to address the points you make: 1) everything comes down to assembly and some parts of the OS are, and it doesn't mean one has to code on that. I'm not sure what your point is. Kernel calls also descent to the c level, or even assembly. You're just stating the obvious. 2) This is an implementation detail. MSFT can easily deliver the performance needed as winRT isn't managed by the CLR therefore there is nothing holding it back. However MSFT chose to save time and I don't blame them: they would have never finished unless they called the native win32 function under the hood. However this perpetuates the bloat. And yes what was the last big name app you can name on the win32 stack? probably chrome, which is designed to get you AWAY from windows. Where is netflix? where is flip board? where is well, anything? Win32 role is this: -legacy apps and LOB apps written a decade ago. -mediocre LOB apps -hosting web apps and services in corporate environments. the win32 desktop is basically consumer irrelevant, with no major consumer focused company dedicating even the least amount of development. You cannot, name a single major app for the desktop which as been created recently for the desktop that isn't yet another version of a stablished legacy app. Even platforms which are much smaller enjoy more modern apps than the windows desktop. It is all web because no company wants to invest in a dying platform. Compare this to the vibrant windows store market, which already has the kind of consumer apps the desktop will never get...ever. The windows desktop at this point is just like the character systems of old. Yes there is a lot of software out there but the market has moved on and those that remain behind are merely the winners of a market which will be milked for profits, for it cannot, and will not grow anymore. This is why the WinRT store app make sense: it already has attracted names which flee the desktop win32 bloated mess like the plague. And the trend will only accelerate. Universal apps are basically making it cost innefective to ever create a win32 desktop app ever again. The UI tweaks needed to put these apps on desktop users's hands are being prepared. We're about to see the final nail in the coffin of traditional desktop-only apps. And that is a good thing, because nothing says your platform is more irrelevant than when the #1 and #2 apps for the windows desktop are chrome and itunes, both designed to move you away from your OS choice.

Surface 2 and the pro are selling quite well, and the 1st gen ones also remaining stick selling very well with the reduced price

WinRT and WP8 should merge. I would love to have charms on my phone if they could implement it... Maybe repurpose holding down the start button :D

That's the plan if you have kept up with the news, don't expect it before late 2015 or 2016

I suppose this will be the last windows RT device we will see? I still can't believe MSFT hasn't released an intel based surface 2 which is capable to run desktop apps without the huge weight and heat of the SP2 which I own, but often avoid using as a tablet because it is so heavy. However I still rather see this device be intel based. Quite simply there aren't enough apps in the store to compare to the x86 ecosystem. For big jobs I have the SP2, but for casual things, or as a vacationd device, this may be the one....if it was intel.

Any ideas what SOC will be used? Also, Intel or ARM?

My guess would be ARM ( as its RT tablet ) , so Tegra 4 same as Surface 2 . Surface Mini ( Release date Sepember 2015 outside US ) lol.. man they havnt even released Xbox to all places or Surface 2 or 2 Pro all over the world yet.. again i would suspect piss poor release from microsoft. I hope the new marketing VP guy from HP ( this key area or the reason for hiring is this supply chain experience ).....

I would prefer that this was a "surface" phone over a mini tablet (although both would be best I suppose). I'd love to see an MS branded device sold directly from the MS store, unlocked and with all the bands required to use on any carrier. That, to me, would be sweet...

Will this surface mini be powerful enough? Or should we wait for surface mini 2? I know I have to wait for the announcement but Im waiting for a windows based tablet that is 8 inch or so, light thin, and powerful. I just don't know if it will be good enough yet. Guess I'll see on the 20th, cant wait!

Internal specs would be the same as the Nokia tablet

Was gunna get the Dell 8" for my wife, but I'll hold of now.

i don't care. wake me up when there is a "big gathering". I'm waiting for a 12.5" surface pro. windows 8 is not that good for small screens, and I would pick up a thinkpad 8 if I really need something like that, at least it runs the full version of windows 8.

Its impossible to please everyone. But if this is going to be a note-taking device with stylus support it should be able to annotate the most know formats, especially pdf´s, which onenote doesn´t do now.

It's all in the finer details for me. Haswell or Atom. RT or Pro. The specs will make all the difference for me. I'm always ready to upgrade if it has something I want. Sadly I have a feeling this won't be what I'm looking for.

Judging from Microsoft tradition this thing isn't going to be cheap. Its irritating that Microsoft doesn't make affordable products for Windows 8 at least until the adoption rate picks up

I would imagine they can price an rt device cheaper now because they don't need to keep shitty oems happy

We'll see how the Surface can compete in the 8 inch market share. Right now Lenovo and Dell have some pretty sweet devices out, and honestly... I don't see MS selling their tablet for less than 400 dollars.

It will be priced less than an iPad mini
Windows Central Newsletter
Get the best of Windows Central in in your inbox, every day!
Thank you for signing up to Windows Central. You will receive a verification email shortly.
There was a problem. Please refresh the page and try again.