Surface Go 3 specs: Will new Intel processors be the difference maker?
Not much has changed with Surface Go 3, but what has changed is significant.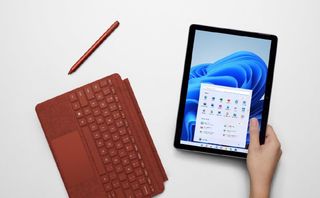 (Image credit: Microsoft)
At the recent Microsoft Surface 2021 event, Microsoft unveiled the Surface Go 3, the third iteration of the ultra-portable tablet that has been shaking up the industry ever since the original was released in 2018. Thanks to its tiny 10-inch size and low price tag, the Surface Go line has been hugely beneficial for students, budget buyers, and people who need a device that's extremely easy to carry.
Something that a lot of people don't like about the Surface Go and Surface Go 2, however, is how limited its performance capabilities are. The Intel Pentium Gold 4415Y and 4425Y processors that the base models of previous Surface Go devices shipped with just weren't powerful enough to provide an ideal user experience. The Surface Go 2's optional Intel Core m3-8100Y helped, but the device's performance still felt dated compared to many competing convertible laptops. This was somewhat expected given the Surface Go's tiny chassis and rock-bottom price range, but it was still disappointing regardless.
With the Surface Go 3, Microsoft has addressed the CPU issues of previous generations by refreshing the Surface Go with two new processor options: the entry-level Intel Pentium Gold 6500Y and a 10th-Gen Intel Core i3-10100Y, both of which are significantly more capable than the Surface Go processors of yesteryear. Other improvements include a small bump to battery life (10 hours to 11 hours) and the presence of Wi-Fi 6, but beyond that, the Surface Go 3 isn't very different from its predecessors. Have a look at the official specs below:
Swipe to scroll horizontally
Category
Surface Go 3
Operating system
Windows 11
Display
10.5 inches, 3:2 aspect ratio
1920x1280 (220 PPI) resolution
Processor
Intel Pentium Gold 6500Y
Intel Core i3-10100Y
Memory
4GB
8GB
Storage
64GB eMMC
128GB SSD
256GB SSD
Expandable storage
microSD
Surface Pen
4,096 levels of pressure, tilt support
Camera
5MP front-facing with Windows Hello
8MP rear auto-focus
Security
Windows Hello face sign-in
Connectivity
Wi-Fi 6: IEEE 802.11 a/b/g/n/ac/ax compatible, Bluetooth Wireless 5.0
LTE Advanced Qualcomm Snapdragon X16 LTE Modem
Ports
1x USB-C, 1x Surface Connect, microSDXC card reader, 3.5mm headphone jack
Audio
2W stereo speakers with Dolby Audio Premium
Battery
Up to 11 hours
Dimensions
9.65 x 6.9 x 0.33 inches (245mm x 175mm x 8.3mm)
Price
Starting at $399
The fact that Microsoft isn't making any significant changes to the design of the Surface Go with this latest model may disappoint some, but did the Surface Go need any changes? As my colleague Daniel Rubino noted in his Surface Go 2 review, the design of the device was already impeccable. The issue was that Microsoft couldn't find a way to get more CPU horsepower into the 10-inch chassis, but that problem has now been solved — on paper, at least. We won't know how well the Surface Go 3 performs in practice until we get our hands on it, but all signs point to a significantly faster and smoother user experience.
The addition of more battery life and Wi-Fi 6 compatibility are nothing to scoff at, either. Even though these are minor improvements, an extra hour of battery life or a faster and more reliable Wi-Fi experience can be seriously helpful in situations where you're going to be away from a charger for a long time or have sensitive work to do and can't afford to deal with Wi-Fi connection mishaps.
What are your thoughts on the Surface Go 3? Do you think it could end up being one of the best Microsoft Surface PCs, or do you think that Microsoft should be doing more with this new version of the device? Let us know. Notably, Surface Go 3 preorders are now available with a starting price of $399.
The little Surface that could
The latest generation

The Surface Go 3 is the most advanced Surface Go yet, featuring snazzy modern Intel processors, improved battery life, and Wi-Fi 6 compatibility.
Windows Central Newsletter
Get the best of Windows Central in in your inbox, every day!
Brendan Lowry is a Windows Central writer and Oakland University graduate with a burning passion for video games, of which he's been an avid fan since childhood. You'll find him doing reviews, editorials, and general coverage on everything Xbox and PC. Follow him on Twitter.
I think you need to check on that m3 -> i3 refresh to see if it's actually faster. Microsoft's Surface Go 3 website lists the i3-10100y as a quad-core CPU, but Intel's Ark disagrees. https://ark.intel.com/content/www/us/en/ark/compare.html?productIds=2133... See for yourself m3-8100y vs i3-10100y. It's nearly identical, they are both dual-core Amber Lake-Y. Base clock increased from 1.1GHz to 1.3Ghz, and max boost increased from 3.4GHz to 3.9GHz. And GPU max freq increased from 900MHz to 1GHz. These are not big improvements on paper unless the power consumption has gone down to let the Go 3 stay in boost longer. Can you confirm with Microsoft? They list the i3 as quad-core, and that would be a big jump in performance, but I am skeptical when Intel's own specs say it's still dual-core. The 6500Y is a huge leap compared to the 4425Y however, the 6500Y has identical specs as the m3-8100Y! Perhaps the i3 is actually quad-core, because otherwise the extra $80 for 200MHz base and 500MHz boost is questionable value. https://ark.intel.com/content/www/us/en/ark/compare.html?productIds=2133...

Replying to myself, but Microsoft has corrected their tech spec page for the Go 3 to state the i3-10100Y is still only dual-core, therefore the refresh from to the i3-10100Y is NOT "significantly more capable than the Surface Go processors of yesteryear." We're looking at maybe 10-15% improvement if it can hold higher boost. The lower trim Go 3 with the 6500Y should be much better, I'd say unless they intentionally hobble the 6500Y in some way, the extra for the i3 trim will be a waste of money. They need to give it more ram or storage to justify the $80 premium.

The Go 2 LTE model must have sold very poorly since MS dropped it for the 3. That's a shame because what I wanted most from a Go 3 is a significant boost over the m3 and LTE. Well, what I wanted most was ARM and a cheaper price. :p

They did not, the LTE models just aren't in circulation yet :) you'll be able to get one in the coming months

Nope. You can actually get LTE in more models this time including Pentium and not just the higher Core i3 model. They're just coming "later," likely in December.

You have to order the LTE versions in the business store. There they are already listed, but we have to wait for preorder. Business store is mostly 2 days late.

I hope an Alder Lake Go 4 or "Go 3 for Business" is in the making since the step from a 10th Gen to one of the power efficient 12th Gens would be a key enabler for the Go series to offer the "smaller Pro" some users are looking for. Considering that Windows 11 is optimized for Big.Little architectures with 10-15% performance boost in such a case, the next Go would be really interesting (the logical CPU choice would be i3-12100y or whatever Intel will name the Alder Lake successor to the i3-10100y). Go 3 is a nice device generally speaking but I prefer to wait for the Alder Lake in the case of Intel with Windows 11. Another thing that would be great is the ability to configure 16/128 or 16/256 in such an "i3-12100y LTE" model in 2022.

By the time you finish waiting for 12th Gen, 13th Gen will be out already.
Then another wait?

Depends what Alder Lake-Y actually brings to the table. As it stands, the i3-10100Y is just another small frequency bump for ~10% performance improvement, it's still Amber Lake-Y from 2018, which itself was mainly incremental updates from Skylake of 2015. If Alder Lake-Y can actually bring either a significant boost (30+%) in performance or battery life plus the jump to Thunderbolt 4 (and maybe some of the other updates the SP8 just got like high refresh rate screens) that would actually make it a compelling upgrade for Go 1-3 users.

Microsoft seems to be out of sync with Intel: Surface Pro 7 "sans suffixe" arrived with 10th Gen, thus creating the need to refresh it just a few months later by introducing 7+ "for business" (to not upset customers who just bought the standard model when the new one landed suddenly). Intel has introduced Alder Lake (12th Gen) and it seems like production is already under way and samples are available for OEMs, thus leading to the ironic situation that the Surfaces launched yesterday are running CPUs that are at the very end of their time in the limelight before being replaced. The Go 3 feels like another "refresh" rather than a major upgrade for Windows 11, while Alder Lake seems to be the best Intel has ever made in terms of design and efficiency for this class of devices. It is a similar situation with the Surface Pro X: Qualcomm introduced Snapdragon 8cx Gen 3 in March and here we are now, with a "new" Pro X without this upgrade. With Alder Lake promising a 10-15% performance boost in Windows 11 alone due to the improved scheduler and optimization for Big.Little architectures (this boost is specific to 11 in comparison with 10 on the same hardware with Alder Lake), it would make more sense to actually synchronize the Surface launches with the CPU suppliers such as Intel, thus using the latest when it is available rather than "launching right before the next gen arrives" just to introduce "+ for business" a few months later. Intel expect to start Alder Lake deliveries in October so PCs with those CPUs are to be expected around this timeframe; yet Microsoft launches new devices on September 22 using the Amber Lake and Tiger Lake at their end. With other words: You buy a Tiger Lake-Surface today, one-two months later, Alder Lake shows up in competing products offering higher performance PLUS the "Windows 11 specific 10-15% boost" on top, thus creating the situation where it actually do make sense to wait for the new gen since it is around the corner. There's no reason to wait for a year or something (such as waiting for Rocket Lake when Alder Lake systems arrive) but waiting for Alder Lake when Intel are about to start shipments make sense when buying a new PC. For the Go 3, still stuck with pretty "old" CPUs, switching to a competitor is an option or simply get a Go 2 when they are on sale until the Go line receive the needed boosts.

Would be nice if there was a black version...

As a Surface Go original owner I was kinda hoping for a bit more TBH. I think its a mistake to keep the 64gb eMMC version as its too compromising. That slow drive paired with anemic RAM make the experience pretty dang awful. Surface GO would have been the perfect product to put in a new ARM chip and push Windows on ARM at a competitive price.
People dont want to pay $900+ to try Windows on ARM.
Prove your product at a cheaper price point to gain interest then come in with more premium offerings.
Why is it so hard to understand this concept!?????

I agree, a Snapdragon 7c or "8c" (pared down version of the 8cx Gen 3) would make a lot of sense in the Go, rather than insisting on those Pentiums - especially now when Samsung did exactly that with the Galaxy Book Go (granted, not a 2-in-1 like the Surface Go but still). For Intel demanding customers, including those who want higher performance in a smaller package - replace the "Surface Go for business" models with a Surface Pro Compact using i3 and i5 Alder Lakes with either 8/128, 16/128, 8/256 and 16/256 configurations. The original Surface Go has been great but Go 3 doesn't feel enticing as an upgrade path. It seems like the next version of One Netbook OneMix would be more interesting (the current OneMix 4 is in the same size range as the Go, is also a 2-in-1 but without detachable keyboard and can be configured with i5 and i7 Tiger Lakes). Microsoft need to step up to an i3 Alder Lake and perhaps offer a 16GB RAM option in the higher end version of the "Go 4" (or Surface Pro Compact if they finally make the Go 4 an ARM device) before it feel worthwhile to upgrade from the original Go.

Has Microsoft said what that USB-C port capabilities are? It's a shame this cannot be used with existing docking stations.

I have a Surface Go 1 with 64 GB storage. I think I might get the 3 for the holidays. This time I'll get the 128 GB drive, but probably opt for the Gold processor to save some money. Daniel, if you are reading this, when you do a review, please call out the USB-C capabilities. With my current Go, I use the USB-C to connect to two 27" 2K daisy chained DisplayPort monitors (using a USB-C to DisplayPort converter). This works really well. I would fully expect to be able to do this with the Go 3. Also, when doing the benchmarks, please list the Go 1 and 2 specs. Many people may have skipped the Go 2, and feel the Go 3 is time to upgrade. It would be nice to compare Go 3 to Go 1. The Surface Go is the perfect balance of laptop and tablet. Many computers that say they are 2-in-1 really don't make very good tablets. They are simply too heavy and the keyboard is exposed to get scratched up when folded back. The Go, on the other hand, is soooo portable and makes a great tablet. I would have like to see if they could get the Go 3 to under a pound.

I'd appreciate this level of detail too. I got a top-spec Go 1 but skipped the 2. I was going to get the top spec 3 as an upgrade, but with some of the chat above I'm not so sure now.
But waiting for the Go 4 doesn't sound like a great idea either, especially if it will actually be an ARM Go X and presumably then I will have to throw my type cover in the bin

I definitely would've bought this if Microsoft had the decency to put a Ryzen APU in it instead of a less efficient, years old tech 14nm Intel CPU. I'm still holding out for the day Microsoft releases an AMD Surface Go. Or even an ARM-based Surface Go.

Ryzen would have worked fine. AMD has an upcoming 9W "Dragon Crest" APU that's also being used in the 7" Valve Steam Deck that is smaller than the Surface Go.
Windows Central Newsletter
Thank you for signing up to Windows Central. You will receive a verification email shortly.
There was a problem. Please refresh the page and try again.