Surface Go vs. (the canceled) Surface Mini: Two tiny Microsoft tablets face-off
Ever wondered how the canceled Surface Mini would've stacked up to the new Surface Go? We have a detailed comparison.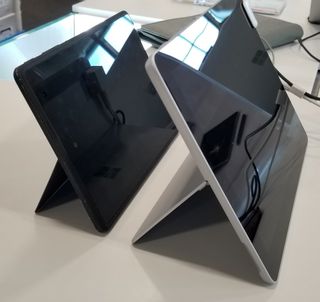 I'll be the first to admit that no-one was asking for this comparison, but when the opportunity arose for us to compare the new Surface Go with the canceled Surface Mini, I just couldn't say no.
As a brief reminder, the Surface Mini is Microsoft's original tiny Surface that unfortunately never released. Featuring a 7.5-inch screen, this was going to be a Surface device aimed more at inking and media consumption, rather than productivity work. A lot has changed since 2014, which is most telling when comparing specifications.
Swipe to scroll horizontally
Category
Surface Mini
Surface Go
Processor
Qualcomm Snapdragon 800
Intel Pentium Gold 4415Y
RAM
1GB or 2GB
4GB or 8GB DDR3
Storage
32GB or 64GB eMMC
64GB eMMC or 128GB SSD
Display size
7.5-inch
Touch
10-inch
Touch
Display resolution
1440 x 1080
4:3 aspect ratio
240 ppi
1800 x 1200
3:2 aspect ratio
216 ppi
Graphics
Adreno 330
Intel HD Graphics 615
Ports
Micro USB
microSD card reader
3.5mm audio
USB-C 3.1
microSD card reader
3.5mm audio
Surface Connect
Biometrics
N/A
IR camera
Battery
N/A
Up to 9 hours
Dimensions
8 inches x 5.5 inches x 0.35 inches
9.6 inches x 6.9 inches x 0.33 inches
Weight
0.8 lbs
1.15 lbs
Surface Go vs. Surface Mini: Differences galore
Although both the Surface Mini and Surface Go are primarily tablets, the Surface Go is much more. It's also a laptop thanks to its ability to attach a keyboard and write documents and stuff. The Surface Mini can't do that, making it a device primarily for consumption. At eight inches, that's not a surprise.
A lot of people have wondered about the size of the Surface Go. With its screen being so small, how could anyone be productive while using it? The Surface Go is just about the smallest you can go on a laptop-style device before it's no longer a productive workspace. The Surface Mini didn't have a keyboard cover because it was just too small for a keyboard. There's no comfortable way to fit a full-size keyboard on a device that's eight inches in size.
This is the canceled Microsoft Surface Mini in photos
Because of this, the Surface Mini and Surface Go are devices that target two very different markets, or they would have. The Surface Go is more for students, some workers, and people who need to get stuff done. The Surface Mini was a device purely for consumption, inking, and maybe doing some very light editing in Word using the on-screen keyboard.
The Surface Go is obviously more powerful due to its newer specifications. Surface Mini featured an older ARM processor with at most 2GB RAM. In 2018, 2GB RAM is not doable. Some even think 4GBs is cutting it close to unusable, but since the Surface Mini ran Windows RT at the time, 2GB would've been fine.
The kickstand on the Surface Mini is also not as flexible as the one on the Surface Go. The Go's is just like the Surface Pro's stand, with its 165-degree hinge mechanism. The Surface Mini's is the same one found on the Surface 3, which is locked to just three positions.
The Surface Mini also uses a different material for its body than the Surface Go. The Go uses magnesium, whereas the Mini uses a more fabric-y material. It feels great in the hand, just like a Moleskine journal.
Surface Go vs. Surface Mini: Size matters
In regard to size, the Surface Mini is obviously smaller. It's also a device designed to be used in the portait orientation. That's very different from all other Surfaces on the market, which are designed and marketed primarily in the landscape orientation.
The Surface Mini would've been an excellent device for taking out with you when you just wanted to take notes on the train or in an office, or watch a movie when on the go.
For a mini Surface tablet to even have a chance at competing, it would need a better tablet mode experience to go with it. Right now, Windows 10 is not great on devices that are primarily tablets, which is likely the reason behind Microsoft's insistence on calling everything a laptop.
That's why Microsoft is capitalizing more on the productivity side of things, because Microsoft has that in the bag. The smallest you can really go while maintaining productivity status is around 10 inches, so the Surface Go nails that right on the head. The Surface Go is the Surface Mini we've always wanted. If Microsoft goes any smaller, it might as well think about doing a phone.
Get the Windows Central Newsletter
All the latest news, reviews, and guides for Windows and Xbox diehards.