Microsoft Surface Headphones get first quality-improvement firmware update (Updated)
New firmware for Surface Headphones should make things even better.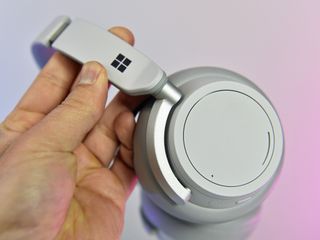 (Image credit: Daniel Rubino/Windows Central)
The Microsoft Surface Headphones are like many modern Bluetooth headsets in that they can get over-the-air firmware updates to improve or add functionality. Since its release, the Surface Headphones have not had any updates, but that's changing now as version 1.0.4.31.21 is rolling out now (old firmware was 1.0.4.22.21).
As to what's new, well, there doesn't seem to be much in the way of features. While we had heard reports Microsoft may give users a way to turn off always-listening Cortana that is not a feature here. Nor are there any other new options. Instead, this appears to be more of a maintenance or quality improvement one instead likely addressing some lingering issues users may have reported.
Updated March 22, 2019: Microsoft has now posted release notes for the update (opens in new tab), which detail improvements to audio quality and reliability, along with tweaks to make sure Spotify continues playing after you hang up a call, and more. Here's a look.
Audio quality and stability improvements.
Ability to manage connectivity to 8 paired devices in both the Cortana app (United States only) and the Surface Headphones app on Windows 10 (outside of the United States).
Ability to use the Volume and Noise Cancellation dials when both the 3.5mm audio and USB cable are plugged in.
Music from Spotify resumes playing on your headphones after you hang up from a call from another device.
Improves the use of "Hey Cortana" with multiple devices where Cortana may have indicated that it could not connect.
To fetch the update simply open the Cortana app on Android, iOS, or Windows 10 to manage the Surface Headphone. From there it should show an update waiting. Users can also go to settings and check for a firmware update there.
The update process takes around fifteen minutes for the download and installation. Luckily, there's a detailed progress bar to show you how far along the update is for installing. Users can continue to use the headphones – even playing music – for most of the update process. When ready to install a prompt alerts you that the headphones will power off and that the update process will take around two minutes.
Microsoft has detailed instructions (opens in new tab) on to complete the update.
Thanks, Matthew J., for the tip!
Hearing is believing
(opens in new tab)
High-quality audio, Surface design

The Surface Headphones bring outstanding sound to your PC or smartphone with some intelligent features that separate them from the competition. While they fall short on noise cancellation, they're still excellent.
Windows Central Newsletter
Get the best of Windows Central in your inbox, every day!
Daniel Rubino is the Editor-in-chief of Windows Central, head reviewer, podcast co-host, and analyst. He has been covering Microsoft since 2007 when this site was called WMExperts (and later Windows Phone Central). His interests include Windows, laptops, next-gen computing, and for some reason, watches. Before all this tech stuff, he worked on a Ph.D. in linguistics, watched people sleep (for medical purposes!), and ran the projectors at movie theaters because it was fun.
Just tried updating mine via the Surface Headphones app from the Microsoft Store on my Surface Pro here in Australia. I'm fairly sure I would have checked when I first got the headphones, which was a few weeks ago, but I don't recall there being an update then. There was an update available this time but it was version 1.0.4.22.24. I'm guessing that that is the equivalent of 1.0.4.22.21 but localised for Australia (or maybe UK, as the language is set to en-GB). I'll check regularly and hopefully I'll see this update soon. Not that I feel there are necessarily updates required. I'm quite happy with my experience to date, although there are two small issues. Firstly, I wear my headphones on the bus and train when I commute and I find that the ANC can't handle it when the bus goes over significant bumps and there is a lot of vibration if it is turned up to the max. It's fine other times but I have to either turn down the ANC or live with the odd lapse in music while on the bus. It's a fairly short bus trip to the train station so there's only a few instances. I was using a Sony MDR-ZX770BN before and didn't have the same issue, although the ANC is stronger on the Surface Headphones. Secondly, I have the headphones connected to an LG V30+ and a Surface Pro while commuting. I connect the Surface to the Wi-Fi hotspot on the phone and I also use Dell Mobile Connect to access the phone on the Surface. In that configuration, I find that the connection between the Surface and the headphones periodically drops and restores. Without Dell Mobile Connect in use, there doesn't seem to be an issue. I'm not sure whether the app is to blame or one of the devices is not handling the complex connection scenario. I'd like to use Your Phone but I don't think that's possible when the PC is connected to the phone's hotspot. I will investigate that further to confirm. Without one of them, it means having to fish out my phone each time a message comes in. Woe is me! ;-)

Oops! Misread things and it actually is updating to 1.0.4.31 from 1.0.4.22.24.

This may be valuable feedback to the team, have you considered getting info this across to them?

Thanks. I have used the Feedback option in the Surface Headphones app to notify them.

You have an interesting use case. MS is pushing this headphone on connectivity, so let them know your use case and prpblem

Thanks. I have used the Feedback option in the Surface Headphones app to notify them.

Hey john,
There is a test option called force update maybe tou can try it. With it i was able to get the update of this aeticle 3 weeks ago.
For tour first problem i dont know what to tell you..
For the second one: my phine diesnt work while on hotspot which a a shame. For the dell mobile connect i think their app is the problem, since i installed it (specially on the v2.9) my phone dies not connect if its connected to another Bluetooth device. If having ur phone connected is really important to u u dont have option than using the cable to connect ur headphones to the pc.

It's not too important to have the headphones connected to both devices all the time but, if I'm listening to something on the Surface, I want to be able to answer a call so I need them connected to the headphones too, which means that I can't put my phone away because I can't connect to Dell Mobile Connect to see messages and notifications. It's not the end of the world but it is an annoyance. I doubt that Microsoft will be in too much of a hurry to fix a problem that, if it's not caused by a Dell product, at least involves one specifically. Dell Mobile Connect is not strictly supported on anything but specific Dell devices either, so I doubt they will be prepared to do anything about it.

After updating, the sound seems more 'crisp'. Some of the early complaints was the sound was too warm. Seems fixed.

I noticed the same thing. Low volume bug is also fixed.

Huawei P20 Pro and Mate 20X are great devices and the screenshots are nice :) Thanks Daniel

Spotify control via Cortana now works!

I've had 3 updates since purchase. I'm on 1.0.4.35.21.

Can aptX or aptxHD be added by update? A low bitrate Bluetooth SBC codec seems like a odd choice for such a premium product.

It's not surprising to me because the Bose qc35 ii (?) do not have better Bluetooth codecs either. If they don't have it now then I doubt it can be enabled by an update

Just requested on Feedback.

I'd love to see better Bluetooth codecs, improvements to ANC, and most of all a matte black option to match the new Surface color options.

Right now, Provantage has the Surface Headphones for $260.14 plus tax and shipping. The comment field will not let me paste the web address so you will have to search for Surface Headphones on the Provantage website. I ordered a pair on Monday, and they were delivered on Wednesday. It came to exactly $289.00 for tax and shipping to my area.

Mine cost me AU$500 here in Australia, with Microsoft being the only source. That's including our 10% GST. Even with the exchange rate, that's still US$354.

Yea, and? Mine cost me $349 US plus sales tax. That was at the MS store in Belleview Washington, so the tax was 10% on top of the $349. They were actually hard to find in the Seattle area around XMAS anywhere but the MS store. All the Best Buys were showing out, but at that same price. So you can get better deals now, some places. That's how tech works.

So far I've been using my Surface Headphones on my HP Elite X3 as a daily driver ( yea... Still reluctant to make the switch to either Android or iOS for anything else than a rarely used Tablet on the ******* ) and my Surface Book 2 1TB whenever I'm traveling but recently I could have made good use out of them to get a game breaking bug fixed in Anthem who has no text chat - DESPITE BEING A ******' MP FOCUSED GAME?! Anyway... I tried to connect the Surface Headphones to any of my X79 / X99 desktop PCs using either the MB built-in Bluetooth module or a cheap dongle but couldn't get a connection working. Am I missing something regarding BT compatibility?

https://www.provantage.com/microsoft-mxz-00001~7MIC978C.htm

Volume is much louder after the update! Nice!

Silly annoyance. Went to update mine a couple of nights ago, and it suggested (demanded) I cable it to make the experience faster and better. I was using my Go and of course the headphones come with a USB-C to USB-A cable. The Go and headphones are both C. Had to hunt up a C to C cable from my Pixel to hook my MS headphones to my MS Surface. Yea, first world problems, but sheesh, can't we all agree? ;)

Love the headphones. Planning to install the update tonight. One issue I noticed is that sometimes my right speaker "LEAKS" some kind of static noise (imagine hearing wind noise on audio recorded in windy outdoors without some kind of noise reduction foam on the mic). Noise Cancellation setting has no effect on it too. Other than that it is very comfortable to wear for long hours.