Surface Headphones review: Comfortable with awesome audio, but noise cancellation needs work
Microsoft nearly dethrones the competition on its first try with its Surface-branded premium headphones.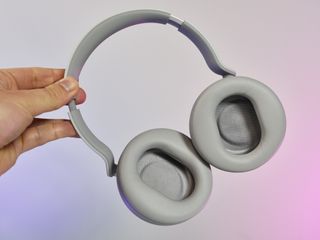 The new Surface Headphones ($350) (opens in new tab) are an attempt by Microsoft to enter the hyper-competitive active noise cancellation (ANC) market of expensive, premium headphones. In some ways, it's an odd choice and yet the focus on productivity (Cortana), multiple Bluetooth pairings, design, comfort, and exceptional build quality are right in line with what the Surface team delivers.
But headphones — especially ones priced this high — do not exist in a vacuum. So, when compared to some of the best on the market right now including, the Bose QuietComfort 35 (Series II) (opens in new tab) and Sony WH-1000-XM3 (opens in new tab), it is surprising how good the Surface Headphones are.
(opens in new tab)
$350 (opens in new tab)Bottom line: Microsoft's first attempt at headphones is nearly perfect.
For
First-rate audio.
Very comfortable.
Cortana works well.
Outstanding gestures and auto-pause.
Works with multiple Bluetooth devices.
Against
Noise cancellation is mediocre.
Battery life is short of the competition.
Large carrying case.
Minimalist looks dominate
Surface Headphones design and features
The Surface engineering and design team nailed the looks and feel of Surface Headphones. The smooth platinum finish, large ear cushions and clean, minimalist look skillfully match the rest of the Surface line.
There are no visible screws or seems in the headband. Everything seems balanced with a focus on symmetry, and it makes the Surface Headphones simply stunning.
The matte platinum plastic is quality, and with only a few areas being metal (likely aluminum) the Surface Headphones weigh only 290 grams. That's heavier than Sony's WH-1000-XM3 (255 grams) and Bose's QC 35II (236 grams). The difference is hard to notice, though, when wearing the Surface Headphone, partially due to the ingenious engineering of the band, which spreads the weight uniformly. There's a nice arc right before the earcups on the band that likely offsets tension, as well.
Surface Headphones specs
Swipe to scroll horizontally
Category
Specification
Exterior dimensions
8.03 in (204 mm) x 7.68 in (195 mm) x 1.89 in (48 mm)
Color
Platinum
Buttons
Mute, power, volume dial (right ear)
Noise Cancellation dial (left ear)
Touch interface on both earcups
Weight
10.2 oz (290 g)
Frequency response
20 to 20kHz
Noise cancellation
Up to 30 dB for active noise cancellation
Up to 40 dB for passive noise cancellation
Speaker
40mm Free Edge speaker
Sound pressure level output
Up to 115 dB (1kHz, 1Vrms via cable connector with power on)
Up to 115 dB (1kHz, 0dBFS over Bluetooth connection)
Charging
Full charge in less than 2 hours
Battery
Up to 15 hours (music over Bluetooth, Active Noise Cancellation (ANC) on, Cortana on)
Up to 50 hours (idle, Bluetooth off, ANC on)
Inputs
USB-C connector
3.5mm audio connector
Voice Assistant Cortana by voice activation or touch
Compatibility
Windows 10
iOS
Android
macOS
In the box
Surface Headphones
Carrying case
USB cable (1.5M)
Audio cable (1.2M)
Quick start Guide, safety and warranty documents
Warranty
One-year limited hardware warranty
The ear cups have substantial cushions when compared to Sony and Bose, which have ear cups with very similar designs. The Surface Headphones look more like an "o" for a shape versus a "0" for Bose and Sony. This design choice results in more padding behind and in front of the ear than the competition.
Under the band where it meets the skull apex, there is a decent amount of padding. While I didn't experience any head fatigue from the Surface Headphones, the Sonys feel a tad better for longer durations.
On the bottom right ear cup, you can find buttons for power and microphone muting. There's also a small white LED for charging status (blinking when charging, solid when charged), a USB Type-C port for fast charge, and a 3.5mm audio connector for those who want to use the headphones wired.
Pressing the power button for a second toggles the headphones on or off. Long-pressing for five seconds sets them to Bluetooth pairing mode. Holding the power button for 20 seconds will factory reset them. The mute microphone switch is self-explanatory, but I found the lack of any visible or audible feedback that the microphone was muted disconcerting.
Those buttons and ports are all perfectly lined up along with an invisible line and evenly spaced.
Surface Headphones auto-pause and gestures
There are a few distinct areas that separate Microsoft's headphones from the competition. One of those is the use of tapping either side of the capacitive ear cups for functionality. Here are the features:
Short tap — Play/pause.
Double tap — Next and Answer call.
Triple tap — Previous.
Long press — Activate Cortana or Decline call.
The right ear cup of the Surface Headphones acts like a giant volume knob. The left ear cup controls noise cancellation, giving users 13 different ambient sound levels. The execution of this is perfect. Surface Headphones are easily the most user-friendly headphones when compared to Sony and especially Bose. The dials are smooth, gentle, accurate and a joy to use versus physical buttons or using an app.
Another genius feature is auto-pause. When users take off the Surface Headphones or put them around their neck, the headphones pause whatever is playing through them whether, it's music or a movie on a PC.
The headphones also work wirelessly with Windows Sonic to give pseudo-surround-sound and spatial effects. Auto-pause without a hitch.
The power of voice
Surface Headphones brings Cortana
Cortana is front and center with Surface Headphones. From the moment you first turn them on and set them up, Microsoft's digital assistant is foundational.
Those on iOS and Android can use the new Cortana 3.0 app to set up, control, update, and configure the headphones. For Windows 10 users, Cortana is built into the OS and uses the same process for setting up and configuration, which is simple.
A long-press can activate Cortana through Surface Headphones on the ear cup or merely saying "Hey, Cortana." This capability works on iOS to activate Cortana, which for the first time, gives users a more natural ability to rely on the assistant over Apple's Siri. Microsoft notes, however, that Cortana and iOS still work best together when the Cortana app is open.
Various voice commands give Cortana a lot of punch for these headphones, such as:
Dictate and send email or SMS on Android or iOS.
Get latest calendar appointments or status.
Open Amazon Alexa (PC only).
Open a playlist on Spotify (coming to iOS soon).
Control music.
Ask about weather, trivia, conversions, general information, etc.
Those using Android will get a richer experience than on iOS because Cortana on Android can be set as a default assistant.
The Cortana app also lets you configure a five-band equalizer (EQ) with presets for flat, classical, jazz, pop, and rock. Users can customize those EQ settings and save and name as many presets as they wish.
While there are currently no firmware updates available for Surface Headphones, it is through Cortana on iOS, Android, or PC that users can check for and install these feature and bug-fixing updates.
Cortana works quite well on the Surface Headphones and is especially useful for those who plan on using them with a PC, where Cortana can do much more compared to Alexa, Google Assistant, or Siri, which have no presence or abilities.
Good news, not-great news
Surface Headphones audio and noise-canceling
Audio quality when playing music, listening to movies, or during a Skype call is brilliant on the Surface Headphones. Microsoft has always had a knack for audio as Surface Pro and Surface Laptop demonstrate. That carries over to the Surface Headphones, which are a delight to use for music or movies.
By contrast, Bose QuietComfort 35 (Series II) sound flat and hollow (the lack of EQ does not help). Compared to the excellent Sony WH-1000-XM3s, the Surface Headphones sound very similar. Music is rich, full-bodied with bass, and it has a remarkable fidelity. Sony has a few more software tricks up its sleeve, but Microsoft managed to create outstanding headphones that can go up against others in this class.
However, things shift when it comes to Active Noise Cancellation (ANC). Microsoft notes that the Surface Headphones have four beamforming microphones with four additional microphones to deliver 13 levels of ambient noise cancellation, and it all works. But it is not as good as Bose, and neither are as terrific as Sony.
What is active noise cancellation and how does it work in headphones?
The Surface Headphones, when set to max ANC, tend to have a bit of a background hiss to them versus the near dead-silence provided by the Sony WH-1000-XM3. It's noticeable on their own but more so when you compare directly.
Outside wind noise is better than the Bose, which are terrible, but again Sony has better-recessed microphones to help prevent wind interference.
The same goes for public areas with lots of people talking and background noise. The Surface Headphones reduce that noise, and the ability to "dial it in" with fine granular control is amazing (most ANC headphones are "max" or just on or off for control). But compared to Sony and even Bose the Surface Headphones fall short for noise cancellation.
Perhaps it is unrealistic to assume that Microsoft could beat either Bose or Sony on version 1.0; after all, both companies have been doing this research for years. The fact remains though that while the Surface Headphones are still very good, the Sony WH-1000-XM3 are the champs against noise.
Better than expected
Bottom line on Microsoft's Surface Headphones
Going up against Sony and Bose and expecting to win against either in a battle for headphones is an insane challenge. And perhaps Microsoft doesn't need to win, as long as it pushes the genre forward with creativity.
From that latter perspective, Microsoft accomplished a lot. Audio quality compared to other popular brands at this price point is as good as Sony and better than Bose. One key takeaway is Microsoft made Bose look bad with its dated micro USB port, physical keys, and mediocre sound profile on the QC 35IIs.
Comfort, design, auto-pause and gesture controls are all marvelous with the Surface Headphones.
Where Surface Headphones stagger is noise cancellation and battery life. Both are satisfactory, but not amazing. Bose estimates around 20 hours of battery life and Sony pushes 30. Surface Headphones are supposed to get 15 hours, but it's more like 11 or 12 hours in my experience. The Type-C fast charge helps and is very convenient for those who live the Type-C tech life, but these will need charging more frequently.
Noise cancellation is as much art as it is science. While Sony is now considered the best, it took the company years of trying — and failing — to beat Bose. It finally did but only in September 2018 with the new WH-1000-XM3. Microsoft still has some room to grow, but if we were expecting any amazing advancements with this technology, it is not evident with this release. Perhaps some software tweaking will change that, though.
So, who should buy the Surface Headphones? Anyone who works behind a computer (Mac or PC) and who wants to switch to their smartphone without fiddling dynamically. The Surface Headphones are great for listening to music on PC, taking a call on an iPhone, and then going right back to work. Bose can do this as well, but Sony's pair with only one device.
There is also the case for those who like using Cortana on PC or smartphones. If you do, then these are a no-brainer. Neither Bose nor Sony works with Cortana.
There are also just fans of Surface PCs who want premium headphones to match the experience. That may sound trivial, but it works for Apple, and there's no reason to dismiss such a loyal audience. And the Surface Headphones look gorgeous next to a Surface PC.
Microsoft brought serious innovation to the table with Surface Headphones. It still has room to improve, but the company has established that it can offer some genuine competition to Bose and Sony. Surface Headphones 2 should be very exciting. For now, this first release is above average ... but not the best.
Microsoft today opened preorders for Surface Headphones, which start shipping on November 19 in the United States ($350) and 10 days later on November 29 in the United Kingdom (£330).
Hearing is believing
(opens in new tab)
High-quality audio, Surface design

The Surface Headphones bring outstanding sound to your PC or smartphone with some intelligent features that separate them from the competition. While they fall short on noise cancellation, they're still excellent.
Windows Central Newsletter
Get the best of Windows Central in in your inbox, every day!
Daniel Rubino is the Editor-in-chief of Windows Central, head reviewer, podcast co-host, and analyst. He has been covering Microsoft since 2007 when this site was called WMExperts (and later Windows Phone Central). His interests include Windows, laptops, next-gen computing, and for some reason, watches. Before all this tech stuff, he worked on a Ph.D. in linguistics, watched people sleep (for medical purposes!), and ran the projectors at movie theaters because it was fun.
These super phones finally complete the Surface line up. Not sure where Microsoft goes from here. How do you improve on perfection? As for the phones themselves I feel more productive already, and don't even own them yet. I do hope they integrate them even more with iOS and Android devices. Would be nice if I could communicate with Google Assistant, receive and send texts, and make calls through my phones without having to take my phone out of my pocket.

You should be able to send and receive texts, along with make calls using Cortana.

@Ferris Bueller, as Zachary Boddy said you can do so using Cortana and heck it's in the article as well... "Various voice commands give Cortana a lot of punch for these headphones, such as: Dictate and send email or SMS on Android or iOS.
Get latest calendar appointments or status.
Open Amazon Alexa (PC only).
Open a playlist on Spotify (coming to iOS soon).
Control music.
Ask about weather, trivia, conversions, general information, etc. Those using Android will get a richer experience than on iOS because Cortana on Android can be set as a default assistant." If you want a pair of headphones that communicate with Google assistant there are other headphones in the Market.

Right now I'd stick with Google Assistant (if available) when using Surface phones with my phone. Sure, I know Cortana is available on the Play Store, but Google Assistant is native to Android based devices and just works better with its mother OS. Honestly, would like to see Google Assistant on the PC too, just like there's Alexa on PC now. Nadella's genius is trying to be everything to everyone.

... and google is the opposite. They only want to promote their ecosystem (Chrome, Android).

It may be petty but a dark gray or black option would be nice. Don't really care for the light gray.

I think the Surface line could see a boost if they allowed people custom colors like the Xbox design controllers. But I wager they are hesitant cause they don't want to their quality products look like Nokia Lumias and want just a clean styling for everything.

I agree, a matte black would be awesome.

Matte black Surface Headphones with Silver logos would go very nicely with my black carbon debrand skinned L950 XL.. lol.

"Noise cancellation is mediocre." This is one of the main factors for me which means they are out in my case.

Well, which other headphones are you going to find offers control over ANC?

My Bose QC35s offer control over ANC.

Well, you have two levels vs. the 13 on Surface Headphones. Much finer granularity here.

Honestly for me the most important criteria is sound quality. With these headphones lacking AptX/AAC/LDAC for higher bitrate transmission and better latency than the standard bluetooth codec SBC (which is trash), I have a hard time believing that the sound quality is as good as the article above claims. Especially with The Verge claiming a major point against this headset is the sound quality, stating it lacks treble refinement and energy, I'd like to hear your opinions on how these sound vs. audiophile-focused sets like the B&W PX.

They aren't going to sound as good as audiophile sets.

I don't get it, you list the noise cancellation as a negative in the review, and yet you are doing everything you can to defend the feature in the comments. Wouldn't you say 2 levels of noise cancellation that work well are better than 13 that don't, clearly you would because it's literally what you said in your review.

@Sin Ogaris, watch the video, there is slight but audible hiss when it's turned upto max hence mediocre. It's a version one product so there will be issues that usually get refined over time.

I'd rather have 2 levels of great noise cancelling than 13 levels of mediocre cancelling.

This. Plus wait 6-12 months and pick them up for $79.

Great indepth review, with very key pieces of info (so book marked) such as this : "Pressing the power button for a second toggles the headphones on or off. Long-pressing for five seconds sets them to Bluetooth pairing mode. Holding the power button for 20 seconds will factory reset them. The mute microphone switch is self-explanatory, but I found the lack of any visible or audible feedback that the microphone was muted disconcerting." Especially that holding the power button for 20 seconds will factory reset it and that you have to hold it for 5 seconds for bluetooth pairing mode. Most people are accustomed to holding the pairing button for longer than necessary so knowing this key to using the Surface headphones without issues. I am definitely buying a pair in a few months (setting £10 to £20 a month a side to buy one), by the time I have enough Gen 2 should be out. So Win-win for me lol, I would love to drop £330 on a pair of headphones in one go but ain't got the luxury of shelling that much cash out in one go lol.

Where's the irony meter that Microsoft put USB-C on their headphones but not on the Pro 6?

It would have cost a fair amount to replace the chasis of the Pro 6, the cost saving measures are not really helping lol. But yeah... hopefully next year we will see Type-C in the Surface Pro...

What many people seem to forget is that the Surface Pro devices are used/mounted INSIDE other devices. I that that might be why they left the form factor/ports as-is. https://www.windowscentral.com/e?link=https2F2Fcli...

It seems like Microsoft is slowly moving toward that handheld device they don't want to call a smartphone.

Me too, my hopes are low, but Android drives me crazy every day, even with all the fixes Xiaomi and Squarehome provide to the horrible UI.

These look so nice, huge MS fan and would like to add this to my collection. I like to game and listen to music, but am not really big on it like others, so the noise cancellation won't affect me like it will others. Nice design, looks comfortable. Bet they would pair nicely with my Lumia 950XL

Lumia pairing, that's the thing I would like to find out as well.

A very informative review, and none of the complaints were anything that might knock the Surface Headphones off my wish list. Well, may the "large carrying case" that Daniel noted was a negative. How dare Microsoft design a carrying case that was actually large enough to hold a premium product without requiring it to be folded repeatedly! /s

Foldable headphones would be nice though!

I agree, as someone who commutes all the time I like having more portable headphones

Have you tried to see if they pair with the XBOX One X? I know you can hook them up directly to the controller with the audio port but it would be nice to not do that. Otherwise they look great and I'll be getting a pair.

I have the same doubt. Is worth it to get it for XoneX? Even if on 3.5mm cable...how does it sound? Chat works?

Xbox doens't have BT so can't do it that way, wired only. And Surface Headhpones don't have Xbox Wireless built in. Could you use it wired that way? Sure. But probably a gaming headset would be better for gaming. For TV, it'd be great.

When using the headphones in wired mode, do you still have all the NC and microphone capabilities? Maybe it's not the ideal headset for Xbox, but it might work nice enough for Xbox while also being used with bluetooth on other devices when at work.

"When using the headphones in wired mode, do you still have all the NC and microphone capabilities?"

Yes, in fact the cable has a mic on it.

Thanks Dan. I really do want to try a pair of these.

This strongly reminds me of the fitness Band/Band2 story. MS KNOWS how to build excellent products. But subsequently they fail to position it properly on the market and/or to market them accordingly to make them successful and/or they abandon them being "not strategic (enough)"

In what way does it remind you of the band, did you somehow already hear they're going to discontinue the headphones?

Daniel, you didn't mention the thing I was looking for the most. How is the sound quality of your voice as heard by others through the microphones? I'm interested in this for use in the office, where I'd like to cut out a lot of the background noise, but also use them on conference calls.

Good point. Sound quality is quite good. I've been using it on Skype calls. I may do a more formal test.

I'd like to know this as well. I do a lot of Microsoft Teams or Skype for Business conference calls or 1-1 calls and would like to know how the sound quality is on the other end. Do you think the USB-C port could be leveraged to add a more traditional microphone extension bar so it is closer to your mouth like a traditional headset?

I'm also interested in the Skype call performance. These would be nice for work if the call quality is good.

Add me to the interested list :D! So far, holding my Lumia 950 XL close to my face is the best result I can get for voice messages, where auto-adjust of mic volume can mess up the recorded voice message. For a Skype call, my 5th gen Surface mic wins.

humm!
You can totally control the NC on the Sony with the app. You can do so much better things actually with it.

Yeah, the app. You have dig and start fiddling vs. just rotating a knob on the fly without touching your phone. That's a big difference.

Same with the Bose QC36 app.

Look, the Bose app is just crap, let's not defend it. Pulling out my phone to choose between just 2 levels of ANC vs the 13 on a dial from Microsoft is not the same game at all.

2 levels (well three if you count off like a sane person) of high-quality sound cancelling beats 13 levels of mediocrity.

Knowing Microsoft, there probably won't be a Surface Headphones 2. They'll just abandon it altogether if it doesn't immediately dominate the market on the first try. At this point, the real Microsoft fans know to just buy the device as soon as it comes out, pray it never breaks, and brag about how it's still ahead of the competition three years after being discontinued.

What was the last Surface product they abanoned? Seriously, you Windows Phone users need to move on. That story ended in 2015. They have since launched Surface Pro 5/6, Surface Pro LTE, Surface Go, Surface Go LTE, Surface Studio 1/2, Surface Laptop 1/2, Surface Book 1/2, Surface Dial, various Surface mice, varous Surface keyboards... The facts are against you on this "knowing Microsoft" because you're just flat out ignoring all the launches in the last 3 years which far outnumber Phone (and Band) and how they're still here.

Still, we miss our Lumias. My dad still has a Lumia550, and it still feels better than my super tweaked Android (Squarehome, Waveup, Fliptomute ....).

They don't have successful (non-PC) consumer products. Which makes sense because they're not a a consumer electronics company. The last successful product was... Xbox? Maybe I'm forgetting one? I guess they position these headphones as a computer peripheral & fingers crossed?

Realize that gaming (consumer) is a $10 billion dollar a year business for Microsoft. The Surface line of tablets can be also considered a consume business. The Consumer electronics business is fickle, and even Apple are trying to find ways to financially engineer their way into fooling investors that they are growing.

Preach. Let it go bro. "knowing Microsoft". Obviously you know nothing else, Google - even Apple and Amazon - have long lists of failed and abandoned software and hardware. It's called business, if you don't try to can't expand. If it fails, you can't support it for ever (see Windows phones).

Nice review! I have young kids and would like the ability to use some headphones at night while they're sleeping, but still be able to hear them when they wake up. With the NC setting cranked all the way to a setting that lets more ambient sound in, would these headphones work well for me?

Thanks. Yeah, the ambient stuff would help a bit. It's neat, but not quite super hearing either.

I'm not expecting using the headphones to make it EASIER to hear my kids, but do you think it would be possible to hear them roughly as easily as it would listening to the TV at the low volume (with no headphones)?

I think the noise amplification is brilliant. Imagine being on a noisy airplane and trying to hear a question from a flight attendant. no need to take off the head phones. Just dial them in. The amplification is substantial. It picked up the sound of my super quiet Bosch dishwasher running in the other room. Spy stuff!

If the noise cancellation is done right it shouldn't block out individually heard voices. The fact that the headphones look like they are on-ear, rather than over ear, should help with you hearing, but without actually wearing them I can't tell (I also don\'t know the size of your ears). But it might be a better option to get something that is designed to allow ambient noise through, like the BackBeat Fit, sound quality isn't as good because of that, but if it's a matter of needing to your kids it might be a better choice.

Hmm, might try this out, Microsoft makes really good hardware. The sony 1000mx3 feel cheap.

"By contrast, Bose QuietComfort 35 (Series II) sound flat and hollow (the lack of EQ does not help)." This is a common trait of Bose. The phrase "no highs, no lows, must be Bose" exists for a reason. Nice to see the Surface phones sound more like good Sony phones. IOW, very good sound indeed. I already have several Sony headphones, both wired and wireless, so I won't be needing these. But its good to know MS got these right.

lol never heard that saying, but yes, accurate.

lol that's a good one too. My parents bought one of those Bose Wave Radios with a CD player. Do you remember those? These things pretended to be "high fidelity", but they had no tone controls at all. I would expect separate bass and treble, or a least a single "tone" control. Nothing. All you get is what Bose thinks sounds good. My comment was "so why do they even include a volume control? If Bose claims to know the perfect tone setting for all music and conditions, why not one volume setting?"

In a perfect world, you should not need tone controls. Unfortunately we don't live in a perfect world so we kind of do, but people don't use them correctly, the purpose of an EQ is to mould the sound based on the design of a room to get the flattest possible response (or, alternatively, to mask a sub par speaker). Not to boost the bass and treble to distortion levels like most people do. BOSE isn't worth what they are charging, but anyone who says they don't provide exceptional sound quality is kidding themselves.

Actually anyone worth their weight will tell you a flat EQ is the most optimal form for speakers, it's literally what companies strive for.

Just called Microsoft Store and they are not doing a financing deal for headphones by themselves. Too bad. They're pricey for a guy with kids to feed. I'd love a pair if I could just pay over time.

You did that to yourself, wallowing up in there and sech.

Do you guys have Afterpay/Oxipay/etc wherever you are? Or an equivalent? It's basically layby, but you take the item home straight away, and just make four fortnightly payments with no extra charge.

Funny... but they don't fold.

Dan, can you confirm if the basic headphones cord would allow them to work with the Xbox controller? I forgot, but it would seem obvious and yet...

Yes, just a normal headset jack/cord

For a hardware team that seems to have perfected hinges I'm real surprised these don't have the ability to fold up. For a product that will see frequent on the go use any space saving is welcomed.

I think the one thing missing from this review and some others I've read is no review of the Bluetooth codecs (SBC, aptx, aptx HD, LDAC, etc). Only one other review I read actually talked about it and it's important to know if you're talking about audio quality (aside from the hardware itself)

My order shipped today. Excited to be getting them. Been using Parrot Zik 3 for over a yr now, which I use almost everyday during commute to work. The trims are worn pretty bad. I suspect SH will be an upgrade on it, esp comfort wise with the larger ear cups. Zik 3 has auto pause, custom EQ, touch control, auto NC. The Rtings website does very thorough tests and I will be interested in seeing what they say about SH even it doesn't affect my purchase decision. They actually rated Bose higher than Sony on audio quality, and gave Bose the best overall score. Dan on the other hand doesn't agree. Audio is subjective and depends on type of music you listen to. I think if you sample enough reviews, it seems like SH is right there with Sony and Bose, and you just have to try it and see which you prefer. I won't get a Bose simply due to style. Zik 3 is probably the coolest of the bunch, but mine is pretty worn out.

Funny, I Always found the Zik3 pretty ugly...and Overall confortwise they were not for me but boy did they sound good. I think you are spot on when you say Audio is very subjective Bose while not audiophile quality sound good and clear especially in noisy environnement where i favor Noise cancelling over Hi-fi.
The carrying case of SH is too big for my taste from a travel /commuting point of view.
When i fold bose i can even put them in my Inside jacket Pocket and easily in my coat.

Finally got my SH and they do sound better than Zik3, has better Noise cancelation and more comfortable too (I wear them with glasses). It will take time to see if they are more durable. The custom cortana EQ app is there on Windows 10, and Android. But I can't find it on Windows phone, of course. The good thing is once you set EQ on one device, it is shared among all the device. Have it paired with my Elite x3 and Surface Go LTE, works fine answering phones and going back to PC or music. Also have it paired with Surface Studio and Android phone. You can have up to two device active at a time. Touch control is like Zik3 but the dials for volume and NC are a better design. Carrying case is fine. The overall size is bigger and can't be folded. But that won't stop me from using it on plane or train. If you want super portable, use an earbud. You can also use Spotify's EQ which controls the snapdragon and can add surround sound. I just use the Surface app and leave it as it is. Overall, happy with the headset.

"Surface Headphones trounce the best from Bose in almost all areas." Yes, except for noise cancellation (which is the point of "ANC headphones" – it's in the name), portability, weight, battery life, current price and maybe comfort.
That sounds far from "almost" to me.

Wow, headphones. That's like winning the under 6 softball competition. It's meaningless in the world of computing.

These look great but I think I'm going to wait for the second version.

I think It would be better to say i Don't like the sound of the Bose instead of they sound mediocre since on head-fi for example QC35 reviews are quite positive. Also can you tell us which type or genre of music and kind files you used to test the headphones. SBC codec is not bad but there are some better codecs, i have a hard time believing Surface Headphones sound awesome at least you acknowledge Noise cancelling is not as good as Bose or Sony .
Also Bose QC35 has nice multilanguage command prompts that i found very useful

What about Bang & Olufsen, Sennheiser and other top brands?

Great review. The ANC issue had me me convinced that the Sony's are for me
Windows Central Newsletter
Thank you for signing up to Windows Central. You will receive a verification email shortly.
There was a problem. Please refresh the page and try again.