Surface Hub 2 will feature a modular design, upgradable processor, but no WCOS at launch
Microsoft has outlined rollout plans for Surface Hub 2, launching in two editions starting with "Surface Hub 2S" in 2019.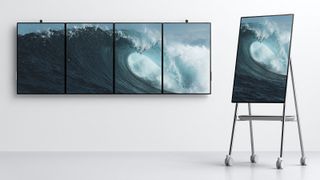 Microsoft has today announced more details regarding the upcoming Surface Hub 2. Announced in May earlier this year, the Surface Hub 2 is Microsoft's second-generation collaborative display, designed for those in the enterprise and enhancing productivity within meetings and team-based projects. Today's announcements talk a little more about the Surface Hub 2's hardware, including its plans for its rollout and software experiences.
According to Microsoft, Surface Hub 2 features a modular design that makes it easy to upgrade when required. A new "processor cartridge" can be removed, upgraded, and serviced over time, which should increase the lifespan of Surface Hub 2 for customers considerably. In addition, Microsoft has also announced rollout plans for Surface Hub 2, with the first Surface Hub 2 shipments rolling out in phases starting Q2 2019.
What's interesting here is the Surface Hub 2 in 2019 will ship with a software experience known as Surface Hub 2S, which is the same version of Windows 10 found on the original Surface Hub available today. This means the unique Surface Hub 2 experiences such as smooth rotation, live wallpapers, and the ability to connect multiple Surface Hub 2's together for a larger display, won't be available on day one. Microsoft says these unique software experiences will arrive in an update called "Surface Hub 2X" in 2020.
The update requires Surface Hub 2S users to upgrade the processor to enable the new Surface Hub 2 experiences when they're made available. Microsoft hasn't explained why a processor upgrade is required for this, and it also hasn't said how much the processor upgrade is going to cost. It sounds a lot like "Windows Core OS" (WCOS) for Surface Hub 2 has been delayed until 2020, as all of the unique Surface Hub 2 features that were demoed back in May were built on Windows Core OS. Now, Surface Hub 2 is simply going to ship with the older Surface Hub OS, and upgrade to the new one based on Windows Core OS in 2020 when it's ready.
Microsoft says it's doing this because customers asked for the same Surface Hub experience in a slimmer design with updated specifications. The only other alternative would be to not ship Surface Hub 2 until 2020 at the earliest, which Microsoft doesn't want to do as there are businesses ready to buy Surface Hub 2 now. So, it'll ship with Surface Hub 2S, and in 2020, Surface Hub 2X will become available for Surface Hub 2 users to upgrade to.
What are your thoughts on these launch plans for Surface Hub 2? Let us know in the comments.
Windows Central Newsletter
Get the best of Windows Central in in your inbox, every day!
Zac Bowden is a Senior Editor at Windows Central. Bringing you exclusive coverage into the world of Windows on PCs, tablets, phones, and more. Also an avid collector of rare Microsoft prototype devices! Keep in touch on Twitter: @zacbowden.
Sounds logic and reasonable to provide the corporate world with a pre-announced upgrade path so today's investments will not be obsolete in 2020.

If it is true, I'm happy to see Microsoft being so flexible towards its customers. Does it mean that we may expect an Adnromeda announcement also not earlier than Q2 2019 and a release no sooner than 2020 along the Core OS? ...as now it seems that Core OS got a vague scheduled release in 2020 only.

I think it will go live on 2021 or 2022 at the earliest

"it's been canceled." No, it hasn't, it has been DELAYED.

Interesting, what is so demanding about WC OS that requires a processor upgrade from 2019's model? I think most of us were expecting/hoping for Surface Hub to be the first WC OS device to be released this year, but it seems that will not be the case. On the operating system and Andromeda: I fully understand and appreciate that it takes time to build a quality product, but it seems like Microsoft have been dragging their feet on this initiative for a long time. As we have heard, competitors like Samsung are not going to wait to release dual-screened device or other new categories.

Refactoring an entire OS, purging legacy features and rewriting still important ones in a more modular way is a monumental task and that takes a lot of time. For reference, macOS as we know today has nothing in common, code-wise, with the Mac OS that shipped back in the 80s, early 90s: Apple developed it from scratch for four years before releasing it in 2001, and it still wasn't perfect, shipping with several critical bugs. Source: https://en.wikipedia.org/wiki/MacOS_version_history

Understood, but remember that they are not completely rewriting the OS in one shot here.
- The kernel was merged in 2012 with Windows 8.
- The next layer up (OneCore) has been in place since windows 10 mobile (2015). Note that I'm not saying it was stable at that point.
- From my understanding WCOS is some sort of 'middle' and UI layer (C-shell) on top of that. Competitors will not wait. I only hope that Microsoft understands this.

Well unless Microsoft compleyely goes back on its word to these clients which would be really bad for their future - it shows they are committed to WCOS and the future of Andromeda is not all lost. The cellphone market is stagnating. It is ripe for disruptive tech like the iPhone was. Time will tell.

I think wcos is dead and they simply need more time to get the software experience they previewed wcos on hub 2 running onto the classic hub 1 experience since the windows reorg happened relatively recently in terms of software development.
Ms might be keeping their promise of w10 being the last version of Windows whether something comes after it or not.
With this being speculated, I can see Ms getting out of the hardware game bc surface innovations are plateauing. The devices are reaching perfection, only requiring iteration from here on out.

It is a timely news, WCOS needs Q1 2020 to get it Rightt.. No chance for Andromeda until the next hardware event, Oct 2019..

Andromeda S in 2019 and Andromeda X in 2020. :-)

Some time to refine the software
and iron out any issues. white the rotating UI it was good but not as smooth as expected.

WCOS is not just another OS.. It is like programming with total hard wiring between GUI and business logic versus one with e.g. MVC, or MVVM WCOS has the potential to allow OEM developers the SDK to customize the window's look and feel in an unprecedented freedom. The WCOS behind Surface hub 2X is just the beginning of Microsoft's game changer to democratize a whole new generation of a family of mobile desktop PC (e.g. Andromeda) to disrupt the existing me too, same old mobile phone.

Unprecedented? Isn't that what they have with Android today? The ability to heavily customise Android so they have a unique device? Where is Microsoft today? They are so far behind right now, it would be nearly impossible to catch up. In 2+ years the gap will be so big whatever they launch needs to be mind blowing for anyone to pay attention. A docking phone is not that, especially since folding phones will be normal then.

Damn, sounds like a nightmare.

Microsoft needs WCOS on speakers, cars and drones, focusing on Enterprise only will give Android a huge advantage to dominate the Internet of Things.
Hopefully Microsoft after abandoning Mobile, can see that Internet of Things is much more than smartphones or smartwatches, there is a huge opportunity for consumers outside of Mobile.

Just bought webex boards for my company because i have no faith in MS's commitment.
Windows Central Newsletter
Thank you for signing up to Windows Central. You will receive a verification email shortly.
There was a problem. Please refresh the page and try again.