Microsoft Surface Hub 2X reportedly delayed and potentially may never ship
Slow development of Windows Core OS might cause the Surface Hub 2X to never ship.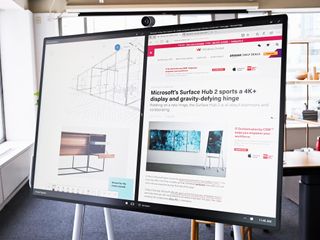 (Image credit: Windows Central)
What you need to know
The Surface Hub 2X is significantly delayed, and potentially cancelled according to a new report.
The Surface Hub 2X is the version of the Surface Hub 2 set to run a version of Windows Core OS.
The development of Windows Core OS might be the cause of the Surface Hub 2X's delay and potential cancellation.
Microsoft's upcoming Surface Hub 2X is significantly delayed and potentially cancelled according to a new report by Petri. According to Petri's Brad Sams, reports that people familiar with the company's plans indicate that the Surface Hub 2X is at minimum delayed, and potentially might never ship. Sams' sources also indicate that Windows Core OS, the operating system that powers the Surface Hub 2X might be taking longer to develop than expected, potentially contributing to the delay.
Last December, our senior editor Zac Bowden checked in on the status on the Surface Hub 2. In that report, Bowden states that the version of Windows Core OS that was built specifically for the Surface Hub 2X, codenamed Aruba, is cancelled. Bowden added that the Surface Hub 2X will ship with Windows 10X instead, though Microsoft might not refer to it as Windows 10X when on the Surface Hub 2X.
The Surface Hub 2X is the Windows Core OS variant of Microsoft's second generation Surface Hub. The Surface Hub 2X was shown off in a video by Microsoft with a lot of fanfare. Notably, that video is now missing from the blog post announcing the Surface Hub 2. In fact, Microsoft appears to have removed all assets and mentions of the Surfacae Hub 2X from the blog post.
Sams reached out to Microsoft regarding the device and received a response that does not directly address if the Surface Hub 2X has been cancelled or delayed. Instead, it focuses on the 85-inch version of the Surface Hub and an OS update to the Surface Hub.
Sams reports that the development of Windows Core OS could be the cause of the Surface Hub 2X's release. This lines up, at least in part, with our report from last year regarding the Surface Hub 2X. We've yet to hear from Microsoft regarding the Surface Hub 2X this year.
News Writer and apps editor
Sean Endicott brings nearly a decade of experience covering Microsoft and Windows news to Windows Central. He joined our team in 2017 as an app reviewer and now heads up our day-to-day news coverage. If you have a news tip or an app to review, hit him up at sean.endicott@futurenet.com (opens in new tab).
Microsoft's gonna Microsoft.

Looks like they need to hire more engineers to get WCOS (in all flavors) going. I feel sorry for all the companies that bought the Hub2 with the expectation that the upgrade enabling all the cool, promised features, would come soon enough.

This is a serious issue. Microsoft might be giving up on WIN Core OS, this could affect Surface Neo and other products like Hololens 2, or even the direction of Windows 10 in general. Right now, it looks like only Azure and Office 365 are the two most reliable products from Microsoft. It's sad while every other tech company like Amazon and Facebook are busy trying to innovate while Microsft is busy canning their products.

That sounds promising for Windows Core OS.

Not surprising, we have 2 of the 1st gens and they are simply limited in capabilities. Can only run select apps from the windows store. Its mostly used as a rdp client and a hdmi passthrough.

The limited selection of Store apps that will run on a Surface Hub will be because the Hub is a separate device class (family) that must be specifically supported by the developer of the app. The default configuration for a new UWP app in Visual Studio (last I checked) is to support all Windows device families except Xbox, but when most developers are not going to have a Hub to actually test their apps on, then why bother to go out of your way to target or support it when its just easier to have your app target PC only (as most UWP apps seem to do) or Xbox (as appropriate).

As someone that ACTUALLY OWNS the Surface Hub 2S, this thing is a complete failure. Cant install any software on it, Extremely slow, Cant mirror the display on DisplayPort (Its only extends which makes no sense if there is mouse attached as you cant not interact with the the displays), Can't add root CA's When I approached Microsoft and CDW there explanation was "That's just how it works, see the attached link" or "I don't understand your question". CDW REFUSED to take it back and wanted over $5K as a restocking fee! And get this, If you remove the module and the M.2 NVMe SSD and install windows via another machine, it will boot standard windows BUT it will prevent you from setting up the device. So it has the ability to just run normal windows but they have a EFI firmware block in place. Also Microsoft LIED about the screen rotating, They have locked that as well "until the new 2X module is released", Now tell me why you cant get screen rotation correct so you LOCK the rotation which was one of its stand out features. $9K down the drain, I will never allow us to buy another surface product again. This pure incompetence of Microsoft

What is the actual purpose of the Hub? When you bought it, what were you expecting to do with it? Assuming you used it at all, what did you end up actually using it for?

At this point it's not even business anymore. Microsoft is just incompetent as a software developer company. I still remember the times when that title was Apple's. Everyone mocked Apple how they can't write software and that Microsoft is the king of software and OSes. Then Apple just killed it. Destroyed it. Annihilated it on the software development front. MacOS, iOS, iPadOS, tvOS are more coherent with each other and seamless than anything Microsoft has ever dreamt of. Apple achieved "One OS" literally 10 years ago. And Microsoft are just incompetent noobs. Is Microsoft first on marketshare/usage in anything they compete in actually?
Azure -> second to AWS (by a lot)
Xbox -> second to PS (by a lot)
Bing -> second to Google (by a lot)
Edge -> distant N to Chrome, Safari, FF and even Opera (by a lot)
Mobile efforts -> come on...
.NET -> second to Java (by a lot)
Skype -> second to any other IM client (by a lot)
Outlook -> second to Gmail (by a lot)
OneDrive -> second to GDrive (by a lot)
Dynamics -> second to SAP (by a lot)
Windows Server -> second to RedHat (by a lot)
Movies & TV -> what the hell is even that??
Expensive laptops -> second to MacBooks (by a lot)
Expensive tablets -> second to iPad (by a lot)
Surface Headphones/Buds -> not even in the conversation
Market Cap -> second to Apple
Cash on hand -> second to Google Office and Windows NT are the only two things MS is leading, and both are 30+ years old products. Microsoft are the pure definition of pathetic

Second by market cap and second in cash on hand (to different companies)? Yeah, complete failure. Why bother? Any company that can compete in that many categories and have the second largest market share in each is absolutely killing it! If you think that any company can meaningfully and successfully compete in that many markets and not have some failed/canceled products along the way, you're wrong. The stats you mention speak for themselves. Are some of the losses disappointing and frustrating for fans and customers? They sure are. But I think the company is doing just fine.
Windows Central Newsletter
Thank you for signing up to Windows Central. You will receive a verification email shortly.
There was a problem. Please refresh the page and try again.