Microsoft may ship the Surface Hub 2X with a version of Windows 10X
It's been a while since we last heard anything about the Surface Hub 2X... so let's check in.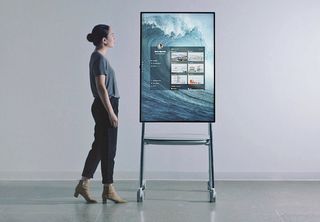 (Image credit: Microsoft)
Microsoft hasn't said much about the Surface Hub 2X, a product initially announced in May 2018 to much fanfare, since the announcement of the Surface Hub 2S in April earlier this year. Initially announced as a single product, the Surface Hub 2 was supposed to launch in 2019 with a brand new version of Windows 10 built on Windows Core OS, and ship with modern features and capabilities such as tiling, dynamic rotation, faster Windows Updates, and much more.
But later in 2018, Microsoft announced that this version of the Surface Hub 2 would now be coming in 2020 and that it was splitting the Surface Hub 2 into two product SKUs known as the Hub 2S and Hub 2X. The Surface Hub 2S has since launched and is a "lesser" version of the Surface Hub 2X without dynamic rotation, tiling, or any other OS enhancements enabled by Windows Core OS. This is because the Hub 2S ships with the same OS that the original Surface Hub is running today.
Microsoft's official reasoning for doing this is that customers wanted a version of the Surface Hub 2 running the old OS. While that may be true, the real reason this happened is because the OS being built for the Surface Hub 2X wasn't going to be ready in time for a 2019 launch. Codenamed Aruba, this is Microsoft's unique expression of Windows Core OS for collaborative displays like the Surface Hub 2.
I was fully expecting to hear more about the Surface Hub 2X at Ignite 2019, but there was nothing but radio silence on the subject. I mention this because at Ignite 2018, Microsoft gave us the chance to go hands-on with the Surface Hub 2X and its version of Windows Core OS, but that's the only time anyone outside of Microsoft was able to play with it. In every Surface Hub 2 related event since, the Hub 2X has not been present.
A change in OS experience
So, what exactly is going on here? Has Microsoft silently killed off the Surface Hub 2X? I've asked multiple contacts to see if I could get some insider knowledge on the whereabouts of the Surface Hub 2X, and here's what I found. According to sources, Microsoft has killed off the version of Windows Core OS it was building specifically for the Surface Hub 2. Aruba now joins Andromeda OS and Polaris as another deprecated version of Windows Core OS.
This is interesting, as what makes the Surface Hub 2X the X is the software additions enabled by Aruba and Windows Core OS. So what does this mean for the Surface Hub 2X? I'm told that the Surface Hub 2X itself hasn't been canceled, and will still be launching at some point in the future. But now, instead of launching with Aruba, the Surface Hub 2X will ship with Windows 10X instead. Windows 10X is another variant of Windows Core OS, codenamed Santorini.
Now, I don't know if Microsoft will actually call it Windows 10X on the Surface Hub 2X, but it is using the Santorini shell experience. Microsoft, for some reason, is hell-bent on selling Windows 10X as a version of Windows 10 for dual-screen devices only. This isn't true, of course, as Santorini was built from the ground up for traditional form-factors too, whether they be laptops or large displays. So Microsoft may decide to call it something else, who knows.
Either way, I'm hearing the Surface Hub 2X will be launching with Santorini instead of Aruba now. I don't know what this means for any of the unique Surface Hub 2X features that were announced back in 2018. I suspect those features will remain intact, as Santorini is still Windows Core OS under the hood. It's also worth noting that Aruba and Santorini were pretty similar to begin with.
I have a feeling we'll hear more about the Surface Hub 2X and Microsoft's plans in this area in early 2020. I don't know if Microsoft will go on record as acknowledging the fact that the OS has changed, as I don't think they need to. But I do wonder if this OS change means the Surface Hub 2X will be delayed slightly. In theory, this won't be necessary as Windows 10X itself is expected to be finalized in June 2020. I guess we'll have to wait and see.
Let's hear from you
What are your thoughts on this change for the Surface Hub 2X? Let us know in the comments.
Get the Windows Central Newsletter
All the latest news, reviews, and guides for Windows and Xbox diehards.