Microsoft Surface Laptop vs. Huawei MateBook X Pro: Which should you buy?
Interested in thin Ultrabooks? These two laptops should be on your shortlist.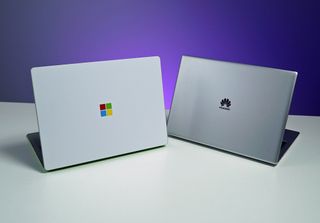 Huawei's MateBook X Pro is one of the finest new Ultrabooks to hit the market, and it's seemingly in competition with Microsoft's older Surface Laptop. They have similarly-sized touch displays with a 3:2 aspect ratio, they're both strictly clamshell notebooks, and they're similarly priced. If you're shopping for a new Ultrabook and love the look of thin, both of these should be on your radar. Let's compare the two to give you a better idea of which you should buy.
Surface Laptop vs. MateBook X Pro tech specs
Swipe to scroll horizontally
Category
Surface Laptop
MateBook X Pro
Processor
7th Gen Intel Core i5-7200U
Core i7-7660U
8th Gen Intel Core i5-8250U
Core i7-8550U
Display size
13.5 inches
Touch
13.9 inches
Touch
Display resolution
2,256 x 1,504
3,000 x 2,000
RAM
4GB, 8GB, 16GB DDR3
8GB, 16GB DDR3
Graphics
Intel HD Graphics 620
NVIDIA MX150 (2GB GDDR5)
Storage
128GB, 256GB, 512GB, 1TB SSD
256GB, 512GB SSD
Windows Hello
Yes (IR camera)
Yes (fingerprint)
Ports
USB-A 3.0
Mini DisplayPort
3.5mm audio
Thunderbolt 3
USB-C
USB-A 3.0
3.5mm audio
Battery
45.2Wh
57.4Wh
Dimensions
12.13 x 8.79 x 0.57 inches
11.97 x 8.54 x 0.57 inches
Weight
2.76 or 2.83 pounds (1.25 kg)
2.9 pounds (1.3 kg)
Surface Laptop vs. MateBook X Pro design and features
When it comes to looks and overall design, both of these laptops get high marks. The MateBook X Pro has an all-metal chassis that is resistant to scratches and scuffs, though it does look a bit dated (and looks a lot like a MacBook). The Surface Laptop has a unibody aluminum chassis available in four different color finishes, though it is more prone to scratches and dings because of the color coating. There's also the Alcantara fabric on the inside palm rest of the Surface Laptop, which while luxurious might not be exactly what you're looking for.
Surface Laptop is a bit lighter than the MateBook X Pro, though it also has a smaller display (13.5 inches vs. 13.9 inches). Both laptops are about the same thickness and otherwise have about the same dimensions, and both make a great choice if you're always on the go and need something mobile.
For ports, the Surface Laptop is rather limited, with a single USB-A 3.0, a Mini DisplayPort, Surface Connect, and a 3.5mm headset jack. The MateBook X Pro isn't exactly bursting with ports either, but it is slightly more future-proofed. You're looking at two USB-C (one with Thunderbolt 3), a single USB-A 3.0, and a 3.5 mm audio jack. If you have a lot of peripherals that you like to use at once, the MateBook X Pro will give you more options.
Windows Hello allows you to login in quickly using a scan of your face or fingerprint, and both laptops have the required hardware. Surface Laptop has an IR camera located above the display, while the MateBook X Pro has a power button and fingerprint reader combo next to the keyboard. Note that the MateBook X Pro's webcam is actually hidden in the keyboard, popping up from beneath what appears to be an F key. It's a cool way of adding a bit of privacy and a decent solution to the lack of room above the MateBook X Pro's display.
The keyboard on the Surface Laptop has a bit more travel, but don't count out the MateBook X Pro. They're both exceptional keyboards, and typing all day on either shouldn't be an issue. When it comes to the touchpad, however, anyone who likes them large will want to go with Huawei's laptop. Both use Precision drivers and both track properly, but the MateBook X Pro's is just way bigger.
If you often watch movies on your laptop, both laptops have up-firing speakers that deliver unmuffled sound. The Surface Laptop's speakers are actually located below the keyboard, while the MateBook X Pro's are located next to the keyboard. When it really comes down to it, the MateBook X Pro can pump out better sound.
Finally, if you're one to tinker inside your laptop, know that the Surface Laptop's internals are not accessible, at least not easily. Want to change out that solid-state drive (SSD)? You'll have to send it in. The MateBook X Pro, on the other hand, is quite easy to get into and has some replaceable parts, like the SSD, allowing you to save a bit of money now and upgrade later down the line.
Surface Laptop vs. MateBook X Pro display
Coming at you with a 3:2 aspect ratio, both of these laptops will appeal to anyone who likes a boxier display. You can see more on the screen because of its taller stature, and it sits between two of the other most common aspect ratios, 4:3 and 16:9. However, aside from the aspect ratio, these displays differ quite a bit.
Related: Why it's time for PC makers to embrace 3:2 displays
The MateBook X Pro has some of the thinnest bezels on the market around its 13.9-inch display, and with a 3,000 x 2,000 resolution, it's quite a sight. The Surface Laptop's 13.5-inch display gets close with its 2,256 x 1,504 resolution, though the bezels are far larger here than on Huawei's device.
Surface Pen (opens in new tab) support gives points back to the Surface Laptop, though how desirable that is on a clamshell laptop is really on a per-person basis. The MateBook X Pro also has a touch display, though there's no pen support.
Getting right down to it, either laptop will deliver near-perfect color and contrast. You should worry more about resolution, size, and bezel when buying, and also keep in mind the added bonus of pen support with the Surface Laptop.
Surface Laptop vs. MateBook X Pro performance
The "Pro" designation of the MateBook X really propels it in front of the Surface Laptop. It has 8th Gen Intel Core processor (CPU) options that have four cores, while the Surface Laptop is still using dual-core 7th Gen Intel CPUs. That's a big difference right from the start; if you're a heavy multi-tasker, four cores will go a lot further.
In both laptops you're getting up to 16GB of DDR3 RAM, and both have a few SSD options. The Surface Laptop is available with up to 1TB of storage, though it's using a slower drive. The MateBook X Pro has one of the fastest SSDs available, so if you hate waiting around, you'll no doubt want to check it out.
As for graphics, the Surface Laptop is stuck with integrated Intel UHD Graphics 620. This isn't awful and you can get away with a bit of light gaming, but the MateBook X Pro Core i7 model comes with a dedicated NVIDIA MX150 GPU with 2GB of GDDR5 VRAM. This isn't a powerhouse, but it's a significant step up over the integrated UHD 620, enough for medium gaming and some multimedia editing.
Finally, battery life in both laptops is similar. The higher-spec models will see a bit of a dip, but in any case, you should get through a full day on a single charge. Note that the MateBook X Pro uses an easier-to-find USB-C port for charging, while the Surface Laptop uses the proprietary Surface Connect port.
Surface Laptop vs. MateBook X Pro price
Thanks to low-spec options — 4GB of RAM, 128GB SSD, Intel Core m3 CPU — the Surface Laptop starts at a cheaper price of about $799 (opens in new tab). For an Intel Core i7 CPU, 16GB of RAM, and a 1TB SSD, however, you're looking at about $2,400 (opens in new tab).
The MateBook X Pro has a higher starting price about $1,200 (opens in new tab), but you're getting a Core i5 CPU, 8GB of RAM, and a 256GB SSD. For about $1,500 (opens in new tab), you can up those specs to a Core i7 CPU, 16GB of RAM, a 512GB SSD, and an NVIDIA MX150 dedicated GPU. Other than the SSD (which can be replaced later with something larger), the MateBook X Pro will offer more performance for a lower price.
Surface Laptop vs. MateBook X Pro bottom line
While these are both beautiful laptops, Huawei's MateBook X Pro seems to be the finer device. It has newer and more powerful performance hardware inside, it has a higher-res display, its ports are future-proofed, and it has an attractive (if dated) design. It's also available in high-end configurations for a lot less than what the Surface Laptop has to offer.
But don't count out Microsoft's Surface Laptop. It can be had for far cheaper as long as you don't need optimal performance, it has a more modern design available in multiple colors, it has Surface Pen support, and its display is undeniably beautiful. Either way, you should be happy, but you'll get a lot more laptop for quite a bit less money if you lean toward the Huawei.
More resources
Windows Central Newsletter
Get the best of Windows Central in in your inbox, every day!
Senior Editor, Laptop Reviews
Cale Hunt is formerly a Senior Editor at Windows Central. He focuses mainly on laptop reviews, news, and accessory coverage. He's been reviewing laptops and accessories full-time since 2016, with hundreds of reviews published for Windows Central. He is an avid PC gamer and multi-platform user, and spends most of his time either tinkering with or writing about tech.
Huawei seems a more sensible choice considering price/performance ratio. If cost is an issue, there are other options for $799 with better configurations. Overall, if I have to spend this amount of money, I would go for a convertible. I'd love to see a comparison among the latest premium convertible laptops, like X1 yoga, spectre x360, XPS convertible, etc.

I think MS should start leaning forward with the Surface devices and ditch all ports except Thunderbolt 3, 3.5mm audio, and the Surface Connector. It's not user hostile anymore, it's a simple matter of real estate prioritization and functionality at this point. And it would make them more future proof and aspirational like the Surface brand is supposed to be. 2 x Thunderbolt 3 > 1 x USB 3.0

Huawei's customer support is virtually non-existent in the US. It may be less expensive than the Surface, but it's still a pretty big chunk of money with no customer support. I'd go with the Surface just for peace of mind, especially when I also have a local MS store in my area.
Windows Central Newsletter
Thank you for signing up to Windows Central. You will receive a verification email shortly.
There was a problem. Please refresh the page and try again.