Huawei MateBook X Pro's infinity display puts the competition to shame
It may look like a MacBook Pro, but Huawei's latest goes beyond our expectations.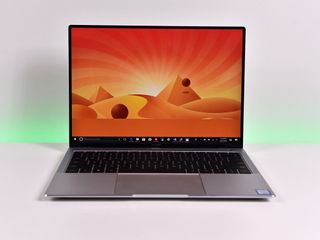 Nearly one year ago I reviewed the Huawei MateBook X a thin, well-built Ultrabook that had a 3:2 display and outstanding audio. Competing in the same class as the Surface Laptop I couldn't wait to see what the company did next.
Today, I have my answer in the form of the MateBook X Pro, a high-end, premium laptop that blurs the line between Ultrabook and performance laptop.
MateBook X Pro – What you need to know
If I had to position the MateBook X Pro it would be against the Surface Laptop, but with many improvements.
First, it's running a newer 8th generation Intel processor, which brings quad-core for multi-tasking, better thermals, and improved battery life. Toss in some outstanding audio in the form of four, Dolby-tuned Atmos speakers and a giant Precision touchpad and the MateBook X Pro is a blast to use.
Swipe to scroll horizontally
Category
Huawei MateBook X Pro
Display
13.9-inch 3K LTPS touchscreen
3000 x 2000 resolution, 260ppi
450 nit brightness, 100% sRGB color gamut
Processor
8th Gen Intel Core i5 8250U or Core i7 8550U
Graphics
NVIDIA MX150 + 2GB GDRR5 RAM
RAM
8GB or 16GB DDR3 2133MHZ
Storage
256GB or 512GB NVMe PCIe SSD
Ports
2x USB-C (1x Thunderbolt 3), 1x USB-A, audio jack
Connectivity
Wi-Fi 802.11ac 2x2 MIMO, Bluetooth 4.1
Audio
Quad-speaker array, quad-mic array
Battery
57.4Wh, up to 12-hour battery life
Dimensions
11.97 x 8.54 x 0.57 inches
(304 x 217 x 14.6 mm)
Weight
2.9 lbs (1.3 kg)
Unlike the Surface series, Huawei is not afraid of using a lighting fast SSD in the form of the latest from Lite-On resulting in 3,000 MB/s for read and 2,000 MB/s for write speeds.
Even the 14-inch 3:2 display with its 3,000 x 2,000 resolution manages 99 percent sRGB color accuracy (and a solid 77 percent AdobeRGB). And yeah, it's a touchscreen too with not a ton of gloss (there is no pen support, however).
For the display, there is a 91 percent screen to body ratio, with ultrathin bezels on all four sides. It's a stunning achievement and makes you wish all laptops looked like the MateBook X Pro.
I also had no issue with the colossal Precision touchpad, which had a good click and touch-accuracy.
The keyboard is excellent to type on with good travel and responsiveness. It reminds me a bit of HP's EliteBook series and is excellent for those who type a lot. The backlight works well too mostly due to the black keys with a white light gives excellent contrast.
There's also a fingerprint reader hidden in the power button, which is convenient. Huawei has it so that turning on the device it remembers your fingerprint, negating the need for a second press at the Windows login screen – it jumps into Windows.
Image 1 of 2
Finally, for ports, Huawei did a great job of balancing the modern (two USB Type-C; one is Thunderbolt 3) with a nod to the past (one USB Type-A), which in this thin of a form factor is commendable.
MateBook X Pro battery and performance
Powered by the 10W NVIDIA GeForce MX150 for a GPU the MateBook X Pro gets an impressive 41,593 for a GeekBench CUDA score. That's a significant bump over last year's 940MX, which only clocked in at 24,412, or the Intel UHD 620 at 23,080. While you won't be using the MateBook X Pro for gaming, it can handle platformers and casual games with aplomb and even get your foot in the door for first-person shooters at a lower resolution.
Battery life is also much better than expected. The 57WHr battery can easily get eight hours on a single charge depending on screen brightness (which auto adjusts). That screen brightness is perfect for everyday usage, but I did find at night it was overly aggressive making the display too dim for my liking. Luckily, turning off the auto-screen brightness in Windows settings is a snap letting me use the handy keyboard shortcuts to bring it to my taste.
Surprisingly, Huawei is also not doing a lot of throttling with the Core-i7 processor either, which even after 20 minutes of sustained usage under Intel XTU did not drop below 2.0GHz. That means the thermals are doing quite well and while you can hear the fan under heavy load – a whooshing effect – it was never annoying or distracting for regular usage.
MateBook X Pro: An excellent performer with few drawbacks
The MateBook X Pro is easily one of my favorite laptops right now mostly due to that 3:2 display with super thin bezels. Sure, the tradeoff is the clever webcam that pops up from the keyboard, but even then, it's a better webcam than most laptops!
The fundamentals – battery life, typing, display, and audio – are all well above average. Those speakers tell me that companies like Dell, HP, Acer, Lenovo, etc. are not trying hard enough. For those who watch movies or listen to music, the MateBook X Pro is one of the best on the market, period.
Where the MateBook X Pro falters is its dated metal unibody design. It's no mystery that Huawei copied the Apple MacBook Pro. Whether it's the keyboard, or the side-inhalation vents for cooling, or even space gray color scheme, the MateBook X Pro very much a replica of Apple's finest – just improved. There's now a Type-A port, better display, upgraded audio, and it runs Windows 10.
Is this mimicking a bad thing? If you are an Apple user looking to jump to Windows 10, well the MateBook X Pro is your device. You'll feel very comfortable making the switch with this laptop.
Nonetheless, when you see what HP and Dell are doing with their unique design languages for laptops, it makes Huawei look amateurish, even if it's executed well. Huawei has proven they have the engineering skills to make excellent, premium hardware. They need to now show it with an original design, for once.
Image 1 of 2
There is also the controversy around Huawei and security. Bloomberg recently did an excellent article about the company and where this fear comes from. I won't tell you not to buy this laptop because of this controversy, but it is something to be aware of. As an average consumer, it wouldn't stop me from using this laptop, but others may have concerns.
Putting that aside though and Huawei managed to make an excellent laptop running Windows 10. It's fun to use, lasts all day, and hits all the right notes. Sure, it may look like a MacBook Pro, but that doesn't mean the experience is any worse for it. Far from it. I now regularly use this as my favorite Ultrabook, mostly because I'm biased towards that display aspect.
Pricing is said to be over $2,000 for the Core i7 model (there's also a cheaper one with Core i5). I think that's a fair price for the quality of the hardware, which is even better than Surface in some areas. There is a prejudice that because Huawei is Chinese, it must be cheap, but that's not the case at all. While you'll pay a pretty penny for the MateBook X Pro, I think its worth it for the experience. The laptop just works with no bugs, and I had no significant complaints.
Exact pricing and availability are not yet known for the U.S. We'll update this review accordingly when it is made available.
Pros:
Amazing display that is color accurate.
Best-in-class quad-core Dolby Atmos audio.
Very good battery life and performance.
USB Type-A port and Type-C is a good balance for ports.
Cons:
Price may be off putting for some.
Looks like a MacBook Pro.
Odd webcam placement.
Windows Central Newsletter
Get the best of Windows Central in in your inbox, every day!
Daniel Rubino is the Editor-in-chief of Windows Central, head reviewer, podcast co-host, and analyst. He has been covering Microsoft since 2007 when this site was called WMExperts (and later Windows Phone Central). His interests include Windows, laptops, next-gen computing, and for some reason, watches. Before all this tech stuff, he worked on a Ph.D. in linguistics, watched people sleep (for medical purposes!), and ran the projectors at movie theaters because it was fun.
Wow this looks great! I have a surface laptop but really appreciate the power improvements this offers- may look at this down the road.

Great Review, I am looking forward to replace my Surface Pro 4 with the Matebook X Pro. The only concern I got is the fan. Is it possible to change the energy profiles? Is the fan always running, for example during browsing oder editing a Word document?

It has the same battery/power profiles as Surface e.g. better battery, recommended, better performance, or best performance, which all affect speed and fan noise. TBH, when just using for web or Word you don't hear the fans.

Huawei should make a convertible like the the Lenovo Yoga series. That would be a awesome. Huawei and Xiaomi are really making fantastic laptops.

Yep, Yoga 720/730 competitor will be fantastic!

Dan, How's this laptop for Lightroom/Photoshop work? I'm trying to decide between this, Dell XPS 13, and Surface Laptop.

Out of all three of those, this will be the best due to the GPU, which is lacking on the other two (and Surface Laptop is on a dual-core, 7th gen CPU).

Their logo doesn't look good. Maybe they should've only used the brand name

Agree. That's the one thing I hate about Huawei. They need to upgrade to stylish logo like HP did.

Their logo is fugly and screaming cheap. Need to upgrade to something more modern looking and stylish. Pricing is all wrong too. They might be big elsewhere, but are still an unknown here in the US with a questionable reputation in terms of security and no local customer support. Makes it hard to justify spending $2K on this laptop.

if you brought it in may- june then it would have been for the i7/16/512/mx150 $1500 and ontop of that $300 so why would you not buy that laptop?
customer support.... there is something called google and one hour of your time for 75% of windows problems
the other 20% required a restart, 10-15 seconds with this fast ssd, and then last 5 % your in trouble and privacy / security doesnt exist the government is spying on yu in the first place they know what your favourite porn is if your that cared swap the ssd for a new one and install a fresh copy of windows (then sell on ebay the old ssd) that would cost you $200 max

When matebook x pro is going to be available?

The price for the top model will be less than $2000.

@Daniel Rubino Sounds good and all but I think you gave that choice award out a little too loosely for this one. But guess what! It's your award to give out... I'm impatiently waiting for your dell xps 15 2 in 1 review

I cannot wait for the 15 2 in 1 review. I can't wait to get mine in my hands! yey! BTW, it can look like a macbook all it wants, as long as it does not work like a macbook. That would be bad!

DAMN this thing looks nice. Might need to get work to look at this for me instead of an Apple Mac.

Hi! Amazing to see all the latest tech in one well rounded laptop.
The price is steep but they've seem to have avoided cutting any corners.
Now about the SSD, RAM and battery... do you know if they are replaceable and easy to access?
I am curious specially about the RAM. Thanks!

Well that's a nice laptop. Clever and cute way to place that webcam, but nobody uses a webcam on a laptop now. (It's always better to have one though.) What's wrong with that shiny silver logo? I think it's not that bad as long as they don't use the old-fashioned gradient color design.

It looks nothing like a MacBook Pro. Even if it did, why would that be a "con"?

I have a MBP. It looks exactly like it. Maybe I'll throw side by side photos up on my Twitter later. They even have the same color schemes with space grey. As to why it's a con I actually talk about this is the video review quite extensively. I suggest you watch it if you really want an answer.

Daniel, Do you have the xps 15 2 in 1 yet?

It does not have an Apple logo. It is obviously running Windows 10. Macs do not have stupid "intel inside" stickers. There is no touch bar. The keyboard is completely different. Having sort of similar speakers, sort of the same color and a sort of large trackpad does not mean it looks "exactly" like a MacBook Pro. As far as throwing up on twitter, sounds like a good idea. I would throw up on it too if I could.

LOL you gotta be joking, it is a blatant MBP replica ripoff. It's sad to say, but I wouldn't buy this laptop for that reason alone :(

without the stupid touchbar and has a full touch screen, for that reason alone I WOULD buy it. Oh...running windows 10 is reason enough too!

which MX150 is it ... the 1d10 or 1d12?

I know I have picked on Dan here and there, but this seems pretty impartial. If I didn't already have a Surface Pro 2017 and didn't mind China spying on me, I would give this a look for reals.

Well I'd rather have China than the NSA/FBI

I did notice a shortcoming on my SP. I was working with photos, 152 photos, most over 1 megabyte. When trying to move them around in a simple slideshow, the SP had a hard time keeping up. The photo was stick/stutter as I was moving them around (drag and drop). I doubt this machine would experience the same problems.

Awesome written and visual review, I'm all in for 3:2 ideally with quality sounding speakers. On that note, there are some promising portables by way of the Lenovo X1 Tablet 2018 and the Acer Switch 7 Black Edition, would be happy to see some closer-look pieces on these!

That trackpad is gorgeous!😍

good Laptop but I buy the Surface pro LTE.

Hey Dan, this was one of the best reviews I ever watched! You covered all of the details I wanted to know. Device looks great and I don't have a problem with the fact that it is mac clone :P I have p20 lite which is also in some way iPhone X clone :P Anyway, I would definitely buy it, but that price range is little bit too high for me. For that money I am more confident in Microsoft Surface.

Huawei is good company. But they do a lot of high-end stuff In the China Market. If they get some sales outside China they cool with it.

I am waiting for the p20 pro to come to Canada. Supposedly Telus is getting it. It's the new 1020! Thank god someone to imaging really seriously in phones.

Oh, Just remember if you are an American wanting to buy this you will need to figure out if you need a tinfoil hat or not.

I don't like the web cam placement. If they could've made it pop out on top of the screen that would've been really cool.

Why is the webcam placement a con? You can't appreciate the body to screen ratio and at the same time complain about a different web cam placement. I think that position is genious. Looks like a Macbook Pro is also a weird con. If there are none except pricing, maybe don't feel the need to look for some?

If you buy now from Microsoft store or Amazon, you get an instant $300 gift card to that store. To make things sweeter, you can buy the i7 512gb 16gb Ram version from the MSFT store right now for $1,499 and they will not only give you a $300 store credit, but you can also use a student or parent discount and get another $150 off. That's essentially buying the top model for $1049 which is silly cheap! I am getting one this week and getting rid of my surface pro, that while great, lacks a bit in power and screen size.

As an extra bonus, the Huawei comes with secretly embedded spy dots.. according to Bloomberg.... :-D

Almost a year later, is it still worth the buy? Or is there a newer revision coming?
Windows Central Newsletter
Thank you for signing up to Windows Central. You will receive a verification email shortly.
There was a problem. Please refresh the page and try again.