Surface Laptop vs. Surface Pro: Spec showdown and form factor wars
By Jez Corden last updated
Microsoft just unveiled the new Surface Pro with shiny new internals and an array of upgraded features.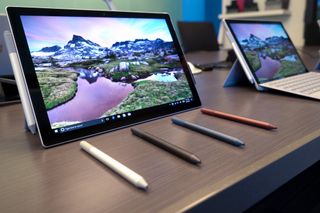 The 2-in-1 tablet form factor remains a divisive point, so much so that Microsoft recently unveiled a classic Surface Laptop clamshell for people who find the Surface Pro's hybrid configuration a little off-putting.
Still, I'm of the opinion that the Surface Pro remains a great option, even with the clamshell configuration now available. But is it right for you? Let's discuss the "pros" and cons (see what I did there? Pros?... sorry.)
Tech Specs
Both the Surface Pro and the Surface Laptop are incredibly similar on the inside, but there are a few differences worth noting. We've highlighted in bold when a device wins the spec battle.
| Category | Surface Pro (2017) | Surface Laptop |
| --- | --- | --- |
| OS | Windows 10 Pro | Windows 10 S (upgradeable to Pro) |
| Screen Size | 12.3 inches | 13.5 inches |
| Screen Resolution | 2736 x 1824 (267 ppi) | 2256 x 1504 (201 ppi) |
| Processor | 7th Gen Intel Core m3, i5, i7 | 7th Gen Intel Core i5, i7 |
| RAM | 4GB, 8GB, 16GB | 4GB, 8GB, 16GB |
| Graphics | m3 and i5: Intel HD 620; i7: Iris Plus 640 | i5: Intel HD 620, i7: Iris Plus 640 |
| Storage | 128GB, 265GB, 512GB, 1TB (SSD) + microSD expansion | 128GB, 256GB, 512GB |
| LTE Option | Yes | No |
| Rear Camera | 720p | None |
| Front Camera | 1080p (With face authentication) | 720p (With face authentication) |
| Ambient light sensor | Yes | Yes |
| Accelerometer | Yes | No |
| Gyroscope | Yes | No |
| Ports | Full USB 3.0, Mini DisplayPort, Surface Connect, headset jack | Full USB 3.0, Mini DisplayPort, Surface Connect, headset jack |
| Speakers | Stereo speakers, Dolby Premium | Omnisonic speakers, Dolby Premium |
| Height | 11.5 inches | 12.13 inches |
| Width | 7.93 inches | 8.79 inches |
| Thickness | 0.33 inches (without keyboard) | 0.57 inches |
| Weight | 1.69 pounds (without keyboard) | 2.76 pounds |
| Battery (listed) | 13.5 hours | 14.5 hours |
| Price | $799 to $2,699 | $999 to $2,199 |
Both the Surface Pro and Surface Laptop utilize the latest processors from Intel, but the Surface Pro comes with an m3 option for those looking for something even cheaper. Interestingly, the i5 version of the Surface Pro is, like the m3, fanless in design, which means it will be practically silent compared to its i7 counterpart. Every version of the Surface Laptop is equipped with a fan, though we've yet to spend any time with either the new Surface Pro or the Surface Laptop in an isolated and quiet setting where we could put them under load and see just how noisy the fans are.
Previous Surface Pro models have struggled with throttling due to heat generation. Kaby Lake Intel processors could go some way to improve the situation, but if you'd prefer peace of mind when it comes to thermals, the Surface Laptop might be a better bet. But this is, again, something that's hard to judge without a thorough analysis.
In any case, both devices should perform similarly, with the Surface Laptop edging the Surface Pro into second place when it comes to battery life. Part of that, however, might be due to Windows 10 S, which blocks Win32 programs like Chrome which are known to impact battery life.
Windows 10 S vs. Windows 10 Pro
The Surface Laptop comes with Windows 10 S, Microsoft's new super-secure OS locked to the vetted Windows 10 Store. It is upgradeable for free until the end of 2017, giving you access to the full compliment of Win32 programs on the market: Steam, Adobe CC, and beyond. After 2017, it will cost around $50 to purchase a Windows 10 Pro upgrade license, which is still cheaper than usual.
The Surface Pro comes with Windows 10 Pro as standard, because Microsoft expects it to be used by professional artists who rely on programs like Clip Studio and Adobe Photoshop. I think Microsoft missed an opportunity, though, at least with the fanless m3 and i5 versions, as I feel these would make for pretty great tablets with Windows 10 S, but perhaps that's for another discussion.
Because Windows 10 S is so easily upgraded, it shouldn't really factor into your purchase decision between the two devices, but if you're a student simply looking for a standard clamshell that will run Office programs and a web browser efficiently, the Surface Laptop is a safe bet even without the upgrade to Windows 10 Pro.
That said, students will probably get far more out of the Surface Pro for note taking, due to its form factor.
Form factor wars
While the Surface Laptop supports inking, it's not something you'll enjoy doing. The screen doesn't tilt back nearly as far as the Surface Pro, and being a laptop you can't quite curl up with it in a chair and draw. Expect to use inking on the Laptop more for utilitarian purposes — signing and annotating documents, for example — than artistry. If you intend to make extensive use of the pen — sketching, drawing, taking notes by hand, etc — then the Surface Pro tablet is a great option.
The Surface Pro's kickstand/tablet configuration is oft-criticized as having poor "lappability," i.e. it's difficult to use on your lap like a, well, laptop. The kickstand has been improved yet again with the new Surface Pro — it's more stable for lap-typers and more flexible for artists that want to fold it back nearly flat (a full 165 degrees). This will work well with the newly supported Surface Dial, another huge boost for artists.
Price
This is where things get a little complicated. The price listings for the Surface Pro only include the tablet. No keyboard, and no pen. The keyboard alone adds $160 to the equation, throw in the new tilt-shifting pen (which we expect to be $100), and a Surface Dial ($100), and that Surface Pro starts to look extremely expensive by comparison. If you want the Surface Pro form factor, chances are you're going to want at least the pen and the keyboard.
The 512 MB, Core i7, 16GB RAM Surface Laptop costs $2,199, the same as the Surface Pro. Throw in the keyboard cover and pen, and the Surface Pro becomes $2,459, which is a significant bump. If you're spending money at the high-end, an additional $260 might not bother you so much, but if you're going for the lower-end devices to save money, it's something worth considering. You're going to have to really want that Surface Pro drawing, inking configuration to justify the extra costs.
Which is right for you?
The new Surface Pro and Surface Laptop are mostly evenly matched on specs and are fairly close in price. It comes down to a matter of form factor, and that's a debate for the ages. If it's art or handwriting or flexibility that's your draw, then the Surface Pro's 2-in-1 tablet design is likely the best for you. If you're planing on doing a lot of typing — or simply have no need for digital inking in your life — the Surface Laptop should rank higher on your list.
Of course, there is Surface Book to consider as well, artfully bridging the divide between the tablet and laptop. Though right now, after the unveiling of the Surface Laptop and new Surface Pro, the Book is comparatively out-of-date when it comes to the chips inside.
For now, let us know your thoughts on the laptop vs. 2-in-1 hybrid war in the comments below. Which would you rather get?
Jez Corden is a Senior Editor for Windows Central, focusing primarily on all things Xbox and gaming. Jez is known for breaking exclusive news and analysis as relates to the Microsoft ecosystem while being powered by caffeine. Follow on Twitter @JezCorden and listen to his Xbox Two podcast, all about, you guessed it, Xbox!
The Surface Pro is better. Its Lighter, better screen (also sharper); thinner; i5 is without the fan; cheaper; better camera; Micro SD slot, and its a Tablet (that can easily replace your laptop)

Oh god the Surface Laptop doesn't even have expandable/removable storage? What a piece of crap. The Surface tablet is obviously better than the laptop version. If the Surface Laptop had a detachable display and came with a full OS like the Surface Book I think it could've been a pretty good product. At the very least Surface Laptop should've been able to flip over like a Lenovo Yoga and every other modern ultrabook. The fact that this is the first "Surface" device that you can't use as an actual surface to work on is a huge branding fail for Microsoft.

I agree that the Surface Pro is better. but it is most definitely not cheaper. The Core M3 is $100 cheaper without the $159 type cover (=$60 more). When you price comparable i5/4gb/128gb devices with the type cover, the Surface Pro is $159 more expensive than the Laptop.

A comparable tablet with a detachable keyboard should be more expensive than the laptop, isn't it? That's why the Surface Laptop is targeted at students who need those power but not blow their money on tablet features.

If you think about the price difference (150-200) in the long term (duration of device: 2-3 years), is not that big factor. For me the biggest gap in favour of Surface Pro are the SD card, natural pen support and mobility factor.
Not sure why i5/16GB and i7/32GB configurations are not available. These are the best for 'real' pros like architects, developers, designers.
My company is in the process of replacing several thousands desktops with mobile devices. Surface Pro is considered as well. However, Dell's XPS 15 will win the order because offers above configurations.
I really don't get it. Nowadays, memory is so cheap. All Surface devices should come with min 8GB. That's win-win for everyone.

In the opinion, if you like something like Surface Pro then buy it, prices never matter in our choices to buy something, But I would suggest better to wait and watch first to see people review on buying this. read my article on techbyday blog.

is not the normal i5, is the kaby lake former called core M5...now called i5

SP 2017 doesn't have pen in package for i5/i7 versions?

They increased the price of the pen for the new version? I thought they were $59.99 in the past.

Yep. New pen is 100$ now.

Missed that pen is sold separately - and it is clearly mentioned in store, but price wasn't announced yet. Do you have a link? It is pity that new device comes without pen and there is no noticeable change in price. I was ok to add $150-160 for keyboard and have really good 2-in-1 device where pen was nice bonus to SP3. But now it looks less attractive than before. If I'll go to change SP3 to new device I'll still prefer Surface Pro over Surface Laptop, but most likely won't buy pen. It is interesting if there will be i7 LTE versions and price difference for LTE. Have you seen any info on this?

You can still buy a Pro 3 or 4 Pen to go along with the Pro 5. You'll just be limited to either 256 or 1024 pressure points instead of 4096.

Where do you find the price. Preorder soon greyed out for me on the US store.

Honestly, the prices are getting ridiculous. They cut the M3 by $100, but didn't for the i5 (probably gonna be the most bought model) and i7s. In the pre-order section you can't access the normal Surface Type Cover, so it's the $100 Surface Pen + $160 Surface Alcantara TC = +$260. I get that MS is trying to "not compete" with their OEMs, but why is it always price-hiking every year.

To hard to choose I'll just get both. I am sure Dan will. My SP3 i5 256GB has been perfect for work but I like the idea of the laptop for home use even though the Pro is better for consuming media. So confused 😖

The choice is simple. If you like the tablet feature get the Pro. If that is not important to you get the Laptop.

If you have the money to buy both, you'd be better off buying a Surface Book with Performance Base instead.

I did contemplate that Monty but don't like having to detach and turn around the screen to convert to tablet mode. Oh and I do "mind the gap".

Have you considered the Brydge Surface Pro keyboard. Now with improved battery life, this William make the Surface Pro the ulitimate device until Microsoft can make there own solution. I think the Surface PRO 5 will be this. The convergence of the book and the pro.

Cool reminds me of the Clam Shell for iPad.
I guess that has an aftermarket attraction but for me it defeats the form factor that Microsoft have achieved with the Surface. This makes it thicker, bulkier and adds more weight.

You'll still get the best of both worlds with the Book. It's also quite SF looking. Plus cheaper than both a Pro 5 and a Laptop.

Microsoft needs to get over it's Apple envy. They're ahead of Apple with Surface Studio, Surface Pro tablet, and Surface Book. The 2-in-1 form factor has killed the iPad and Mac. Apple fans have never been more frustrated and angry with their company. The Surface Laptop just makes Microsoft look like they are more comfortable being followers rather than leaders in this industry. Windows owns the 2-in-1 category and the touch screen PC market. Microsoft should be more proud of what they accomplished and stop second-guessing themselves with the form factors of yesterday. Surface Laptop was a huge misstep that only makes Apple look less ridiculous than they actually are.

Disagree, the laptop completes the Surface family for this screen size and there is now something for everyone.

Basically yes. But there would have been really two form factors that are needed much more: Surface Phone and something arround 8-10" as counterpart to Samsung Note and iPad Mini.

I went to a MS Store and tried both SP and SL and they are both very nice designs. You can preorder without a commitment to actually buy when they are available. An aside: The reason I had to go to the store is that my Surface Dock for my SP4 failed after one and a half years and I had to buy a new one. No good at all. If fact I am pretty irritated. I was offered the Student (10%) discount but when you add Jerry Brown Sales Tax it was still $200. The Dock should be functioning for years and there is not any excuse for this poor quality. The failure was the PS part (15V) and you can't fix it or buy just the part.

Surface devices and components such as their dock should include minimum 2 yr mfg warranty.

Surface Pro all the way, I like inking and I prefer tablet form factor for browsing on the couch.

Where are you Surface phone? You are the only missing member of the growing Surface family...

When it's ready, unfortunately.

I don't think waiting to release an ungimped device is unfortunate

There is no such surface product.

I'll probably go for the laptop since I'll be doing a good amount of typing. Hopefully the Surface Phone will satisfy my tablet needs when it finally gets here. With my desktop, laptop and a phone/tablet I should have a winning combination.

Pro for me. Having a Surface 3, It's just not possible to go back.

Loving my Surface 3 too! If they are not launching an upgrade to it, I will have to go for the Pro, though I love the size of non-pro. I think they will release it on ARM though.

Do you mean go back to the Surface 2? :-P

Really agree with you on the Windows 10 S on the Surface Pro m3. Was thinking exactly the same the other day. Actually I think that even the i5 4GB one could also come with Windows 10 S. I personally love my SP4 i7 and was really hoping the new Surface Pro would have a bit larger screen as it feels really small when I need to spend hours at uni working on assignments. But, given that it didn't happen and given that the new Surface is now overall more expensive, I'll be probably going for the Surface Laptop.

If you need the screen real estate, Yes I agreed the laptop is made for you. That's probably why they target Uni students.

I'd love a Surface laptop with a 15" screen. I struggle to use something smaller

Oh mate. I so feel you! I used to have a Macbook Pro 15" and I then came down to 12.3" on the SP4. I find it really small sometimes. A 15" Surface Laptop (maybe 16:10 aspect ratio) would definitely make me a very happy boy :)

What if I told you: Lenovo Yoga 720 15" or the HP Spectre x360 15" (2017)--both have N-trig Pens, I think.

I would buy another device from the Surface Pro family. The Surface Laptop looks gorgeous, but I'm just too accustomed to be able to whip out the pen and draw or write on my (ageing) SP3. I'd miss being able to do this for my engineering work, note taking and the occasional doodling. Also, I'm in love with the kickstand, mostly for its aesthetics, but also stability (no wobble ever!).

Pro. And there is a typo, screen size should be 112.3 inch instead of 12.3 inches 😂

I want info on the new surface arc mouse!

Same here. I'll likely get a SP with a burgundy type cover and I'll be wanting the matching mouse.

I am disappointed that the Surface Laptop does not accomodate the pen better. Regarding the Surface pro, I continue to think MS is missing the boat by not haveing wifi connectivity for the keyboard. (as well as a phtisical connection.) I use AutoCAD with both pen and keyboad entry. If the keyboard is connected it is in the way. If it flippd under, it is out of teh way, but a second keyboard is needed.

There's certainly an argument to be made for a wireless keyboard but then you need to keep it powered, which the Type Cover doesn't need. I guess that's a point in favour of the keyboard being sold separately, so you can by a wireless third-party one if it suits you better.

At this point I would take the Laptop because that's the form in which I'd use the Pro in because it's too big (FOR ME) to use as a tablet. If I'm gonna use something it'd rather use it in its uncompromised state. That alone would lead push me towards a the Laptop

210,000 (in Indian Rupees) for the Surface pro i7, 16gb and 1tb ssd version along with the keyboard and pen- no one is going to buy this crap with so many bucks. Aftrall more Indians work in NASA,as compared to Americans.... 😂😂

It's the Pro for me, that pen and tablet form factor is extremely important, I couldn't care less about lapability since I do all my 'real work' at a proper desk (and with a powerful desktop workstation) anyways. When on the go, the Pro is good enough since the best I'll be doing is only lightweight stuff anyways. I have recently observed that I'm either using my workstations when at home or at work, or I'm using my tablet for notetaking, drawing, sketching designs etc. (this is mission critical in my case, I can't live without OneNote!). Somehow, my laptops are just idle these days, I'm even thinking of selling them. Desktops+SurfacePro seems to be my winning combination. Pro all the way.

oh weird, book and pro allow for storage expansion, but they didn't put that on the laptop

Good morning, I asked a Microsoft employee on the Microsoft's website chat and he told me the surface laptop i5 version does not come with a fan, are you sure it has one ?
Thank you!

The Surface Pro is the better device for me to use because i like to do some Computer graphics work. Microsoft should increase the screen size of the Surface Pro Tablet/laptop hybrid to 14 inches and the Surface laptop to 15 inches .
Windows Central Newsletter
Get the best of Windows Central in in your inbox, every day!
Thank you for signing up to Windows Central. You will receive a verification email shortly.
There was a problem. Please refresh the page and try again.