Moko's version of the Surface Pro 3 and 4 Type Cover is a must buy
Get a great typing experience on your Surface Pro at a much lower cost than Microsoft's own keyboard.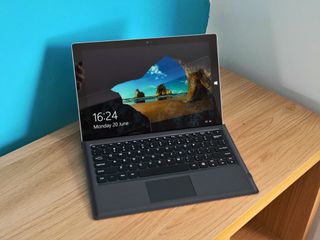 If you want to get the best out of your Surface Pro then you really need to be using it with a keyboard. It's a great tablet, but you're underutilizing it if you just use it as you would any old tablet.
Microsoft has the Type Cover, an excellent add on that protects your screen, looks great and gives you a decent keyboard to type on. But it's quite expensive.
This alternative from Moko is quite similar to Microsoft's Type Cover, but at a much lower cost. If you're looking to save a few bucks, it's worth checking out.
One immediate difference is how the Moko cover connects to the Surface. It uses Bluetooth, which means it has an on-board battery, too. It should be good for 60 hours of continuous use, which isn't bad, and as it uses a standard microUSB cable to charge, you can actually just hook it up to the USB port on the Surface.
It connects to the tablet in the same way as the Microsoft cover. It's got the two little notches to attach into the corresponding holes on the Surface and magnets keep it firmly in place. The back of the cover is felt all over, which is soft and grippy for when you're carrying it around.
Because it's Bluetooth, though, you don't have to have the keyboard connected physically if you so wish. But if it is, you can prop it up at an angle, just as you can with the Microsoft option. This seems more comfortable to me.
The cover will also trigger the sleep mode when you close it over the display, so long as you've got that set up in Windows 10. The keyboard itself is a nice size, the keys seem a little smaller than on the Microsoft version, but they're well spaced out. It's mostly a wash over which is better to type on, but given the price of the Moko, it gets the nod here, I think.
The palm rest is soft-touch, so no greasy plastic to get all sweaty, and there's a good-sized if underwhelming trackpad. If you're going to use a mouse, which I'd always recommend anyway, it won't bother you. It does support gestures, but I've found it to be unresponsive at times and slow to react to them when it does anything.
Best bet is to use the money you save to buy something like the Arc Touch Mouse (opens in new tab).
All told, though, this is a great accessory for your Surface Pro 3 or 4 at a great price. There's also a version with a backlit keyboard for not a lot extra, if that's preferable. No offence to Microsoft, but when you can get this at the price you can, I can't recommend going for the official cover over this.
Charging it and using Bluetooth instead of a physical connection is a mild annoyance compared to the cost savings involved. Especially when you get mostly the same experience.
See at Amazon (opens in new tab)
Windows Central Newsletter
Get the best of Windows Central in your inbox, every day!
Managing Editor - Tech, Reviews
Richard Devine is a Managing Editor at Windows Central with over a decade of experience. A former Project Manager and long-term tech addict, he joined Mobile Nations in 2011 and has been found on Android Central and iMore as well as Windows Central. Currently, you'll find him steering the site's coverage of all manner of PC hardware and reviews. Find him on Mastodon at mstdn.social/@richdevine
The Amazon link says it's currently unavailable, with no expected return. How much did this cost when it was still available?

Yeah, they never mentioned price.

We do that on purpose in case someone finds this article a week later and it changed.

Looks lite it costs about $40-50 according to reviews. "Besides this issue, I am satisfied with this keyboard since it saves me about $100 bucks to get the M$ type cover" (Source: https://www.amazon.com/review/RPL2TGFY7HZ6L/ref=cm_cr_dp_title?ie=UTF8&A...) "Great value and quality for only 40 and some change $ ...Don't be afraid to buy this it is well worth it
Money well spend"
(Source: https://www.amazon.com/review/R2371IQCOUB514/ref=cm_cr_dp_title?ie=UTF8&...

Yeah I see it's not available now on the Amazon link. I'd be super interested to know the price also.

In the UK it starts at £22.99 just to give you an idea. Although the pound has took such a battering after Brexit that's probably about $5 now

the numpad feature is what intrigues me. since the surface is so small that it can't support a full-size keyboard it KILLS me that they didn't at least make one work with the FN keys like this one does. it's the only reason I will not buy another surface.

If it had a fingerprint reader I'd give it a try.

One immediate difference is how the Moko cover connects to the Surface. It uses Bluetooth

Pass

Don't forget a BT cover has its advantages. I could use this for my Compute Stick, for instance. Or I could use it on the Surface but at a distance/different angle depending on my setup. Just saying, BT keyboards have pros too.

Indeed, relying on the Surface's world's worst WiFi/Bluetooth Avastar chip does not put it in the plus column.

If you actually use the Surfce pen for drawing, an attached keyboard is in the way. I use AutoCAD so even when drawing and using on screen icons, a detached keybord is great for shortcuts and tyoing text.

Note: From the Amazon reviews it looks like this has a US keyboard layout. Most people won't mind that but something to consider for UK buyers. You know this doesn't look bad for £22.99 or £27.99 (With LED backlight that the colour is changeable). I don't like typing on the Pro 3 touch keyboard tbh, and I have been considering a Pro 4 keyboard since it's so much nicer but this might actually be worth a punt. With it being Bluetooth it could be good to have a KB that can be used with various devices (one at a time) like connected it to my phone.

THIS is why the type cover is sold seperately. Sweet!

Yes. For many uses there are betteer and less expensive options.

This should work with a Surface 3. The 4 covers works with it.

The description on Amazon says it does not work with the Surface 3.

I am just too in love with the SP4 keyboard... it's not comprable.

I am super surprised that this wasn't just the way the first party type cover worked. It would be great.

Does Moko also have a Surface 3 keyboard as well?

For those of us not in the US, it'd be nice to have more of a lead than the Amazon link to an unavailable product. Great review - it'd be nice to know if this is just an American Amazon thing or if there's a company website who actually makes the product as it's hard to find any mention of the proudct elsewhere on the internet.

The product is not available in the US either. Maybe they got a cease and desist from Microsoft or something...

I'm in the UK and ordered it from Amazon.

There's something about that in the post.

I haven't been able to find the backlit keyboard. I actually need one of these as my keyboard port is dead (the rest of the sp3 is fine). I was looking at this keyboard a few weeks back but didn't pull the trigger on it. I'm glad you guys reviewed it.

It looks from the pictures that the magnet strip is the same as the Surface one. Does it feel sturdier, or are the magnets not as strong? I had to stop using mine after the magnet's strength pulled the strip off the keyboard. The plastic strip isn't really held on by much, it's just glued on.

so many companies copying the surface devices. is there like no design patent on Surface?

The Surface are reference designs by Microsoft to show OEMs what designs enhance the OS. Microsoft wants teh OEMs to copy the design ideas and epand on them. The Surface is a premium device at aSuper remium price. Thast is a a premium price jacked uo to an enev higher price to allow OEMs to create similar devices priced lower that the Surface.

I just want a Wireless adapter for the regular Type Cover. I don't want to rely 24/7 on Bluetooth, especially as I already use my Bluetooth wireless headsets (Jaybird BlueBuds X) most of the time....