The Surface Pro 3 is taking off with more commercial pilots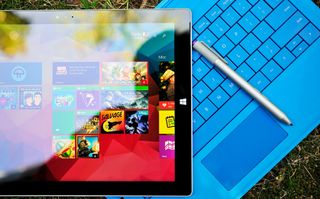 A new report says that Microsoft's Surface Pro 3 tablet is being used more and more by pilots of commercial aircraft to replace the standard flight manuals.
Recently both Austrian Airlines and Lufthansa announced their pilots would start using the Surface Pro 3 in their cockpits, with their own flight software installed.. In an article on AINOnline, the author notes that some Surface Pro 3 models used by pilots have the Jeppesen FliteDeck pro software pre-installed. A version of the same application is available on the iPad. The article states:
A spokesperson for Jeppesen says they "will continue to harmonize capabilities between iOS and Windows 8 and we will also introduce capabilities unique to the Windows platform, such as taking advantage of a USB interface." The article adds that Jeppesen may release a stand alone Windows version of its FlightDeck Pro software for use by corporate jet pilots.
Source: AINOnline
Windows Central Newsletter
Get the best of Windows Central in in your inbox, every day!
When I read "pilot" I thought you meant Microsoft was testing a Surface tv show.

I thought about TV shows too ahhhaha
I'm currently binge watching Teen Wolf and the season I'm currently on features Lumia 1020 (they actually show the interface in use of Lumia camera) and also saw a desktop Windows 8 start screen.

I work in the TV industry and I had almost the same responce, I was like Commercials don't have Pilots. I was so confused for a sec.

I focused on taking off and immediately knew it was about cockpit

Then tell them to release MFD for Surface for us Cessna drivers!

With or For? Big difference.

With. I work for Boeing. Boeing owns Jeppesen. I work with Jeppesen engineers on their project.

Those were my exact words yesterday... "The Surface Pro 3 is taking off"
........
See what good marketing does...

We're trialling them with the RAF currently.

I believe he means the Royal Air Force. (England's Air Force)

I do. UK RAF Typhoon/Tornado squadrons.

The airlines that keep crashing need the surface pro 3

A "Find my tablet" feature would've come in handy a few times...

The App might crash on the ipads too.

he's talking about the airplanes crashing, not the apps. he is trying to be funny.

As a pilot I hope they add more weather apps with metar tag and notam support. GPS capabilities are a must too. I really dont want to get a iPad but Microsoft need to get more

GPS is the one feature I wish was on my SP3.

I hope they will bring the vfr and ifr approach charts library for GA to Windows too! And as side note, a proper touch-aware version of SkyDemon would be nice! Although my plane has a G1000 it's so easy for flight planning and submitting FPLs.

They should take advantage of the desktop and pen to make more powerful software (that ARM devices can't handle) for the versatile Surface Pro 3.

They are giving those things away with nice discounts to Microsoft partners. Could this mean there is an update on it's way?
Windows Central Newsletter
Thank you for signing up to Windows Central. You will receive a verification email shortly.
There was a problem. Please refresh the page and try again.