Surface Pro 3 grabs huge January firmware update, new HD graphics driver and more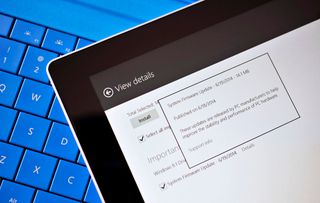 Microsoft is pushing out new firmware for all three Surface Pro devices
Patch Tuesday came and went this week without anything additional for the Surface Pro 3, however, late tonight a new firmware package did go out. Additionally, Surface Pro 2 and Surface Pro owners are also getting some new firmware, though not as comprehensive as the one for the Surface Pro 3.
Microsoft has published the full details of the firmware bundles, which includes many new additions, including new HD graphics drivers, some Wi-Fi connectivity fixes when using Hyper-V and more.
Surface Pro 3 System Firmware Update – 1/15/2015
Surface Pro UEFI update (v3.11.450.0) adds support for updated HD Graphics Family driver.
HD Graphics Family driver update (v10.18.14.4029) enhances display stability and performance, improves user experience when using Miracast adapters. Improves compatibility with DisplayPort monitors and daisy chaining.
Wireless Network Controller and Bluetooth driver update (v15.68.3073.151) addresses connectivity issues while Hyper-V is enabled. Adds an advanced feature to control the 2.4Ghz and 5Ghz band preference.
Surface Home Button driver update (v2.0.1179.0) ensures compatibility with the Surface Hub app.
Microsoft Docking Station Audio Device driver update (v1.31.35.7) improves the user experience while using the Surface Pro 3 Docking Station so that sound is available when a speaker is not connected to the docking station.
Probably the biggest change for users will be the new HD Graphics Family driver, which is not quite the same as the one people were manually installing months ago (this is newer) but it is not quite as new as the latest ones from Intel, version 4080 (not approved by Microsoft). Still, users should see a boost for Miracast and DisplayPort usages.
The other tweaks and fixes are also quite larger, with new Docking Station Audio Device drivers, fixes for Hyper-V connectivity problems and a new Surface Home Button Driver update.
To get the latest firmware, head into Settings > Change PC Settings > Update and Recovery. The download and installation of the firmware is surprisingly light in terms of size and time.
Additionally, the Surface Pro 2 and Surface Pro line are also getting new firmware tonight:
Surface Pro 2 System Firmware Update – 1/15/2015
Surface Pro UEFI update (v2.05.0150) improves the PXE boot experience with the 1 gigabit Surface Ethernet Adapter and further enhances the system security.
HD Graphics Family driver update (v10.18.14.4029) enhances display stability and performance, improves user experience when using Miracast adapters. Improves compatibility with DisplayPort monitors and daisy chaining.
Surface Pro System Firmware Update – 1/15/2015
Surface Pro UEFI update (v1.7.50) further enhances the system security.
Download the updates and let us know in comments if it improved your Surface!
Source: Microsoft (opens in new tab); Thanks, Markus C., for the tip!
Windows Central Newsletter
Get the best of Windows Central in in your inbox, every day!
Daniel Rubino is the Editor-in-chief of Windows Central, head reviewer, podcast co-host, and analyst. He has been covering Microsoft since 2007 when this site was called WMExperts (and later Windows Phone Central). His interests include Windows, laptops, next-gen computing, and for some reason, watches. Before all this tech stuff, he worked on a Ph.D. in linguistics, watched people sleep (for medical purposes!), and ran the projectors at movie theaters because it was fun.
Wish there were more for standard RT.

Im sure they'll be minimal updates since RT is being phased out.

2371,- $ for a tablet and then add a 160$ keyboard . And did they even fix throtteling ??

Talking about previous heat issues. He also says that the price is too high, and uts being sold without a equally expensive keyboard.

Have had no heat issues on either of ours nor did I pay 2371,- + 160 $ (whatever that actually means) (not even for the i7/512 model I use myself).

That is the price in Denmark

It's certainly not 1600kr. You can pick up the i3 one for 6500kr which is $880. Nice try, but not even the most expensive one costs $2371.

It's a full PC, that can function as a PC.

Great job from Microsoft Team,One Experience hell yeah

Don't get how the one experience philosophy applies here

WiFi on my SP3 finally works without me having to stop and restart WiFi after it wakes from sleep. Yeah!!!!

At least these updates will make Surface pro 3 owner stop crying for updates.

Yep! Now I can cry about Denim and people like you making fun of me crying about updates! ;)

Seek and ye shall find.
I haven't seen anyone "crying" about SP3 updates.

Minecraft get's a update.

You forgot your masterpiece: http://windowscentral.com/commenting-guidelines/

Just read the article from the link. AND it was probably the best article written by Daniel even though it was not related to any news.

Can't wait for surface 4, lets improve all the shortcomings and release a hinged keyboard

Yeah, there's a reason Surface doesn't have a hinged keyboard. All convertibles that rely on the keyboard for the screen angle have a massive problem with screen wobble when using touch. That's why the kickstand is so good, and you don't need two hinges.

Agree, keep Surface as is.

But there are a few thing I would like to see with the Surface Pro 4: - A slot for the pen (maybe like the Toshiba Encore 2)
- 2 USB ports (USB 3.1?)
- Maybe a 14'' variant
- Newest Broadwell processors (ofcourse no core M)

14"???
If you want, that's ok but not for me.
The 10.6" fits very well for me. Just saying because my tastes

The Surface Pro 3 is a bit small for Photoshop etc.
And since the SP3 has a 12'' screen (between 10.6'' and 13'') I thought a bigger version would be 14'' (between 13'' and 15'').

No thanks, the fact that the SP3 looks like a tablet means I can use it gate to gate on a flight while those with hinged ultra books are restricted above 10,000 feet. That's 30 mins of additional use and the difference of watching a whole movie or not.

That'll be called a Laptop then? My first (after years of Macbook Pros) PC for a long time was an Asus T100 (10" screen. Grat little machine, with three problems 1. Screen wobbles using touch, virtually no onboard storage and screen too small. SP3 fixes all the above and is a lot faster too!

I'm just saying make a keyboard with a hinge.. All of you obviously have never tried to use a surface on your lap. Watch panos unveil SP3 while he does a lap balance to show its "lapability". I LOL'd while watching it.

Lol: http://core0.staticworld.net/images/article/2014/05/panos-lap-100268913-...

http://images.dailytech.com/nimage/surface_pro_3_4.jpg

And I'm just waiting for my HP stream 7 to get here from Amazon...

Its an pretty good device. Gets stuff done but the battery life is kinda crap..

I'll buy one SP3 soon. ;)

Hoping the same but unfortunately it didn't grab a price drop today.

I got mine 2 weeks ago and I have been very impressed with it. I had a Surface 2 but it had an issue and the shop I got it from do not see it anymore so I paid the extra to grab a I3 64GB version. Ok it is the low end Surface 3 but I have been very impressed with it. I dont do a lot of work that needs a high end processoer just use it for IT suppoert when I need to work from home and also run my Hockey clubdesign the web site through it and for that its been perfect. Its a massive step up form the 2 and when I have pushed it with a few games like football manager and also PJ64 its run them all fine. I was shocked all the games on PJ64 run full screen 60fps without any issues.

Can you tell me what the issue is with the surface 2??? My cousin wants to buy one, he just recently ask me about it. Also I would like to grab it for me, I have surface 1 and I love it, a hardware improvement would make me happier. Why not SP3 instead? NO enough money for that, I like surface so much, but the economical part makes me even think about the Lumia 2520, because that SD800 could make wonders since is more powerful than the tegra 4, not to mention the tegra 3 on my surface, I believe it would change my experience in a whole new way.

Ive been unlucky tbh with my Surface. I had a surface RT abut after 12 months the keyboard did not deactivate its self when it was put behind the Surface and it also started to lose its charge quickley. This is why I ended up with a Surface 2 and I have to say it was a big improvment over the RT in terms of speed and weight. It was perfect for everything I did with it but then I turned it on over xmas and I just got a blue screen and could not get it to boot into windows and with it being RT I did not have any recovery media. I was happy to get a 2 again but because the shop I got it from no longer stock it I just put too and got the Pro 3. Its hard to compare the 2 to the 3 as the 3 just blows it out of the water but it is more expencive as well as full windows too. I would still recomend the Surface 2 to anyone who is looking for a tablet that can also replace there home laptop for basic things like using office documents, Emails, Web browsing and general tablet use. But anyone who wants a slim laptop that can be used for things like photo shop, Cad and lots of work open at the same time the Surface Pro 3 is the way to go.

I've got the 64 GB version as well, and it is pretty damn fast. I use a vector art program similar to Adobe illustrator and I can work on that just fine. It's buggy every now and then but for being an i3 the performance is impressive. If I need extra storage I'll just optimize OneDrive and SD storage

Awesome! Is it related to/in preparation for W10?

I can't wait for Surface 4.... Because that means Surface 3 will go down in price and I'll swipe one muahahaha!

Haha that's what I'm doing too XD

The HyperV and WiFi driver fix is a HUGE one. Installing now to see if its really fixed. This was promised in the last couple updates.

Lanceloni, Let me know if it is. I assume this is the issue where installing emulators with Visual Studio breaks connected-standby. Am I wrong?

Most likely, as the Visual Studio emulators use Hyper-V.

Wifi finally seems to be fixed! Virtually instant connection to wifi after returning from sleep mode with visual studio/hyper-v!!

Hyper-V and Connected Standby are incompatible in Win8.x. That's not a firmware or driver issue. Win10 fixes this (and enables Hyper-V by default).

Does the Windows 10 Technical Preview already have these Hyper-V changes? (Allowing Connected Standby to continue working) - I've not installed the Tech Preview on any devices that support Connected Standby yet - I'm waiting for the 21st Jan in the hope that the touch experience is as good as 8.1 before I put it onto my SP3

I am also curious if this will fix the hyper-V issue.

Can't wait to see if I can also reliably use my wifi as the virtual switch!!!

Hope I can finally use my wifi as a virtual switch reliably now!

Awesome. I updated mines just now

YES! Miracast improvements! I hope this makes streaming HD movies much smoother. Mine jitters every few seconds or when the action gets crazy.

In this regard, how well does Netflix work with Miracast? Wirelessly streaming Netflix to my TV from my Surface, that is.

Works fine for me, but like I said, it seems to drop some frames every so often, and especially when there is sudden action (i.e. when the video compression isn't super efficient).

Works great with both my SP3 and my Toshiba encore 2

This could be due to your wireless router.
I had an older 2.4 GHZ router and had the same issues, so I replaced it with a better dual band router (2.4 & 5 GHZ) and it helped a good bit.
Later, I bought the Microsoft Display Adapter (which is a much higher quality Miracast device than the cheap Belkin one I had) and it works perfect now.

How does a router even matter? Miracast and WiDi are a direct connection between your device and the display, skipping the wifi router. You can miracast a display without the presence of a router at all, which is actually how I often do it. BTW I have the D-Link Mainstage DHD-131. I use it because it has THREE audio outputs: HDMI, analog RCA, and SPDIF. I route the audio to my receiver directly.

Just trying to help. Dick.

He's right though. Miracast is a direct connection, so the problem is not the router.

Wow sensitive no? Just trying to have a discussion. No intent to insult you at all.

Updated and testing tonight or tomorrow as I also have the mirror cast device Microsoft released

Thank goodness! My Surface Pro 3 finally works again with my secondary monitor hooked up with a Pluggable USB docking station (UD-3000). It's been many months since that has worked. So excited!

That's odd, I've been using my SP3 with 3 monitors without issues, one pluggable docking station and a pluggable adapter since I got it early December.

After I installed the firmware I started to get BSOD!! and couldn't boot. I restored with system restore. Any one else having the same problem?

Me too. And my system restire didn't work the second time I tried. It says some file can't be updated. Looks like I will need to do a complete wipr of the system. I do have an image that is a complete copy of the system, but it is a bit old. I will loose some work files I planned on working on this weekend.

Hopefully this will fix driver crashes w home playing games.y

Anyone aware of the size?

And I had just installed the 4080 driver to my Pro 2. Now, let's see if I will be offered the firmware update.

Can't get my Microsoft wireless display adapter to work now after installing Surface Pro 3 updates. Balls! Was using it before the updates. Now if I try to connect it goes like it's going to connect and then just gives up. Variety of restarts, device removals, hasn't done the trick yet. meh!

Yeah ... rolled back to a pre update restore point and miracast is working just fine again. Anyone else with this issue?

I'm getting similar issues with my SP3 + Belkin Miracast, after the upgrade. The SP3 changes aspect ratio like it will connect, the Belkin display on the TV says "connected!", and then it instantly disconnects. Upgraded my Belkin firmware and did a bunch of restarts and tested on other TVs, same issue.

I'm trying to restore to previous state but can't seem to. Any way I can just roll back the WiFi and Miracast drivers?

Hmm not much of an update for my pro 1 but ill take it still going strong after 18 months as my work machine ;)

Finally fixed the wireless issue when Hyper V is enabled.

Hi Daniel After restart my SP 3 appeared to go into boot mode asking for a key ? I said skip and update appears to have loaded successfully. Did you experience this issue ? Also will this make any difference to gaming graphics ?

Will this fix the annoying pumping contrast issue caused by the dynamic contrast setting that is on by default? At least MS should give us control on that setting as the Intel driver does.

UEFI Boot updates for all Surface Pro models - Probably related to the Windows 10 event next week, huh? Makes it easier to update to Windows 10 Consumer preview as that will have much more information about Touch performance, etc.

Good to see that Microsoft is fixing and improving things up.

Still no updates for my overheating sp3 i7.

My Pro 3 replaced my Macbook Air and iPad and I'm very happy with it. I can effortlessly watch movies from it through my xBox One, I use Photoshop and read books with it. It plays all my music via BT through my Harmon Kardon Soundsticks, it's light and very portable. This coupled with my Windows Phone (which replaced my iPhone) has worked out to be a perfect match.

Anyone using a Pro 3 in a business encironment and have issues with connecting to a Domain? That is my only remaining issue and don't know if it is Win8.1 or something on the surface like the the Wifi fix just released.

Works just fine on a domain....

I'm going to cry. The update failed on my S-3!

Same here. Update failed. Had to do a restore. Will try again.

I am attempting to apply the Firmware update. My Surface Pro 3 rebooted and has been "Installing Update 1 of 3" for the last 30 minutes. Is it safe to shut it down hard and turn it back on? Is anyone else experiencing something similar?

Finally after an hour at the "Installing updates x of y please don't reboot" screen I grew impatient and shut the SP3 down hard. It booted back to Windows successfully (my fingers were crossed that it wasn't bricked). The firmware update had failed. I went ahead and had it try to install it again and was successful this time. Previously there were 2 other updates that needed to install, evidently those had suceeded and only the firmware had failed. Just happy that it installed okay.

My sp3's fan is on and unit is hot.

Fan still gets louder than the Sewhawks stadium for no reason at all. I am starting to regret switching from my SP2 (seriously my SP2 never made as much noise with comparable temps for a supposedly inferior fan technology). It doesn't help that the exchange process at Microsoft is so ridiculously convoluted.

I hope MST hubs are supported this time because over a year after sp2 launched still doesn't work with them and Panos touted this so many times during the launch...yet he cleary was lying his ass off. Having tried every MST hub on amazon and returning all of them I can squarely put the blam on the terrible intel gpu and windows itself. I know this because my nvidia based gpus worked flawlessly with the hubs. Seems surface goes hand in hand with display and wifi problems. so much for the premium experience MS was aiming for when even the most basic functions, like display and wifi, need wave after wave of update...and still don't work.

feature to control the 2.4Ghz and 5Ghz band preference - jaw-dropping experience :-[ ] or "At last!" should I say ;-)

to good to be true - where can I find this setting??? :-/

Man! I had major problems with my university WiFi and they seem to lessen a bit. And the bluetooth, GOD, i was frustrated. I have a bletooth keyboard and mouse and bluetooth headphones and the pen pf cource. In total 4 BT devices connected and the mouse drops connection so often I wanted to smash it into the wall. I hope this update fixes the issues. The good news is that it seem to, but I am only be cautiously optimistic.

And now the awful banding is back. I am sick of this. Every update makes gradients look like crap. Anybody else?

Does this fix the Surface Pro 2's crushed blacks? My display is completely useles now for video and photography. The blacks become all posterized and crunched.

I just remembered this. http://www.surfaceforums.net/threads/surface-tweak-tool-for-surface-pro-... If you have issues with banding, this program will disable Intel's 'dynamic contrast.'

The latest firmware update seems to have killed my SP3's ability to connect to my Belkin Miracast. Anyone else having the same issue?

Updated firmware of my SurfacePro but now I cannot power on. It was working fine with keyboard attached but when I tried to use it from stby will not switch on. Power button not working

Apparently after this update my SP3 is constantly failing to detect my pen, mainly after switching between OneNote and any other application

Did this update remove the OpenGL support for the i7 model with HD5000 graphics?
Windows Central Newsletter
Thank you for signing up to Windows Central. You will receive a verification email shortly.
There was a problem. Please refresh the page and try again.