Surface Pro 3 picks up January firmware update [Update]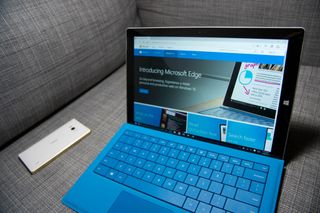 A new firmware update appears to be rolling out to the Surface Pro 3. As the first of 2017 for the Surface Pro 3, the update is dated January 30, but it's not entirely clear what's new.
Currently, there's no changelog listed on the Surface Pro 3 update tracker (opens in new tab), but that's normal for these update rollouts. With recent Surface Pro 4 and Surface Studio updates, for example, it took more than 24 hours for changelogs to show up on their respective update pages. Still, we've received tips about an update rolling out and users on Reddit report the same.
When Microsoft releases a changelog, we'll update this post with details. In the meantime, let us know in the comments if you've snagged the latest firmware release from Windows Update.
Update: Microsoft has now posted a changelog detailing what's new in this update. Here's a look:
Intel Corporation – Display – 20.19.15.4568

Intel(R) HD Graphics Family - 20.19.15.4568 improves Miracast and docked video performance.
Intel(R) Display Audio - 6.16.00.3197 improves Miracast and docked video performance.

Microsoft - System Firmware update

Surface Pro UEFI - 3.11.2050.0 improves system performance for the latest Windows versions.
Thanks to Raed N. for the tip!
Windows Central Newsletter
Get the best of Windows Central in your inbox, every day!
Dan Thorp-Lancaster is the former Editor-in-Chief of Windows Central. He began working with Windows Central, Android Central, and iMore as a news writer in 2014 and is obsessed with tech of all sorts. You can follow Dan on Twitter @DthorpL and Instagram @heyitsdtl.
I'm just glad they are still remembering the 3 :)

Surface Pro 3 has been a fantastic purchase for me, especially going all the way from windows 8 to 8.1 to windows 10 currently. Some rough spots in between there but overall a great ride! Very capable and made a huge difference for my travel bag since I can travel quite a bit for work! Looking forward to Surface Pro 5 or other similar comparable later this year!

Yup. Same here. Except the SP3 is still performing so well that I don't even see the need to upgrade it.

For me, I need more ram, once it hits +80% system seems to bog down

Same here... 8gb is nice but nothing when doing virtualization. Next one will be 16gb for sure.

Agree with anthonyng, a great device. The only issue I have is high CPU usage of the system process when starting from hibernation. It needs a reboot to fix that, which is annoying. Other then that it is indeed a great device and still getting updates.

really? I restart from hibernation all the time... it takes just a little bit of time to settle down... I know after about a week of doing this I need a full reboot to clean things up though...

Yes when restarting from hibernation. Was never an issue with Windows 8.1, but it is with 10. However, it only happens when you do it while it's in its docking station. And no, the system process never settles down. A reboot is the only way to save it. To avoid running into this issue I have had to disable automatic sleep and hibernation while not on battery (which in my case usually means it's in the dock).

I'm the same, never power save while plugged in and I'll manually hibernate it. I probably did that because I observed something weird when it auto hibernated, like always had crashed or something. Just remember that I learned it was better to manually hibernate

So the surface pro 3 is when Microsoft saw It's first success with this device category? I hear people talk about it alot.

What drove it home for me was 3:2 aspect ratio. There were so many annoying wide screen devices I hated it. That wide screen is no good for work flexibility need more vertical height. So someone was actually going against the mold with a better screen ratio? I bought pretty much on that reason only. Also my Lenovo Helix 1.0 was really ******* me off... that was a bad purchase. Years later though, after a few service calls to replace various hardware and now with windows 10, it's finally a pretty decent device now actually :D Still a stupid aspect ratio though :)

I've had the Surface Pro 1, 2 and 3 ... the 3 really nailed it. The 1 & 2 were "yeah, this is a Surface, it's pretty good", whereas the 3 was "OMFG, this is pretty close to perfect". So much so, that although I'd put aside the funds for what I thought was going to be the inevitable upgrade to 4, that just didn't happen ... the 3 is rock solid. If the improvements are incremental from 4 to 5, then the jump from 3 to 5 will probably be worth it. Time will tell...

Yes the Surface Pro 3 is what finally turned the Surface line around. The device was incredibly popular and rightfully so.

I haven't got the Intel HD Graphics update but I did get the Display Audio update, anyone else experiencing this?

Did you install drivers from intel outside those provided by Microsoft ie from Intel's website? I did and I also did not get the new display driver update nor the display audio update. All it did was push the old HD Graphics update from Jan 2016.

No, I didn't but I've just installed the driver update manually from the new driver and firmware package.

The only problem with my pro 3, is that it's a tough act to follow. Microsoft made such a great device, that I really can't think of what would make me by a new version.

Yep, you're right. That's the reason I didn't go to the 4 ... the improvements were good, but nothing like the improvements between 1 & 2, and then 2 & 3. I'm hoping the 5 (assuming it happens) offers something that makes it irresistable ...

My surface pro 3 actually replaced my Nexus 7 tablet, my desktop powerhouse and my Asus Zenbook... My workflow (webdesign/photography) has gotten so much better having to use only 1 device which allows me to do everything I need to do everywhere and more... Thanks Microsoft for this awesome device! My next device will surely be another Surface! 👍

Agree my SP3 has been awesome. I've had the Surface RT, surface rt 2, surface pro 1 2 & 3 and have to say the three is fantastic. I also have a Lenovo X1 carbon that is relegated to desk duty due to how much better the pro 3 is. The wife needed a new device and I looked at a sp4 but dis not feel there was enough to justify the cost difference over the ps3. Picked up one from the bay for $300 with a type cover. Though I have already switched it for the type cover 4. That is the winning combo!

Yep,I also switched to the SP4 type cover with fingerprint reader... The original keyboard was actually my only "complaint".

I'm going to look into your idea by going with a SP3 on eBay! I was looking at the 4, but it seems from alot of the comments from SP3 owners, it's pretty awesome!

Yes! Firmware are always welcomed. At least there's the "feels faster" mentality to it xD. Wish they'd update Lumia 950XL with some firmware too....it's been awhile

Also agreeing with all the SP3 lovers here, this is hands down the best laptop/tablet I've owned ever. After such long time still amazing, I look forward to what they'll do for SP5, but I agree it is a tough act to follow for sure

Hi there! I've been looking at SP 4's for awhile, but everyone says the 3 is great too? I'm a musician and artist and mainly want one for drawing... How is the drawing feature, if you've used it.. I really like the idea of drawing on one! Thanks for any advice!

I'm a musician too! I don't use it for drawing much, but I do use staffpad for composing and arranging music and it is the most beautiful music app ever. I'm not sure if there are profound differences between SP3 and SP4 in terms of drawing capabilities, but I do know that the new gen of surface pen is substantially better than the one sp3 offers. So if you're looking to save some money and get the sp3, you could still get the new pen for great drawing experiences. Just my 2 cents.

More of the same for me. It's been so great that I don't see a need to upgrade or update soon. I suspect the battery will eventually be the issue that makes me buy a newer one. Kinda hoping that's the SP6.

Go here to download the bits to install yourself incase you did not get the full load - https://blogs.technet.microsoft.com/surface/2017/01/31/updates-for-surfa...