Surface Pro 3 owners can download the new September firmware update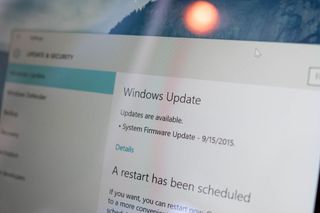 If you own the Surface Pro 3, you might want to check your updates. Microsoft is currently rolling out a firmware update for the 12-inch tablet, but there's no word on what's included in the download.
At the moment, that's all we have about this particular download, as Microsoft has yet to update its Surface history page (opens in new tab) with a change log of today's file. We will update this post when Microsoft does provide some more information. In the meantime, if you do notice something major in this Surface Pro 3 firmware update, let us know about it in the comments!
Update: Microsoft has posted the changelog and it is rather small
USB 3.0 Card Reader driver update (v10.0.10240.31217) improves the system power usage when an SD card is inserted.
Thanks to Jesse for the tip!
Windows Central Newsletter
Get the best of Windows Central in your inbox, every day!
Yeah my battery life sucks since I upgraded to W10. It also runs low on memory when running Edge. And when I search on Edge most of the time it gives me an error so I have to press enter twice. My fans also run constanly.

+4, but animations and icons are more important.

Since I stopped using Edge and went back to IE (with Adblock Plus), my battery life has gone back to pretty much what it was on 8.1.

In a previous article someone mentioned turning off the Windows Help Notifications to get better battery life.

Lol. Why are you Windows 10 users putting up with this. Petition MS by falling back to Windows 8.1.

Problem is you can't revert back to 8.1 after a month has passed since you upgraded to W10.

Oh my! I didn't know this.


You have to disable the option "show Windows tips" somewhere in the settings of windows.
That will fix your fan that running constanly.

This should do just that. We'll see. If you did a sleep analysis you'll see the SD card driver was the main culprit. It was active 97-100% when in sleep mode.

Hopefully it fixes the issue where the cursor jumps all over the screen when using the trackpad Posted via the Windows Central App for Android because I am unfortunately with Sprint

I think that's actually a hardware defect. I had it in my pro 2 but pro 3 doesn't seem to have such an issue

By the way is it me or does scrolling with the touchpad on ms edge not very fluid.

Scrolling in Edge is horrible no matter what you use.

Really? I hadn't noticed a difference between it and IE in that regard.

Update contains chocolate chip cookies and milkshakes on the side.

Bugs galore on my SP3 since Win10. Shameful really.

Work won't let me upgrade my pro 3 to w10 yet are you guys saying I should hold off???

I hope the new firmware will make the pro 3 work with the Microsoft WDA. All it says atm is that it can't connect to the device.

It works I managed to make it work... you have to uninstall your wireless network adapter in the device manager. It worked after that for me!

Do you mean you uninstalled the wireless network adapter and then restarted forcing it to reinstall and then you could connect to wireless displays? I just want to be clear.

Predicting WiFi update #36 for the lovely Marvell AVASTAR WiFi/Bluetooth chip... If at first you don't succeed, keep putting the same pathetic buggy hardware in three more generations of devices. Any bets on if they reuse Marvell for the SP4?

The biggest gain to the Surface 4 would be moving to something else than Marvell. However as I have Intel cards in other PCs and they are also equally flaky, not sure what chipset is good now. Most tested is probably whatever is in the iPhone.

Even when the entire internet is full of these surface+wifi issue reports, people still buy these surface crapwares like hot cakes... so why should MSFT care and choose a less-defected Wifi/BT chip? As long as crap can be sold in the price of gold, I would also sell crap. When people start rioting, and attack my company HQ, I will push the puppet-CEO out of the door into the blood-thirsty masses and let them hang him, in the meantime I can escape.

Driver version of SD Card Reader was updated from Version 10.0.10125.31214 to 10.0.10125.31217. I hope the fixed the waking up issue od the CPU when a SD Card is inserted.

Installing now, I'll peak around....and if it hits me upside the noggin, ill add my .02

that was the fastest firmware update I've seen didn't seem any slower than a reboot.

That's because there isn't even new firmware involved, probably just driver updates instead.

Downloaded and looking for improvements :)

The update doesn't actually install new firmware, but the following: Intel(R) Corporation driver update for Intel(R) Display Audio Realtek Semiconduct Corp. driver update for Realtek USB 3.0 Card Reader

Huh, unlike normal firmware updates (or even regular windows updates) I never saw a message to please wait... I just got a quick reboot, and after logging i saw the notification "update installed." However, looking at update history it says the firmware 9/15/2015 failed to install. Doing a check for updates says I am up to date.

Yep, same thing here. Looking at the logs, the "firmware" failed to install.

Same here. Several reboots and update failed. Posted via the Windows Central App for Android

What is the purpose of the millions of testers that worked on Win 10 for free? Why are there so many issues? I would think that Win 10 would be near rock solid after that many testers. Seems odd. Makes me think that millions of people downloaded and played with it but few actually contributed bug data back to Microsoft. Like ticks on a dog.

I'm fortunate not to be experiencing any issues with my SP3 and S3. Hope they issue fixes for what can be fixed so that people can experience things the way they no doubt intended.

Update Failed, gives me the error: 0x80240017. I swear it fails every time, but somehow everything that it is supposed to update, gets updated.

In the Windows Update log, I just got an error "Could not install at 16.09.2015". And it does not show up when I try to search for updates again. And there's nothing new on the driver page either. .... errr, what's going on?

Update failed to install - what shall I do nexr?

Here I also have a bug with password in the lockscreen . It always ask for password even it is turned off in settings... anyone with the same ?????? Can Microsoft didn't test this first ?????????????

I think this is related to a bug in Build 10547 and nothing to do with the latest firmware update. There are two ways around this. Option One: is to run netplwiz which if you are not familiar with then I would suggest Option Two which is easier. Option One: NETPLWIZ can be a little confusing at first but it simple to setup. 1. WB (Windows Button) + R to open Run Command 2. Type in netplwiz and click on OK 3. Remove the tick from – Users must enter a username and password to use this computer 4. Click on Apply 5. Sign in automatically window… (DO NOT change the Username) leave this as it is 6. Enter your login password. (this will be the same password as your Outlook account which is tied to your Windows login) 7. Click on OK 8. Then OK and now restart your device and it will automatically login and go straight to your desktop. Once you have restarted your device you will no longer need to login. * 9. Remember to RESTART after setting up Automatic Login… *However, if your devise goes into sleep mode, Windows 10 will ask you to use a password. This is a security precaution. Under the login is Sign-in options. Select PIN (numerical pad) and login with your PIN. Option Two: Set up a PIN to log into Windows, which is easier and a faster way to log into Windows 10. Unfortunately, Windows 10 does not tell you to use a PIN unless you do a clean install which to me is pointless. It should be mentioned as soon as you upgrade to Windows 10. 1. WB (Windows Button) + I to open Settings 2. Sign-in options 3. PIN click on Add 4. Enter your current password 5. Now after checking credentials you can enter a 4 numerical PIN No. * *When using PIN login if your device goes into sleep mode, Windows 10 will automatically ask you for a password and not a PIN. Change the Sign-in options from Password to PIN (numerical pad).

fix the longest standing bug of them all, that sometimes a reboot will hang on the surface logo screen indefinitely, forcing a hard off.