Surface Pro 4, Surface Book grab new drivers and UEFI for Aug 30 update (Changelog)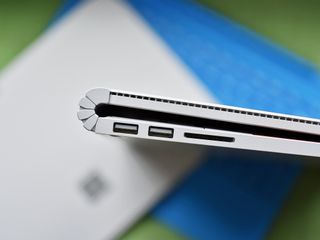 (Image credit: Windows Central)
Owners of the Surface Pro 4 and Surface Book will want to check for new updates waiting on Microsoft's servers. At least three updates are available for the Surface Book and Surface Pro 4.
The three updates, one of which requires a reboot, are the following:
Microsoft driver update for Surface UEFI
Microsoft driver update for Surface Integration
Microsoft driver update for Surface Integration Service Device
UEFI stands for Unified Extensible Firmware Interface and is basically the BIOS/firmware equivalent on newer Surface machines (Surface Pro 4, Surface Book). That update will require a reboot to install the firmware, and this could be considered a relatively important update.
The other two updates are much broader as they can touch everything from storage to display to sleep/hibernate performance. Until Microsoft posts a detailed changelog, we'll just have to wait and see what they do or fix. The changelog should appear on the official Surface Update History (opens in new tab) page in the next day or so.
Update: Some users are reporting that this may fix a bug we weren't aware of related to stuck CPU scaling on the Surface devices following the Anniversary Update.
Update 2: We had to reboot our Surface two times for the full installation to take effect. We were only prompted for the first reboot, so make sure you do a second one to be sure.
Update 3: Microsoft has now posted the changelog, which we'll repost below
August 30 Release
Surface Management Engine - Improves stability and performance when you change between power states.
Surface UEFI - Improves stability and performance when you change between power states.
Surface Integration - Improves the device usability and battery life.
Surface Integration Service Device - Makes sure the default Balanced power plan is set correctly when the operating system is updated.
Those in the Release Preview may also see a cumulative update to 14393.105.
We should also note that the driver/firmware updates do not appear to be tied to any Insider builds. We saw the updates on Production, Release Preview, and Fast Ring.
Thanks, Wendell H.and Brian G., for the tips!
Daniel Rubino is the Editor-in-chief of Windows Central, head reviewer, podcast co-host, and analyst. He has been here covering Microsoft since 2007 when this site was called WMExperts (and later Windows Phone Central). His interests include Windows, Microsoft Surface, laptops, next-gen computing, and for some reason, watches. Before all this tech stuff, he worked on a Ph.D. in linguistics and ran the projectors at movie theaters, which has done absolutely nothing for his career.
Don't be sorry, I needed the chuckle. Thanks.

I'm not getting Firmware updates. I've literally NEVER had a firmware update on my SP4. Any ideas?

Have you ever connected it to the internet :p On a serious note check whether you have set your wi-fi connection as metered. Windows 10 does not download any update if it is on a metered connection, but it should still show the available updates under settings>updates.

Are you on a corporate domain? If so, hit check online for updates on the update screen.

I just got a surface pro 4 and my wife got a SurfaceBook. I am getting on both similar problems. When you check for updates it never shows any firmware update as being available. As a matter of fact for both, it did not want to show the anniversary updates. If you look in device manager, the firmware versions are from June. I'm not getting the August updates.

Im still waiting for them to fix my external hdd issue. I cannot open it with the anniversary update but when I roll back, its perfectly fine. And this is using Surface Pro 4!

Clean install the anniversary update?

Really good update experience - clean install after every big update... I don't think it is a good solution, let's wait while Microsoft do something

He's suggesting that as a possible fix for an issue. If you're not running into issues, no clean install is needed. Common sense...

Even clean install doesn't help. MS is working on a fix but there is no ETA.

Thanks for the tip about the second reboot!

Ever since Anniversary Update, my Surface Book audio has been having issues where the Realtek device won't work at all. Causes a ton of issues because anything on the machine that would make a sound freezes up. I tried deleting the drivers and reinstalling but still the issue persists (device not migrated). Sometimes audio decides to work on its own. Sometimes disabling and re-enabling the hardware fixes it until a reboot.
I highly doubt it, but really hopeful one of these updates will resolve that issue for me.

I've been having issues (didn't have them on insider which made it even more annoying) where edge would constantly crash loading web pages and have to recover them. It got so bad I factory reset the device, which didn't do anything. So far this update seems to have fixed that though, which is fantastic because I was about to throw my SP4 at a wall. Will report back if the issue hasn't been fixed, but so far it seems that it has. So possibly might fix your issue as well.
Now if only they would fix the problem with windows where my Bluetooth headphones connect as a headset but not as headphones T.T

Yes, I was having tons of issues with Edge not responding as well and for me the root cause seemed to be my audio problem. Basically any page that had an embedded video or an ad that might have audio would screw up Edge. Installing AdBlocker became the only way for me to use Edge until I finally realized what the problem stemmed from.

Interesting... I've noticed Edge on my SP4 is not very responsive either. Firefox is not as smooth while scrolling but it doesn't freeze up momentarily like Edge does. Maybe I'm having the same issues.

I have been having the same issue. Pretty much every time there is a notification the machine (Surface Book) locks up. At first I wasn't sure of the exact cause but after some troubleshooting i realized that by deleting the audio device in Device Manager and rebooting, the issue would go away until I did another shutdown or reboot. So basically I just put the device to sleep instead of shutting it down. I hope a fix is on the way.

Yes, same problem for me. Extremely maddening because when that would happen I basically had to hard reset the Surface Book to get it back to a usable state.
I've installed the updates now and although my audio is working normally so far, it still says "device not migrated" in the event logs so I don't think these updates provided a fix. It has been working more reliably lately anyway, so hopefully that continues.

Wifi is in the toilet (again) after this set of updates. Frustrating that this keeps happening. Before: 59MB/s (peak) writing to NAS over wifi 44MB/s (peak) reading from NAS over wifi After: 14MB/s (peak) writing to NAS over wifi 3.7MB/s (peak) reading to NAS over wifi

Does that happen while on AC power or only battery?

Both. A reset fixes it...but only temporarily....speeds go back down after a few minutes. No other laptop (four here currently) has this issue, and the SB didn't before this last update. Already contacted support.

After looking at this long list of complaints, I'll stop complaining about my Dell tablets running anniversary, at least my complaints about buying Dells. Looks like all the many problems with them are MS problems if they can't even get anniversary to work on their own devices before release. They are all barely usable and waste lots of time. Productivity has gone way down from 8.1.

also make sure your SP4/SB is plugged in and your battery is at least 50% or more before doing this UEFI update or the 2nd reboot will not fully install the update.

No update here in NL, I hope this will solve my upgrade issue to W10AE

I wonder when Microsoft will finally fix touch issue. Surface Pro 4 device becomes unresponsive after using touchscreen actively, e.g. touch keyboard

Downloading now, I don't really have a wish list of fixes now, so hoping for yet more battery performance

Maybe... just maybe my Surface Book won't crash when it attempts to go to sleep when connected to the Surface Dock?

Still have problems re-identifying the type cover after sleep/hibernate. Starts up in tablet mode, have to detach and reattach. Bloody annoying.

Hey these are nice devices. But the tech blogs are full of folks that have video driver issues, wifi issues, power management issues, sound card issues. etc. with the Surface devices. Same goes for inexpensive Dell, Lenovo, and HP Windows 10 devices with SSDs. May as well purchase the inexpensive SSD from other manufuacturers, save a few bucks, and run them into the ground. One can narly buy an Andorid flagship mobile and and inexpensive I5 SSD Win 10 comptuer for the cost of one of Microsoft's problem-plagued flagship WIndows 10 devices.

I'm sure if someone will make a review for SP4/SB now he won't find any issue on these devices or all found issues will be addressed to the Windows 10. It is very hard to find problems on Surfaces today, everything seems working good

The boot and the login (windows Hello) processes seem to be much faster with this new update (on Surface Pro 4). They were kind of "sluggish" (in qutoes because it was still fairly fast) for me after the Anniversary Update, and this seems to have fixed it.
Windows Central Newsletter
Thank you for signing up to Windows Central. You will receive a verification email shortly.
There was a problem. Please refresh the page and try again.