Surface Pro 4 coming to India in January 2016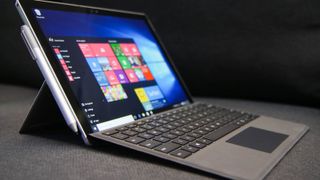 Just before ending his keynote at Future Unleashed in Mumbai, India, Satya Nadella made the big announcement. Finally, Surface Pro 4 will hit the shelves in India in January 2016.
Apart from the availability, no other details were shared, and of course would follow up in a press event around the launch. As yet, no Surface device had been launched in India, and with the Surface Pro 4, the lineup makes the debut in India.
Surface Pro 4 Specifications:
Operating System: Windows 10 Pro
CPU: 6th-Generation Intel Core m3, i5, or i7 (Skylake)
Graphics: m3 Intel HD graphics 51, i5 Intel HD graphics 520, i7 Intel Iris graphics
Display: 12.3-inch PixelSense Display at 2763 x 1824 (267 PPI)
Storage: 128GB, 256GB, or 512GB SSD options
RAM: 4GB, 8GB or 16GB
Rear Camera: 8MP
Front Camera: 5MP
Dimensions: 11.50 x 7.93 x .33 in (292.10 x 201.42 x 8.45 mm)
Weight: i5/i7: 1.73lbs (786g), m3: 1.69lbs (766g)
Are you excited about the Surface Pro 4 hitting the Indian market? Would you be looking to pick one up? Let us know in the comments!
Windows Central Newsletter
Get the best of Windows Central in in your inbox, every day!
Even closer to middle east :P
Perhaps mid 2017

When in India ? Ops.... Lol :)

When in Singapore? Posted via the Windows Central App for Android

Hope they price it right. Its a much more premium product than the iPad but people's perception will decide the marketshare. At least a close to iPad pricing for the base model will ramp up the numbers in a reasonable time.

If its starting price is same as 899$ then it will do great.

Yep. And online stores could run a few promos and giveaaways during launch time. It will sell pretty well, I'm sure.

They need to market it right. They have to convince the public that even if it looks like a tablet, it is a full-blown PC and not at all an iPad competitor. I hope they get serious about this and make some amazing ads for the Pro 4.

From my experience with India, it's harder for a premium product like this one to do well. The same goes for iPads and iPhones. Cost is a huge factor. This will sell, I'm sure, just not in numbers that would really shake things up. It will however, give other OEMs the lead in to introduce products similar into the market.

Exactly, that's what concerns me. This a market of budget tablets and the Surface is way too premium to see success here.

Shit.... I bought a laptop 2 weeks ago... :(

No way.....I love my laptop now. ;p
i7/8gb/1tb/2gb FHD touch with backlit keyboard for 63k ... ;) and genuine windows 8.1 day before yesterday I upgraded to 10..

Still going to be slower. I think that 1TB HDD is not a SSD.

Yes yes its not SSD. And its dell 5547 with 4th gen.. Yes you heard it 4th gen. Not 5th. ;)

Am i dreaming? The when in India is now.. Really in India?

at last... the wait is over. Now, it's showtime!

Glad I waited for a new laptop...

Yeaaaaaaaaaaaaah!!!!!!! I am feeling out of the world!!!!!!!!! Omg! Omg! Omg! Nothing could make me sooooo damned happy!

good, now if they price it properly.

Bought a laptop a month ago :(

'Wen in India' does 'Seems Faster'. Lol.

At last surface are launching in India. I will sell my laptop for surface if in budget. ;-)

What about surface book???

Good, that means it will eventually come to my country

Now only if they don't price the base model like 70-80K. Dell's XPS 13 i3 costs 70K today and that's why I'm not buying it.

It will sell like hot cakes if it is priced rite!!

If they price it at Rs 40,000 and under only then it will sell well. Posted via the Windows Central App for Android

40k is kinda cheap for this product

I swear that 40k doesn't suit for that gorgeous product with all those amazing features that makes itself cool . :) ;)

40K seriously? The starting price is itself is 899$.

Exactly. That's like for the base model. It will most likely be an import so that will add to the price. (a lot)

60000 is the price which suits the base model and people could buy it.....however it must include keyboard and surface pen

Gonna cancel my Dubai trip and save for surface pro4

I hope the Band 2 follows closely behind!!!

What about surface pro 3 ???
I want surface pro 3 to accompany surface pro 4 at a lower price than SP4 and this will definitely boost sales of surface line up in India.

And what about Surface Book? People here can buy a MacBook Pro then why not launch the mighty and gorgeous Surface Book? At least in limited quantities. I am sure it will be a hit.

This is indeed great news!! I think it would make sense to lauch the cheaper Surface 3 model as well. I hope they market it well and launch it at a reasonable price.

When in Indonesia? Err ... I'd rather request for Surface 3 though (or Surface 4 in the future) since 10" seems an ideal size for mobile devices, at least for me. 12" are to big to carry around.. :3

Surface pro 4 listed in amazon India

"Finally a surface device is coming to India...."
स्वागत के लिये तैयार है हम.

When in BRAZIL? Here we have a subsidiary really stupid....

This is a GREATTTTT NEWSSSS.....

Bye bye 950XL, hello Surface 4. :-)

Damn, looks like "Wen in India" campaign works!

Change from m3 to i3 in the specification

Finally its coming to India.

Glad to know. Waiting for it for so long

How about the Philippines? What love we got from Nokia, we're getting neglect from Microsoft now......

I would love ❤ to have one..

Looking to buy fury x instead... Extreme PC gamer here
Windows Central Newsletter
Thank you for signing up to Windows Central. You will receive a verification email shortly.
There was a problem. Please refresh the page and try again.