The Surface Pro 4's new ads showcase the tablet's improvements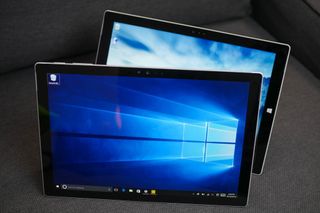 Microsoft recently launched the Surface Pro 4 tablet, and the company is promoting its release with a new set of TV ads. The commercials focus on the tablet's new and improved features compared to the older Surface Pro 3.
The 30-second ad, shown above, puts the spotlight on the 12.3-inch display on the Surface Pro 4, compared to the 12-inch screen on the Surface Pro 3. It also shows the speakers inside the new tablet, which Microsoft says are 40 percent louder, and the new version of the Surface Pen with 1024 levels of pressure sensitivity.
Image 1 of 3
Microsoft has also posted three 15-second ads that show how the Surface Pro 4 could be used by nature photographers in the wild, musicians who want to create the next pop music track, and as artist who is shown using the Surface Pen with the tablet to create some impressive looking calligraphy.
Buy the Surface Pro 4 at the Microsoft Store starting at $899 (opens in new tab)
Source: Surface (YouTube)
A decent advert for once. None of this airy fairy experiential intangible nonsense. Real solid users. Keep it up.

Yep! Show what the device is capable to do in different situations. Not only the board room. Meaning stop showing what Office can do. Most people already know that.

Well, I saw the music app part and ignored the add as I thought it was iSung or Sam Pad so maybe you are right. Usually the ads are Office/Pen based. Perhaps MS have got the Pen/Office message to the public and can now expand on the Surface's true capabilities :)

I totally agree with you there. They need to show a Halo game being played on the device as well as productivity programs.

Idk. Those cool commercials ade usually more memorable and make your product known. I still remember the dancing commercial for the original surface. Honestly that's what made me want to get one

5 titles not found in the video list.. well done

They say not found but when I click on them and click YouTube app they play. Works for me.

I saw this advert on TV last night. I was quite surprised to see it on TV before on any web site.

Not too surprising though. Maybe mast night was its first airing.

Waw, really? Was that comment necessary?
Seems like people here find a negative thing to say about any positive thing.
The guy was surprised to see the ad and enjoyed it. Why not just leave it at that?

just once, I would like to see some middle-aged, balding IT guys in a Surface ad. "Surface Pro 4 is so light, my back pain doesn't bother me like it used to!" too much of these hipster creative ypes.

Haha it's true they figure in pretty much any ad. The thing is, that is the crowd that doesn't really relate to Microsoft currently. They identify way more with Apple.
The middle-aged IT guys with back pain are probably already using Microsoft, and they are not the irrational impulse buyers hipsters are.
Many bloggers, etc are from that crowd too. So it would do good to have them on your side ;)

I'm guessing the IT guys will be well aware of the Surface and it's awesome capabilities and don't need to be sold to. It's perhaps the public in general who need the ads to attract them away from the iSung $billion ad machine?

SP4's FFC camera is great for Skype, but I wouldn't be using the back camera for photography. It's better for notes and office things, but it isn't as good as the Lumia 920's 8.7mp camera. It would be great as a DSLR companion for quickly reviewing shots, especially in RAW on a bigger and higher resolution screen than the mini DSLR panel.

Does anyone know what monitors are shown in the ad at the 0:23 mark?
Windows Central Newsletter
Get the best of Windows Central in in your inbox, every day!
Thank you for signing up to Windows Central. You will receive a verification email shortly.
There was a problem. Please refresh the page and try again.